Western Australians are blessed with a fantastic variety of fishing, much of which is available all year round, however on the lower west and south coast of WA there is one obvious exception.
When these fish migrate, the hysteria they cause at land based fishing locations and on social media is nothing short of phenomenal. It is hardly any wonder that Australian salmon are valued as the most iconic and accessible sport fish in Western Australia.
Australian salmon (Arripis truttaceus) represent the epitome of great sport fish; attacking lures with aggression, fighting hard and putting on aerial displays to match any top end barramundi. They are a valued species in the function of south west marine environments and represent an important role in the marine food chain. Whilst we are approaching the time of year when salmon start to appear all across the south west coast, it's good to clear up a few misconceptions around these iconic WA fish.
Some think that schools of hungry salmon, that will attack anything that moves, are not enough of a 'fishing challenge' which seems to demote them as a superior sport fish. The fact that Australian salmon are not rated highly for their eating qualities also doesn't help their cause. However, what's commonly accepted is sometimes far from the truth and with the right knowledge and creativity you can bend the rules and start to appreciate the qualities of the salmon you catch.
What the Experts are Predicting
We thought we'd go straight to the experts in ocean currents to help predict just what might happen this salmon season.
Professor of Coastal Oceanography and Leader of the Australian National Facility for Ocean Gliders (ANFOG), Charitha Pattiaratchi, says the southerlies this Summer (2016/17) have been strong and thus a strong Capes Current has been established.
"So I believe that the conditions would be good for the salmon run although whether it would be as good as last year I am not sure – oceanographic wise, the conditions are similar, maybe 2017 has a bit more colder water off the capes," predicts Professor Pattiaratchi.
The maps below represent the sea surface temperatures as of Feb 1 2016 (left) and Feb 1 2017 (right). If you look at the bottom right hand corner of the maps you can see much cooler sea surface temperatures off Geographe Bay this year compared to last.
We know Australian salmon are a cold water fish and spend most of their time in the cooler waters off the south of WA. We also know salmon migrate north with the cool waters of a strong capes current. Putting all these aspects together, along with the current cooler waters off the capes should point toward another great salmon run throughout the south west and west coast this Winter.
Edibility
If proper care is taken to dispatch and prepare a catch of salmon for the table, they can make for a tasty and healthy meal. Being a southern cold water fish, salmon are full of omega 3 fatty acids that are well known for their health benefits in humans and usually which you would find sold in tabular form at your local supermarket.
Immediate dispatch and bleeding on capture is key to ensuring the highest quality fillets come from your catch of salmon and placing straight into an ice slurry will ensure prolonged freshness. Removing the red meat from the middle of the fillet leaves a nice clean amount of fish protein that can be prepared in a number of ways to maximise the enjoyable eating qualities.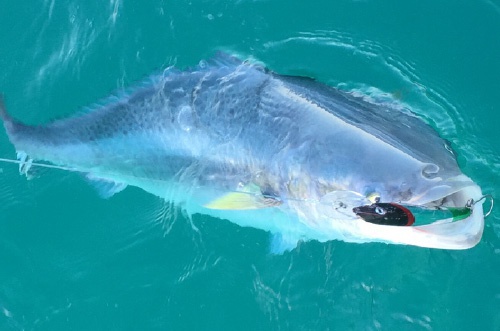 Now let's face it, Australian salmon will never be rated up with the best eating fish, served as a beautiful fried white fillet of fish on a plate with salad as you would treat piece of coral trout. But smart preparation presents much tastier ways to enjoy the fresh sustainable seafood.
WA fishing identity and former editor of Western Australian Fishing Magazine Ian Sewell says "Salmon done in a green curry or red curry on a bit of rice is something I would happily eat any day of the week, or even in a cheesy pasta bake is something that takes me back to the Easter school holidays of my childhood."
"The key is cutting it into small, even thickness pieces so that it cooks evenly" says Ian. "Treat it like chicken and trying not to overcook it is the key." Another option Ian identified with and one which is gaining popularity in WA fishing culture is smoking salmon.
"These days every second BBQ has a smoker. Just fillet out the red meat, soak the remaining white meat in your own brine concoction and smoke away. The results can be spectacular, especially served as an entree with a refreshing beverage and a cheese plate." Ian suggested.
Fish Welfare and Catch & Release
If eating salmon is not your thing, or you're happy with keeping just one for the table, the good news is salmon are a tough fish and when hooked, landed quickly and given a little bit of care, will release very well.
One of the best ways to ensure your catch is fit for release is to do away with baits and damaging gang hooks. Migrating salmon are in breeding mode and are hungry! If they are feeding they will generally respond to lures equally well for amateurs as much as pros and will attack poppers and top-water lures along with minnows, metals and soft plastics.

Replacing the treble hooks on your lures to purpose-made single lure hooks results in a much cleaner hook up causing less damage to the fish and a better result for catch and release fishing, with many lure companies now making the switch to single hooks off the shelf.
Fishing with barbless hooks is also gaining popularity for all manner of catch and release sport fishing around the world and switching to barbless or simply crushing the barb with pliers results in even less damage to the fish and a much better chance of survival if the line was to break.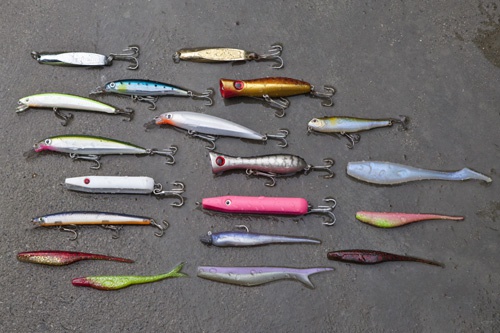 Fishing barbless tests the skills of the fisher, and with good practice you soon realise that by applying proper tension on the lure during the fight, very few fish are lost due to barbless hooks.
Fishing with lures can also be cheaper and more productive, reusing the same lure over and over without the need to re-bait a hook. Another benefit to lure fishing is the reduced need for bait, which for most of us, means less bait bags and we've all been fishing and seen these around. So not only will you be partaking in salmon fishing 'best practise' for catch and release, you'll also be doing your bit to reducing plastic that can impact your fishing environment.
Rock v Beach Fishing
The same hysteria that drives people into a frenzy when the salmon are running is also responsible for fishers making foolish decisions and putting their personal safety at risk. WA salmon fishing has disturbingly taken way too many lives, and rocks are the salmon fisher's curse.
There are just as many, if not more salmon on beaches and in amongst coastal reefs. Keeping the sand between your toes and fishing from the beach is just as rewarding and productive without the extra hassle of trying to land fish off the rocks. Chasing schools of salmon along a beach is something exhilarating that certainly lets you know you are alive.
The Verdict
All things aside, salmon represent a fantastic sport fish, to considerable size, accessible to west Aussie fishers of all abilities. They can be enjoyed in the safe and stunning surrounds of WA's south and present a fast growing and sustainable seafood resource. They have earned their place on the podium, deserve the respect of WA's best and most iconic sport fish and should be treated as such. Let us not lose track of the fantastic qualities Salmon do present or take for granted the awesome opportunities that exist, as fishing in WA would certainly not be the same without them.
As we are currently entering into Autumn, the annual salmon run will be gathering momentum in the south of the state. On the back of a colder than average Summer, the water temperatures are low and the salmon should make a strong run towards the Perth metropolitan area this year.
Recent reductions in commercial fishing on south coast salmon have also contributed to exciting metro seasons the last couple of years, so it's just a matter of time until we start to see the salmon on the move for a cracking 2017 season.
We'll report more on the upcoming salmon season, including where they're biting, how to catch them and cooking tips to make the most of your salmon fishing experience.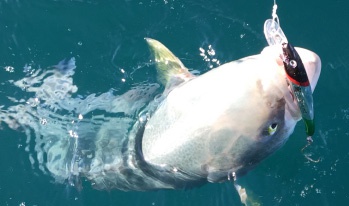 Australian Salmon Fact File:
Scientific Name: Arripis truttaceus

Grows to about 96cm and 10kg

Lives for about 9 years

Salmon trout is not a different fish, it's simply a juvenile Australian salmon

It takes 3-5 years for salmon to mature and at around 60-65cm in length

Length to Weight Ratio – 200mm:70g, 500mm:1.52kg, 800mm:7.38kg

Age to Growth Ratio – 2yrs: 347mm & 367mm (Female & Male), 4yrs: 575mm & 581mm (Female & Male), 6yrs: 725mm & 706mm (Female & Male)
Did you Know?
Herring live longer than Australian salmon; with a lifespan of about 12 years!
Want to find out more about Australian salmon?
Check out our How to Catch Salmon page for more information the species, how and where to catch as well as catch care and cooking.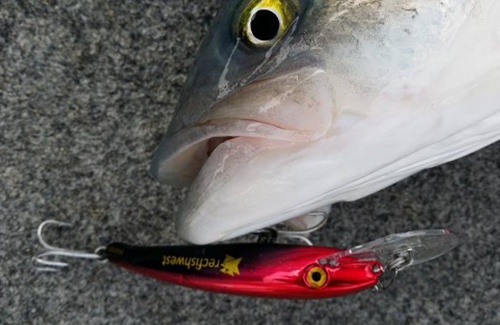 Last year's salmon season was one of the best on record with unprecedented numbers of fish schooling in metro waters as far up as Point Walter and the Causeway. Read more about the 2016 salmon season here.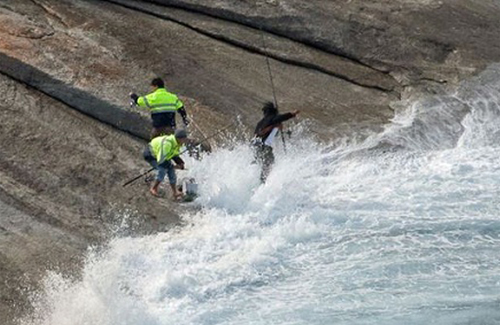 Rock fishing is dangerous. Keep the sand between your toes and fish from the beach instead. To learn more about fishing safety, visit our Fishing Safety page or check out the range of fishing safety gear available to purchase from the Fish and Survive online safety shop.