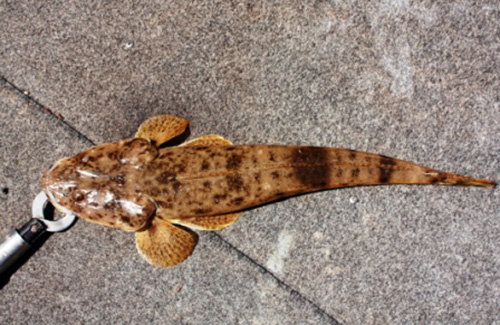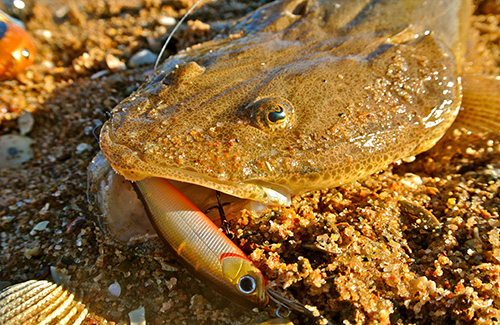 How to Catch Flathead
Rigs and Techniques
When it comes to fishing for flathead, there is no need to go with heavy gear, especially when specifically targeting them in the shallows, where a 3-4kg spin outfit will do the job just fine.
They lie buried in the sand, waiting to ambush predators and therefore blind casting is the way to find them. Often they seem to sit just next to weed patches, which obviously provides a good ambush location as baitfish move onto the sand.
Dropoffs are another prime location for flathead. Anglers wading will inevitably spook flathead, which will vanish in a puff of sand from almost right underneath their feet.
Some slightly heavier fluorocarbon leader, around 5kg, is recommended, as they do have small, raspy teeth that can damage light line when they are hooked. Flathead are good fighters on light gear, often making a series of zig-zagging bursts.
Bait and Lures
Flathead will happily take baits bounced along the bottom, such as river prawns, whitebait, bluebait and even mulies. A simple running sinker rig with either a large single hook or set of gangs will suffice when using bait.
In the Swan and Canning systems, blowies are a major issue when using bait, and lures come into their own. Soft plastics such as Mr Twisters are deadly, but again prone to blowie damage. Feather jigs are a cheap option and easily bounced along the bottom. Small bibbed minnow lures that dive deep enough to dig up the sand work brilliantly, as do blades and vibes. There are some very clever prawn imitation lures that will also work.
BARTAIL FLATHEAD FACTS
Other names
Platycephalus endrachtensis, flattie, lizard
WA Distribution
Although their stronghold is the metro area, bar-tails can be found all the way north to the Northern Territory border. They are rarely caught south of Perth and their absence from the Peel estuary system is one of fishing's great mysteries. There are some very nice bartail in the shallows of Exmouth Gulf. They are primarily an inshore species and that is where most anglers target them, in estuarine locations.
Description
There are several species of flathead in Western Australian waters, but the bar-tail is the most popular with anglers, mainly because of its metropolitan prevalence in the Swan and Canning rivers.
The bartail is easily identified by the horizontal bars on the tail, combined with a distinctive yellow patch at the top of the tail.
A good-sized bartail would be anything over 50cm, however, they are known to reach around 80cm in length and a weight of around 2.8 kilos.
Can I eat it?
Yes, bar-tailed flathead are a good eating fish. Fillets can be grilled, pan fried, steamed, baked or barbecued. I Love Fishing has some great tips on the Cooking Your Catch page.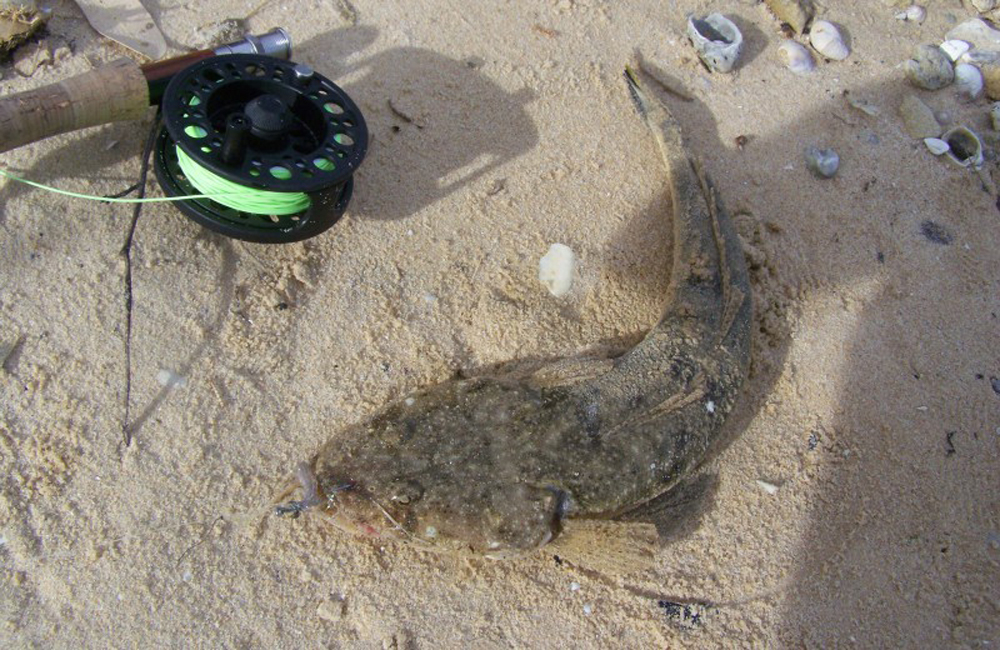 Increase your chances of catching!
Before heading out, find out where the fish are biting throughout Western Australia in our Weekly Fishing Forecast.