How to catch yellowfin whiting
Yellowfin whiting fishing in our estuaries provide safe, sustainable, enjoyable and accessible fishing experiences for many Western Australian families.
Leading into summer, the water temperature starts to warm up which is ideal for wading through the shallows of our estuaries and targeting this tasty species.
The whiting fight well on light gear and offer a highly visual and rewarding fishing experience for many fishers, and can be a beautiful way to spend the day.
In recent years, fishing for yellowfin whiting on small surface lures or prawn-like vibe imitations has become very popular among fishers along flats of rivers and estuaries in the State's south.
It is also a popular form of fishing in the State's north at spots such as the Exmouth Gulf.
Time of Day
Late morning or early afternoon, when the wind picks up, is usually the best time of day to fishing for yellowfin whiting. The slight movement on the water provides the fish some security and protection from a wading angler whereas calm water and movement above the water will often spook the fish. The WA coastline has a range of inshore flats which are readily accessible for those prepared to wade, such as the Peel-Harvey Estuary. It's best to find a location which has plenty of natural whiting food like shrimps, prawns and clickers, and ensuring the wind is on your back, to assist with your cast.
Bait
Preferences for baits are as personalised as the anglers chasing them. For most, blood worms are the best bet, while other anglers will swear by using only shrimp, pieces of prawn, squid or tube worms and the list goes on. Light gear is recommended, preferably a 1000 or 2500 size reel on a 6ft6", 4kg rod.
Lures
In recent years the popularity of fishing for yellowfin whiting on surface lures has certainly increased. Now if you are a whiting chaser you might find this hard to believe, yet the way these fish chase down a surface lure with so much gusto really has to be experienced to be fully appreciated. So if you're keen for a change, a surface lure around the 50mm mark is a good place to start. Prawns and clickers are a yellowfin whiting's major food source so try to imitate these as best as you can, both in lure style and retrieval. Don't forget to swap your monofilament for a good quality braided line, with fluorocarbon for the leader, as this will make it easier to work the lure. It may also be worth swapping our treble hooks for assist hooks with provide better hook-up rates and much easier to release if you choose to do so.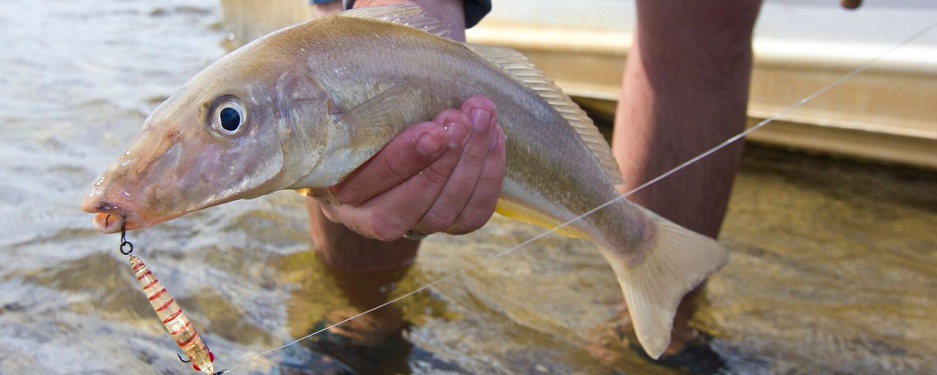 Rigs and techniques for bait fishers
Rig of choice can also vary depending on who you talk to. Probably the most common is the basic running sinker rig which
consists of 30cm of fine clear leader attached to a hook at one end and a swivel at the other, with a sinker above the swivel running along the line.
Another popular rig is the dropper rig, with either one or two hooks depending on personal preference. Being that you are fishing from shore in what is usually relatively shallow water, the hooks will be either on the bottom or close enough to entice a bite anyway.
Sinkers are usually bean or ball shaped with enough weight to get you to the area you want to be fishing in. There are plenty of fishers who prefer an oversized sinker with the thinking that the sinker moving along the bottom will stir up the sand and create some interest from whiting in the area.
Hooks are usually in the mini circle style or a long shank in anywhere from a size 8 to 1. If you are getting plagued by small fish it is a good idea to go up in hook size or move spots. However schools are very often a range of sizes so if you are catching plenty but they are small try the bigger hook size and a bigger bait.
While yellowfin will usually hit the bait with gusto, for some reason they can be very difficult to hook. Quick reflexes can be the key here. Once hooked yellowfin whiting can give a very good account for themselves on the end of the line. Thankfully their love of sandy or low profile weed and sand means that fish are rarely lost to snags or structure. More often than not fish will be lost just as you are about to land them near to the shore.
One tip for yellowfin that are being very hard to hook is to replace your hook to ensure you have the sharpest hook point possible. The next tip is to cast out and to retrieve slowly with a pause every now and then to cover as much ground as possible and to ensure that the sinker is shuffling through the sand to draw attention.
When chasing yellowfin whiting it is pretty wise to pack relatively light and have the ability to move easily and often. If you do not get any bites or fish within a few casts move along the beach or bank a couple of metres and try again. Once you get a fish or two, stick with that area and see if there is a school holding up in the area. If not then simply keep moving.
Probably the most frustrating part of yellowfin whiting fishing is that it is rarely as consistent as we would like. Some nights are better than others and some spots will fire for one night and then you can revisit the same spot ten times and not catch a thing. Even the best yellowfin whiting anglers have a couple of spots in mind to try on any given trip, just in case one or two spots are not working. Never be afraid to move to a whole new location if you are not catching. Being flexible will always increase your chances.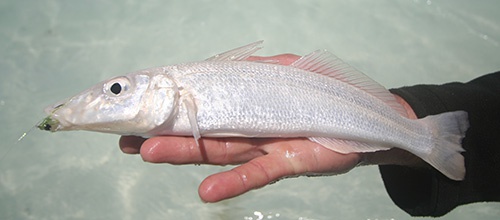 [/fusion_text]
Habitat and Distribution
Yellowfin whiting are found from Shark Bay right through to the Gulf of St Vincent in South Australia. Whether you are fishing from shore or boat, you can be fairly sure that wherever you find sand, you will find whiting. They are primarily found in rivers and estuaries but will often be encountered on ocean beaches adjacent to river mouths or in coastal areas that are protected from large ocean swells. Although this species is relatively prolific, some years yield better numbers than others. Yellowfin whiting are usually a schooling fish so once you hook one, it is a pretty good indication that there will be more to follow, or that you are at least in the right area.
Where to Catch
Increase your chances of catching!
Before heading out, find out where the fish are biting throughout Western Australia in our Weekly Fishing Forecast.
Other names
Sillago schomburgkii, tings
Description
Here in Western Australia we have a few species of whiting available to catch, and yellowfin whiting is one of the most underrated recreational fishing species available. Yellowfin whiting can reach up to 42cm however most of the larger specimens are caught around the 33 – 35cm mark. They are characterised by their yellow to orange ventral and anal fins with the colour becoming less prominent in larger specimens. Yellowfin whiting are often mistaken for sand whiting however they can be differentiated from sand whiting by the absence of the dark blotch at the base of the pectoral fin.
Rules and Regulations
Currently there are no minimum size limits for yellowfin whiting and those fishing from shore will not need a licence, however there are daily bag limits in place and boat fishers are required to hold a Recreational Fishing Licence.
Whiting are good breeders and relatively fast growing so there is unlikely to be any sustainability issues with this species, however always remember to adhere to the daily bag limits and only take what you are going to eat.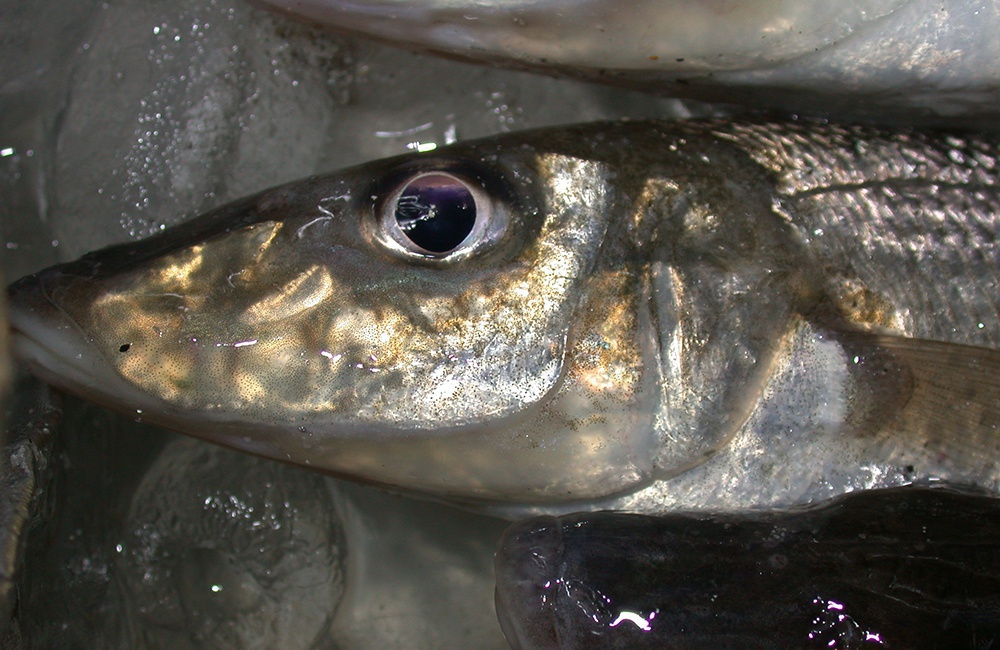 Storing Your Catch
Unlike larger fish, it is not necessary to bleed whiting, however to preserve their fantastic eating quality, whiting should be killed humanely immediately after catching and kept on ice out of the sun.
Cooking Your Catch
While they might only be a relatively small fish, the best part of whiting fishing comes in the eating. Their delicate, sweet, white flesh makes them ideal for steaming, poaching, panfrying or grilling and fillets are delicious when battered and deep fried.
When filleting, take the time to remove all of the bones so that you can appreciate the flavour without the frustration of picking small bones out as you are eating. Be careful not to over cook them as the fillets are quite thin so they will cook quickly.
For more information on how to care for you catch, check out our Catch Care page here.