How to Catch Cobia
Rigs and Techniques
When encountered, cobia are usually not hard to tempt. They will happily take mulies, squid, strips of fish and other baits, especially when fished with just a light weight or without any weight at all.
They also respond well to lures, including bibbed lures that are trolled or cast. They'll happily hit lead-head jigs and sometimes respond well to poppers. Jigs and soft plastics are also very effective on cobia. Sight casting soft plastics or at cobia sitting on manta rays or sharks is a highly productive way to fish for them. Many lures are lost though by anglers who find themselves hooked to the host rather than the fish!
When hooked cobia are capable of very long and powerful runs, but they will also often come in quite quickly, leading the angler to think the battle is won. However, they invariably get a strong second wind at that point and it pays to exercise caution when using the gaff, as they are incredibly strong fish.
Don't forget to check if you need a WA fishing licence before heading out.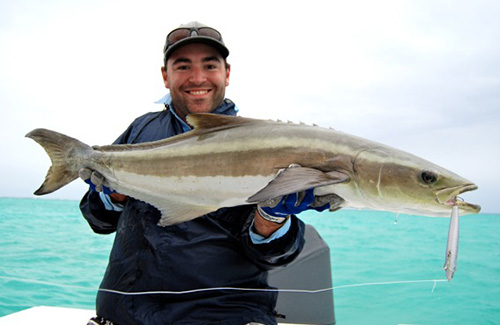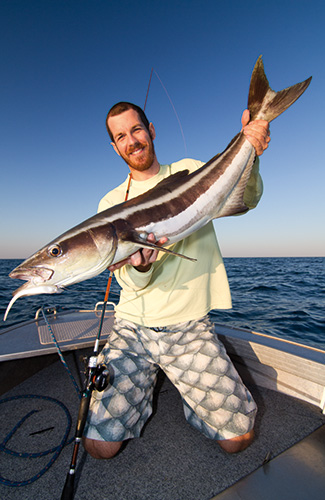 COBIA FACTS
Other names
Rachycentron canadus; black kingfish
WA Distribution
Cobia seem to have been regularly turning up farther south in recent years, possibly due to several years of strong Leeuwin Currents, with a number of smaller specimens turning up off Perth and even off Busselton. They have also been caught off Jurien Bay and at the Abrolhos. Traditionally, they have been consistently found from Kalbarri north, with Steep Point, Shark Bay, Quobba, Exmouth and Dampier among their favoured locations. Cobia are a fast growing species and are often found around structure, whether it be rocks, jetties or moored boats, but can turn up just about anywhere, anytime.
Description
Cobia hold a special place in the heart of many WA anglers, mainly because they are one of the hardest fish to work out, and therefore to catch. Sometimes they appear in the shallows, other times they'll turn up out wide in the blue water; sometimes they are in schools and sometimes they are flying solo. They are marvellously unpredictable, most of the time. However, they can be a little easier to find at times, such as when they are shadowing manta rays in Exmouth Gulf or at Dampier Harbour, or when they are shadowing big sharks at Quobba and Steep Point. They actually look a lot like small sharks and are often mistaken for them from a distance. Their flat head, dark brown colouring and prominent dorsal fin lead to the confusion. Smaller fish look a lot like another species found with sharks, the remora. Cobia have a prominent creamy stripe along the lower side of their body and can grow to more than 60 kilos, although most fish encountered will be 10-20 kilos. They are a very strong fish possessed of great power.