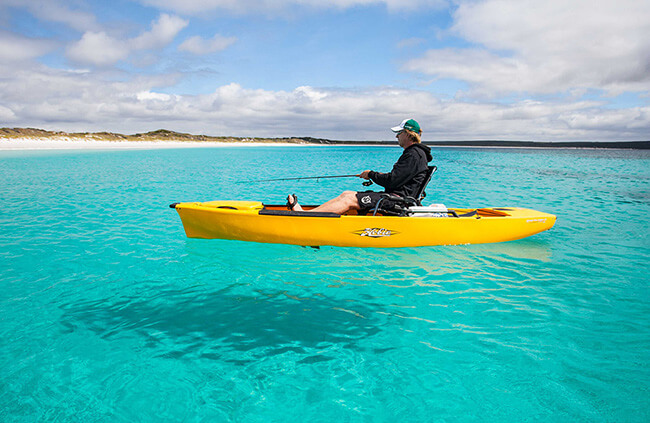 Many people who buy a fishing kayak think that's the end of the investment and all they have left to do is drop it on the water and get fishing.
How wrong they are!
Truth is almost everyone who buys a fishing kayak, whether it be a pedal or paddle one, will soon find themselves making modifications and additions to improve the fishability of their new pride and joy.
For some this will soon become an obsession, as they bling their 'yak up with all the latest and greatest in kayak accessories and potentially add thousands of dollars to their initial outlay.
This can result in a kayak becoming a serious fishing boat!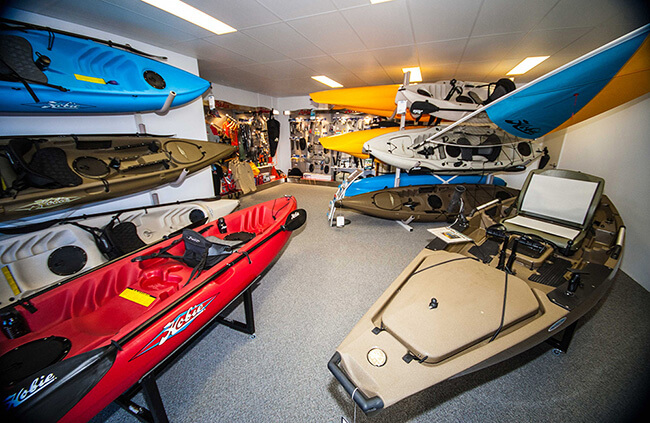 Of course, you don't have to go to that extreme and kayak modifications are an individual choice, but there are some which are found on just about any serious kayak fisher's boat.
One of the obvious additions to any new fishing kayak is rod holders, which are both cheap and extremely useful.
Most fishing 'yaks come with one or two moulded holders shaped into the hull, usually just behind the seat, but adding more specialist holders will enable the angler to carry more of their favourite outfits with them and place them where they prefer.
Adding holders enables the owner to customise their yak to their particular fishing needs, for example placing a holder right next to their seat or towards the bow for trolling purposes, so they can both watch the rod and grab it instantly if it goes off.
Some kayakers have simply adapted milk crates for this purpose, placing them behind the seat and using them also as a mounting point for rod holders, but also to store equipment.
There are also several clever accessory mounting systems available for kayaks these days and the choice will come down to personal preference.
These systems are also popular with those anglers wanting to capture their best moments on film or video, enabling them to have camera mounts around the kayak.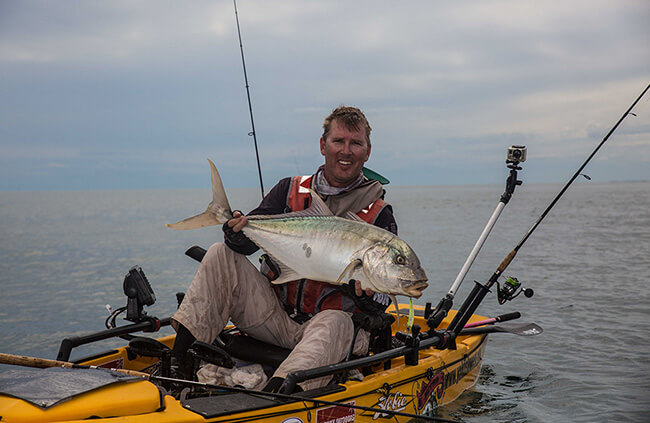 One of the cheapest and yet potentially most valuable items you can have on a kayak is a rod leash, which could save you thousands of dollars and a lot of anguish if an outfit drops, or is pulled, out of a holder.
It is also worth having a good pair of lip grips handy for controlling fish in the confined spaces of a kayak, and especially when handling big fish next to the boat.
A good landing net is another must for almost all kayak fishers as it makes landing fish much simpler, rather than trying to reach over the side and grasp them.
For those with pedal kayaks a paddle is an essential extra, and there are a range of short hand paddles which are perfect for using when kayak fishing.
Anyone who starts to seriously enjoy their kayak fishing will soon be looking to add a fish finder/sounder to the 'yak.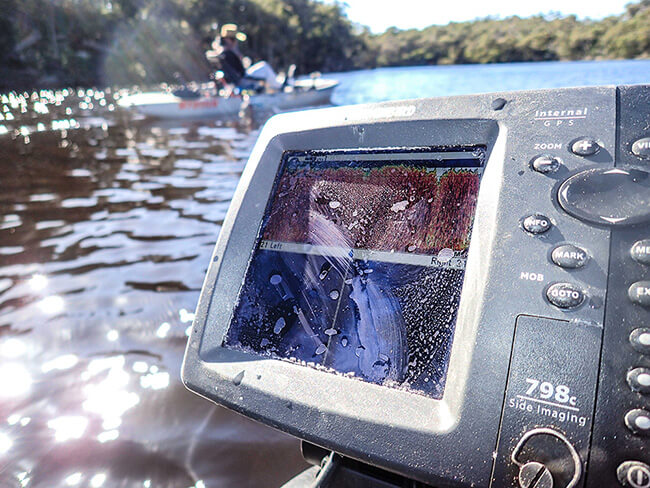 There are a number of these available across all budgets, and fitting a transducer to most kayaks is relatively simple, with some of the top-end 'yaks already set up for installation.
The location of the unit is a case of individual choice, as is the method of mounting and whether it is fixed or removable.
Obviously you need a power source and a small battery will be needed, with some keen kayakers even mounting solar panels on their boats to keep the charge up.
Again, how you store the battery will be a personal choice and some will simply put it inside the hull, while others will use a battery container (many home-made) to keep it protected.
Those kayak anglers who want to do some serious offshore fishing are likely to consider adding a sail to their rig to ease the pain of long trips, while an outrigger system can also add extra stability for offshore fishing.
An anchor trolley system is a common addition to a fishing kayak.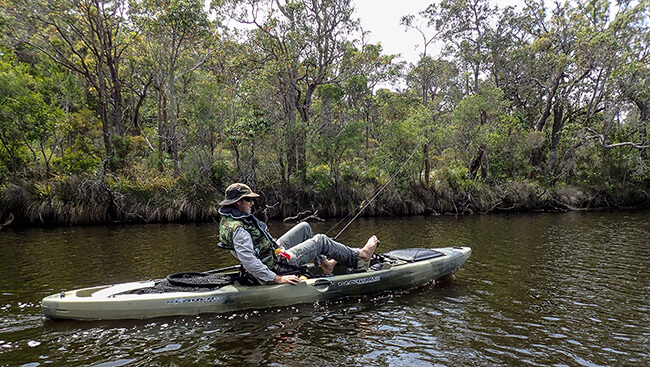 It is simply a rigging line which runs along the length of your kayak that you attach your anchor to.
A pulley at the end of the rigging allows the kayaker to move and position the anchor point of the kayak to suit their needs.
A small drift anchor can also be useful to slow your movement in windy conditions. This can also be attached to the same anchor rigging and adjusted in the same way to get the best drift results.
Another nifty little addition to your kayak is a magnetised tool holder.
These can be easily mounted close to the seat and mean you can store lures, pliers and hooks within easy reach for immediate access, while keeping them well above any water on the floor of the kayak.
In a kayak one of the big issues is keeping things dry whether it be tackle, cameras, phones or car keys.
Some kayaks come with built-in dry storage, plus there are many waterproof cases and dry bags which will ensure your valuable equipment doesn't cop the inevitable dunkings which are part of life on a kayak.
Other aftermarket upgrades can include seat replacements, new rudder systems, stand-up bars and stakeout poles, while every kayaker should carry a PFD with them in case something goes wrong and they suddenly find themselves in the water.
A good set of wheels is pretty much a necessity, to assist in moving the kayak around and especially when it comes to getting it to launching spots.
As you can see, there really is an almost endless list of additions and improvements you can make to your kayak.
Customising your kayak can be a lot of fun and take on a whole life of its own in addition to the fishing.
Work out what you want, think about what you need, and have fun setting up your kayak for your fishing adventures.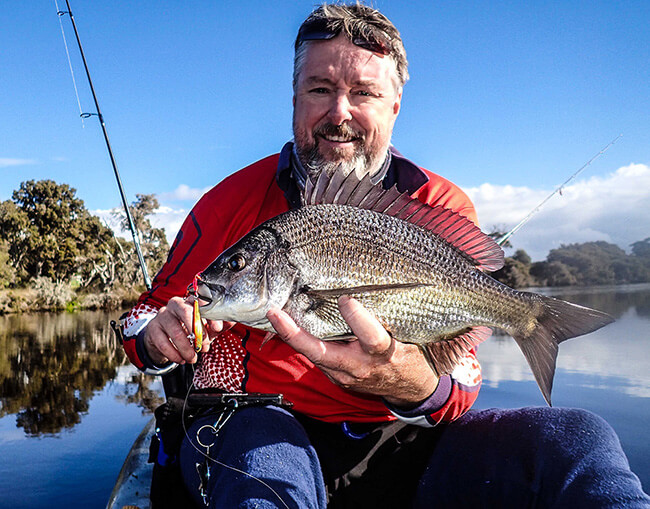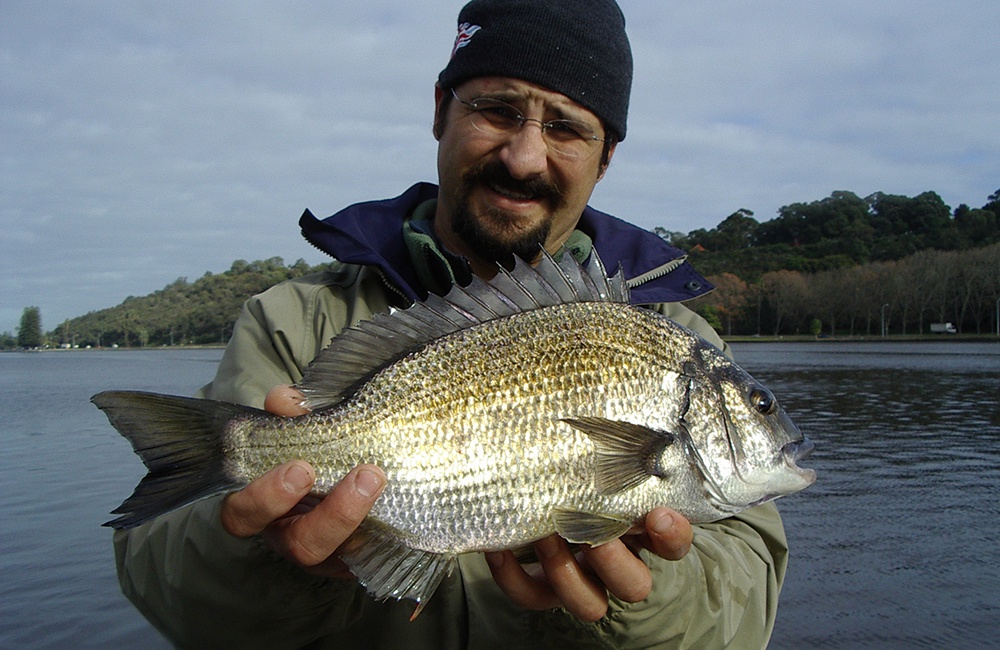 Fish warm this winter
With fewer people out on the water, winter is the perfect time to go fishing and keeping warm and dry is quite simple when you know how.
Our Winter Fishing Warm and Dry article tells you everything you need to know about staying comfortable while you fish. Check out out here.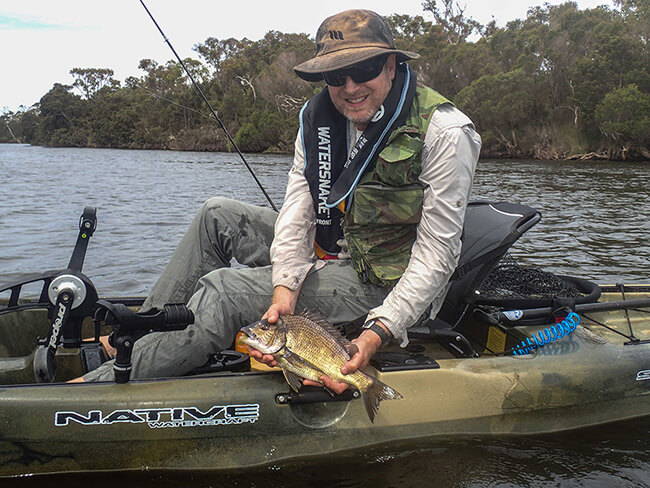 Stay safe on the water
The most important piece of equipment on your kayak is your PFD. Every kayaker should carry one of these and if possible, it should be worn at all times while on  the water. Built for fishers, the new breed of PFDs are so comfortable and lightweight you won't even notice you're wearing it.
To purchase one of these slimline PFDs, head over to the Fish and Survive online shop and check out their range of PFDs and other fishing safety equipment.