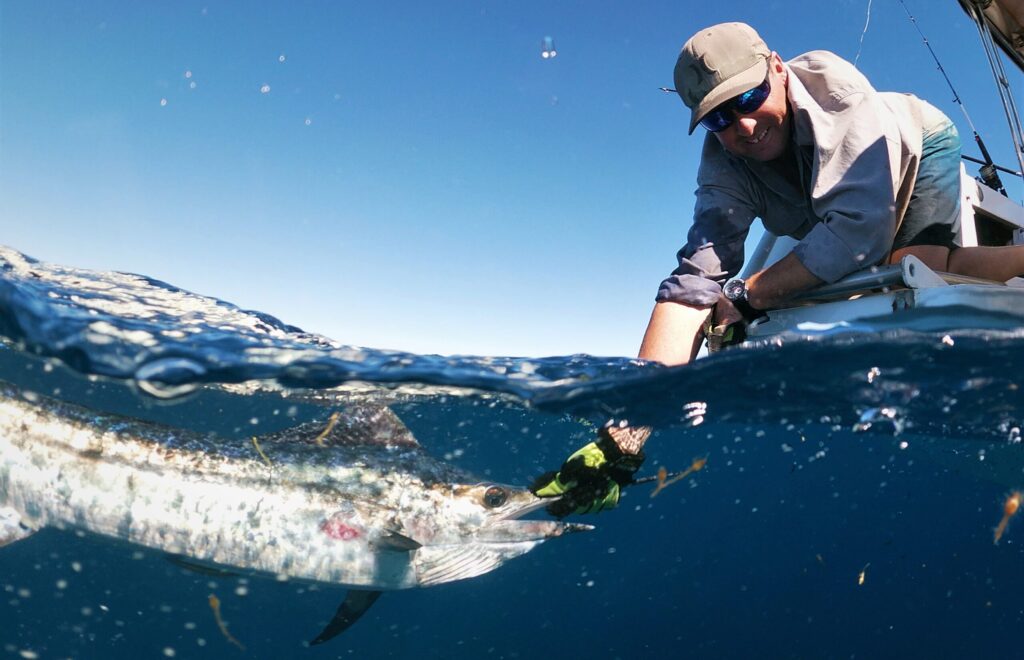 When it comes to considering WA's ultimate fishing destination, it is hard to go past Exmouth and its surrounds.
There is a good reason why many people consider Exmouth WA's best fishing spot – there are so many options and an array of highly desirable species on offer.
From kids and families through to offshore bluewater gurus, it seems Exmouth has something to lure every angler, especially those with access to even the smallest of boats.
From the marina to the deep water of the Continental Shelf off Ningaloo, there are few more fishy places on the planet, let alone in WA.
If you make a list of the most iconic fishing species in WA, almost all of them are caught around Exmouth.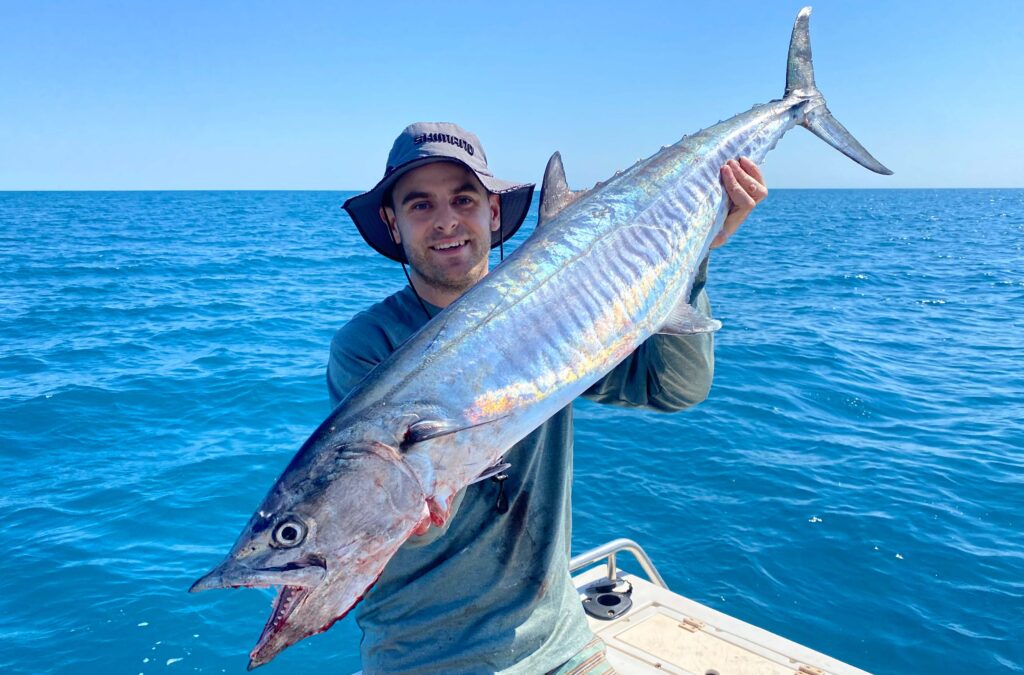 However, there is no doubt the bluewater action is what Exmouth is most famous for and it hosts one of Australia's biggest gamefishing tournaments each year – Gamex.
There are few places where billfish action is available so close to shore as off Tantabiddi, along the west coast and around 30 minutes by car from town.
Here you can be 100 metres of water just minutes from the boat ramp and be among the sailfish and marlin.
While sailfish and small black marlin are most prevalent, there are also good numbers of big blues around and it's only a matter of time until the elusive 'grander' is caught in these waters.
Marlin are far from the only bluewater target though and other likely catches include wahoo, dolphinfish and yellowfin tuna.
Bottom fishers also try their luck in the depths for the likes of ruby snapper, grey-banded cod, red emperor and gold-band.
In closer to the back of the reef there are Spanish mackerel and coral trout to be had, while those seeking the excitement of big giant trevally and red bass will cast lures right up against the reef edge and hang on.
Even the inside of the reef can be very productive, particularly for golden trevally, spangled emperor, queenfish, giant herring and even bonefish in some locations.
There are also countless squid inside the reef at times.
Billfish aren't only caught off Tantabiddi though and at certain times of the year sailfish will enter the shallow waters of the gulf while following bait, offering some exciting fishing action.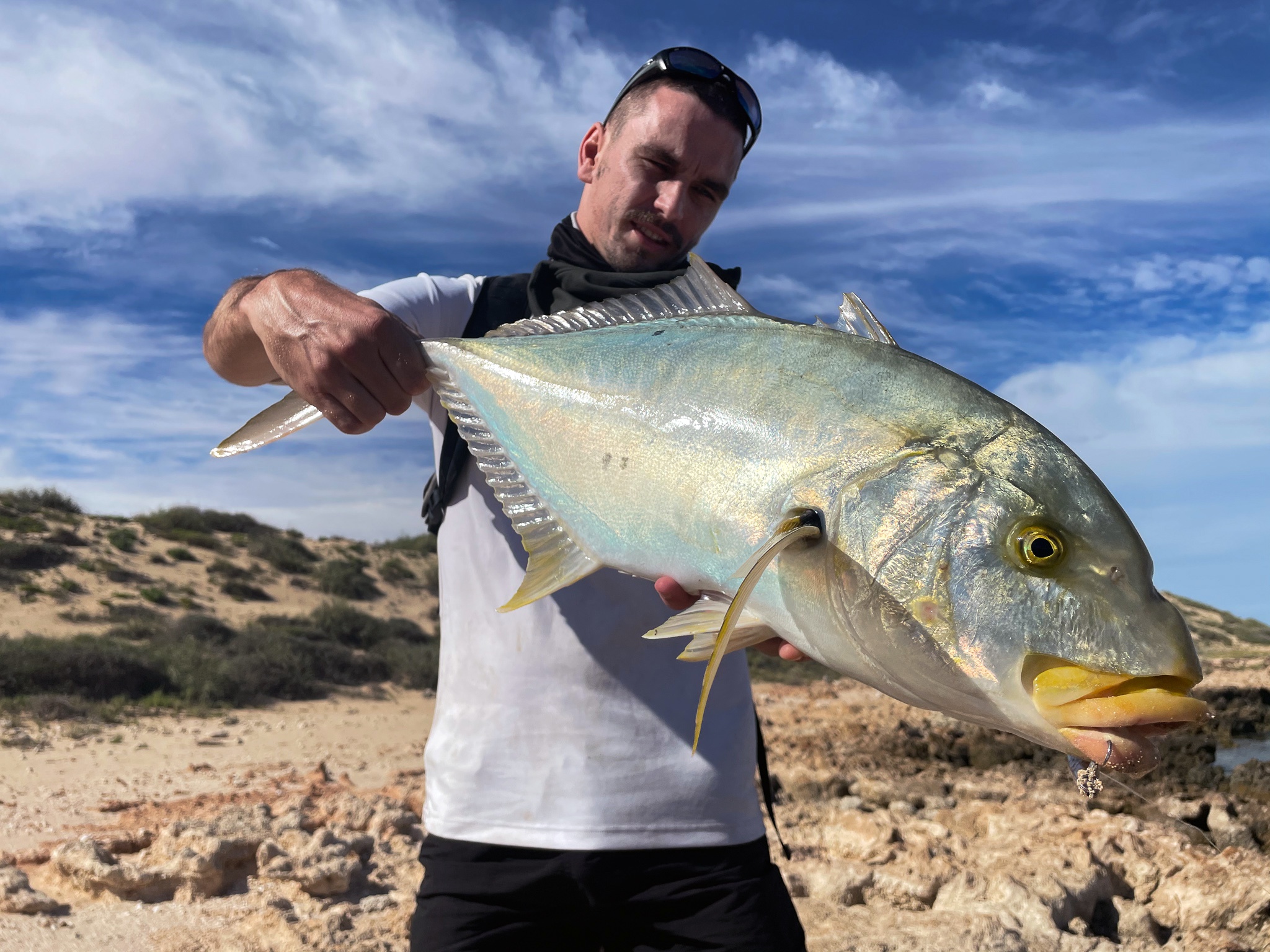 The gulf itself is a magic sportfishing location, offering a wide range of species and usually in shallow water, making it very popular with visiting fly anglers.
Big queenfish patrol the flats and are sometimes joined by big GTs and monster giant herring, as well as permit and blue bastards, while thumping golden trevally will turn up on the shoals.
The shoals are also likely to produce mackerel, tuna and coral trout, with working schools of longtails are a common sight in the gulf.
Learmonth Jetty is a popular spot for shore anglers looking to access some of the flats action.
The small creeks which feed the gulf hide a few barramundi, but are very good for mangrove jack, small queenfish and trevally, bream, cod and there are also some good hauls of mud crabs on offer.
The shallows of the gulf, including around Exmouth, are also worth trying for small fare such as whiting and flathead, and squid can again be caught.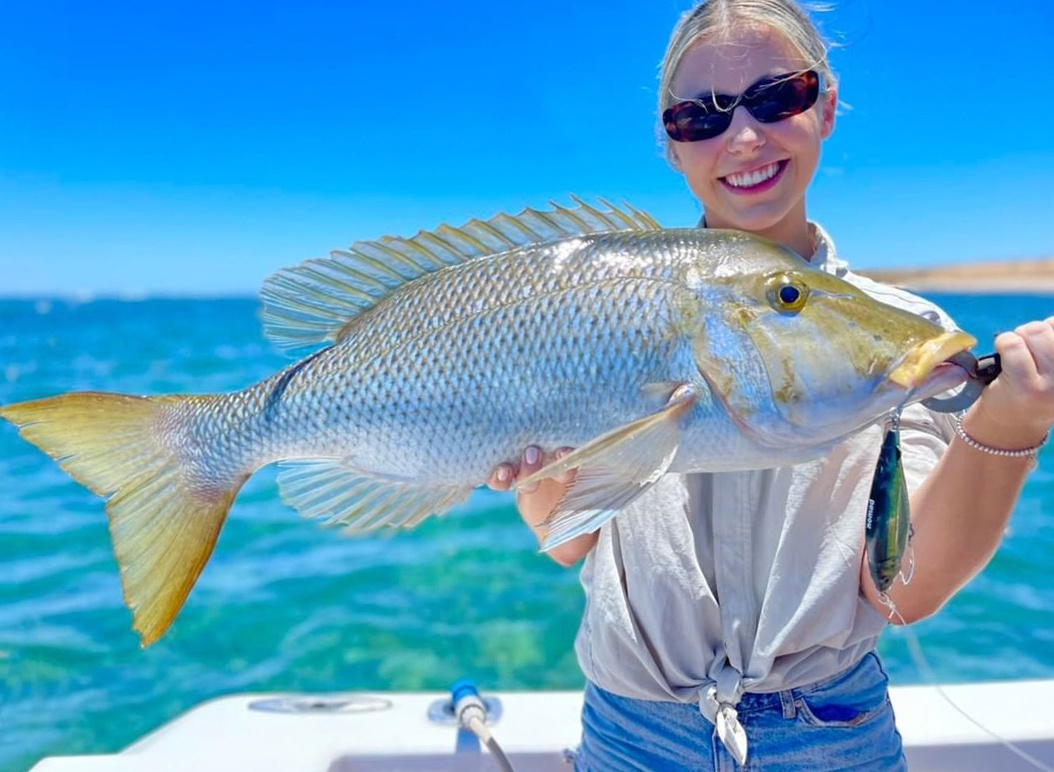 The islands off Exmouth are a favourite with boat anglers too, offering fantastic fishing in some stunning locations.
The Muirons and Peak are favoured fishing spots, offering many of the popular local species including spaniards, tuna, cobia, GTs, trevally, sailfish and more.
Trolling is a favoured method in these areas, but anchoring and berleying can be extremely effective, as it can also be on the shoals in the gulf.
There are launch ramps at Tantabiddi, Bundegi and the marina, and limited beach launching at other locations.
The marina is also a great spot for young anglers, offering plenty of fun with small queenfish, trevally, jacks, cod, flathead and bream.
Fishing from the rock walls anywhere around the marina is worth a try and you just never know what might show up next – a sailfish was even hooked in there a few years back!
Which sums up fishing Exmouth – anything can happen and often does!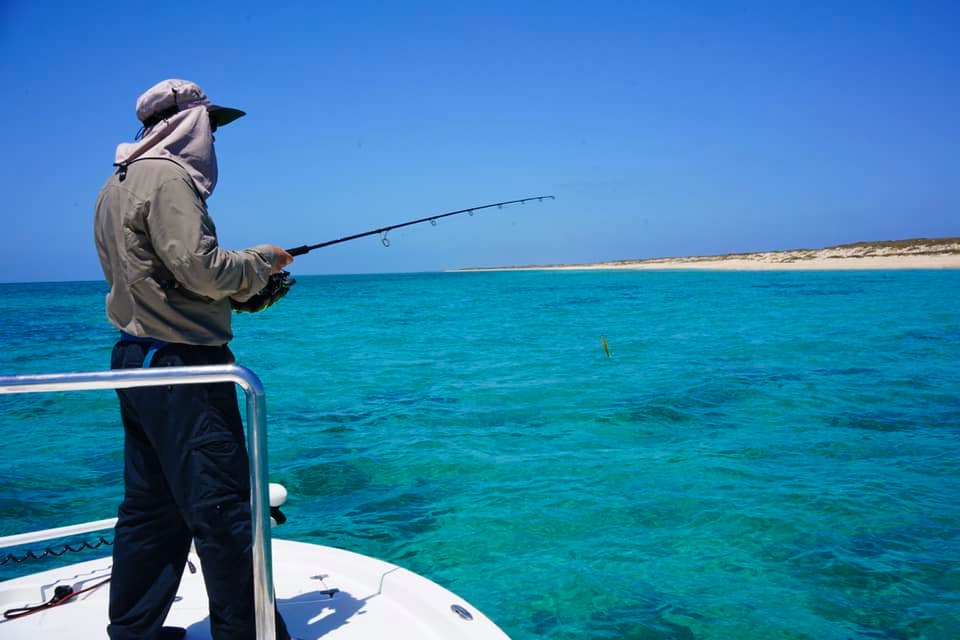 Species:
Blue and black marlin, sailfish, Spanish mackerel, wahoo, yellowfin tuna, dolphinfish, red emperor, gold-band snapper, ruby snapper, rankin cod, longtail tuna, bonefish, permit, barramundi, bonefish, giant trevally, golden trevally, giant herring, mangrove jack, squid, mud crabs.
Lures:
Rapala X-Rap SRX14, Smash Crab, Pulsator Marlin Magnet, Halco C-Gar, Halco Big Max 190.
Tackle:
Shimano 24kg Tiagra Standup Straight (1.7m) and Shimano Tiagra 50W spooled with Platypus Pretest 24kg; Daiwa Saltiga M-Over 80S (2.4m) and Shimano Stella 14000XG spooled with 27kg Rovex D8 braid and 80lb Black Magic Tough Trace.
Access:
2WD in most locations.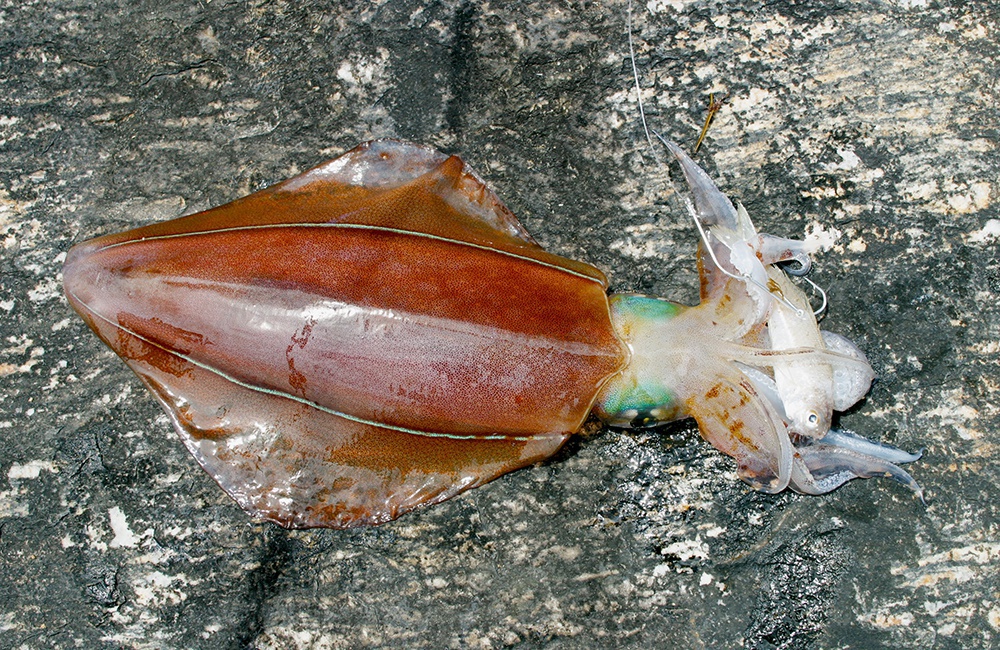 There's nothing better than a side of fried calamari to go with your tasty Exmouth red emperor and catching squid from the shore is easy when you know how!
Check out our Shore Based Squid article for all you need to know about bringing home a feed of these tasty cephalopds!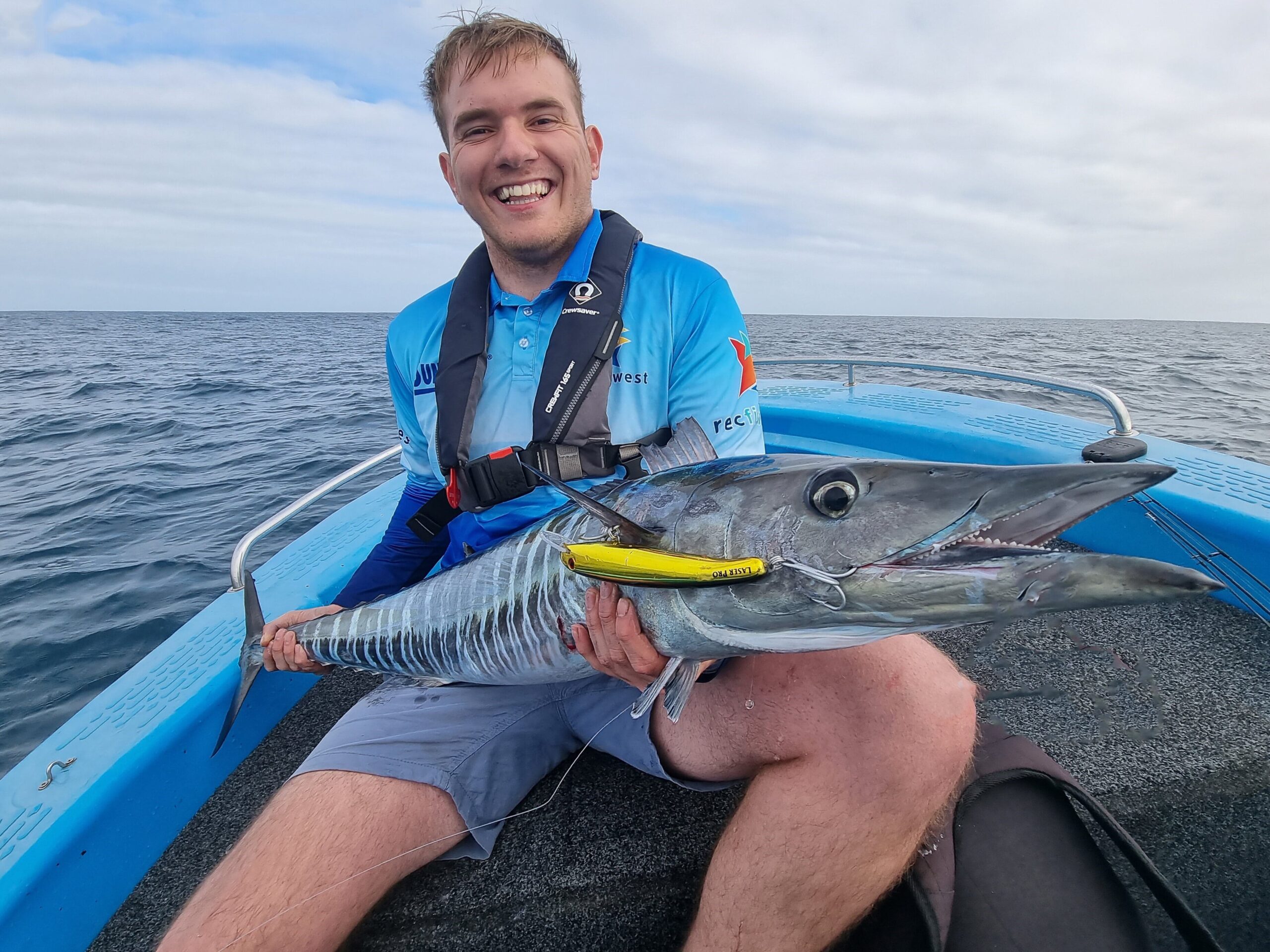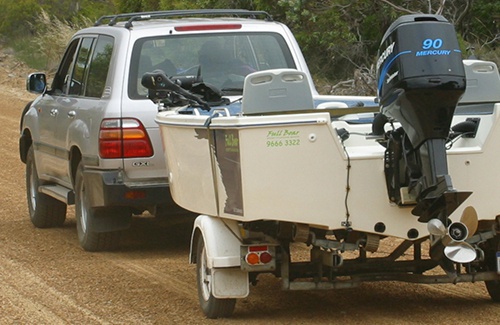 While there are many fantastic shore based fishing opportunities in Exmouth, having a boat opens up a whole world of game fishing pleasure.
If you're planning to take your boat with you to Exmouth, check out our Trailer Checks article for tips on making sure your boat trailer is road safe and ready to go.