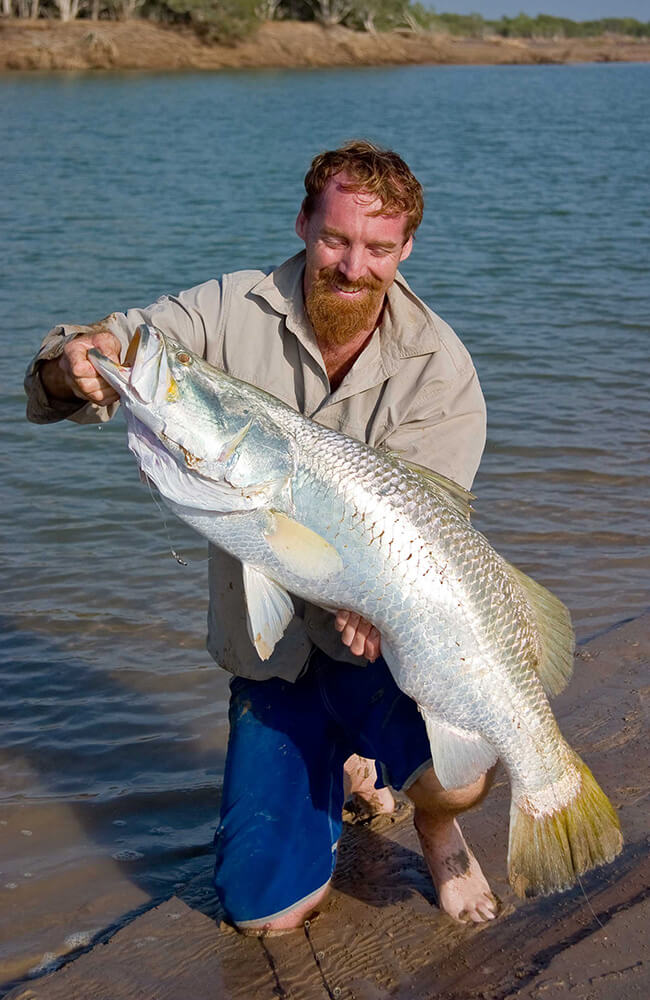 The Fitzroy River is one of the handful of legendary spots that hold a special place in West Australian fishing folklore.
Regarded by some as WA's premier barramundi fishing waterway, it is simply known as 'the Fitzroy' and its name nestles comfortably among out most iconic fishing destinations.
Even though fish can be found a long way up the river, the salt water section of the Fitzroy below Willare Bridge is favoured by Broome and Derby locals. This section is a couple of hours from both towns and can be extremely tough on man, equipment, and even beast.
But the Fitzroy also offers some spectacular barra fishing along its 733-kilometre length, particularly during the buildup and runoff.
Located north of Broome, it's the premier spot for locals who want to tangle with a good barra to well over the magical metre mark, but it doesn't give up its trophy fish easily.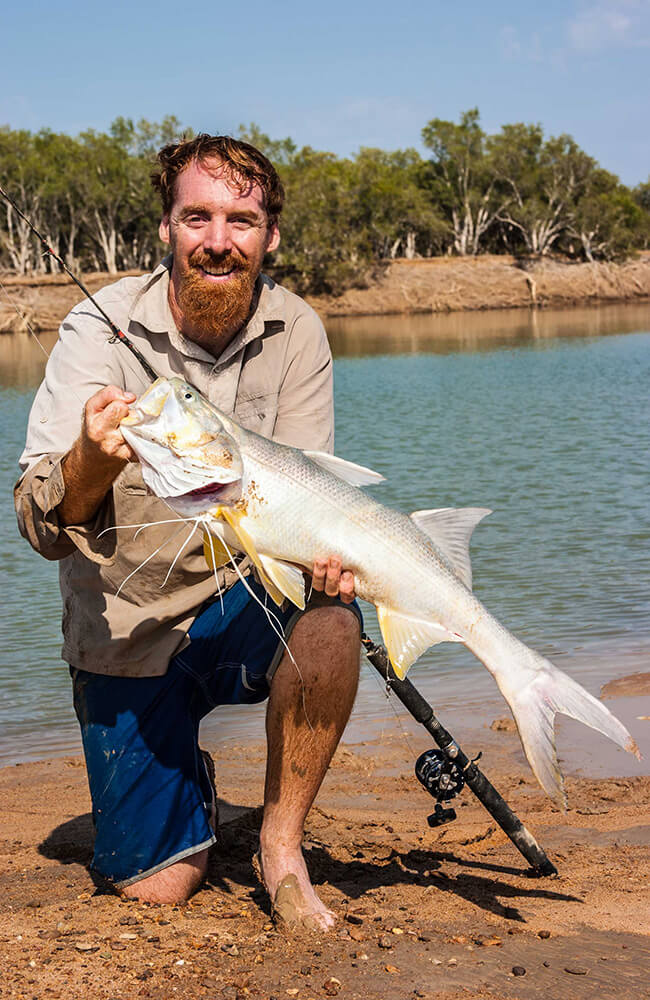 It can be fished from both shore and boat, but both methods bring challenges.
Launching at the Fitzroy can be tricky and navigation more so, with the muddy water making it impossible to see obstacles and shallow sand banks, which regularly move.
Misjudge the tides or depth and you could be facing the arduous task of dragging the tinnie over the mud in the heat, or stay put and wait for the tide to change again.
Shore fishers won't find much in the way of shade, and the mud flats can be extremely warm during the heat of the day.
Throw in sand flies, mosquitoes and the resident crocodiles and you get the picture of the sort of challenges the Fitzroy throws up almost every day.
But the fact people keep going there, despite these issues, is testament to how good the fishing can be.
There are plenty of metre-plus barramundi caught here each year, by a variety of methods.
Live baiting is probably the most popular and is usually most effective given the dirty water being fished.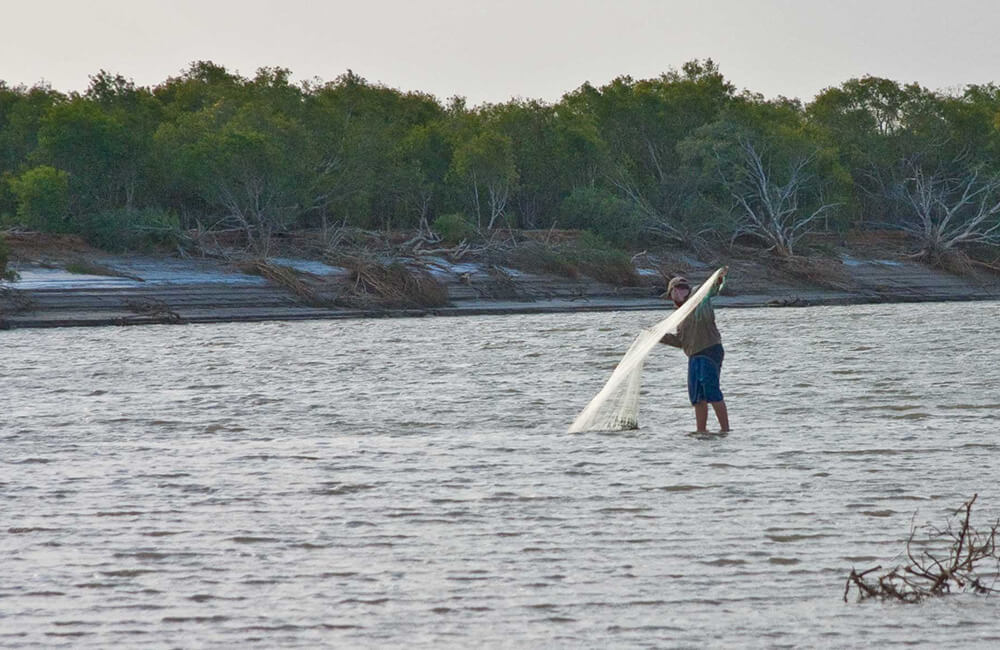 The livies are normally mullet collected in throw nets.
Dead baits also work on the Fitzroy, but you can expect to get plenty of catfish with this method.
Lures can be hard work, although soft plastics fished around snags do work and trollers using bibbed minnows can catch good fish.
One thing to try at night is surface fizzers (with the propeller on the nose) worked slowly, with long pauses, and the sound of a barra crashing a surface lure in the dark is an extraordinary one.
It makes even the most experienced anglers jump, which is hardly surprising given that shining a flashlight on the water will usually show a forest of croc eyes watching you.
Telegraph Pool is one well-known spot for fishing, with Willare and Yeeda Creek also popular, while a bit of exploration downstream from Telegraph can reveal some excellent holes, with this stretch popular with tinnie fishers.
Barramundi are the main drawcard for recreational fishers at the Fitzroy, but it also holds some good threadfin salmon, blue salmon and cod.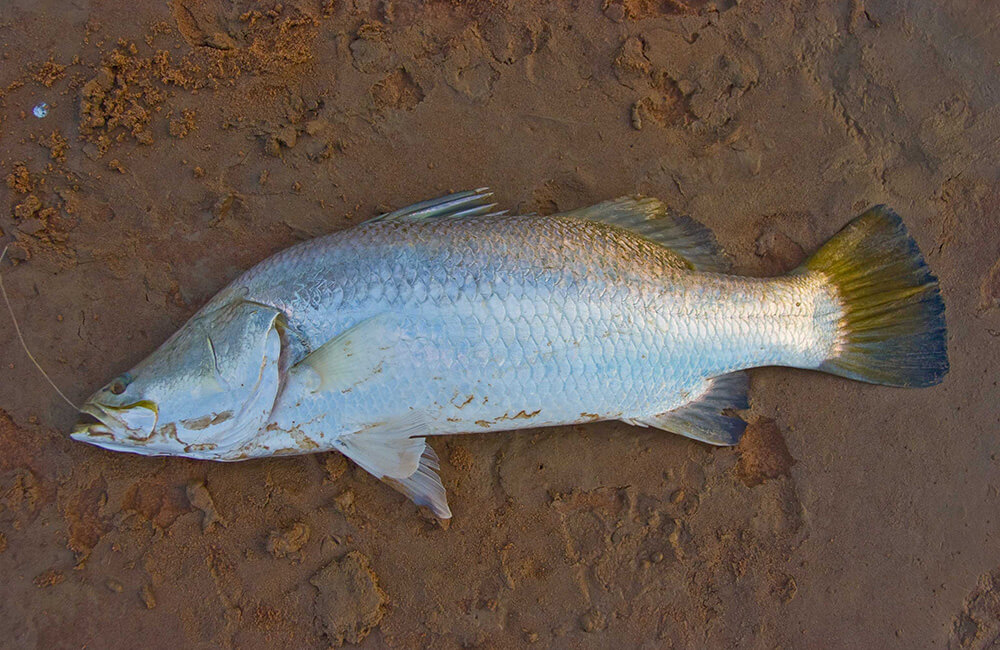 There are also small sharks in these waters and the fully protected sawfish can also be caught, but must be released immediately.
Sawfish can be seen chasing bait up onto the mud and are as a spectacular sight as they thrash their saw about in amongst the floundering bait.
A reliable four-wheel-drive is a necessity for fishing the Fitzroy and access shouldn't be attempted during the wet season, when road conditions can deteriorate rapidly.
It should also be noted this is station country and fishing here is privilege, so make sure you clean up your mess and don't leave anything behind.
The Fitzroy can be a harsh mistress, but she is also a seductive beast.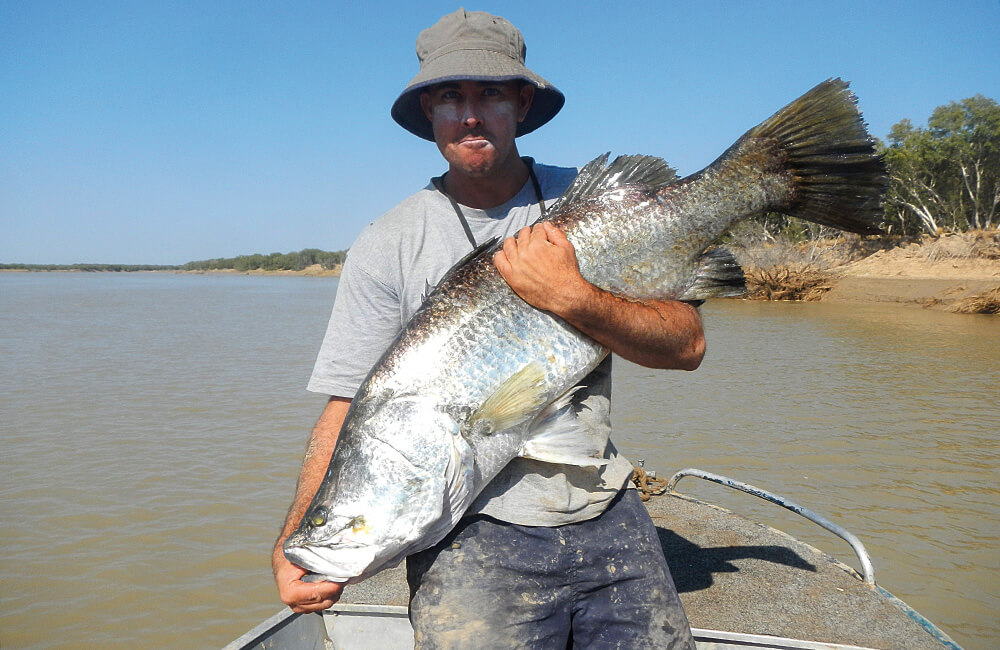 Species:
Barramundi, threadfin salmon, blue salmon, sharks, cod
Lures:
RMG Scorpion 125, River2Sea Tango Pro Fizzer, Bomber, Zerek Live Shrimp 3.5in, Berkley Gulp 5in.
Tackle:
Shimano Raider Barra Magnum (1.75m) with Shimano Curado reel spooled with 30lb Berkley Fireline Exceed and 60lb Black Magic Tough Trace. Shimano Barra Spin (1.98m) spooled with 30lb Berkley Fireline Exceed and 60lb Black Magic Tough Trace.
Access:
4WD only.

Barramundi are caught in some of Australia's most beautiful and rugged landscapes. Known for their superior eating qualities, hard fighting abilities and impressive aerial displays, they are a prized catch for both shore and boat anglers.
To find out how to catch this iconic Australian species, check out our How to Catch Barramundi guide.