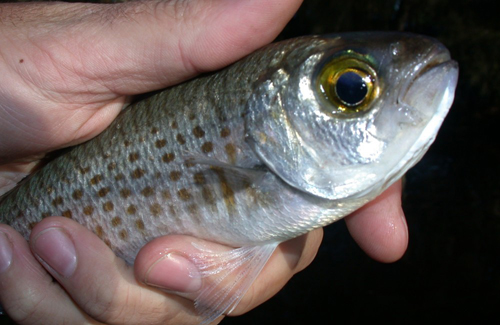 HOW TO CATCH AUSTRALIAN HERRING
Rigs and Techniques
Herring can be caught from the beach, jetties, rock walls and boats. Fishing close to shore or coastal islands and downstream parts of river systems will usually see you catching a feed.
While herring are the most sought after recreational fish species, they can at times be very temperamental to catch. Sometimes they will eat everything that hits the water with a hook in it while at other times they can be incredibly frustrating. The frustration is usually caused by these fussy little feeders ability to see the line coming out of the baited offering. This is usually during periods of calm weather, clear water and full sunlight.
When the herring become fussy like this, dropping to a lighter line on your trace will usually give the results. In monofilament it is often necessary to drop down to four pound (clear is your best bet), an even better option is the super clear fluorocarbon leader material. When fishing with this light line it is a good idea to check the section of line above your hook every couple of fish or so. Herring have sharp little teeth which will abrade the line pretty quickly if the bait gets down its mouth too far or if you are fishing with shorter shank hooks. If the line gets too abraded snip off the affected part of line and retie your hook, or just suffer the occasional hook loss.
Herring are a schooling fish so where there is one there are usually lots. Feeding in schools can make them incredibly aggressive and having competition for food will also help in catching a feed as when one goes for the bait more are sure to follow.
This aggressive behaviour also makes herring a great option for chasing with lures. The most popular lure for these fish is the green straw on a hook, closely followed by the Halco Twisty. Most small minnow shaped lures will work as will smaller soft plastics. If lures are fitted with trebles consider changing them over to single lure hooks, especially if you are releasing most of your fish. A single hook will do far less damage to the fish than a treble.
To chase herring it is always a good idea to increase your chances through the use of burley and an oil slick, if you are fishing from a boat, a burley bucket and a rag dipped in fish oil will yield the best results. While land based anglers can use the large array of burley cages and burley floats available at all good tackle shops. Burley is also available from tackle shops pre packaged. However any true herring fisher worth their salt will have their own special homemade mix.
Fishing tackle can consist of pretty much whatever you like. For fishing from the beach or rocks rods in the nine to twelve foot range are normal. Casting distance can be achieved with heavier burley floats loaded with burley.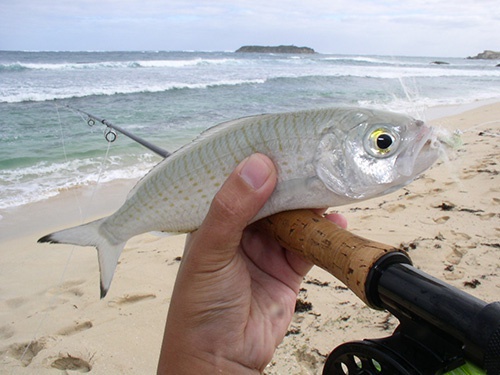 From the jetty or boats five to seven foot rods will do the job just fine. If you are fishing from the shore using a burley cage loaded with burley will provide enough weight to cast, while from the boat there will be no need for a burley cage as the burley bucket should be doing its job already. If the rod is loaded with light line, casting using the weight of the bait or the bait plus a few split shot should be fine.
Herring are an opportunistic feeder, they will eat pretty much anything that they can fit in their mouth. Herring have a relatively large mouth for their size so matching the hook to the bait size is better than trying to match a hook to the fish.
Expert herring chasers will always have a tub of maggots on hand to use as bait, if the herring do not eat maggots then chances are they will not eat anything. Other good baits include blue sardines or white bait which can be fished whole or in half on a gang hook or a long shank hook. Other good baits include pieces of prawn, pieces of squid or octopus, red meat and fish flesh.
When fishing for herring there is always a pretty high loss rate. Herring tend to jump and shake their heads vigorously to shake the hook from their mouth, very often they will succeed. Lures are particularly bad for high loss rates. Most times the losses will not matter as the herring will be so prolific it will not be long till the next one jumps on.
Herring are hard pulling for their size and give a good account for themselves on very light line, they love to jump once hooked which all makes them perfect for chasing with the kids, so why not unplug the kids this weekend and go and catch a feed of herring.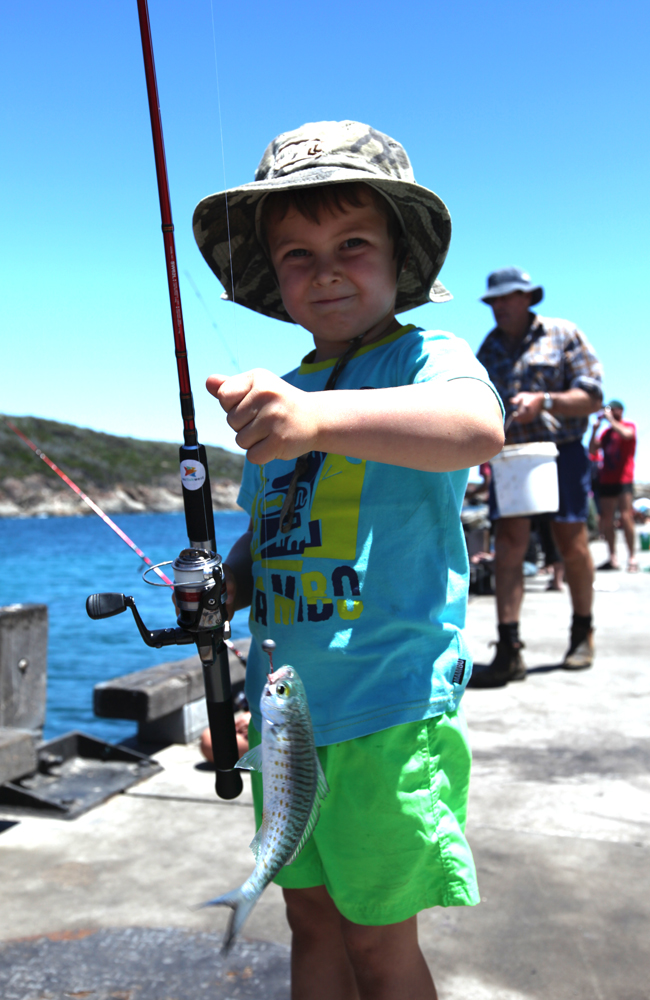 Herring Burley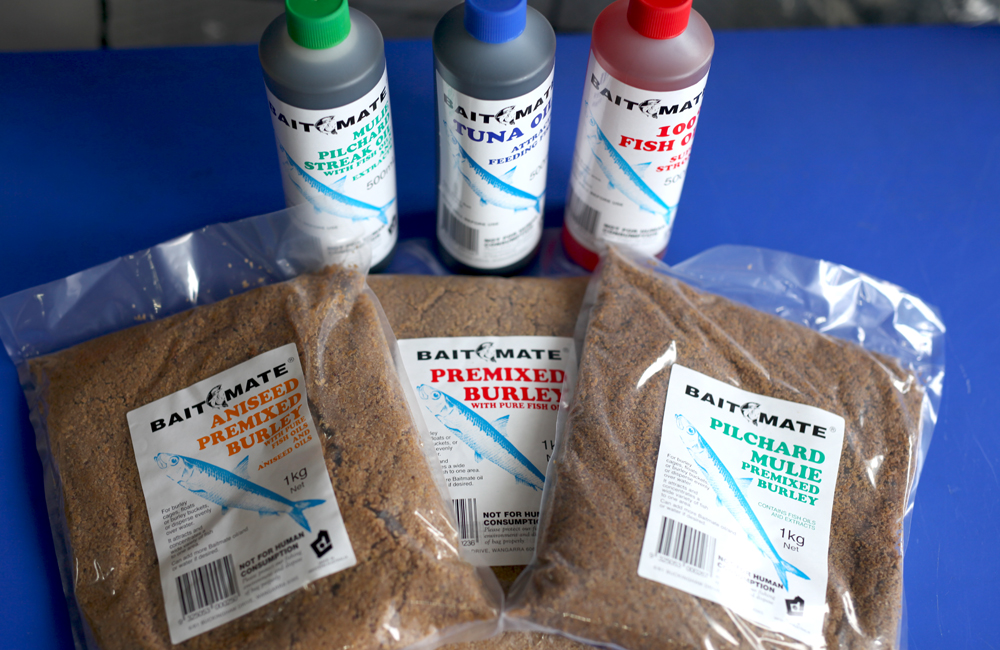 This burley is suitable for burleying up any smaller species of fish such as herring, skippy and other smaller fish often referred to as baitfish. (yellowtail, scaly mackerel etc.)
Pre packed burley is available at all good tackle shops and is very convenient, however if you are doing a bit of fishing it is more economical to make your own. Half the fun is creating the ultimate fail safe blend of your own.
To start you will need a bag of pollard. You can find pollard at your local tackle shop or in many supermarkets or pet shops in the pet food section. It is mainly used as a chicken feed and is available in a variety of sizes depending on your needs.
Next you will need some fish oil of your preference. If you like you can experiment and find which one you think works the best. Fish oil is available at tackle shops in a range of bottle sizes.
Get yourself a small bucket and add some of the pollard, then, mixing carefully, add the fish oil until you get the desired consistency. Too much oil will make the burley thin and not stick in berley cages and floats. Too stiff and it will not come out of the burley cage or float as desired.
Remember that if you add water to the mix your burley mix will go moldy if you try to keep it for any length of time, so it is worth making a thicker mix than you would normally use and add water to suit at the time of fishing.
There are also a few tips for fine tuning your burley to your needs. If you want a stickier mix you can add a bit of plain cooking flour to your brew. If you want the burley to break up quicker you can add a bit of beach sand.
Another refinement is the addition of some bran. This will give some different grades of flake to your burley making for a larger cloud of burley once it hits the water, keeping the fish interested in the area around your bait for longer.
You can experiment with plenty of other additions to your burley. One popular addition is fish and chip shop batter skimmings from the deep fryers. This one can be tricky as it tends to float and can bring in the seagulls, which can hinder your fishing.
The last tip is to not use too much burley. The idea is to get them excited, not full.
Fine tuning the ultimate burley mix can be a lot of fun and is a great way to save a few dollars.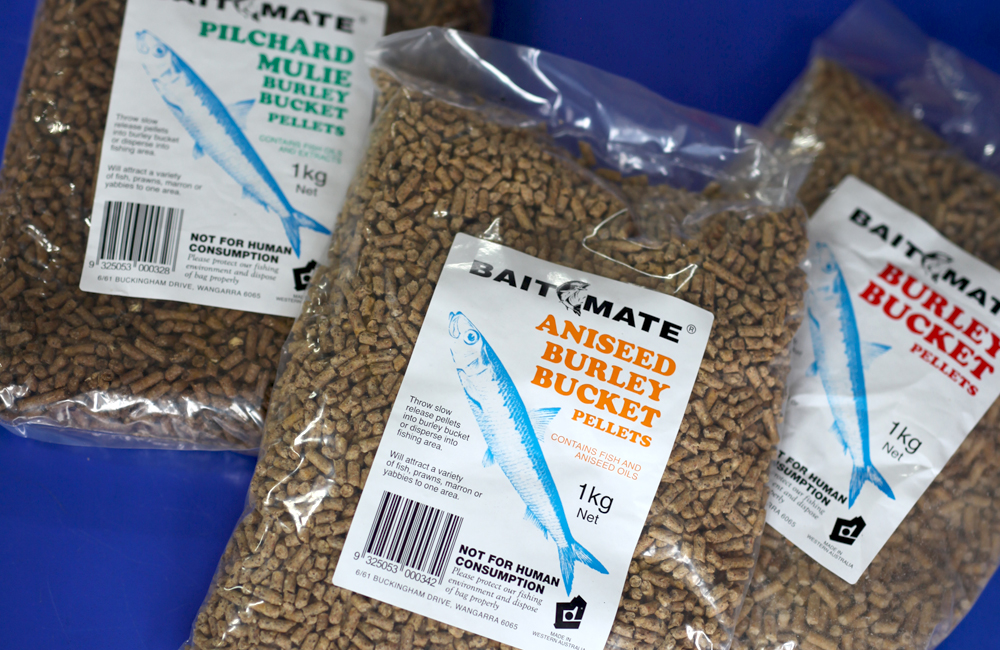 Habitat and Distribution
Herring inhabit coastal waters from the South Australian Border to Shark Bay, spawning occurs in the south west of WA in May and June. Fish will migrate from as far away as South Australian waters. Once fish migrate to the spawning grounds on the west coast they seldom travel east again, usually preferring to stay on the west coast. Herring mature at about three years old or roughly 20cm.
Where to Catch
Increase your chances of catching!
Before heading out, find out where the fish are biting throughout Western Australia in our Weekly Fishing Forecast.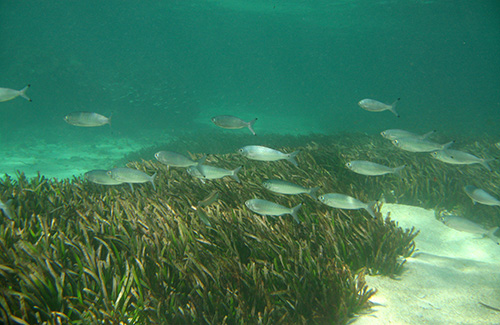 Other names
Arripis georgiana, Tommy ruff, bull herring
Description
The Australian herring is by far and away the most sought after recreational fishing species in WA. Most fishers who started their fishing in the southern part of the state no doubt started out at some stage catching herring. It is for this reason that the herring has been coined as the "people's fish!" Personally I like the term gateway fish. Herring are responsible for a great deal of anglers getting into this healthy outdoor pastime and has been responsible for many taking it up as a lifelong obsession.
Herring are so popular because they are accessible to every type of fisher, young or old, shore or boat, it does not matter. If you are looking for fishing that is easy and accessible to all of the family or a species that grandparents can fish for with young grandchildren then look no further than the Australian herring.
Also known as Tommy Rough to our east coast cousins usually referred to as herring here in the west. A big fish when captured is often referred to as a "bull herring."
Herring are reported to live for up to 12 years, however most will be caught in the first five years of their life cycle.
Herring grow to a maximum size of about 40cm, herring are sought after by both recreational and commercial fishers. Unfortunately most commercial fisheries target these fish before their first spawning event and the majority of the fish caught are used for bait which seems like an incredible waste of such a valuable resource. The catching of such large amounts prior to spawning should ring alarm bells even to non fishers. Herring catches for 2012 for the rec sector was about 27 tonnes and the commercial sector took about 163 tonnes.
Herring look very similar to juvenile salmon and are often confused for each other. The easiest way to tell them apart is that the herring have a rough feel to their scales while the salmon will feel slippery. The other give away is that the herring have black tips on their tail.
Rules and Regulations
Like every fish species there are rules around catching them. The main ones to remember are a bag limit of 12 per person is now in place and if you are a skipper while fishing for herring from a boat you will need to have a Skipper's Ticket. Herring have no minimum size limit, however you should always fish for the future and return unwanted small fish unharmed. Read more about how to safely release fish here.
In recent times our bag limit was reduced from 30 to 12, this was primarily due to fisheries concerns that these popular recreational species was being overfished as well as having a few poor spawning years. Hardly surprising really when you consider the commercial take (primarily for bait) is predominately all caught before the fish have spawned.
The issue was so big that both the rec sector and the commercial sector both had to reduce their take. Luckily being the "Peoples Fish" Recfishwest managed to negotiate with fisheries to not give us a herring fishing closure over the Easter period and not reduce the bag limit to 8 as they had wanted.
Australian herring are a good eating fish. Fillets can be grilled, pan fried, steamed, baked, smoked or barbecued. Keep checking back as we have recipes and cooking tips coming soon.
For more information on how to care for you catch, check out our Catch Care page here.
How to scale an Australian Herring:
How to fillet an Australian Herring:
How to skin an Australian Herring:
How to debone an Australian Herring: