The south coast of Western Australia offers an amazing array of opportunities for kayak fishers.
More and more people are turning to kayaks to broaden their fishing horizons and the south coast offers a great mix of fishing opportunities and safety.
With numerous rivers and estuaries, as well as plenty of protected bays, it's a stretch of the coast which almost appears made for this type of fishing.
From Augusta to Esperance, there are countless great fishing spots perfect for exploring by kayak.
One of the staples of south coast fishing are black bream and there wouldn't be anywhere else in the country which offers the diversity of bream fishing locations as this area.
Major rivers like the Blackwood, Frankland, Donnelly, Denmark, Kalgan and Bremer have long been famed for their bream fishing, but they really are just the tip of the iceberg when it comes to fishing the south coast.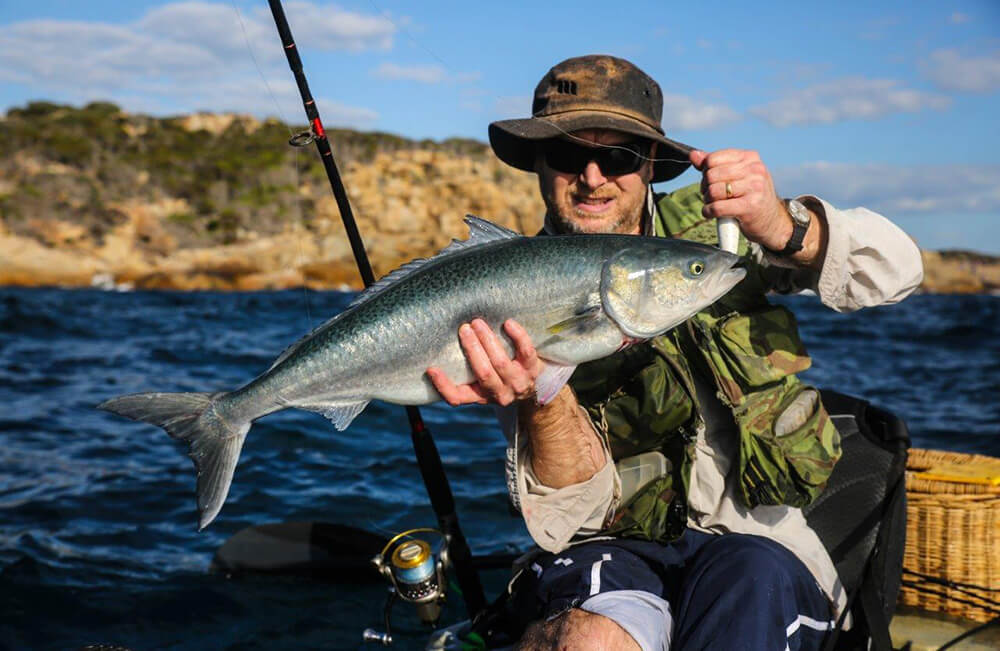 There are countless more small river and estuary systems, and even land-locked lakes, that offer great bream fishing, with the lure of the trophy 40cm fish for which the south coast is renowned.
A quick scan of the coast on Google Earth will show just how many potential bream fishing spots there are.
While the serious bream anglers have a few secret spots they won't divulge to anyone, the truth is bream can be found in most of the waterways along the coast and often in good numbers.
Almost all of the systems on the south coast have good access, meaning launching a kayak is simple and safe, opening up some fishing opportunities unavailable to shore and even, at times, small boat anglers.
Exploring some of these beautiful waterways silently in the kayak, taking in the fantastic scenery, is a delightful way to spend a few hours, especially from February to May when the local weather is generally most suitable for getting on the water.
Both lures and baits work, but the former are perfectly suited to the mobility offered by a fishing kayak, enabling the angler to explore a lot of territory to find the fish.
There is a range of environments in these south coast waterways and successful approaches can vary from long casts across flats, to fishing deep in holes, or working tight in against snags and structure, so it pays to be prepared for a few different scenarios, with a range of lures in the tackle box.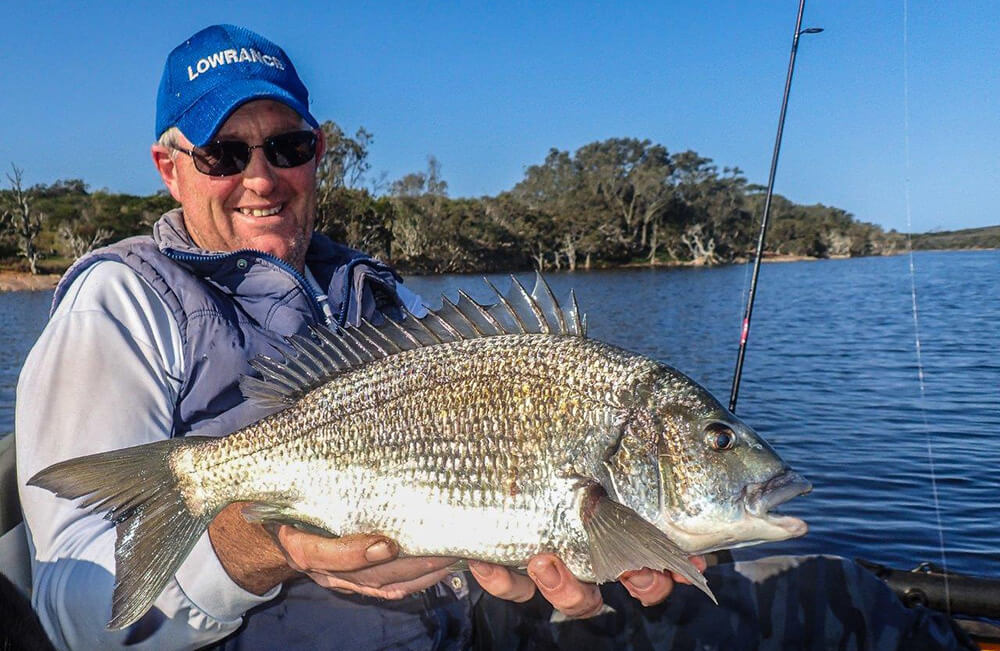 Bycatch of species like juvenile salmon, herring and mullet can be expected, and maybe even the occasional king george whiting.
Sometimes quite large salmon can become trapped in estuaries, while Albany's Kalgan River offers a unique kayak fishing option with its resident mulloway.
This sub-species which grows faster than its west coast brethren can offer great fun from a kayak, with fish to over a metre caught in the Kalgan.
Smaller fish around 50-70cm can be very common in the Kalgan and are great fun on light tackle.
The Donnelly River is also unique in that offers the rare WA chance at sea-run trout, with the freshwater species caught all the way to the mouth.
The nearby Warren River is a noted freshwater fishing spot which produces trout, but also high numbers of big, fat redfin perch.
Kayaking the Warren can be a challenge, with many fallen logs to be navigated, but the redfin fishing can make the effort worthwhile and few fish taste better on the plate.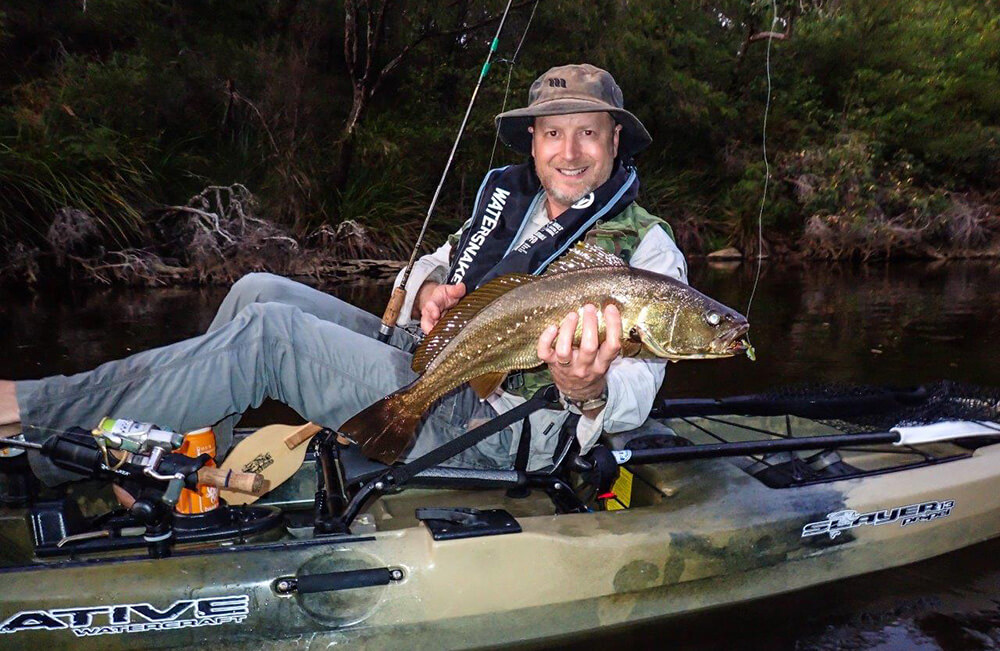 Some of the bigger estuaries, such as Oyster and Princess Royal harbours, Nornalup and the Wilson, also offer some excellent kayak fishing opportunities for a wider range of species.
Catches in these areas could include bream, KGs, flathead, pink snapper, herring, skippy, small salmon maybe even the elusive giant herring.
Kayakers can even use drop nets for blue swimmer crabs.
Local tackle shops are a great way to get the latest information on what's biting along the south coast and in particular which systems are firing, as this can vary from year to year and even month to month.
For those who want to get offshore, there are numerous sheltered launching locations which offer access to some great inshore fishing.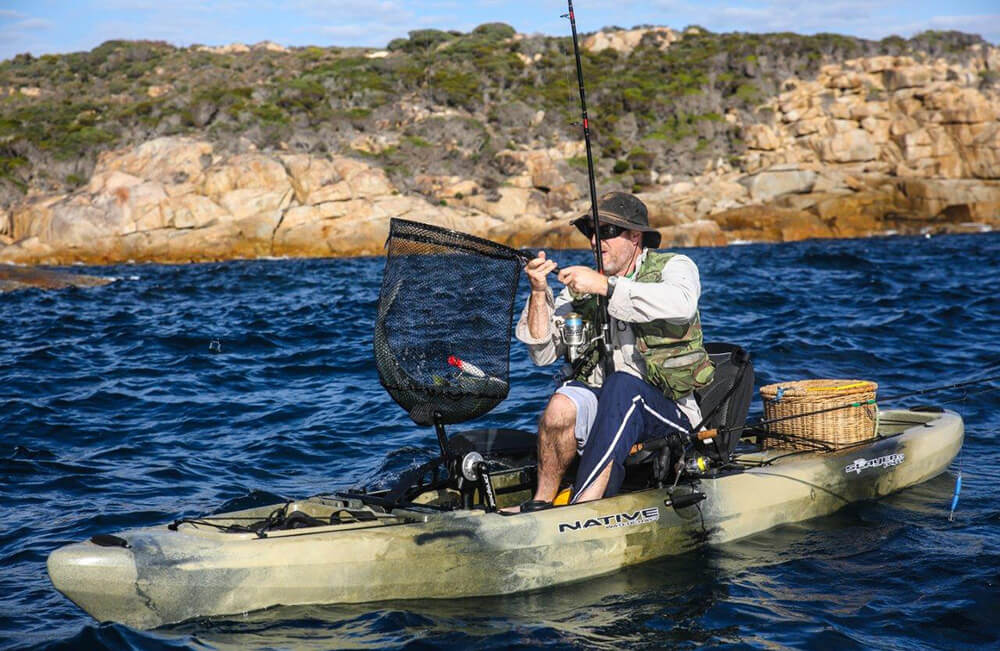 It's not unprecedented to tangle with serious fish like samson fish from kayaks, but generally the south coast fare will be more of the bread and butter variety.
Two of the more popular targets for inshore kayak fishers will be squid and king george whiting.
Often found in the same areas, both are great fun to catch and taste tremendous.
Find good banks of ribbon weed, which are often only a few metres from shore, and there should be some squid not far away.
Drifting around over these shallows weed beds with a couple of jigs out should result in a nice feed of cephalopods.
Look for broken ground and sand patches in the same sort of areas and you should be able to find a KG or two, if not some herring and skippy as well.
Kayakers trolling minnow lures just out from rocky headlands may also catch a few bonito and perhaps a southern bluefin tuna.
During the annual salmon run, from February to May, there is also the chance to use a kayak to chase big schools of these great sportfish as they cruise close to shore.
Timing is everything with salmon schools and you need to be in the right place at the right time to get amongst the action.
Cheynes Beach, just east of Albany, is not the only location where this is possible but it has been one spot where kayak fishers have reliably been able to do very well, as the schools often hold not far from the launching location.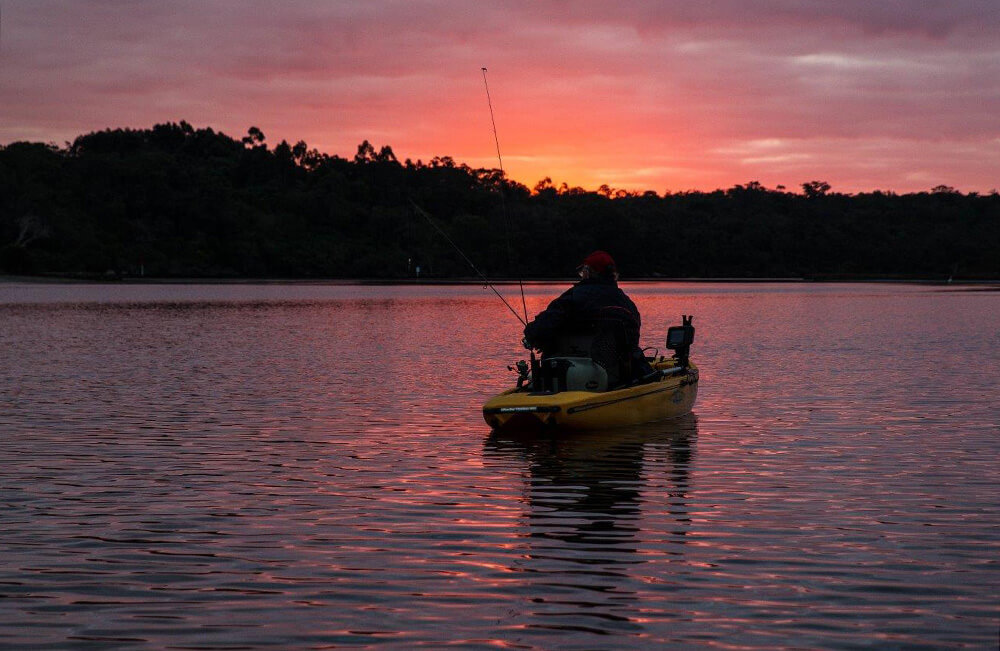 Trolling the nearby rocks is a good way to find the fish when they are running, as is watching for schools over the sand close to the shore as they will often pass right by the boat ramp.
If you are worried about sharks, then a Shark Shield is a good investment for added peace of mind.
With so many sheltered locations offering safe fishing water for kayakers and some great southern species on offer, the south coast is a fantastic playground for keen kayak anglers.

With just a few simple modifications, you can turn your kayak into a serious fishing boat! From specialised accessory mounts to echo sounders and even a sail, our Customising Your Kayak article shows you everything you need to know so you can modify your kayak to suit your fishing needs.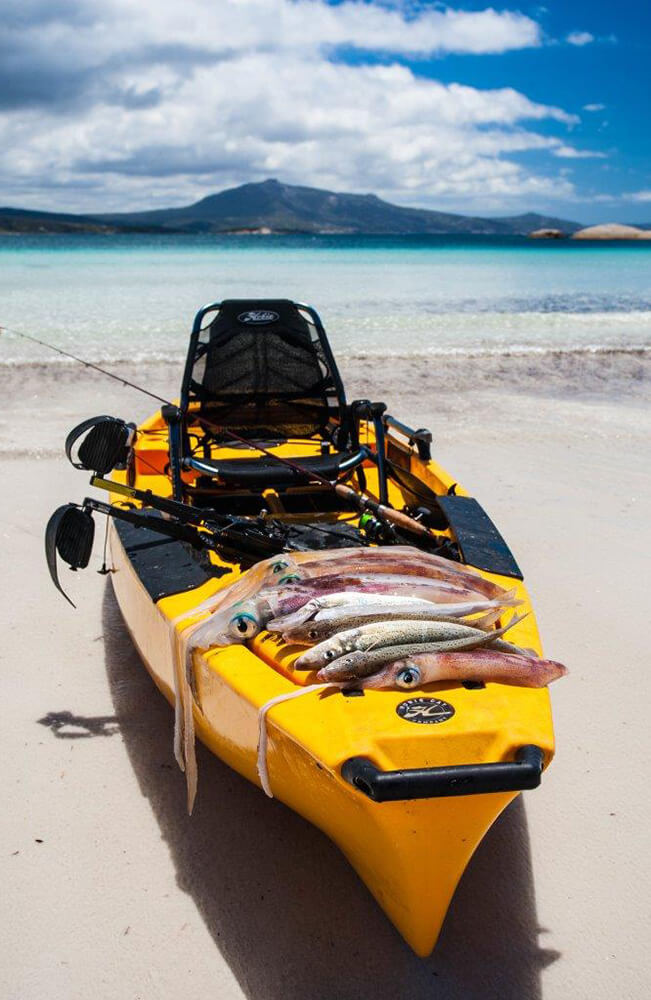 If you are heading down to WA's south coast, check out our South Coast Estuaries article for some great tips on where to fish for some family friendly fun!