Welcome to Recfishwest's weekly fishing report, brought to you by Recfishwest's fishing expert Joachim Azzopardi and thanks to Peter Fullarton for what's happening in Lancelin.
Keep your eyes peeled for Recfishwest's Tip of the week, see below!
Your Fishing Photos
If you want to see yourself or your kids feature in our weekly state-wide Fishing Reports, send your best fishing photos and a description to Alanna@recfishwest.org.au
Broome Catches
Boats
Sailfish continue to be caught offshore together with the odd small black marlin. Baiting with whole fish is proving to be the most effective method in hooking the billfish. Spanish mackerel have been responding well to bibbed minnows trolled off Entrance Point and Gantheaume Point. Bluebone and fingermark bream are being caught in good numbers in relatively shallow water within Roebuck Bay. The trick to catching both species is to search for patches of broken ground.
Shore based
A variety of lures have been enticing threadfin and bluenose salmon along Crab Creek Road. Both species have also been coming from the entrances of the other local creeks and adjacent shoreline. Barramundi have mostly been coming from the Fitzroy River, especially at Telegraph Pool and Langis Crossing. Queenfish and trevally can be targeted at the jetty together with bluebone and estuary cod.
Exmouth Catches
Boats
Spanish and shark mackerel continue to be caught on bibbed minnows trolled along the back of the west coast reef line. Black marlin and sailfish have been encountered within the 200m line while dolphin fish and wahoo are mostly out wider. Reef fishing enthusiasts have been doing well on red emperor and rankin cod in about 60m of water while goldband snapper are in 90m and deeper. Some nice spangled emperor were caught inside the lagoon this past week. Fly and spin fishers have been enjoying some entertaining sessions on golden trevally, giant herring and queenfish within the gulf.
Shore based
The marina is producing a variety of species including estuary cod, trevally, queenfish and mangrove jack. Squid have been caught at the marina and Learmonth Jetty during an incoming tide. There are plenty of whiting along the Town Beach and the sandy stretches south of there. Queenfish and giant herring are at the tip of the cape and occasionally turning up close to shore along the west coast. Try Jansz at sunset for blubone and spangled emperor.
Esperance Catches
Boats
Dinghy and small boat fishers have continued to do well on sand whiting, herring and squid within a mile or so of the shore. Very few made it to the islands and beyond, however there have been some nice clusters of nannygai found relatively close to shore in recent weeks. Samson fish and yellowtail kingfish were found in big schools around the islands before the rough conditions set in.
Shore based
An assortment of bread and butter species including herring, skippy, King George whiting and squid can be caught from the Taylor Street Jetty. Bigger numbers of King George have been coming from Bandy Creek boat harbour together with herring and small skippy. Geordies to 35cm were also picked up along the foreshore during the past fortnight. Salmon have been caught in their ones and twos at Salmon Beach and Fourth Beach. Try Poison Creek for mulloway, gummy sharks, salmon and herring.
Albany Catches
Boats
Boat fishing has been limited because of the persistent big swells and strong winds. It did not appear that any boats were able to head out to the coral in 60m to 90m of water nor the shallow grounds inside of 40m. Expect dhufish, breaksea cod, pink and queen snapper to be in close once conditions are suitable to venture out. Very few fished the inshore areas, however those who did managed a few King George, herring, skippy and squid. Mulloway to 70cm are still being caught in the middle and upper reaches of the Kalgan River. Black bream in the mid 20s to high 30s are common in both of the local systems. Baits seem to be producing good results on the bream however vibes, blades and soft plastics have been working well at times.
Shore based
Surf fishers have continued to catch salmon from local beaches. The 4kg to 6kg fish have mostly been turning up early morning and have been striking at baits as well as an assortment of lures. At Shelley Beach fishers using whole baits including mulies and scaly mackerel have been producing good fish. Cheynes Beach and Bluff Creek have also been producing salmon with the latter stretch yielding skippy to a kilo and tarwhine. Herring are in very good numbers right along the coast and there are a few King George whiting coming from the protected areas of Frenchman Bay and the decommissioned whaling station. Squid are worth trying at Frenchmans and the marina, especially early morning and after sundown. Pink snapper are often found close to shore and targetable from the rock platforms at West Cape Howe and Bremer Bay following a period of rough weather. Just check that weather before heading out, hire a lifejacket from local tacklestores if rock fishing and make sure you return home safe.
Kalbarri Catches
Boats
The few who managed to pick a break in the rough weather managed to pick up pink snapper, baldchin groper and coral trout within half a mile of the cliffs south of the river mouth. Spanish mackerel are likely to be farther offshore in the cleaner water. Start in 30m of water for mackerel and yellowfin tuna. Expect cobia to start turning up in bigger numbers during the ensuing months.
Shore based
Poppers and stick baits worked near the rocks at Chinamans have been enticing strikes from jumbo tailor. Smaller tailor have been turning up some mornings and evenings at Red Bluff, Wittecarra and Siphons. Storm garfish can be targeted at Red Bluff early morning if conditions are relatively calm. Mulloway have been caught at the river mouth while the sand flats a little upstream are holding plenty of yellowfin whiting. Black bream have been caught near the jetty and pens as well as the structure in the middle reaches of the Murchison River.
Geraldton Catches
Boats
A nice of mix reef fish including dhufish, pink snapper, baldchin groper and skippy have been coming from the waters near African Reef. Sweetlip have been found in good numbers in a range of depths and areas while slimy cod, more baldies and the odd coral trout have been picked up along the lumps off Coronation. Dinghy and small boat fishers have been doing fairly well on herring, skippy, pike and squid within the reef line. Spanish mackerel and yellowfin tuna are still expected to be found near the Abrolhos Islands for when the boats are able to make the passage.
Shore based
The Flat Rocks to Greenough river mouth stretch are producing tailor and mulloway some mornings and evenings. Dhufish can be caught along that part of the coast during this time of the year when the local population of the prized species tend to move to shallower waters. The first and second points at Greenough are worth a try for herring, skippy, sand whiting and tailor. A similar mix of species can be caught at the Back of The Lives and the marina rock wall. Drummonds has big yellowfin whiting between the weed while the beaches north of there are worth trying for mulloway, big tailor and pink snapper.

South West Catches
Boats
Crews who have been anchoring and burleying and sending out unweighted whole baits within Geographe Bay have been enjoying greater success on pink snapper compared to those who have been employing other methods on the 4kg to 10kg fish. Early mornings and late afternoons have been the better times to target the pinks, however this does require braving the cold and, at times, some pretty awful conditions. Squid are in very good numbers along the seagrass beds off Quindalup. Try for King George whiting along the broken ground located between 5m and 15m of water.
Shore based
Several pink snapper and a few samson fish were caught from the Busselton Jetty during, and just following, the recent spell of rough conditions. Squid to an impressive 1kg have also been picked up from the structure together with herring, skippy and juvenile salmon. The Geographe Bay headlands and beaches that feature reef would also be worth trying following a storm event. Herring and skippy have been responding to burley at the bays and headlands. Try the deep gutters formed along the west coast for mulloway, gummy shark, pink snapper and jumbo tailor.
Lancelin
Boats
Once again boating was impossible over the weekend due to the weather. A few boats took advantage of a break in the weather mid-week to land samson fish, dhufish and snapper. Small boats found herring in large numbers and plenty of squid within the bay.
Shore based
Plenty of herring being are being caught from the jetty, the bay is abundant with them. Squid, skippy and pike have also been caught from the jetty. The beach fishing was difficult this week, with the last storm front building up a lot of weed along the coast. On the calmer periods, areas clear of weed fished well for whiting, herring, tarwhine and skippy. As for tailor, you are doing well to get more than one or two in a dawn or dusk session. The Moore river has a big flow on and with back up rain continuing it should flow for some time… well worth a look for a mulloway at the mouth.
Metro Catches
Boats
Few managed to head offshore during the past week because of the unpleasant conditions. Those brave enough to venture to Rottnest Island and surrounding waters found pink snapper in 20m to 30m of water south and south west of the island and dhufish in 40m to 50m northwest of West End. Samson fish have been found in big schools along the 40m contour during recent weeks and expect the 15kg to 30kg brutes to still be at The Barges in 90m to 110m of water west of the island. King Gorge whiting continue to be caught between The Windmills and in 15m to 25m south of Rottnest. A slow drift through the sand patches between areas of reef should produce sand whiting and skippy. The seagrass meadows off Fremantle are producing good catches of squid, especially when the water is reasonably clear.
Shore based
A longtail tuna that appeared to weigh approximately 15kg was caught at one of the rock walls or jetties within Cockburn Sound during the week. Other notable catches from the southern rock walls and jetties were 4kg to 8kg pink snapper caught during the recent storms. North Mole seemed to have produced the biggest number of snapper, however there were also fish caught from South Mole, Woodman Point and ASI Groyne. The northern rock walls at Mindarie and Two Rocks yielded pink snapper as well as mulloway and tailor. Herring continue to be caught along the rock walls, jetties and beaches in good numbers, especially when burley is introduced. Pilch, also known as yellow-eyed mullet, have been caught on squid and prawn baits between Dutch Inn and Swanbourne Reef and along the Trigg Point to Sorrento stretch. Juvenile salmon and King George whiting are occasionally being caught from the Fremantle rock walls, which are also a good spot to try for squid. The deeper areas of the Swan River would be worth trying for mulloway during the ensuring weeks.
RECFISHWEST TIP OF THE WEEK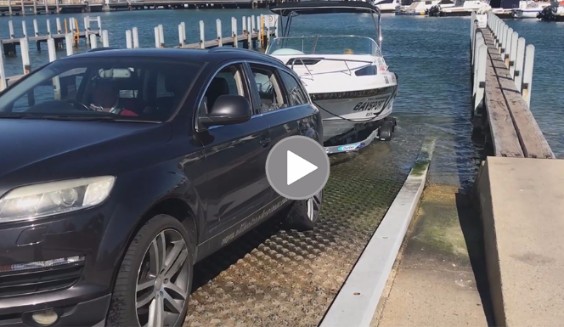 All Boats & Caravans

– How to Launch & Retrieve Your Boat

Some great tips here from our partners at All Boats and Caravans! Make sure you are ready for summer, watch this video.