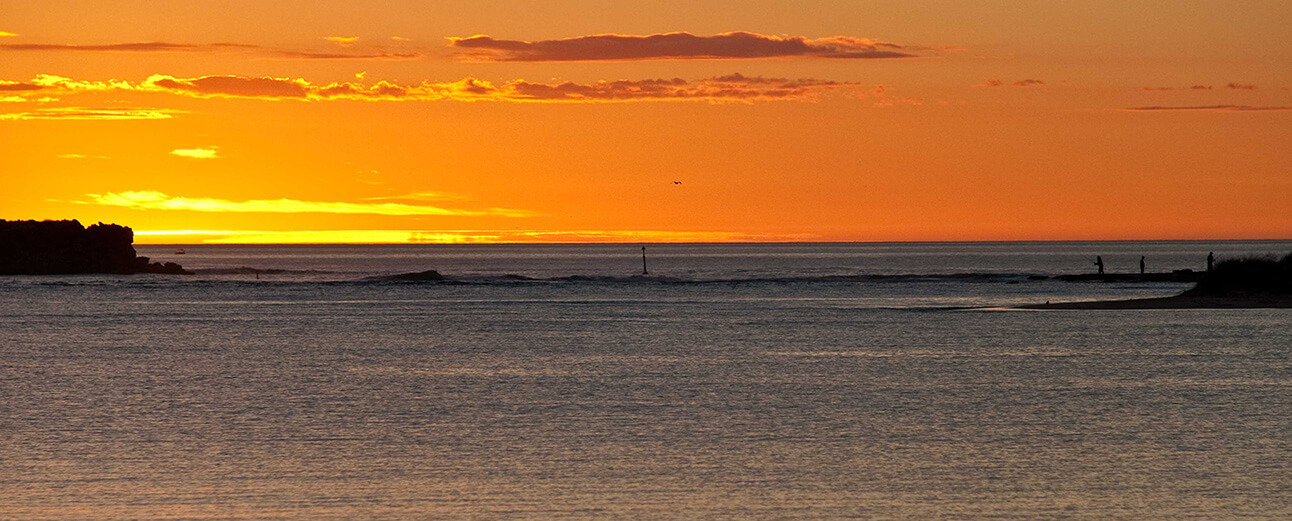 The picturesque coastal town of Kalbarri is surely one of the more under-rated fishing destinations in WA.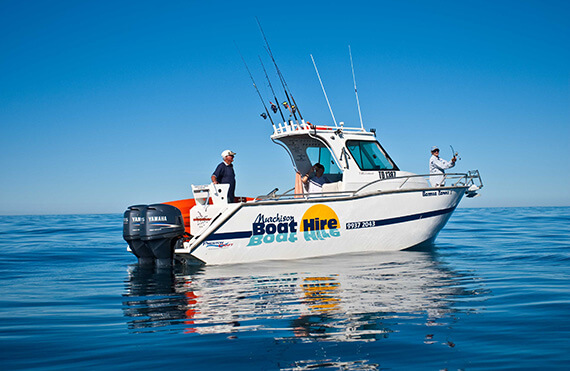 It offers a wide range of fishing options, including boat, beach and estuary and every year some quality fish are caught around the town.
Not only that, it's a great spot to holiday with the family, with some fabulous sightseeing opportunities such as the cliffs south of town and the Murchison River gorge, while the Murchison also offers a fun aquatic playground for visitors and locals alike.
With so much to offer, it's little wonder the place is usually packed during school holidays!
For shore anglers, there are some top shelf opportunities around Kalbarri and it is a surf fishing mecca with good reason.
It is doubtful there is anywhere in WA which offers a better chance at a big mulloway than the beaches and rock ledges along this stretch of coast and many are accessible with the family car.
Chinamans, at the mouth of Murchison, is famous for producing big kingies, as is Oyster Reef, just on the northern side of the river.
Plenty of good mulloway are also caught just inside the river mouth, as well as around the boat pens and even well up the Murchison.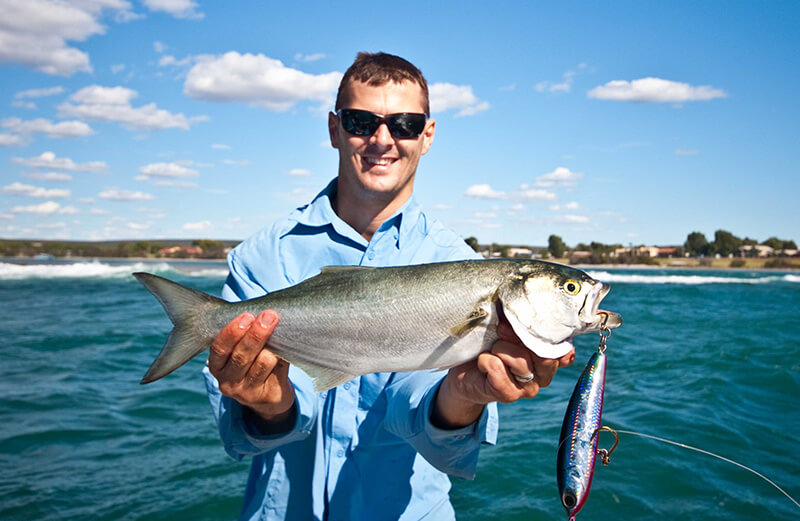 South of town, Wittecarra is another noted mulloway location, while heading further south to the rugged surf of Wagoe and Lucky Bay is another option for keen surf fishers.
If you can get across the Murchison, the stretch of coast north of the river is mulloway heaven, with miles of largely untouched coastline and some great holes for chasing them, especially if you have a four-wheeler to access this stretch of coast.
The mulloway fishing can be dynamite when the Murchison is in full flow and brown water is pumping out of it.
Another common catch in all these locations are tailor, from choppers right up to jumbos approaching the metre-mark.
Again, Chinamans is one of the best spots for big tailor and seems to produce them on an amazingly regular basis given how many people fish there.
Wagoe is also famed for the offshore ballooning opportunities it provides, with beach anglers enjoying the rare opportunity to catch Spanish mackerel and tuna from the sand when the winds are right.
The gorges south of town can also produce pink snapper from the shore, along with tailor and the odd mackerel.
The Murchison itself is a very good fishery, offering not only mulloway, but good numbers of estuary and mangrove jack.
The jacks are often around the boat pens, and there is also good fishing for black bream.
Whiting are prolific in the lower reaches and can provide a lot of fun for kids in the shallows.
The elusive giant herring can be found in the Murchison and it can be very productive for blue swimmer crabs, and a few muddies as well, at times.
For many people the lure of Kalbarri is the offshore fishing.

Navigating the river mouth can be a bit scary in rough weather, but there is good fishing for a wide range of species either side of town.
The pelagic fishing can be very good at times, particularly for Spanish mackerel and tuna.
North of town, the Sand Patch is noted for consistently producing Spaniards, usually caught by trolling.
At certain times of the year big cobia can also be found following large baitballs.
For bottom anglers, the range of species is tantalising, with top table fish like red emperor, dhufish, coral trout, baldchin groper and pink snapper featuring among catches.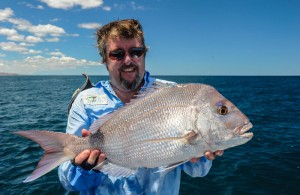 Many approaches work on these species, including dropping baits, using soft plastics and jigging.
The most successful boats put in the miles to get away from town to target spots which are less heavily fished.
There's even the chance of a billfish in deeper water for those prepared to put in the effort.
From whiting to marlin, when it comes to fishing, Kalbarri really does have something for just about everyone.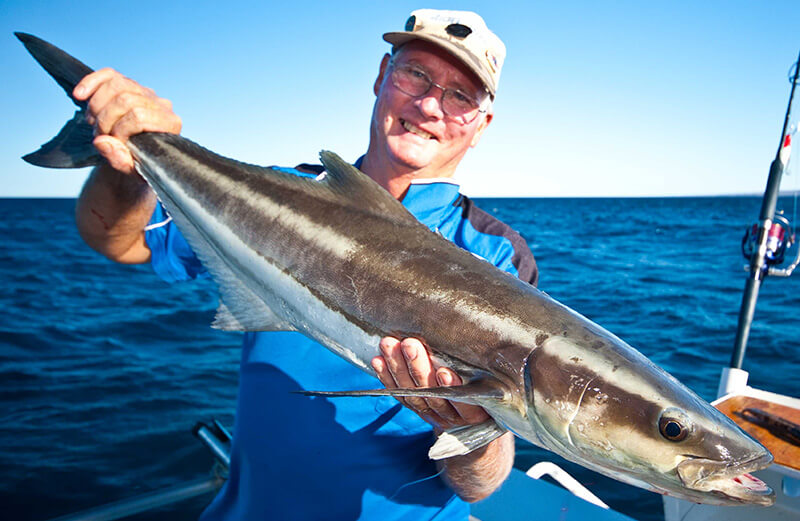 Species:
Mulloway, tailor, black bream, whiting, giant herring, mangrove jack, Spanish mackerel, cobia, red emperor, coral trout, dhufish, pink snapper, baldchin groper, blue swimmer crabs.
Lures:
Rapala X-Rap SRX14, Halco Laser Pro 180DD, Halco Whiptail Jig 60G, Boom Baits Forking Jerk 5-in, Z-Man Grubz 3.5in.
Tackle:
Evergreen Caprice PSPJ603L (1.91m) and Banax GTX2000 spooled with 30lb Platypus P8 braid and 60lb Black Magic Tough Trace; Penn Prevail PPS1331015SP (3.65m) and Ecooda Black Hawk V2 5000 spooled with 50lb Fins 40G and 60lb Black Magic Tough Trace.
Access:
2WD, 4WD in some areas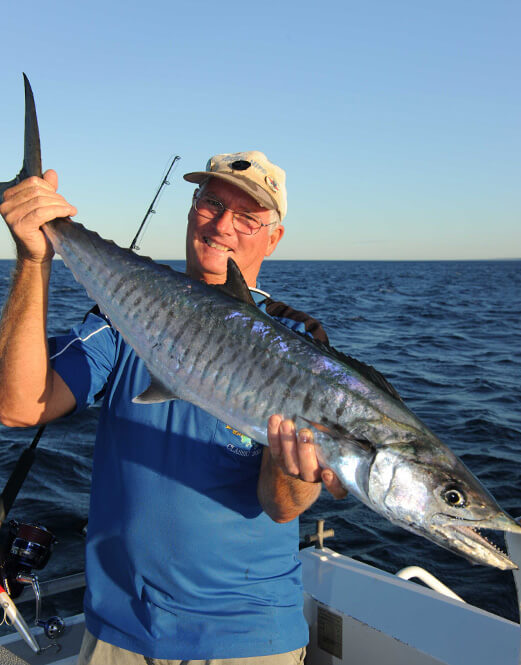 Kalbarri Mulloway
After heavy rains, brown water from the Murchison River washes out to sea making for excellent mulloway fishing.
For more information about catching this highly prized species, check out our How To Catch Mulloway Guide.