Exmouth Gulf is a piscatorial playground for keen kayak anglers.
Its largely protected waters offer an absolute myriad of shallow water fishing options for the prized sportfish southern anglers dream of.
Queenfish, various species of trevally, tuna, mackerel, giant herring and more – the Gulf is a place where a trophy fish can be only a cast away.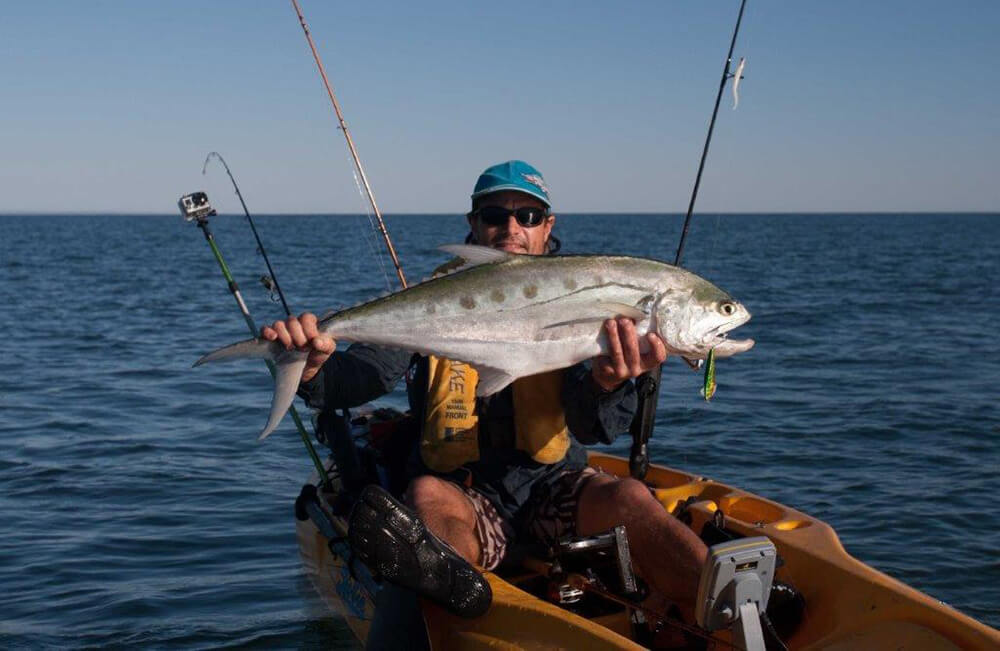 Then you have other popular species like squid, whiting, mangrove jack, bream and cod all on offer as well.
For the more adventurous, there might also be the chance at an elusive permit, iconic barramundi or perhaps even a sailfish from the 'yak.
One of the great things about the Gulf is its accessibility and there are access points all along its western shores, most only a long cast from the sealed road into the popular holiday town.
Even the most basic 4WD will open up more possibilities, but the family car will get the keen kayaker to enough launch spots to keep them satisfied for a long time.
In most places, you will only need to shift the kayak a few metres to be on the water and gliding around in one of the fishiest places on earth.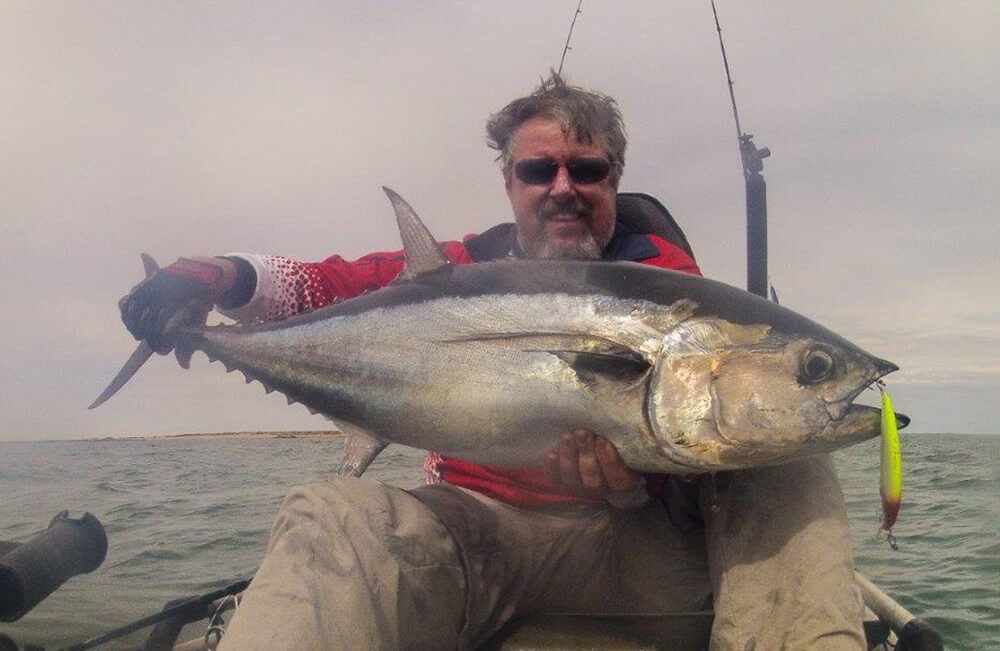 The simplest launching spot is the town marina and you don't even need to head outside its walls to enjoy some fun fishing at times.
The canals are home to mangrove jack and cod, along with the occasional barra, and offer a good starting point for a kayaker looking to test their skills.
Be aware that there are some quite large cod in the canals and they will bury you in quick time if given the chance.
Around the boat ramp and towards the marina entrance there can be a lot of activity when conditions suit.
Yellowfin bream and surprisingly big jacks loiter around structure and under the boats, while schools of small trevally and queenfish use the confines of the marina to hunt baitfish, often quite visually.
Poking your nose out of the marina into the open water, bigger queenfish to a metre or more are a real chance, and squid can be found in the shallows on either side of the walls.
Flathead are abundant in the sandy shallows at times, as are whiting.
Keep an eye out in the deeper water for birds working, which will signify schools of longtail tuna.
If they are close enough to paddle to, longtails are willing lure takers and will put up a tremendous fight in shallowish water, testing all the handling and angling skills of a kayaker.
Bundegi ramp is also a good launching spot and offers a slightly more bluewater experience.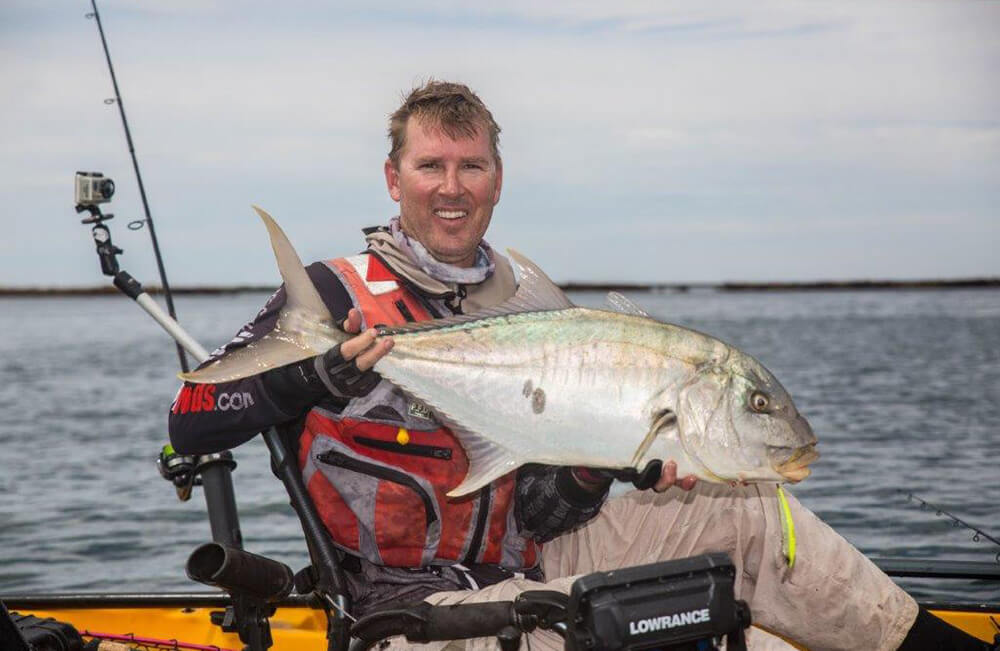 Stay clear of the sanctuary zones and you can expect to find queenfish, trevally and squid over the reef between here and Old Bundegi, and maybe even a coral trout.
Some awesome fish like Spanish and shark mackerel, and more longtails, are taken just beyond the dropoff into deeper water and this is well within reach of a kayak.
Trolling along the dropoff is a good way to cover ground and find these pelagics.
Learmonth Jetty is another likely spot for kayak anglers and this area fishes well for a wide range of species, including queenfish, trevally, giant herring and tuna.
There were even salmon caught here in 2016.
While most shore anglers head to Learmonth to fish from the jetty, a kayak allows anglers to explore more of the area and get access to working fish outside the range of their casts, while a 4WD will enable you to drive along the beach and find your own piece of solitude.
Bay of Rest and Wapet Creek are also potential launching spots, and there are many more up and down the western shores of the Gulf.
Remember that the tide is crucial in Exmouth Gulf, not just when it comes to launching but the fishing itself.
Spots that are high and dry at low water will flood with the incoming tide, allowing baitfish and in turn larger predators to move into these areas.
Queenfish and trevally will cruise in very shallow water and stay there until the water starts to vanish again.
The turn of the tide, be it at the top or bottom, can be very slow as everything, except cod, seems to switch off.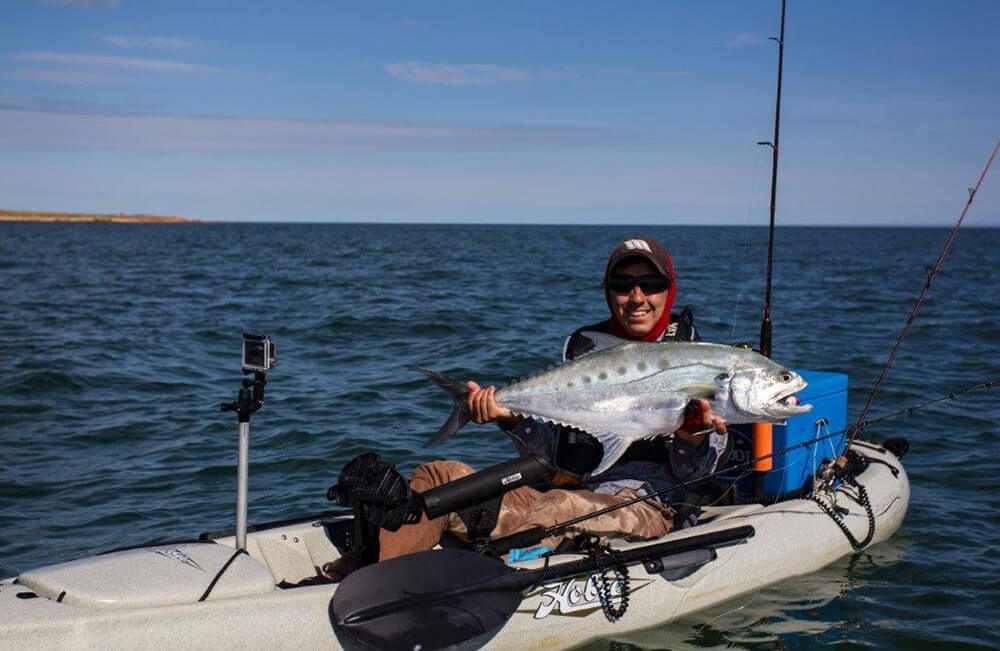 But as soon as the water starts moving again the fish can fire up again.
The bottom half of the tide doesn't necessarily mean it's time to pack up though, this is often when small species like bream, whiting and flathead become most active, seemingly confident the bigger predators are no longer a threat in the skinny water.
Just be aware of the need to get back to your launching spot.
It pays to have a few outfits to fish the Gulf, as it can change dramatically even over a few hours as different species come and go.
A light 3-4kg outfit and a handful of bream-size lures will do the job for whiting, flatties and bream, and can also double as a squid outfit if you have a couple of jigs.
A 6-7kg outfit and 8-12cm lures can offer the best fun for the smallish trevally and queenfish which abound in the Gulf, although you may be left lamenting when a much bigger fish surprises you.
A 12-14kg outfit and bigger lures of the type more associated with bluewater fishing will be welcome if serious predators turn up, like tuna, mackerel and big queenfish and trevally.
A good starting point is a selection of trolling lures such as bibbed minnows and sinking stickbaits of various sizes.
Poppers can offer good fun, but some fish will be shy of them in shallow water, and soft plastics always catch fish.
Similar opportunities exist on the eastern side of the Gulf, where the fishing is less touched and even better, but access is almost impossible other than staying at the fantastic Wilderness Island fishing camp, which offers a superb range of kayak fishing alternatives and is surely one of the best spots in the world for this type of fishing.
One of the good things about the Exmouth Gulf is that good fish are often not far from shore, and as long as the weather is not too severe you are fishing in fairly protected waters, especially if the wind has any west in it.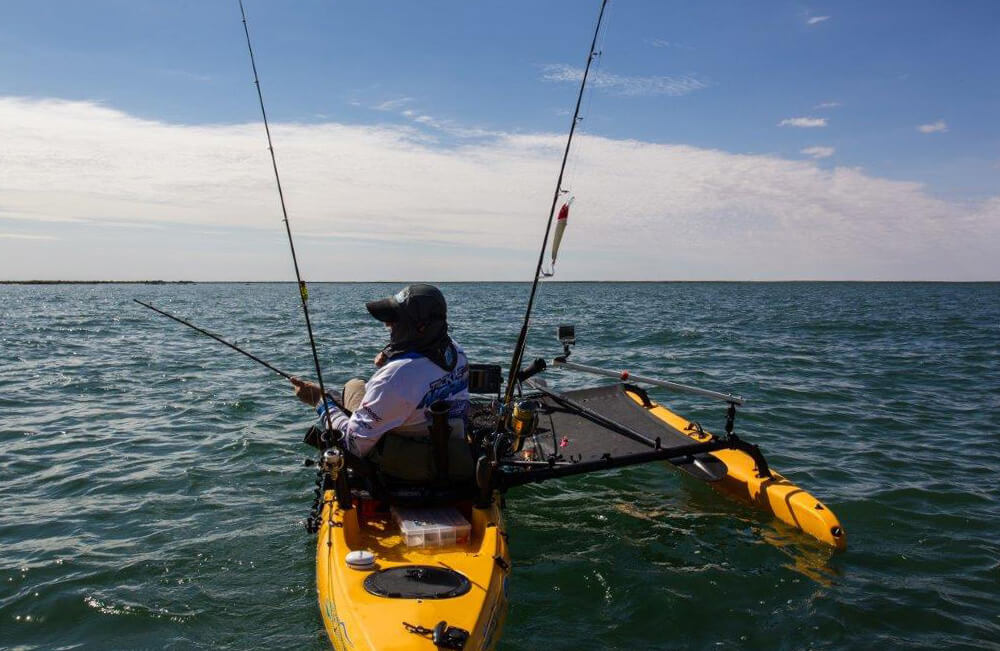 That said, always be careful as conditions can change quite dramatically in Exmouth and be a little unpredictable on occasions, and the tides can be very strong.
If you want more of a challenge around Exmouth, then the Ningaloo coast is another option, with plenty of good fish inside the reef and the lure of serious bluewater fishing within a short paddle.
There are few places in the world where pelagic speedsters like wahoo, mackerel and billfish are so accessible to kayakers, but it's also an unforgiving environment and the potential for disaster is high, so extreme caution is essential at all times.

You can bling up your yak with all the latest and greatest equipment but there are some modifications that are found on just about any serious kayak fisher's boat.
Check out our Kayak Accessories article to learn more about improving the fishability of your kayak.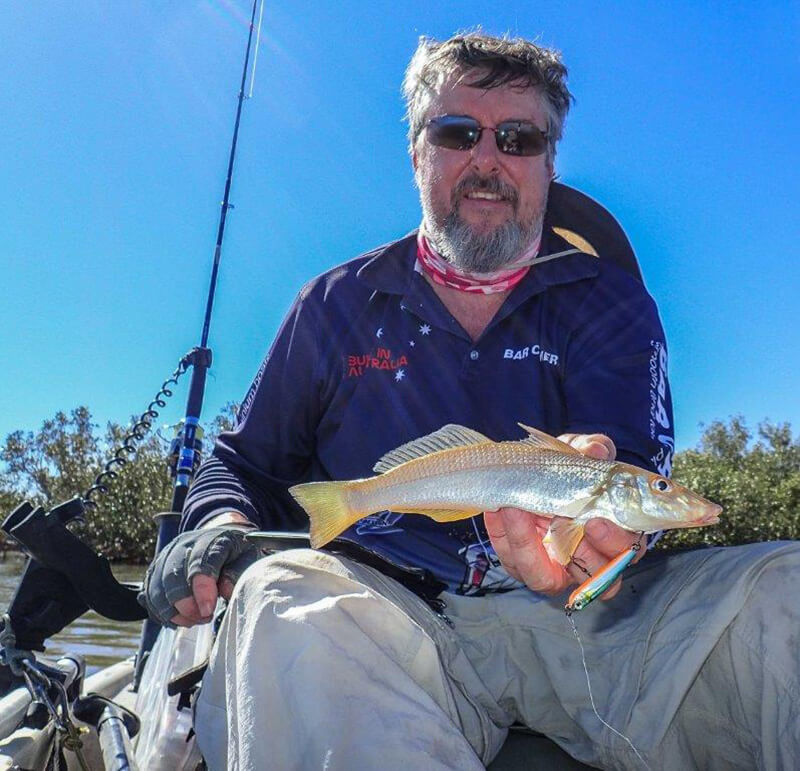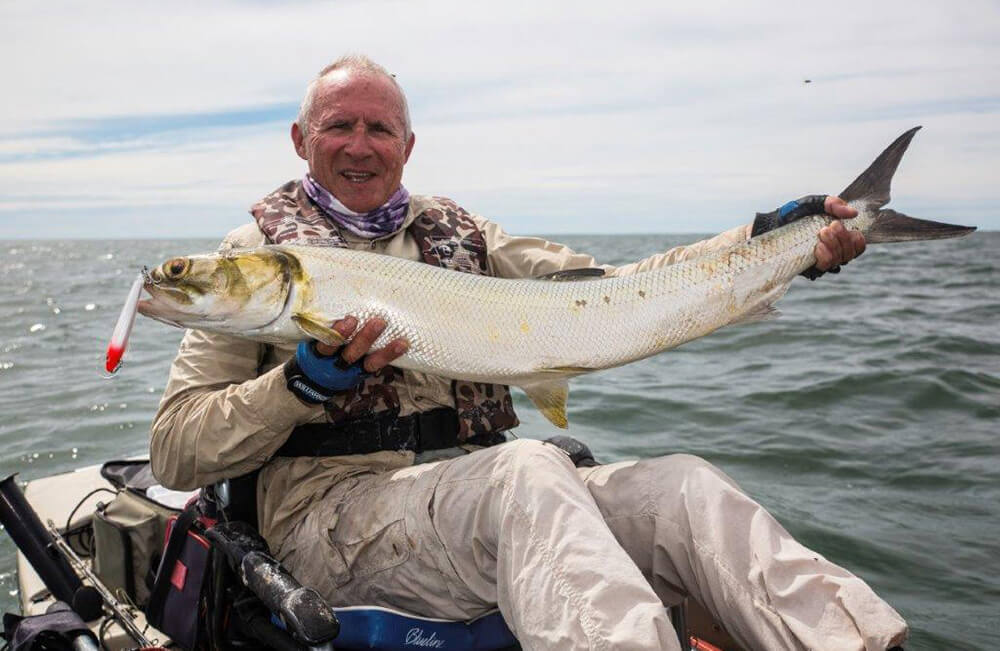 A life jacket is the most important piece of equipment a kayak angler should carry and the new breed of life jackets are so lightweight and comfortable you won't even notice you're wearing it.
If you're looking for a new life jacket, head over to the Fish and Survive online fishing safety shop and check out their range of Crewsaver life jackets.