Part 1 – October
The West Coast Bioregion annual demersal closure is now in full swing but for many of you this should not mean that you have to stay on the couch this summer. This series is here to guide you through the multitude of alternative fishing avenues available to the metropolitan fisher. Read on to try your hand at the many other styles of fishing freely available to us.
Freshwater Finesse; Trout and Redfin.
When the Summer sea breeze is relentless on the coast it might be worth a short trip inland to fish some of the beautiful freshwater tributaries that are still flowing from Spring rainfall in our state's south. A licensed fishery, which is a great way to spend a day or days away from home is chasing trout and redfin perch. The best part of getting into these fish is that you don't even need to hook up the boat to have a go. Within a few hours drive from Perth there are some great dams that are well worth dropping in at and having a fish. Probably the most accessible place to take the family is Harvey Dam.
Harvey dam has both brown and rainbow trout as well as a steady population of redfin perch. If you are keen on taking home a feed of fish, you cannot go past redfin with its white flesh. They are very tasty indeed!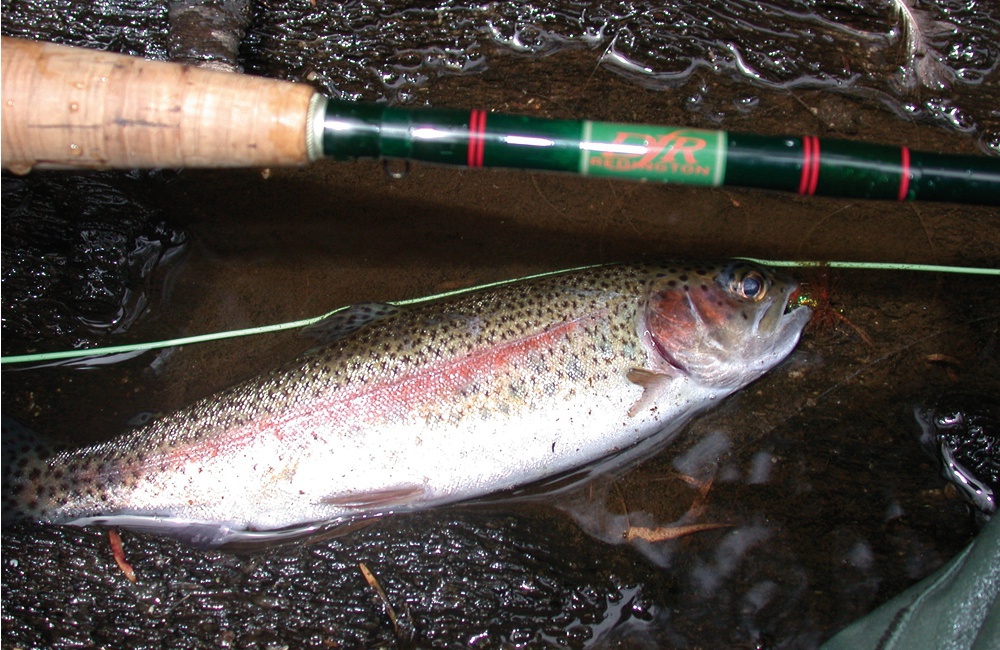 There is a size and bag limit on trout however redfin are considered a nuisance to WA waters as they pose a threat to native marron and it is illegal to return them to the water if caught. The easiest method for chasing these fish is to throw small to medium sized minnow lures up to about 70mm. Spinners, fly and soft plastics will also yield great results.
If you are after trout, then try any of the traditional trout colours, or anything in the olive green colours. If you want to target redfin try using anything with really bright red bits on it, or even solid bright reds or pinks. Quite often when chasing redfin you will find them in schools, so if you catch one, try working the same area for a while as chances are you will catch a few more. Redfin are also a sucker for a bit of structure or snags whereas the trout will generally be cruising the more open water and banks.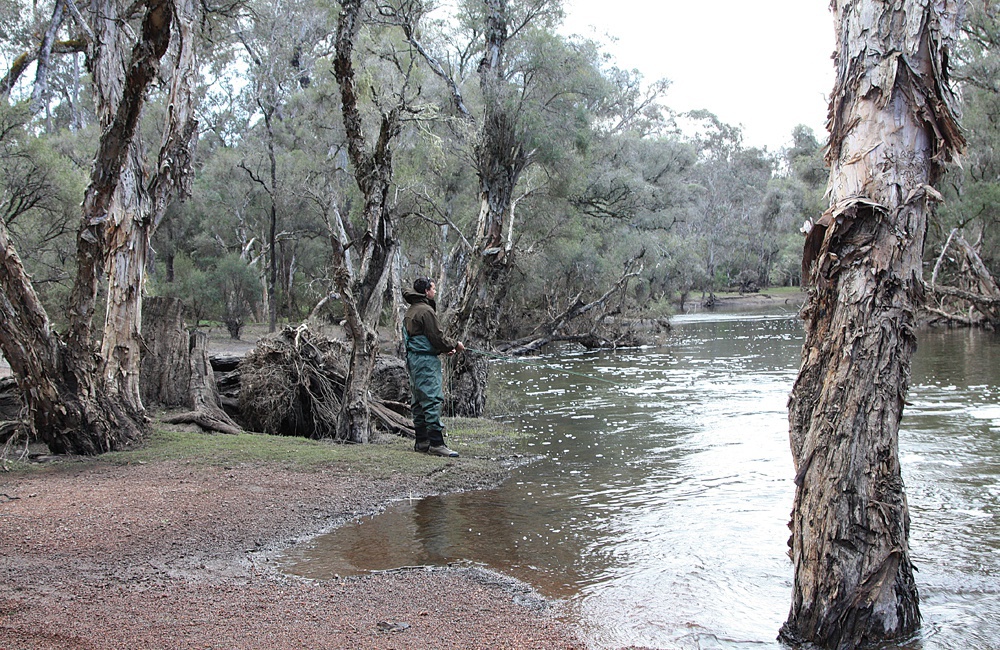 If you really want to go and have a bit of fun, try targeting these fish in streams. There are plenty of streams around that hold redfin and trout. With a bit of research and some legwork up the river banks,  you should be rewarded with some great results. Target rivers that regularly hold trout and redfin to give yourself the best chances at catching a few fish. Probably the best tip for streams is to use stealth, so camo up and walk quietly. Fish the white water rapids for trout and the slow pools for redfin and always fish and walk up river, not downstream.
Succulent Suckers; Squid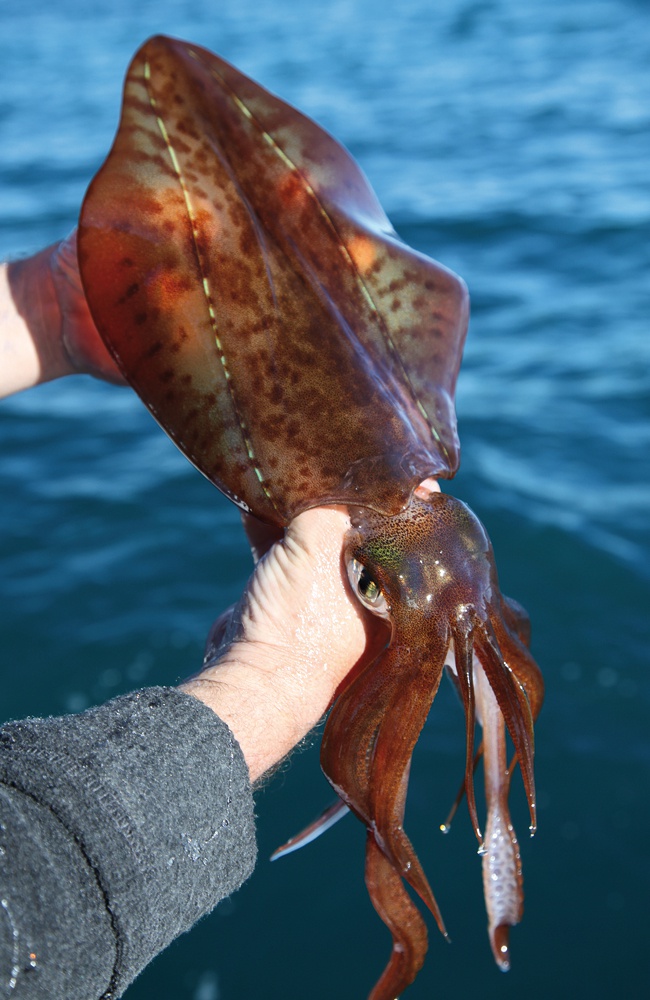 Squid or southern calamari, are a great family target as well as supporting a very refined boutique market. They are fast growing, short lived and prolific breeders found throughout coastal ocean waters. They can be targeted from shore locations or with a Recreational Boat Fishing Licence by boat. Squid jigs are the name of the game when chasing these suckers.
Squid are masters of disguise and camouflage and can change their skin colour and tone to blend in with the background to ambush their prey. For this reason they will be found around any areas with scattered structure to blend into and hide around, however seagrass beds are particularly noted as a favourite hang out. Fish areas of weed whether shore or boat fishing or at least the areas where there is weed or rock and sand.
Have a selection of jigs on hand in various colours to try, as in different conditions, different colours may be more effective. A good tip is that if you are not catching within 20 minutes move to somewhere else. It doesn't have to be a massive move, just change to another location.
Jig selection is not difficult and small squid still hit big jigs as do big squid, so if in doubt a size 3-4 jig will get you started, smaller jigs are really only useful in shallow water. You've got two ways to squid fish from boat. The first is to let the boat do the work for you and simply allow your jig to sink to the bottom on a drift and place your rod on a holder. The rocking of the boat will give the jig a gentle, lazy action that can often produce many squid.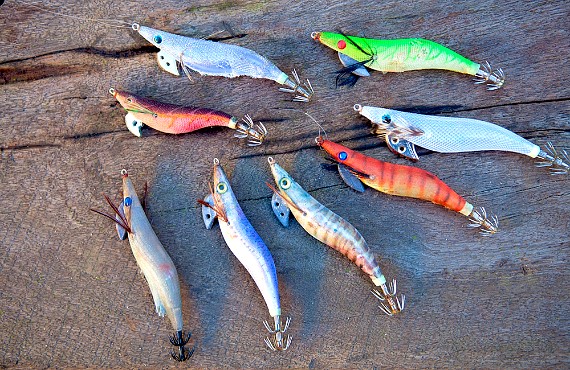 The second method involves a cast with an erratic retrieve and can be deadly when you find a patch of squid. Whether drifting by boat or walking to spots from shore, you want to fire out a long cast to cover ground and then let the jig sink. Allow long enough for the jig to get right down to the weed but not too much that it snags. When the jig has reached a desired depth you can begin your retrieve. Start by taking up the slack line and when you feel the line tighten up, give the rod a sharp and aggressive up and down motion three or four times while winding and then pause. The idea is make the squid jig imitate a prawn fleeing from the bottom and then let it sink back down.
When you've caught your bag of squid, don't dispose of the tentacles as they make top King George whiting bait!
Resident Reef-dwellers; Western Rock Lobster and Abalone
An iconic west coast pastime and world renowned fishery is the western rock lobster, available to anyone who carries a rock lobster licence. Late spring is the time to make the most of the newly opened crayfish season and get amongst the inshore "reds" before they begin their moult and breeding march to the deeper waters of the continental shelf.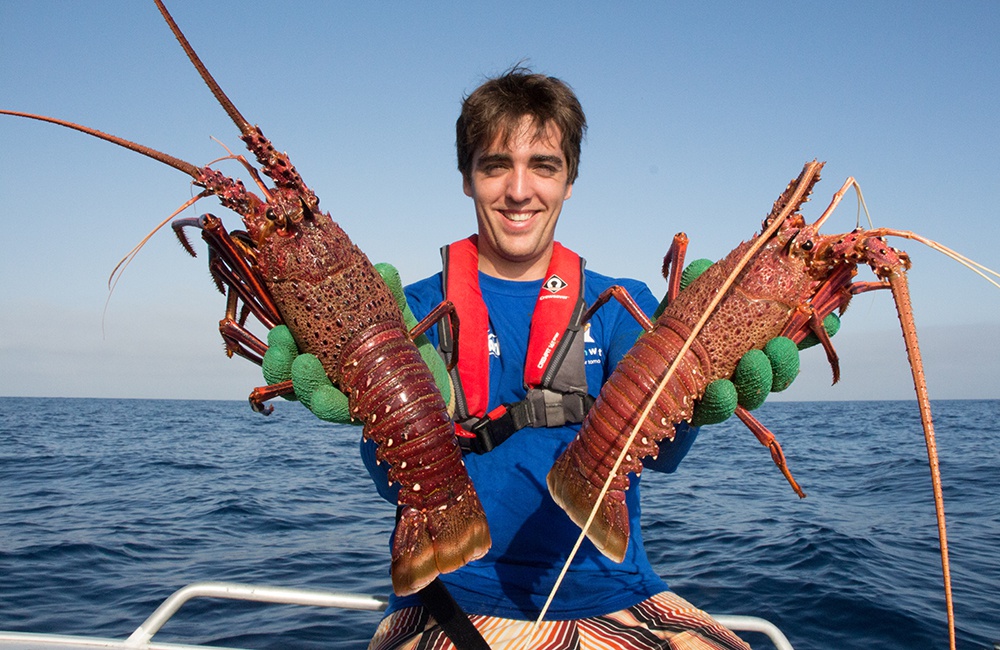 In the weeks leading up to summer, the crays inhabit holes in all the shallow coastal reefs and islands making them a viable target for the shore based freediver and the inshore boater alike. Crays can be found in good numbers hanging under ledges in water as shallow as 1-2m with jumbos generally sitting a bit deeper.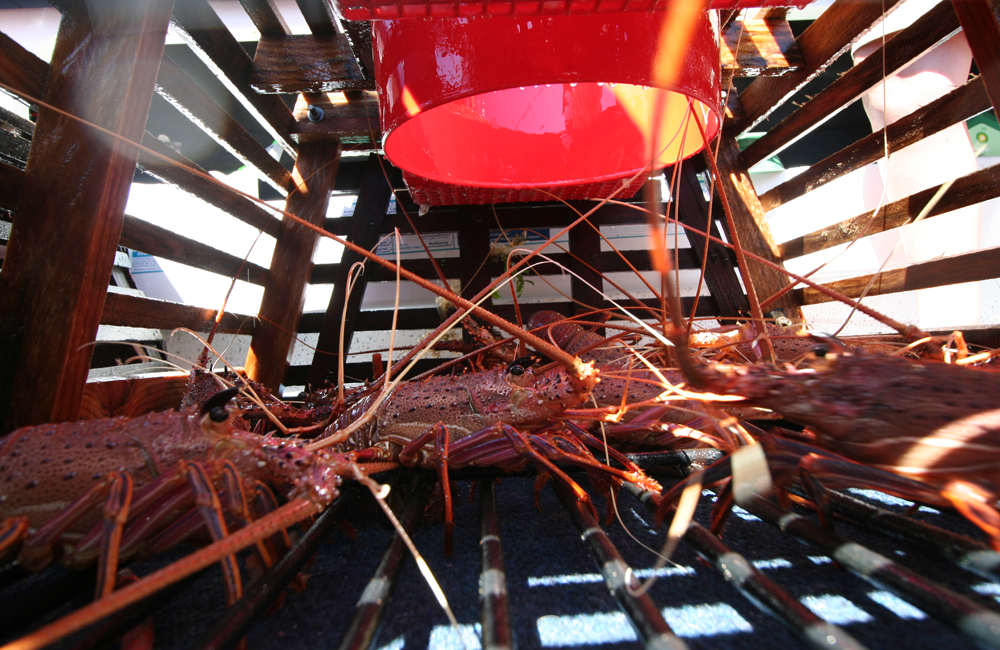 Boat fishers can have good success dropping baited pots around shallow reefs early in the season before the crays moult and the 'whites' begin their march out to sea. As soon as the whites start to appear leading into summer you can be sure the crays will be on their way to deeper water and dropping pots over sandy areas between reef areas will put you in with a chance of some crays marching straight past and into your pots.
Scuba diving with snares is often a good way to pick up a few of the crays from offshore reefs on their journey seaward as they retreat to hiding holes in the reef during daylight hours.
Summer time also marks the opening of the very limited west coast abalone season which runs for just one hour on the first Saturday of the month for 4 months starting on December. This very vulnerable fishery is closely guarded so make sure you're up to date on the size and bag limits and fishing times of these tasty shellfish. There have been new changes to abalone fishing, so please check the Department of Fisheries website to find out more.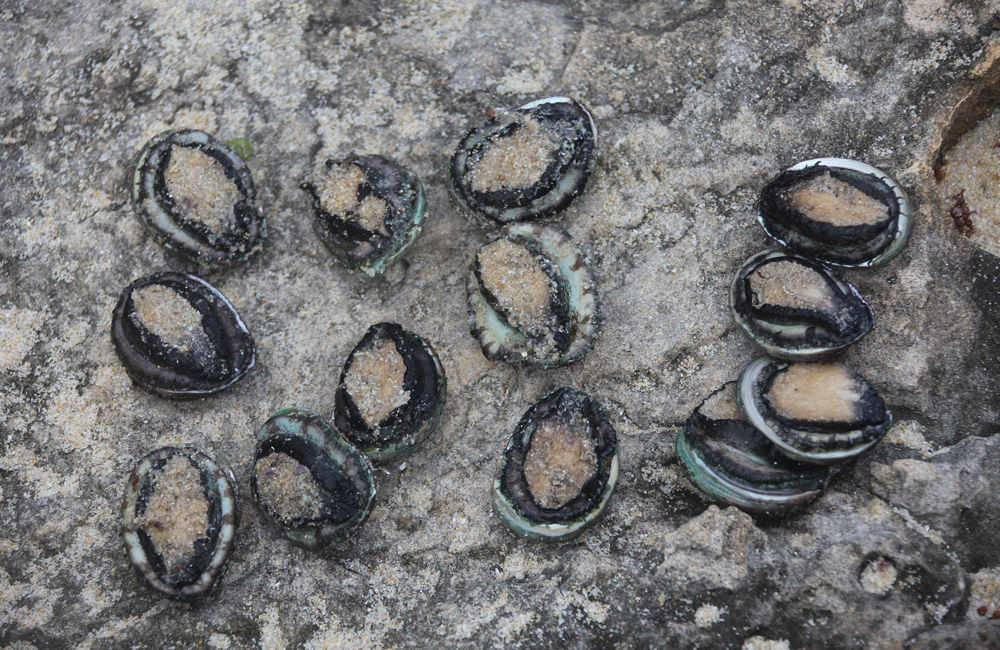 Abalone can be found attached to all surfaces of shallow coastal intertidal and sub-tidal reef up and down the metropolitan coast. Simple enough to obtain, they can be pried off with any flat, hard tool. So dust off the snorkelling mask and reef boots or flippers and make your way down to a coastal reef this summer to try your luck. Just be weary of the crowds as it is a popular event! And always stay safe and watch the ocean at all times, wearing the appropriate floatation gear if necessary.
So while the demersal closure is on and you still have the itch for some fresh seafood and a bit of fun, be sure to check out some of the other fishing alternatives over the warmer months whilst the demersals recover throughout the closure.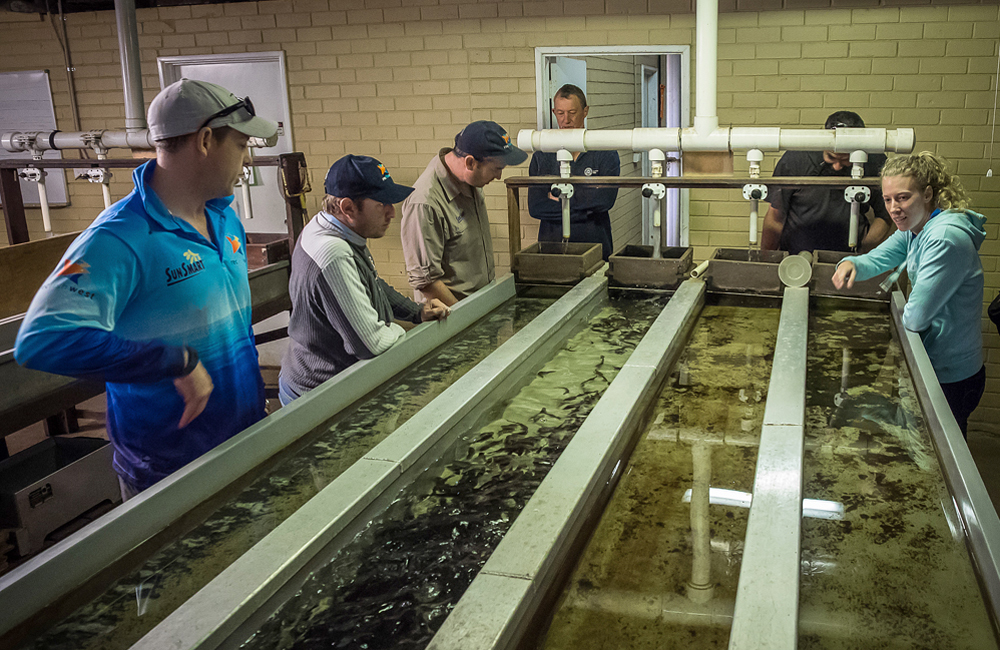 Trout stocking takes place every year to replenish popular freshwater fishing rivers and dams.
More information and a comprehensive list of restocking locations can be found in our Freshwater Stocking article.
Check out our how to catch guides for more tips on catching some of the species featured in this story: