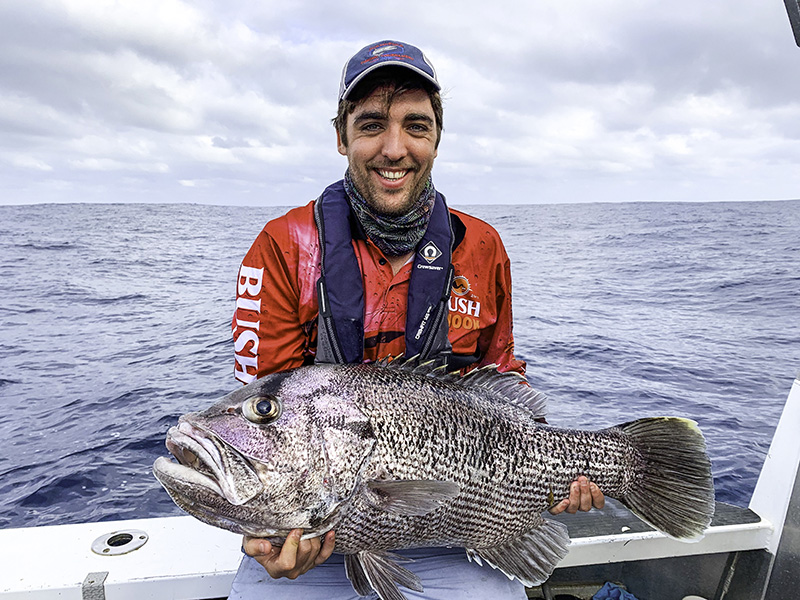 James Florisson (RFW Research Officer) loves jigging for dhueys
Winter is a time when some boat owners put the cover over their boat and park it up until the warmer weather arrives again. But for a lucky few it is that time of the year where bags are packed and the trip north to warmer climates is made. Some head up north for a week or two while many more make it a pilgrimage and stay there for the whole season.
The reality is that even though the temperatures are cooler, winter provides some of the best fishing days available for the year. Sure, there are storms that should be avoided, but the weather between the storms brings those balmy, windless conditions that often run for days at a time.
Probably one of the best advantages of fishing in winter is the lack of other boaters on the water, not to mention the not so crowded boat ramps. The other bonus of winter fishing is that it seems like the fish are more prolific. If they are not more prolific then they certainly seem a lot hungrier and easier to catch!
So what sort of fishing is best in winter you may ask? Well, depending on what you like to chase, the options are quite literally endless and choosing what to chase on any given day is often the hardest part.
Before we get onto the fishing though there are some important things to look at first. With winter fishing, as all fishing, safety always comes first. Before heading out offshore be sure to check out some of the many weather websites. The further offshore you are heading, the more sites you should check. The last thing you want is to get 20 miles offshore, only to be greeted with 30 knot winds and heavy rain bearing down on you.
There are plenty of websites available to cross reference info and these are our top picks:
This website is probably one of the better ones as you can click on a point in the ocean and it will give you a forecast for that location. While it is a pay to use website you are able to get two days of information without being a subscriber.
This site is free to use with plenty of detailed info for up seven days in advance. Locations for weather are all predetermined so you just have to click on the location closest to your fishing destination to see what the forecast. It also has real time information for many locations.
This site is probably the most popular and provides real time weather information for pre determined locations. The long range weather can be a bit random at times, however when used in conjunction with other websites, it is a very handy tool.
If you decide to head offshore, your biggest concern should be the size of the swell. Swell over two metres should be treated with caution, especially if it has a growing trend for your expected time on the water. Once again if you are not sure look at a backup plan if the swell is too big to make for a comfortable and safe day.
The bottom line is if you are not confident that the weather is going to hold off, do not go out fishing. If you decide to head out, aim to stay a bit closer to the ramp and safety by fishing for a near-shore species. This way, if the weather does turn ugly, you do not have to travel miles to get back to the ramp putting yourself, your passengers as well as your boat at risk.
So here are our top picks for the best winter fishing in Western Australia.

Pink Snapper
Probably the most prolific and sought after winter species is pink snapper. Winter will bring these prize fish into very shallow water. In fact during and just after the winter storms, this species comes so close to shore that you can catch them from many metro land-based locations.
Pink snapper fishing is great fun and can yield great rewards. Not to mention that they can be caught on all manner of lures. One of the best ways to catch pinkies is to cast and retrieve soft plastics while very quietly drifting over prime locations. Using four to six inch plastics and a reasonably light jig head, cast down wind and let your presentation sink nice and slowly. More often than not if the snapper are around it will be picked up on the drop and then the action begins. This technique can prove successful in water from five to 25 metres deep.
Another technique that is slowly catching on over here in the west, especially with kayakers is trolling. Most do not even think trolling would be worthwhile when chasing pinkies, yet tying on a deep diving minnow and slow trolling over hard bottom and drop offs can yield great results. For boaties that get sea sick when the boat stops it is also a great technique. The other option which is gaining attention in the west is using down riggers to slow-troll lures. Using downriggers allows you to troll shallow running lures, however you can troll just about any lure you like.
For pinkies, lure selection is not really as critical as many people think, however colours such as white, pink, orange and light green all seem to be good places to start.
If you want to know more about how and where to catch pink snapper, check out our How to Catch Pink Snapper page.
Squid
Next on the list, and probably the easiest to chase in many different locations, is the good old squid. Winter will see squid become absolutely huge and ravenous. Chasing squid on jigs is quite exciting when they start averaging around a kilo a piece.
The key to winter squidding is finding clear water. Sometimes you will get away with chasing them in the shallows while other times will see them in the clearer deeper water. The depth you are looking for would be from ten metres up to around 25 to 30 metres depending on the current and the rate of drift. The squid that will result from fishing deeper waters will be a surprise to many. Not only will you pick up big squid, but wait until you see the size of some of some of the cuttlefish that take a liking to these jigs as well!
Over the last couple of years, the Japanese trend of squid jigging in deeper water has seen some fantastic deep water squid jigs hit the market. Some of these highly effective jigs are incredibly heavy and fish deeper water as well as combating a fast drift incredibly well.
Probably the best thing about these jigs is that it's well worth the effort throwing one over the side while chasing sand whiting on the sand flats, or chasing King George whiting over a bit of rockier and weedy deeper water.
Check out our How to Catch Squid page for more about how and where to catch a big winter squid.
King George whiting
Another popular winter species is King George whiting. The size they get to during winter is really quite impressive and during this time, they seem to prefer deeper water. Looking around the 20 metre mark for any semi hard bottom with a bit of weed growth on it will get you started in the right direction. To find the best spots it is wise to find a bit of decent ground on the sounder and then put a drift over the spot. Probably the biggest thing to remember when trying to find some KG ground, is that where you find one, you will more than likely find more.
The preferred method of fishing for King George whiting is with bait, and squid tentacles are hard for a big KG to resist, however some anglers get good results using small to medium sized metal jigs. Alternatively if plastics are more your thing there are plenty of people doing very well using many of the different types of Gulp plastics available. Probably one of the most productive plastics on the market is the Gulp sand worm and it is for good reason.
Find out more about how and where to catch King George whiting here.
Dhufish
If you are a bit keener and want to head further offshore, then chasing a dhufish will probably be your target species. The good news is that in winter, dhufish will also move a bit shallower with plenty of good sized dhufish being caught in waters 20 to 30 metres deep. This opens up a whole lot of ground much closer to shore, and also allows for some light jigging.
Ten to 20 pound lines and light metal jigs on forgiving rods will be the undoing of many fish over winter. It is certainly a very effective way to fish especially in shallower waters on calm, wind free days. Unfortunately the fish are not so forgiving in deeper waters of 40 to 90+ metres, where many hook-ups result in bust offs.
Head over to our How to Catch Dhufish page for more tips and techniques.
Tuna and Spanish Mackerel
If you do decide to head offshore, then be sure to have at least one or two rods rigged up and ready to go for trolling some lures just in case a school of yellowfin tuna turns up. There is also a chance that you might stumble upon some stripy tuna or southern blues, or even a spanish mackerel as well. Over the past couple of years, the mackies have been hanging around longer and longer into winter and are proving to be well worth chasing. Keeping an eye on your sounder's temperature gauge for areas of warmer water, whether close to shore or offshore, can be a good way to yield some unexpected results.
Find out more on how to catch spanish mackerel here.
On a picture perfect winter's day it would not be unreasonable to chase most if not all of the species listed above if you so desired. Some fishers feel it is more rewarding to chase just one species, however mixing them up a bit and giving yourself a couple of options is a great way to make the most of glassy days on the water, especially if you are not quite sure what the conditions are going to do.
So if it is raining while you are reading this, hopefully you can take inspiration and start preparing for the calm after the storm.