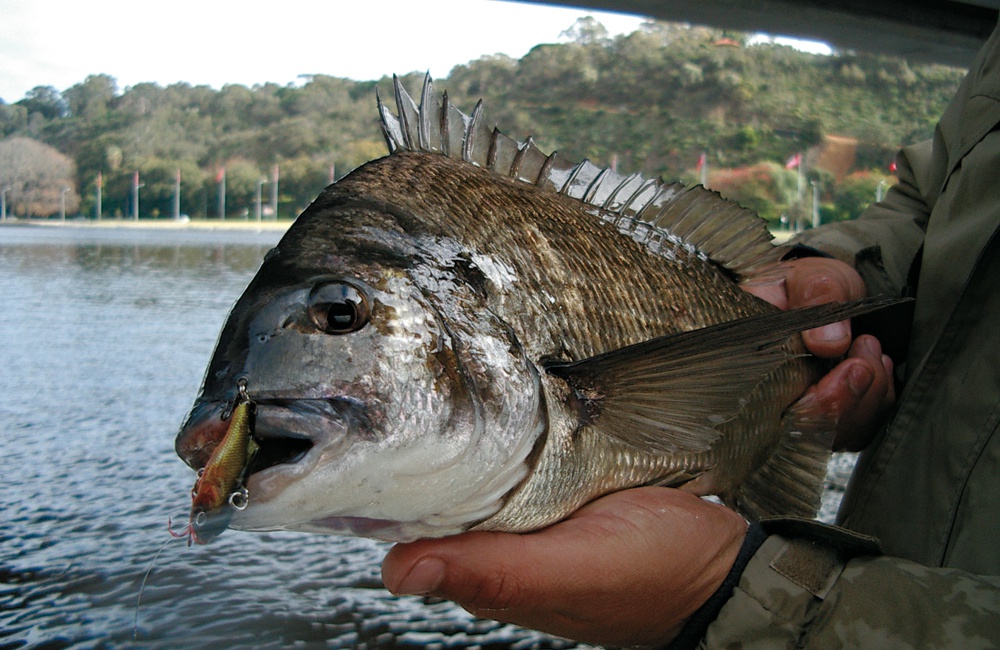 To most of us, winter means crisp, cold mornings, nights by the fire and the electric blanket. Well, to dedicated bream anglers it means the chance to chase that rare 2-kilo plus, trophy blue nose bream; a personal best any bream fisher would love to be able to say they have caught, and it's not as silly as it sounds. Over the years 2-kilo plus bream during the winter season seem to be far more achievable than the same size in summer.
Winter Structure
Probably the biggest obstacle in front of any bream chaser at this time of the year is the structure they have to deal with in order to land a trophy size fish. Jetties, mussel-encrusted bridge pylons and big snags are all there just waiting to turn your leader into a shredded mess.
These places hold good food sources for bream that aren't really interested in moving too far as the water cools and the barometer drops. The smaller fish that are almost plague like during the warmer months seem to be quieter now or have even moved on to different areas meaning the bigger feeders can get in for a change.
Each system has its own key locations. In places like the Swan and Canning it's the bridges like the Narrows and Mount Henry whereas the Blackwood calls with its monster, barnacle covered timber. Other places it may be rock walls and rocky bottoms that again hold food for hungry fish. With just about all of these structures, the key is depth.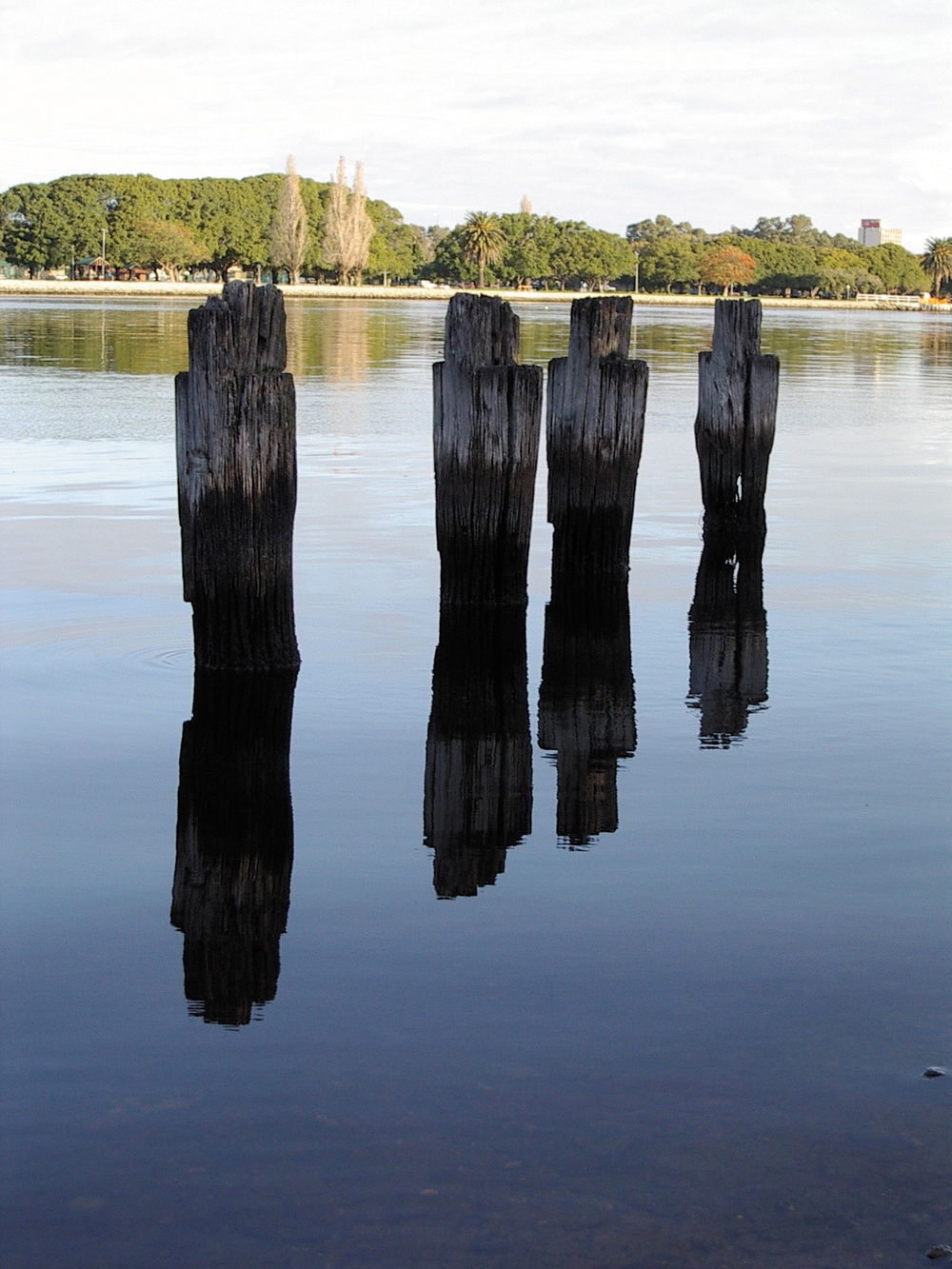 Perhaps the most popular and successful of these environments is the humble river yacht club. With a bit of a love / hate relationship going on as far as the users of these areas are concerned, for the bream fisher it's a case of the perfect environment for winter hunting. Not only because it's a great way to get out of the wind, traffic and rougher water, but because these areas can really light up with feeding bigger fish over winter. One word of warning though, as much as we'd like to argue the point with some club members about access rights to the river, it's in all our best interests to keep the peace. If you're asked to leave, don't get angry. Agree to disagree and move on, the last thing we want to see clubs do is shut out anglers altogether. This applies to both shore based fishers and those fishing from boats.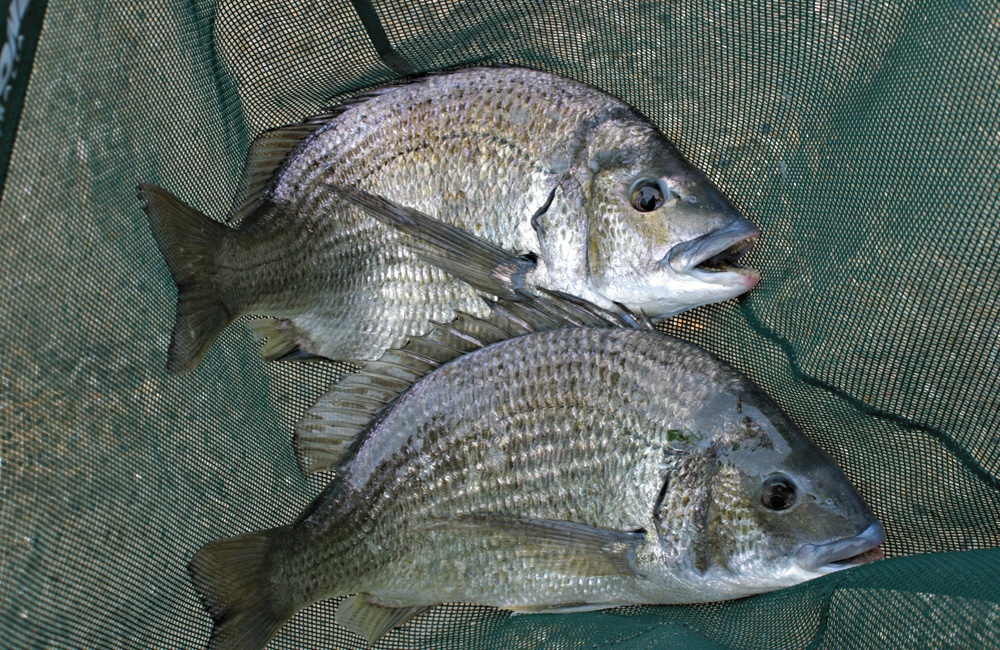 Deeper Water
Summer madness with bream means you could just about cast into a puddle in some locations and find fish. Winter becomes a little different as the water cools and the fish move out of the shallows and into the shelter of the deeper water and structure. This means a rethink for anglers as the deeper water brings its own set of rules and problems. The lighter jigs we use in the shallow water move aside for heavier jigs to get down to the fish quicker. This also brings the current into play more as we want to get down before the jig has moved past where we think the fish are holding.
If you prefer to fish bait, then it is simply a matter of adjusting sinkers until you have enough weight to get you down into the strike zone but not too much that the sinker causes a commotion like an atomic bomb when it lands.
A great winter bait fishing technique is also bait casting. As the name implies, you cast only a bait, but this is only possible with quite light line. While there is plenty of fresh water around the blowies will tend to be less of a problem, which makes this technique possible during daylight hours. Baits can include blue sardines, prawns, rock crabs and mussels. Cast them out and let them drift to the bottom under their own weight. When the fish are around, your bait will get attacked solidly and violently on the way down so it is important to keep an eye on you line while your bait sinks.
Fishing for bream with lures brings along its own set of problems, as we have always used the lighter jigs to help us keep in the strike zone and not just simply pass through it on the way to the bottom. There are a number of other techniques than the standard jig head that can be a big help when we need more weight.
Some of the more popular include using blade lures which cut through the water faster and get to the bottom quicker, even when there is a bit of water movement. Vibes or bibless minnows are also a good option, particularly the smaller ones. Then there are the soft plastics which can be fished on a dropshot rig, which basically is a worm hook set above a sinker with the soft plastic rigged on the hook and fished through an area.
For most though a bigger jig head is the preferred option while probably not the best. However you choose to get your bait or lure to the fish, the main thing to remember is to move it slow. In terms of colour, as winter causes the water to become a lot more dirty or harder to see through than normal, go with gold or bright colours. Black can also be a good option as it creates a good silhouette in dirty water.
Slow and Steady
We've already mentioned that winter brings about much cooler water conditions, but not many anglers think about how this can affect the behaviour of fish. In many cases the fish will slow their movements and eating habits to suit, which means it can be harder to get a fish to bite. More than ever it's important to cast accurately to where you think the fish are holding. Where the current is stronger, rather than using a heavier weight to get the plastic down quickly, try casting some distance before the area where you think the fish are and let the plastic drift to the right location. This makes it easier to keep the plastic in the zone and hopefully get more hits and hooks ups.
The important thing here though is 'Slow Down'. Slower retrieves, small twitches and slower lifts will keep the lures in the water longer and hopefully drift right past a hungry bream. The cooler conditions mean they are less likely to want to chase something that strays into their habitat, so we have to go to them. Now you start to see why rigs like the Drop Shot are so important. They mean we can keep the rig in the water longer and hopefully tempt more fish.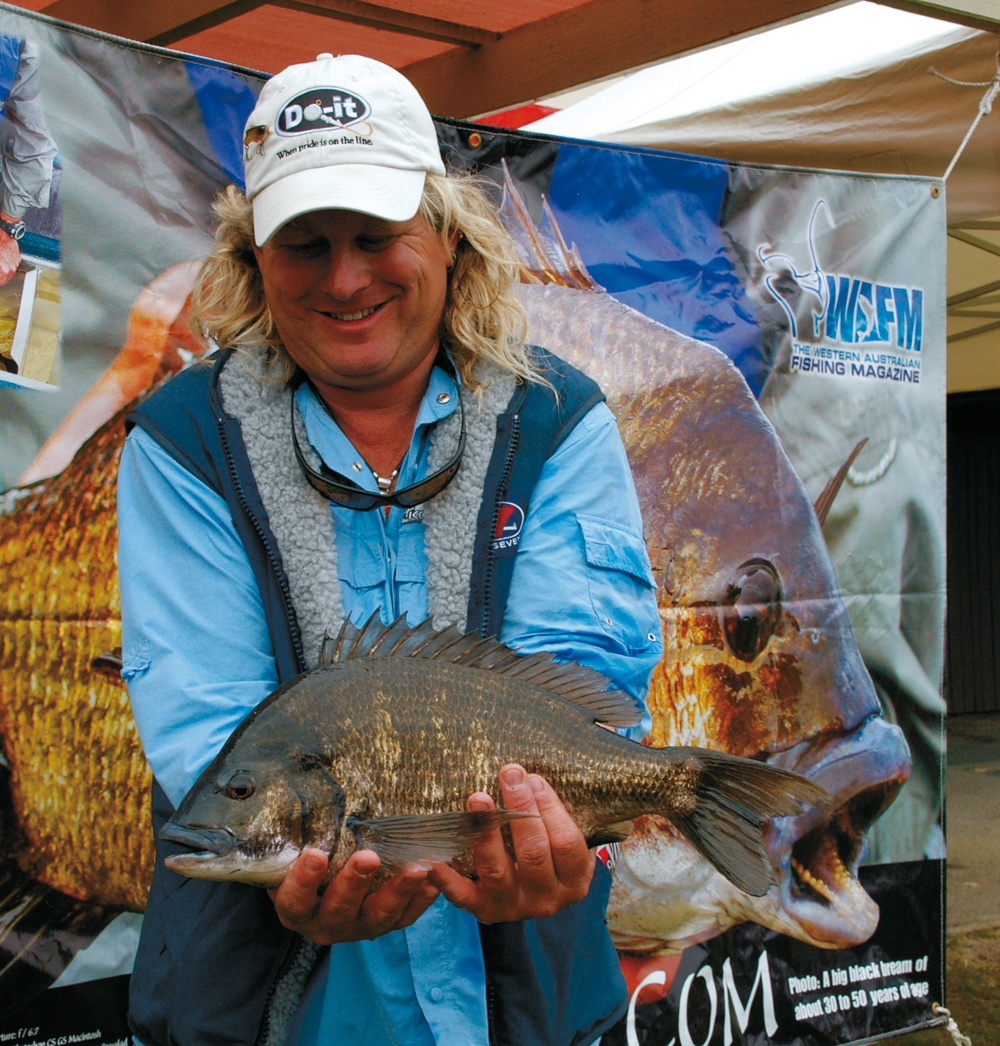 Paul De Luca and a 2.14kg bream caught during a WABT tournament.
Learn the System
As much as we can talk about rigs, lures and much more, the only real way to increase your chances of getting that trophy fish is to fish a system often and learn more about it. As strange as it may sound, each system and the fish in it have their own little quirks. This may have to do with the food available, the speed of the current or the amount of run off the system receives each year. The important thing is time on the water.
You'll start to get an idea of bait movements, places where this fish are likely to congregate and more. As you learn, so your catch rate increases and, fingers crossed, that big, blue lip beauty is only a session away.
Paul Vogl holds a winter 2kg plus fish.
Be Prepared
Just because we have cooler weather in the winter, it doesn't mean that we have to be any less prepared personally. The easiest way to ruin a day on the water is to not have the correct gear. Be aware of the weather forecast and make sure you wear good wet weather gear and that you are rugged up for the early start. There is nothing on this earth worse than being cold, be it on a boat or the shore, it is far easier to stay warm rather than trying to warm up.
Something you definitely don't want to forget are good gloves. They will ensure you don't spend 20 minutes trying to breathe life back into your cold fingers just so you can cast a rod, let alone have enough feeling to get a warm coffee into you, which is another must have. It's pretty easy these days to get a cheap thermos flask that can keep warm whatever you like to drink. Even if you don't drink coffee, a Milo, tea or soup is better than nothing at all and can really make a difference on a cold day. Still, that doesn't mean you don't take plain water with you; even on cooler days you can get dehydrated.
Winter is also the time that many forget about sun protection. While the days might not be warm and the UV index is usually lower it is still good practice to wear a hat and consider sunscreen if you are going to be out in the sun for some time.
The same goes for clothing. Make sure you have a jumper over the top of your regular fishing shirt and if you can, a good wind breaker. Even with a jumper or jacket it's amazing how much wind still gets through.
In the end it's all about the enjoyment of the chase. If you're not enjoying your fishing then take a step back and take a deep breath. Look around and remember we are some of the luckiest people on earth being able to fish in the systems we have. Feeling better? Time for one more cast – you just never know.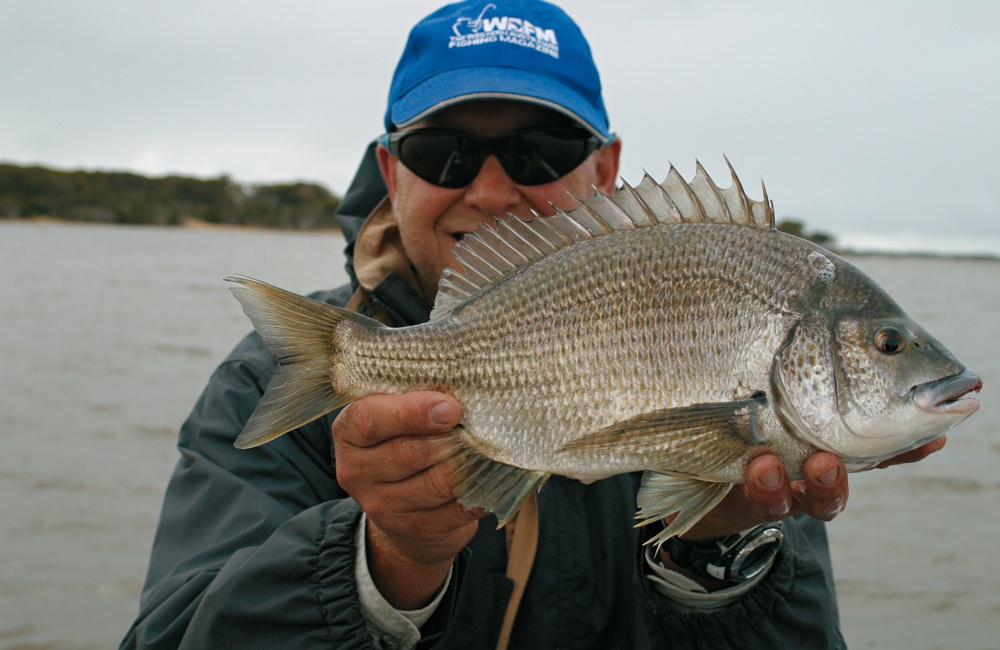 Geoff Spadaccini with a nice southern winter bream.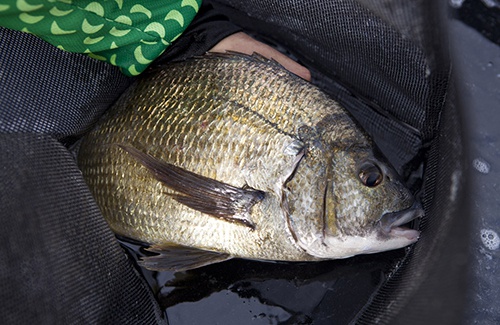 More About Bream
Big bream are very old. A 50cm bream (roughly 2 kilo) would be in excess of 40 years old.

The legal size for a black bream is 25cm.

Daily bag limit is 6 fish.

Only 2 fish over 40cm can be kept when fishing in the Swan and Canning Rivers.

Bream in the 25 – 35cm size range are considered the best size for eating.
Be sure to check out our How to Catch Bream page for more information on this prized WA species.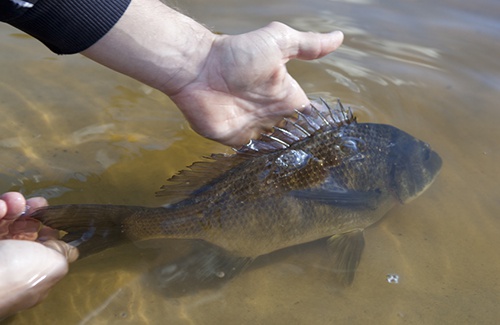 Chasing Big Bream
Before you start chasing big bream, consider whether you are going to catch and kill or catch and release. While bream are relatively prolific, always consider helping the breeding stock by returning bigger fish to the water. Big fish produce far more eggs than smaller fish.
If you are going to catch and release ensure you have a camera with you, get some pics and return the fish to the water ASAP.
Check out our Catch Care page for more information on how to care for and dispose of your catch safely and humanely.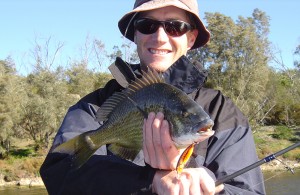 Thinking of heading out for a winter fishing session? Before you go, check out our Winter Fishing, Warm and Dry article for some great tips on staying warm while fishing in winter.