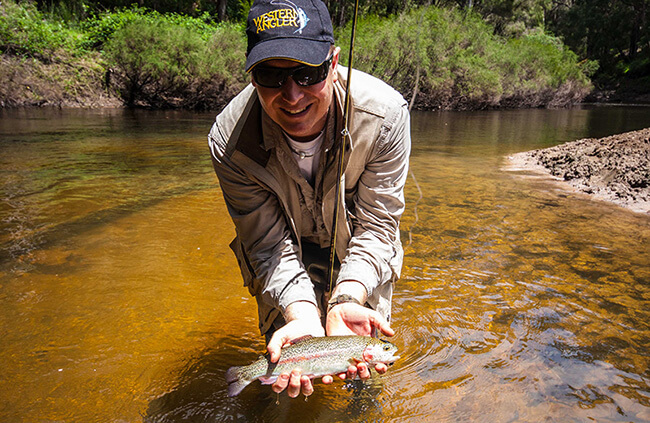 Snaking its way through the forests of Manjimup and Pemberton towards its conclusion at the Southern Ocean, the Warren is arguably our best south-west freshwater fishing river.
The Warren rises in the Tone State Forest, south-east of Manjimup, and flows 137 kilometres to the ocean through an idyllic bush setting.
Within that meandering journey are some of WA's best sweetwater fishing opportunities, both on the main river and in some of the bigger tributaries.
There are several important recreational fishing species for which the Warren is known but only one of them is native to WA.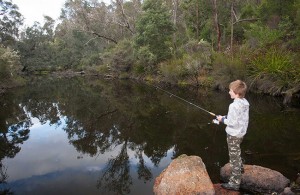 Our biggest freshwater crayfish, the marron, loves to hide in the deep, dark pools of the Warren and although recent years have been challenging for the species, they can still offer some quality fishing during the annual season (licence required).
Marroning on the Warren is an iconic West Australian experience and the magnificent wild bush setting among the tall trees makes for an unforgettable fishing adventure.
The Warren is also at the heart of our trout fishery in WA.
The historic hatchery which provides the trout stocked into our south-west waterways is located on the edge of the Lefroy Brook, which is a major tributary of the Warren and itself renowned for its fishing.
Although trout are an introduced species they have adapted well to life in the Warren, with mainly rainbows caught, along with a few browns.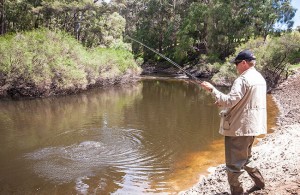 There are many spots along the entire length of the Warren which can produce good trout fishing, with some locations more accessible than others.
The mouths of feeder streams such as the Treen, Lefroy, East and Fly brooks are all likely locations to find a trout.
Anywhere there are rapids and shallow runs is worth prospecting and any bridge crossing the river is worth a few casts.
There are also some rocky vehicle crossings on the Warren which are good spots to try for trout.
Trout of under a kilo are common, but bigger fish to four kilos are occasionally caught.
The tributaries are also well worth a try, with the Lefroy, in particular noted for producing good fish.
The Lefroy is well-stocked every year and has some beautiful stretches suitable for lure, bait and fly fishing.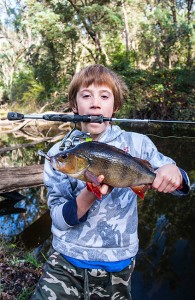 Some of these spots are easily accessible such as the Cascades, Thompson's Flats and alongside the hatchery, but the serious angler will put in the time to find their own secluded stretch of bubbling brook to fish.
While trout are the jewel in the Warren's fishing crown, it is also popular with those chasing a feed of redfin perch.
Another introduced species, redfin are voracious feeders which love dining on marron and are therefore regarded as a pest and not to be released back into the water when caught.
Unlike trout, redfin have no problems breeding in local waters and they have taken a strong hold in the Warren.
They don't fight like trout, but redfin grow to good sizes in the south-west and are fantastic eating.
Reddies are spread right through the Warren and grow to more than two kilos.
They are aggressive lure takers and can be caught on a number of different artificials, with bibbed minnows and soft plastics particularly effective.
With heavy bush making access difficult in many areas, a kayak or canoe can be a great way to explore the Warren, but you need to be prepared to get out every now and then to pass over fallen timber.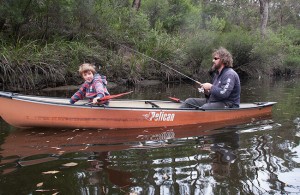 There is also good fishing at the mouth of the Warren, where the beach is renowned for good salmon fishing.
There are campsites along the Warren, or there are plenty of accommodation options in Pemberton and Manjimup.
Many fishing locations are accessible by 2WD, particularly if you don't mind a bit of walk, but the tracks around the Warren are unsealed and a 4WD will open up some more opportunities.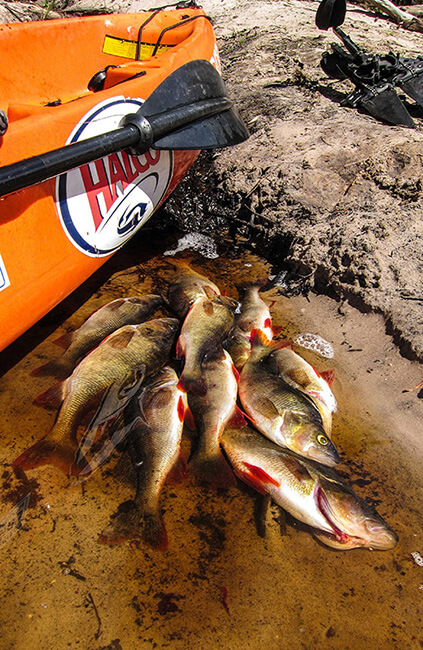 Species:
Lures:
RMG Scorpion 125, River2Sea Tango Pro Fizzer, Bomber, Zerek Live Shrimp 3.5in, Berkley Gulp 5in.
Tackle:
Samurai Infinite FIN 870 (2.1m) and Shimano Stella 1000 spooled with Platypus 8lb Super Braid and 8lb FC Rock leader; drop net.
Access:
2WD/4WD in some locations.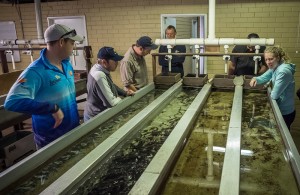 Freshwater Fishing
If you're thinking about heading south for a bit of freshwater fun, check out our Freshwater Restocking article for some great freshwater fishing tips as well as a freshwater restocking location guide.
Or for a more in-depth guide to catching trout, check out our How To Catch Freshwater Trout article to maximise your chances of catching.