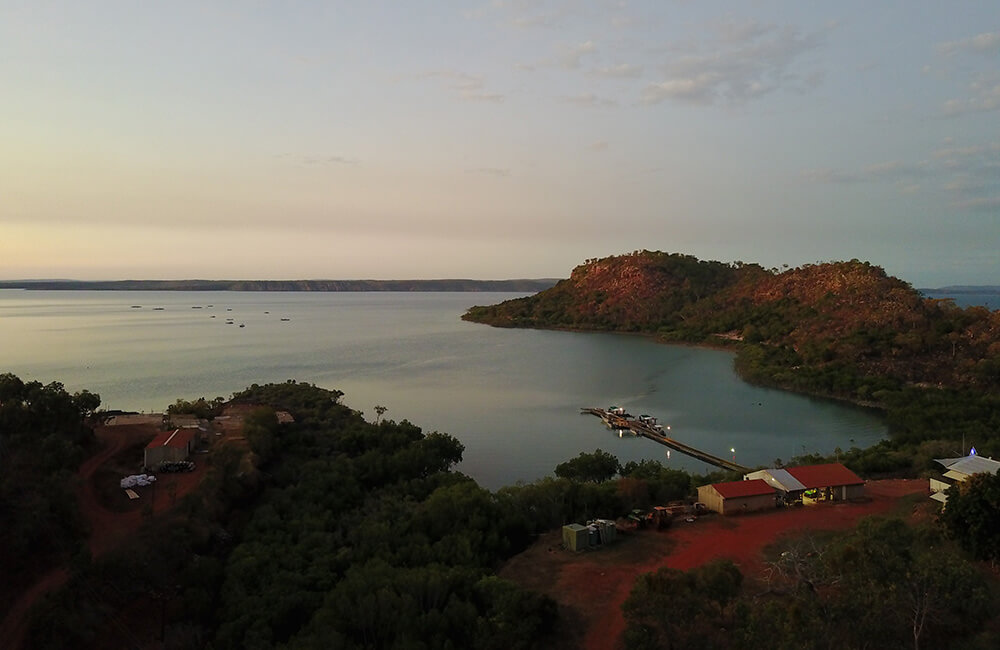 Located in Camden Sound, Kuri Bay is a unique Kimberley fishing camp run by Peter Tucker.
Tux, as most people call him, forged a formidable reputation as one of the Kimberley's best fishing guides more than two decades at Freshwater Cove, his hand-built fishing camp just south of Camden Sound.
Now he has relocated to Kuri Bay and is operating out of the Paspaley Pearls camp, offering clients access to some remarkable fishing which is almost untouched.
Access is only by a float plane from Broome, and the 75-minute trip offers a scenic flight over the heart of the Kimberley, including the Buccaneer Archipelago, Montgomery Reef and the Horizontal Falls.
Tux is the only guide fishing these waters, although several Kimberley cruises pass through and the Paspaley staff don't mind wetting a line in their spare time.
Unlike most Kimberley fishing locations, Kuri Bay is not about barramundi, as there are no major rivers or creeks feeding in nearby.
Rather, the fishing around Kuri Bay is largely bluewater from one of Tux's three dedicated fishing boats – two 5.1 sportfishing tenders and a 6.5m centre console.
Because there are no major creeks or rivers in Camden Sound, what it does have is great water clarity and there are sight fishing options which are just about unmatched in the Kimberley.
Camden Sound has never been regarded as a fishy location, but Tux has uncovered its hidden secrets – some of which admittedly aren't that hard to find!
Take for example the local schools of longtail tuna, queenfish and trevally, which can often be seen busting up from the front deck of the Paspaley mess hall.
These schools cruise the channel through Camden Sound looking for bait fish, which are prolific in these waters, and can be found by looking for splashes.
Once you find them the action will be on, with tuna and queenies on the surface and many other species picking up the scraps below.
Spanish mackerel, brassy trevally, barracuda, golden trevally and more will invariably be found in the same area where there is any surface action.
Camden Sound, also known for its incredible concentration of breeding whales during the middle of the year, is a true fish highway and even sailfish can show up in its waters.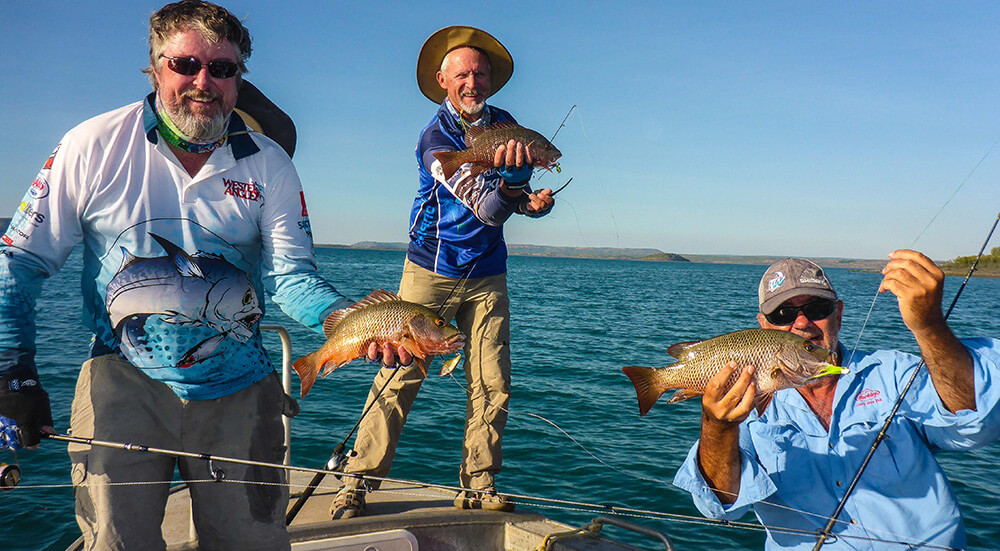 There are also countless fishy looking points, islands, bays and headlands all within a short boat trip of Kuri Bay and each of them can fire for the same range of species.
Queenfish to over a metre are very common and offer some exciting fishing, while brassy trevally to around 75cm are also prolific.
Heading offshore towards the nearby Slade Islands to fish a couple of shoals can offer plenty of 10kg-plus GTs, and big Spanish mackerel.
Trolling or casting lures are both effective methods of catching fish, and when it comes to lure selection the humble white leadhead jig is a firm favourite with Tux as they are cheap and work!
Minnow lures, stickbaits and poppers are all worth trying as well.
If there is one species which this area really excels for it is mangrove jack.
The hard-hitting jacks are just about everywhere and you never know where they'll turn up next.
Tiny little high tide creeks, rocky headlands and mangrove stands, just about anywhere which has water more than shin deep will hold countless jacks and some of them are up to 55cm.
Throw in some fingermark and cod, plus the plagues of small trevally and queenfish, and fishing for jacks is rarely dull.
The jetty in Kuri Bay is also worth a fish and golden trevally and queenfish are the main capture here, along with the odd barramundi.
Although Kuri isn't a barra hotspot in the true sense, they are around and Tux has started to work out which spots will produce them, although the best fishing is likely to be the build-up to the wet season.
If you are looking for a different challenge, there are many pristine sandy beaches nearby, and these offer exciting opportunities to stalk fish in shallow water.
Blue bastards, aka painted sweetlip, are renowned for their strength by fly fishers and most of these beaches have one or two of these fish working along the sandy shallows.
Stalk the mooching bastards and drop a crab fly in their path, and then hold on if you are lucky enough to get a take.
The fishing is simply outstanding and when combined with the comfort of the Paspaley camp it makes Kuri Bay a must for any angler wanting to experience the absolute best of the Kimberley.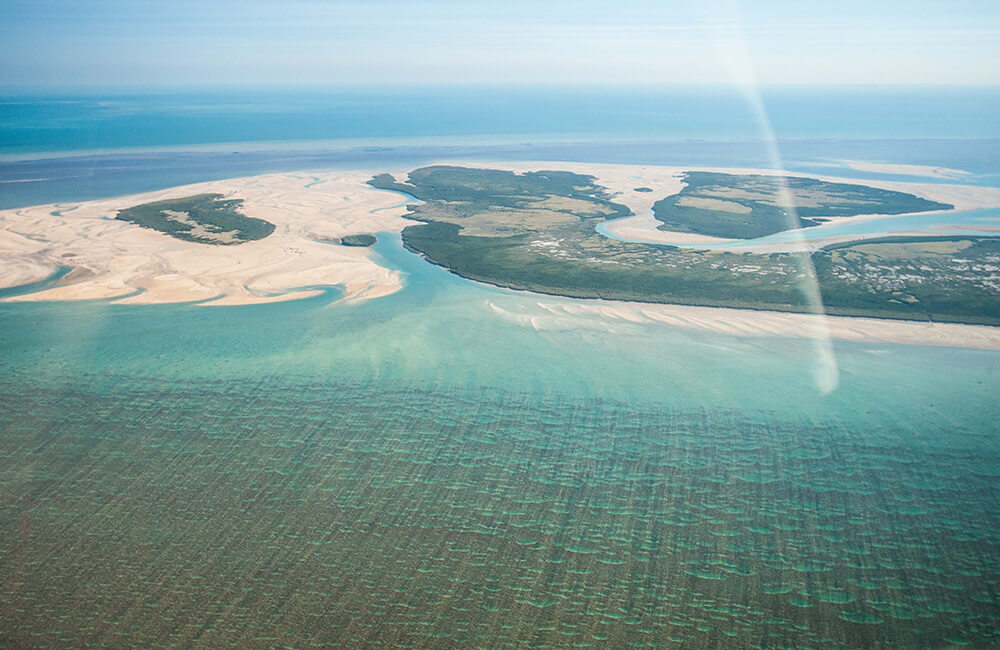 Species:
Longtail tuna, queenfish, golden trevally, brassy trevally, giant trevally, mangrove jack, cod.
Lures:
White leadhead jig, Halco Roosta 105, RMG Scorpion 125, Zerek Live Shrimp 5-inch, Yo-Zuri Sashimi Slider.
Tackle:
Samurai Kestrel 351-70 10-17lb (2.1m) and Shimano Stradic 3000 spooled with 8kg WFT Gliss and 20lb Black Magic Tough Trace; Daiwa Saltiga Dorado M-Over 80S (2.43m) and Shimano Stella 14000SWBXG spooled with Berkley Fireline Exceed 14kg.
Access:
Kuri Bay Sport Fishing, operating out of Paspaley Pearls.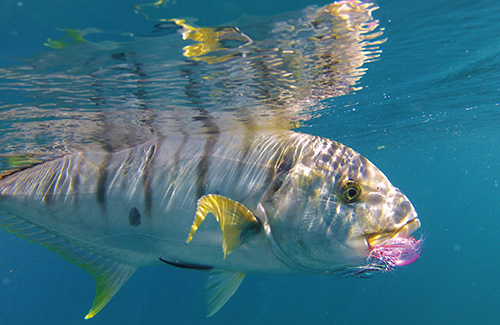 Golden trevally are a hard fighting predator and are a prized catch for many anglers.
Learn how and where to catch this exciting species in our How To Catch Golden Trevally article.