Keep your eyes peeled for Recfishwest's Tip of the week, see below!
Your Fishing Photos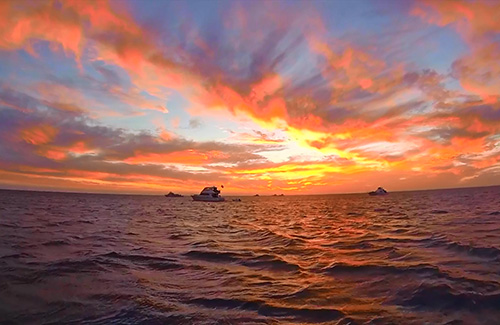 If you want to see yourself or your kids feature in our weekly state-wide Fishing Reports, send your best fishing photos and a description to isaac@recfishwest.org.au

Kununurra Catches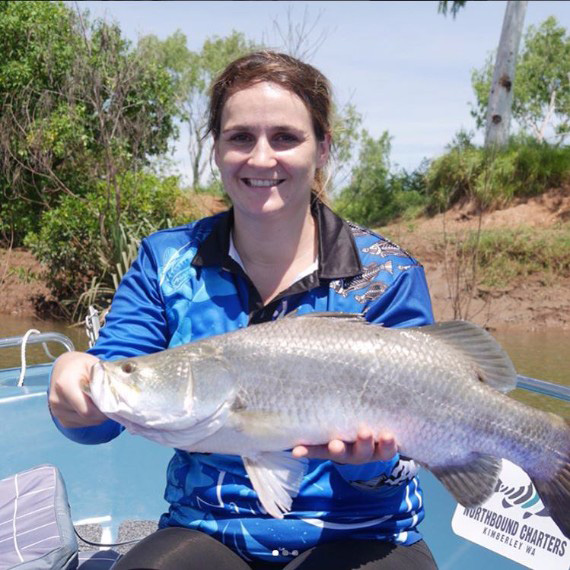 Picture: Clients of Northbound Charters Nikki and Moana enjoyed some barramundi fishing action catching their first ever barra. Well done.
Shore-Based
For those brave enough to test themselves on the blacksoil flats of the Keep River were rewarded over the Easter period with big hauls of 30+ Barramundi being caught and a few threadfin salmon as well. Generally mullet baits worked best with poppers around the rock bars working well also.
Lake Kununurra
The barramundi fishing in Lake Kununurra has started to improve with some decent sessions being recorded. Fishing the back eddies and snags with hard bodied lures has been most productive.
Recfishwest Forecast
Mostly sunny skies and warm weather ahead for Kununurra with light winds making for comfortable fishing weather. With high tides before sunrise and sunset the lead up to these periods will be the ideal fishing times around the inshore areas and the run out tide late morning and after dark would best be concentrated around the creek and river mouths. Barramundi fishing in Lake Kununurra is expected to pick up over the next few weeks as the residual wet season water levels subside. The new moon over next week could bring some activity about in the creeks as mulloway and barramundi are on the hunt.

Broome Catches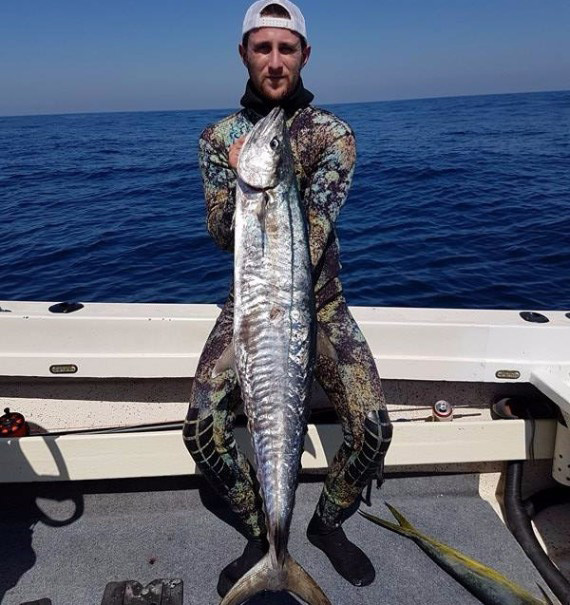 Picture: If the sharks don't deter you too much spear fishing can be a great way to catch a feed of fish when they aren't biting on baits and lures. The benefits of spearfishing being selective means you have no by-catch for a sustainable fishing future. (Photo courtesy Andy McDowell)
Boats
Sailfish have started to show up off Barred Creek while big schools of baitfish located near Willie Creek have been attracting schools of Spanish, broadbar and spotted mackerel. Mack and longtail tuna have been appearing in a range of depths and areas. Tripletail are worth a targeting at the moorings and other pieces of flotsam located in Roebuck Bay.
Shore-based
An 80cm barramundi caught by a customer of Tackle World Broome near Telegraph Pool last week was among several other barra caught in the Fitzroy River and local creeks during the week. Good catches of cherabin have also been picked up in the river. Threadfin and bluenose salmon can be targeted in Roebuck Bay together with small giant trevally and medium golden trevally.
Recfishwest Forecast
A possible storm and shower on Monday and Tuesday is not ideal for the ANZAC Day public holiday but otherwise warm and sunny weather can be expected for the rest of the week. Winds will be inconsistent but shouldn't rise much more than 10 knots over the week so conditions on the water will be nice. The new moon could spike a bit of activity fishing inshore around the beaches and creeks for barramundi, mulloway, threadfin and bluenose salmon especially combined with the larger tides toward the end of next week.
Recfishwest Tip of the Week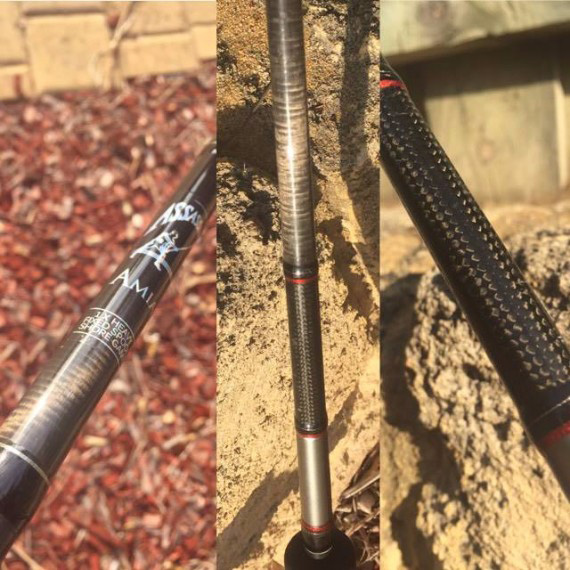 Graphite Rods
Technical Rating: Intermediate
Last week's Tip of the Week spoke about the perks of the current era of braided fishing lines which dominate much of the fishing scene today. To add to the casting distance and sensitivity delivered by braid, your line is best matched with a graphite rod. Around the same time as braided PE lines entered the fishing market so did graphite rods. Made from tightly woven carbon fibres, packed into sheets that are rolled and pressed into a high density carbon rod blank, graphite rods represent the pinnacle of performance fishing rods today.
The cross woven structure of the carbon fibres create a strong, lightweight and stiff rod in comparison to a fibreglass rod of the same dimensions. The weightlessness lends itself to effortless, finesse fishing but when power is needed, the lower section of the rod is extremely strong for its size. Modern jigging rods are a perfect example of this. The zero-stretch sensitivity in bite detection and hook setting that braid gives to jiggers is paired perfectly with the crisp and direct rod sensitivity and stiffness for maximum control and alertness to the fisher.
Alternatively, graphite pairs equally well with rods for casting. The stiff, even blank provides a parabolic curve along the rod getting the maximum flick and sensitivity from the tip and gutsy power from lower down in the rod creating effortless and effective casting distance. Similarly these properties assist in working lures with greater control and reaction speeds to bites for successful hook ups. If you havent already, you might want to consider upgrading some of your old rods for a more refined fishing experience with graphite. A huge range is now available for all fishing styles and all manner of budgets so check out your local tackle store to find the one for you.
Visit our Rod Action article for a more in depth breakdown of rod action for various applications and fishing styles, plus more.