Keep your eyes peeled for Recfishwest's Tip of the week, see below!
Your Fishing Photos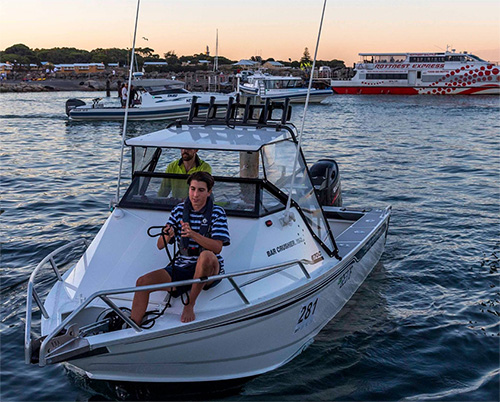 If you want to see yourself or your kids feature in our weekly state-wide Fishing Reports, send your best fishing photos and a description to bronte@recfishwest.org.au

Broome Catches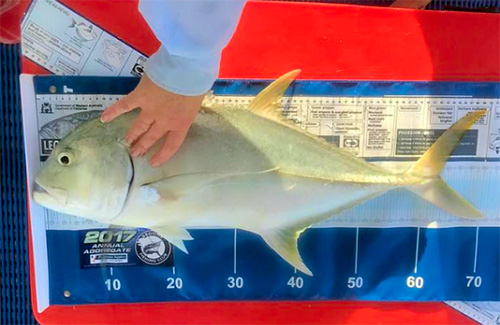 Picture: With the big tidal movement over the weekend, reef predators will be on the hunt to catch out bait trapped in tidal currents tearing around offshore reef structures. This is when you want to work lures around for a chance of some sport fishing action like this good brassy trevally.
Boats
Threadfin salmon have been a little hit and miss in Roebuck Bay and nearby waters. Pete Nielsen, of Broome Tackle World, caught nine threadfin to a metre during one session last week and returned the following day to only manage the one threadie. Some nice catches of bluebone, bluelined emperor and coral trout have been picked up off Gantheaume Point. Spanish mackerel and a few sailfish have also been encountered off Gantheaume. The boats that have been venturing to the ground in 20 to 30 miles offshore have been doing well on fingermark bream, bluelined emperor, bluebone and coral trout.
Shore-based
Good catches of cherabin from the Fitzroy during the past week are being attributed to a decrease in water levels. Mostly small barramundi in the 40cm to 60cm range are being caught in the lower and middle reaches of the system. Crab Creek has bluenose and threadfin salmon on offer. Queenfish and trevally have been turning up along Cable Beach.
Recfishwest's Forecast
The sun is finally set to return with sunny skies and offshore winds the next week. With almost 10m tidal movement before and over the weekend, there should be some hot opportunities for fishing. The rising morning tide and midday high tide should produce some decent beach fishing for threadfin salmon, trevally, queenfish and permit for fly fishers. The falling afternoon tide will be ideal around the creek mouths for barra and mulloway. Expect some of the mackerel which head south with the summer currents to return to inshore Broome waters as the weather cools down south.
Exmouth Catches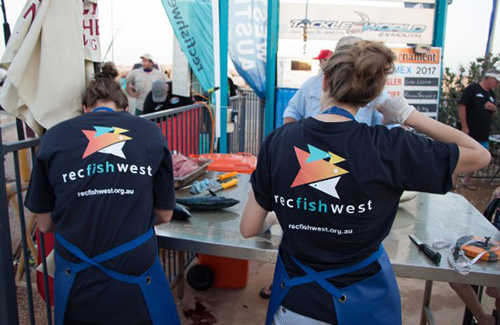 Picture: Recfishwest volunteers doing their bit for science and collecting samples for game fish research from the recent Gamex competition in Exmouth. Get the Gamex rundown here.
Boats
Sport fishing enthusiasts who took part in the recent Gamex Tournament scored blue, striped and black marlin, sailfish, yellowfin tuna and spanish mackerel. Internationally renowned fly-fishing guru April Vokey hooked an estimated 150kg blue marlin while aboard Peak Sportfishing charters recently. Unfortunately, April's big blue managed to break its tether during the tussle. Some nice catches of red emperor, goldband snapper and rankin cod have been coming from the 80m to 120m depths. Sailfish, golden trevally and mackerel are among the species being caught in the upper areas of the gulf.
Shore-based
Fly-fishers have been catching permit, queenfish and giant herring in the lower areas of the gulf. The gulf and town beaches are fishing well for yellowfin whiting and bream. The marina has been producing mixed catches of mangrove jack, estuary cod, trevally and queenfish. Bluebone and spangled emperor have been caught from the west coast accesses.
Recfishwest's Forecast
Remnant weather from the tropical low sitting over northern Australia may carry through to the weekend but should be clear for most of Saturday and onwards. Winds are set to be low and indecisive. Some very good tidal movement with low tides around sunrise and sunset and highs around midday and midnight. The tidal movement around the reef on the west side will be good feeding times for giant trevally and other good reef fish with maximum tidal movement halfway between the high and low tide. Working poppers at night time can be another productive method for GT's with land based options around the beaches toward the tip of the cape producing good land based captures. Night fishing for spangled emperor on the beach will also be productive on the rising tide.
Kalbarri Catches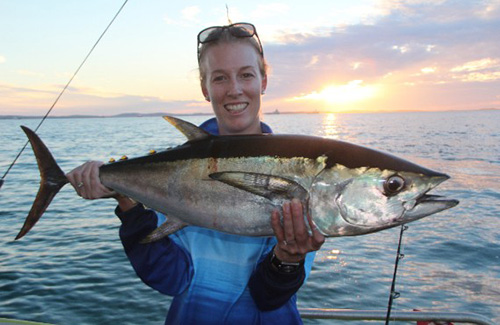 Picture: A few different types of tuna are being caught by the boat fishers trolling around the inshore reefs and Kalbarri coastal cliffs. Fish like this longtail tuna are not uncommon from these areas.
Boats
The crews trolling for pelagic sportfish have been catching spanish mackerel to 15kg, yellowfin, longtail and mack tuna. Reef fishing enthusiasts have been mostly picking up dhufish, pink snapper, baldchin groper and red throat emperor. A few cobia are still being encountered near bait schools north and south of the river mouth, however the sailfish that were present a few weeks ago have not been recently sighted.
Shore-based
Tailor to 70cm have been turning up at Blue Holes and Chinamans while Red Buff and Wittecarra Creek have been producing choppers. Frustrations and the beaches north of there are worth trying for mulloway, pink snapper and jumbo tailor following the recent big swells. The Murchison River has been fishing well for black bream to 40cm, estuary cod and small mulloway. Mud crabs have been recently caught as far up river as Dance Floor.
Recfishwest's Forecast
Offshore winds most mornings will provide good conditions to balloon for mackerel before the water cools down too much into winter. The flip side is that jumbo tailor are well known to move inshore during the approach to winter and should start to make their presence known in a few weeks' time. A couple of days after the new moon could still produce mulloway from the beaches but with a low tide in the morning you will want to pick your spot carefully to find the right gutter or beach channel for the tide.
Geraldton Catches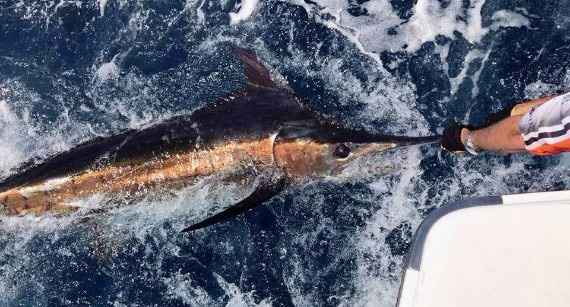 Picture: One of the two blue marlin tagged onboard BALEK III during the recent Halco Abrolhos Islands Tournament (Photo courtesy of Geraldton & Districts Offshore Fishing Club).
Boats
At least seven marlin were tagged during the recent tournament at the Abrolhos Islands. Competitors also landed yellowfin tuna to 50kg, spanish mackerel, shark mackerel, yellowtail kingfish, amberjack and samson fish. One of the competitors also caught 67 fish comprising of 16 different species while fishing at an anchorage near the Wallabies in the evenings of the tournament. Baldchin groper, pink snapper and coral trout have been common near most groups.
Shore-based
An estimated 19kg mulloway was caught near the Greenough River mouth last week. The first and second points at Greenough have also been producing mulloway together with tailor, herring and pike. The weed movement has been making things difficult along the West Bank to Lucys stretch, however tailor and mulloway can be caught along there. Good catches of whiting have been coming from the rock walls near town. spanish mackerel around a metre in length have been turning up behind The Lives in the afternoon.
Recfishwest's Forecast
Geraldton should experience a nice break from the typical south westerlies over the next week. Relatively light offshore winds should provide good conditions for boaters and shore based fishers with the weekend and early next week looking like the optimum spot of weather. Shore based fishers should experience a good easterly most mornings with a chance to balloon for a late season mackerel still an option. Entering into autumn is when the "greenback" tailor make an appearance around the inshore reefs with the Greenough stretch very productive for big winter tailor.
Esperance Catches
Picture: Big mulloway are not uncommon from the beaches east of Esperance, with magnificent stretches of beach providing hideouts for the beach beasts amongst the waves.
Boats
A customer of Southern Sports and Tackle landed six southern bluefin tuna to 11kg while trolling within a few miles of the coast last week. Dinghy and small boat fishers working the ground within a mile or so have been picking up good catches of whiting, snook and squid. The bigger boats that have been venturing out wide have been finding plenty of nannygai to 2.5kg, queen snapper and samson fish between 10kg and 15kg.
Shore-based
Big schools of salmon have been turning up at Salmon Beach, Fourth Beach and Roses. Salmon have also been consistently appearing at Fourteen Mile, Thomas River and Alexander. Mulloway in the 6kg to 8kg range were caught at Fourteen Mile, Stockyards and Thomas River last week. The Taylor Street Jetty is fishing well for herring, skippy and squid. Bandy Creek boat harbour has King George whiting between 25cm and 35cm and herring on offer.
Recfishwest's Forecast
A bit of swell over the weekend dropping right down for Monday might limit some people to fishing into next week. Salmon are still moving through in big schools but migrating fish will start to dwindle in a few weeks. Yellowtail kingfish are expected to turn up in good numbers around the islands and rocky headlands coming into cooler weather.

Albany Catches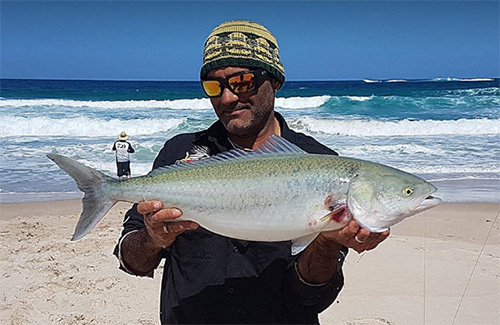 Picture: April is the month for salmon in WA so if you get the chance to hit the south coast the time is now. Keep the sand between your toes and fish from the beach for a safe and enjoyable experience (Photo courtesy of Fab Fishing & Tours)
Boats
Reef fishing enthusiasts who worked the coral country in 50m to 80m off Cheynes Beach, Two Peoples Bay and Albany scored good catches of breaksea cod, dhufish and queen snapper. Schools of samson fish were encountered in similar depths as well as at the edge of the shelf. Crews in bigger boats, who ventured beyond the shelf, managed to land some nice red snapper, hapuka and blue eye trevalla. King George whiting catches are improving through the inshore parts. A group of four fishers caught 20 King George and some nice herring and skippy during a single session last week. Squid are still a little hard to come by with catches of half a dozen of the popular cephalopods considered a good haul at the moment. Bibbed minnows trolled off the headlands and inshore areas are producing catches of salmon and small southern bluefin tuna.
Shore-based
Very big schools of salmon have started to show up along the Bluff Creek to Nanarup stretch. Cables, Sand Patch and Lowlands have also been fishing well for salmon while there have been consistent catches at Shelley Beach. The odd tailor has also been mixed in with the salmon and there are plenty of herring and skippy at the harder to access areas. Black bream in the 25cm to 35cm range are common in the King and Kalgan rivers. Small mulloway have been responding to baits and lures in both systems.
Recfishwest's Forecast
Weather is mostly sunny with a few possible showers over the week. Moderately low, easterly winds for the start of the week and big swell over the weekend will limit shore based and small boat fisher. Beach fishers time will be better spent after the weekend when the swell has dropped. Salmon will continue to move through Albany in the coming weeks with the migrating schools starting to slow in a few weeks' time. Resident fish and stragglers will be around over much of the cooler months and yellowtail kingfish will appear in bigger and better numbers too.
South West Catches
Picture: A fat south west salmon and great capture by Kate, enjoying the sport this fish took Kate more than 10 minutes to land on light gear (Photo courtesy of Kate Dawson).
Boats
The crews fishing off Cowaramup Bay, Canal Rocks and the tip of Cape Naturaliste have been picking up good catches of dhufish and pink snapper as well as encountering a few samson fish and yellowtail kingfish. Trolled bibbed minnows have been working well on salmon and small southern bluefin tuna through the inshore waters of Geographe Bay. Squid continue to be caught along the seagrass beds off Quindalup.
Shore-based
When the swell and winds have allowed, surf fishers have been enjoying some entertaining salmon sessions at Hamelin Bay, Redgate, Gas Bay, Injidup and Smiths Beach. Salmon numbers have been increasing along the Geographe Bay beaches with plenty of 3kg to 6kg fish caught at Bunker Bay, Rocky Point, Eagle Bay, Meelup Bay and Point Picquet during the week.
Recfishwest's Forecast
Moderate easterly winds over the weekend should provide decent conditions offshore with sunny skies. About 2m of swell from the south west will provide moderately challenging beach conditions on the west coast. The Geographe Bay side of Cape Naturaliste around Dunsborough will provide a break from the swell if the wind allows easy fishing. Salmon numbers should continue to move through the area strongly becoming more sporadic in a few weeks' time.

Mandurah & Surrounds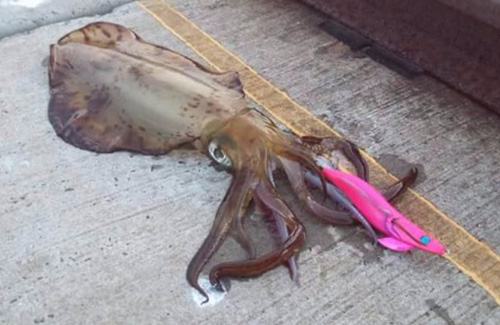 Picture: Pink is arguably the most commonly used colour for squid jigs and the fact is it works! However it's good to have a range of colours to try out on different days (Photo courtesy of Squid Hunters Western Australia)
Boats
There are some good reports of small boat anglers fishing inshore around the reefs and weed banks taking some excellent King George whiting and pink snapper.
Shore-based
There are still a few tailor being caught along the Tim's Thicket to Preston Beach stretch but catches are slowing down. Good news is that there have been a few reports of an occasional large salmon being taken from the southern end. White Hills has had moderate numbers of tailor and herring throughout the week. A few mulloway have come from this area but sizes have been smaller than usual. The beaches between Halls Head and The Cut are providing a feed of herring, juvenile salmon, tailor and some good whiting.
Beaches to the north of Mandurah are still producing some good mulloway and tailor as well as herring, skippy, whiting and tarwhine. Singleton Beach and other beaches in the area have had some nice mulloway landed in the evenings along with tailor and herring most nights. The Cut is still fishing well with herring, a few tailor and juvenile salmon along with some tarwhine being taken.
SECRET HARBOUR / PORT KENNEDY / WARNBRO / ROCKINGHAM / SAFETY BAY:
Long Point and Warnbro beaches have been producing tailor and herring. Tarwhine have been taken in good numbers this week. Penguin Island sandbar has been producing some nice flathead and sand whiting. Palm Beach jetty seems to be the pick with good numbers of herring and whiting fishing at the moment. A few squid have also been taken at night.
Recfishwest's Forecast
Expect good numbers of salmon to begin to pass Mandurah beaches in the coming weeks. Winds look favourable for fishing much of the coming week, with light offshore winds forecast. Tides aren't favourable for anything in particular but with the beautiful sunny skies forecast it's a prime time to be on the water, find some scattered weed beds and try for squid as a peaceful way to soak in the weather.
Metro Catches

Picture: This weekend is looking perfect for the family to head down to one of Perth's many picturesque beaches, even providing a chance for some early season salmon fun (Photo courtesy of @mattymancave).
Boats
Marco Orifici, of Anglers Fishing World in Fremantle, recently came across big schools of herring while near Coventry Reef. Marco said the herring were attracting salmon to 7kg and yellowtail kingfish to 80cm to the area. Salmon and kingies were responding to mulies and metal lures. Salmon have also been regularly caught near The Mewstone and Stragglers.
Good catches of pink snapper have been coming from the western wide of Garden Island. Squid enthusiasts have been finding plenty of the tasty cephalopods along the northern side of Garden Island and out from Fremantle Sailing Club. Dolphin fish and the occasional wahoo have been caught near the Fish Aggregating Devices (FADs) wide of Rottnest Island. Luke Treby and a couple of mates scored dolphin fish to 8kg at the FADs on Saturday.
Shore-based
Pink snapper have been caught from South and North Mole during the week together with a few salmon. Herring have been caught in good numbers at both of the moles as well as at Woodman Point, South Beach Groyne, Dutch Inn Groyne and Hillarys Marina rock wall. Tailor have mostly been turning up after 9pm along the metropolitan beaches. Spots, where the 45cm to 65cm fish were caught this past week, included Leighton Beach, Grant Street Reef, Swanbourne Drain, Floreat Groyne and Trigg Point.
Some nice catches of flathead have been coming from Mosman Bay and Freshwater Bay. There are still a few mulloway being caught in the lower reaches of the Swan River. Black bream have been good in the Canning River between Shelley Bridge and Fifth Avenue. There are still blue swimmer crabs being caught in both of the systems.
Recfishwest's Forecast
As we move into some cooler months expect squid to be active in the cool waters around Fremantle, Rockingham or any of the inshore islands, especially during breaks of nice weather when the waters aren't disturbed and become clear. Pink snapper will also become active and expect them to move into inshore areas in the periods after a rise in swell. Sunny skies for the next week with winds looking very nice in the mornings and some evenings. The weekend is looking perfect with light offshore winds so whether boat or beach fishing the weekend is the pick! Spear fishers should be in with some nice visibility for the week.

Recfishwest's tip of the week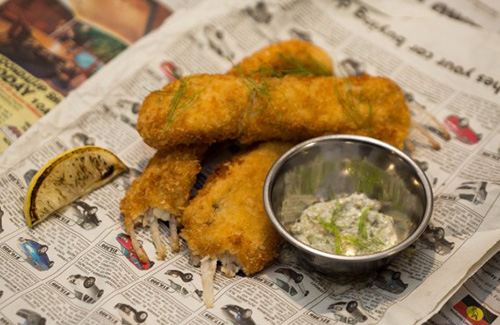 Sustainable Seafood Recipe Competition
Have any good recipes for less commonly used seafood? Keen to win a 10 course degustation dining experience in a farm setting inspired by camp oven and bush spices?
We can confirm our first entry that will go into the Sustainable Seafood Cookbook by Fervor is Jimmy's Fish Ribs! Keen fisher James Warren uses a special filleting technique to save these juicy fish ribs that would otherwise be thrown away with the frame. They are perfect for camping and we think they are as good if not better than the fillets.
Don't forget to get your entries in for the chance to go into the book and win great prizes: For more information, click here.