Latest Fishing Report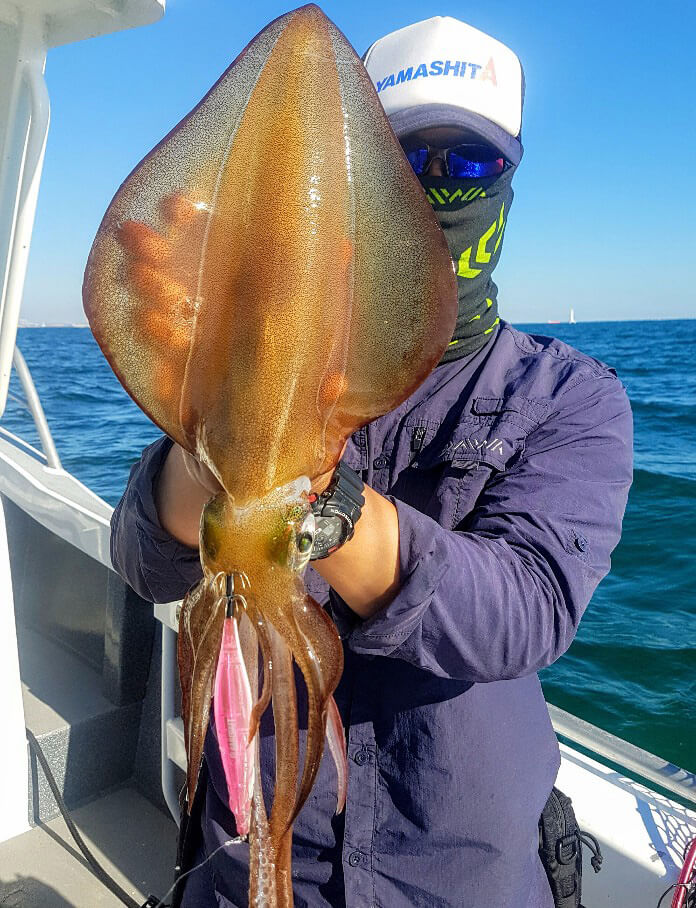 Picture: Western Squid Wranglers members have been doing really well on squid by drifting over broken ground in the Sound lately.
Keep your eyes peeled for Recfishwest's Tip of the week, see below!
Your Fishing Photos
If you want to see yourself or your kids feature in our weekly state-wide Fishing Reports, send your best fishing photos and a description to bronte@recfishwest.org.au

Demersal Jigging for Beginners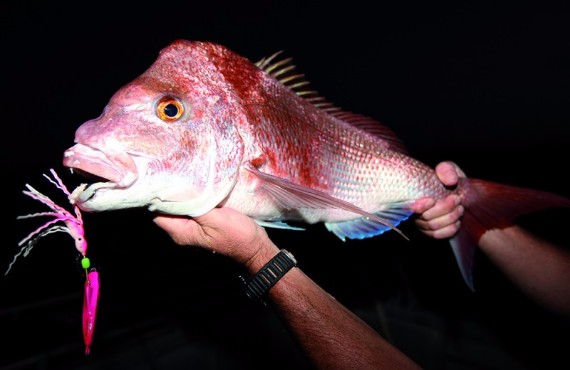 Jigging is a very effective, hands-on and fun method of fishing for demersals. Many fishers are reluctant to try it as they are not sure what to do or if their gear is right for the task. In this article we will show you how easy it is to get started with jigging for demersals.
Get up to speed with jigging for demersals, here.
Kalbarri Catches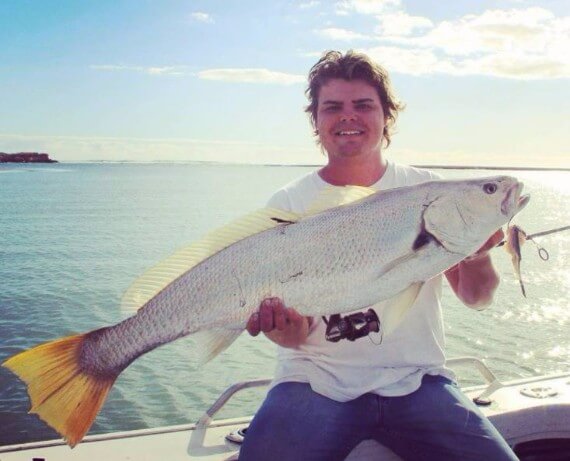 Picture: "Murchison mulloway are on the chew!" Western Angler Next Gen Fishing Team member Robbie with a ripper of a mulloway (Photo courtesy of @robbieleck_fishing).
Boats
Spanish mackerel catches improved this past week with some boats catching up to half a dozen 10kg to 25kg fish in a session. Schools of yellowfin and longtail tuna have been turning up in a range of depths and areas. Pink snapper and coral trout have been picked up near the cliffs while red emperor and dhufish have been caught farther offshore.
Shore based
Young gun fisher Beau Ralph landed a 10kg mulloway and a 45cm mangrove jack in the Murchison River last Friday. The river is also fishing well for black bream with Kalbarri Sports and Dive's Wayne Dewar catching two bream over 40cm on Sunday. Samson fish and jumbo tailor have been hooked on poppers at the river mouth. Some nice catches of mulloway, tailor and dart have been coming from Wagoe.
Geraldton Catches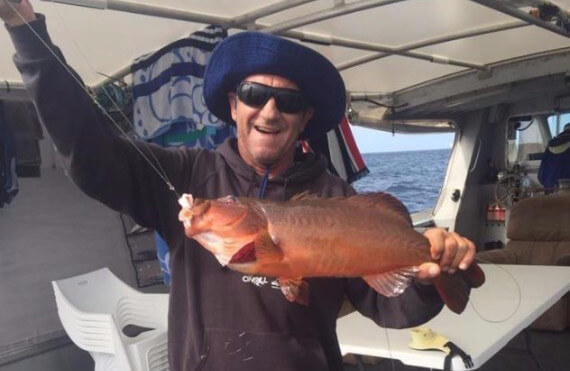 Picture: Mex with one of the tastiest fish in the sea, a nice coral trout caught on a handline at the Abrolhos Islands.
Boats
Dinghy and small boat fishers working the seagrass meadows out from Point Moore and The Lives have been picking up some nice catches of squid. Dhufish continue to be caught in reasonable numbers near African Reef. Bigger dhufish and better numbers of the highly sought after table fish have been coming from the 50m to 70m depths near the Abrolhos Islands. The shallower waters off Southern Group are producing good catches of baldchin groper, pink snapper and coral trout.
Shore based
A mulloway that was conservatively estimated to weigh 20kg was landed at Drummonds about a fortnight ago. Smaller mulloway in the 55cm to 90cm range have also been caught at Drummonds and the beaches to the north. Herring have been good at the reefs near Point Moore while school and yellowfin whiting are widespread along the coast. A few mulloway have been landed along the Flat Rocks to Lucys stretch. The first and second points at Greenough are worth trying for tailor, herring, pike and dart.
South West Catches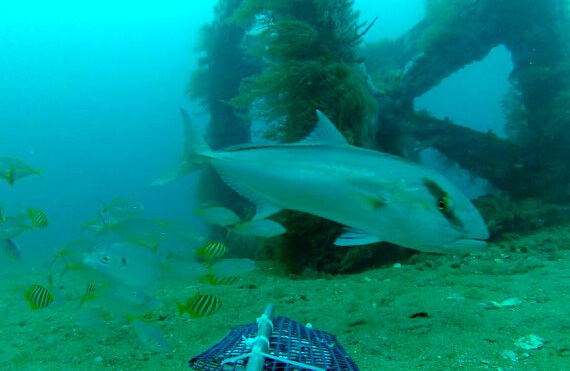 Picture: Good sized sambo on the Dunsborough artificial reef. If you want more information or just to see some amazing footage on reefs around WA, check out the new Artificial Reefs WA Facebook Page.
Boats
Pink snapper have been responding well to whole fish baits such as mulies and scaly mackerel introduced to a burley trail in Geographe Bay. Yellowtail kingfish to 20kg and samson fish have been encountered off the tip of Cape Naturaliste. The relatively shallow waters of 10m to 20m have been producing dhufish off the west coast. Squid may take some time to return to their normal activity as a result of the rough conditions.
Shore based
Salmon have been turning up along the west coast beaches in schools of various sizes with Contos Beach, Honeycombs, Injidup, Smiths Beach and Windmills among the spots where the popular sportfish were caught this past week. Bunker Bay, Castle Rock, Eagle Bay and Meelup also produced some nice catches of salmon. Herring are about in very good numbers whereby a consistent stream of burley will expedite catching a daily limit of a dozen fish. The deeper gutters formed along the west coast would be worth trying for mulloway, pink snapper and jumbo tailor.
Mandurah & Surrounds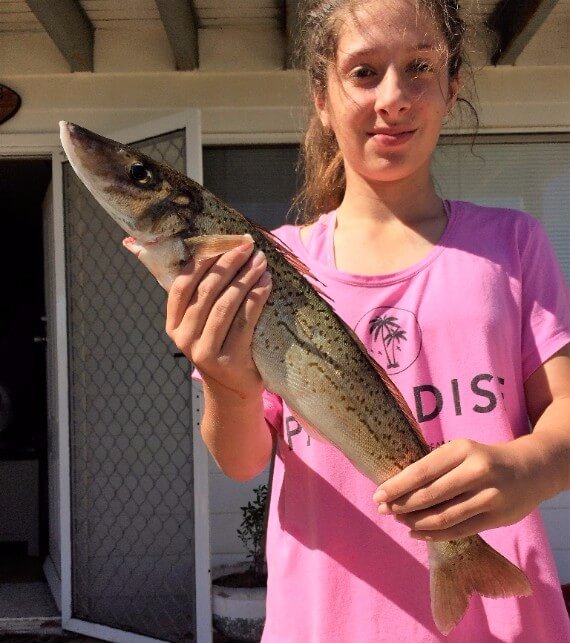 Picture: King George whiting being caught along with some skippy in the upper areas of Warnbro Sound (Photo courtesy of Isabella Woodage).
MANDURAH
The Cut is still quite productive and if it starts to get a bit blustery you can always find somewhere to fish, out of the breeze and still, catch fish. There have been a few salmon taken at the ocean end along with some tailor. There are still a few tailor being caught from the northern beaches but the main catches seem to be whiting and herring with an odd tarwhine. Skippy are starting to make their presence felt as well. In amongst the herring are a few tailor and salmon, particularly on the southern beaches. Just off shore, in front of the estuary mouth, there have been some good fish caught. Small snapper, King George whiting, samson fish and assorted small reef fish have all been on the bite. A few dhufish are being caught out in 20 m and 30 m of water, with odd pink snapper and samson fish along Five Fathom Bank.
SECRET HARBOUR / PORT KENNEDY / WARNBRO / ROCKINGHAM / SAFETY BAY
Mulloway are making a return to the beaches and jetties in the area with some good fish taken from the jetties during the week. Fishers report good catches of nice tailor to 50cm and occasional mulloway around 10 kg on the beaches between Long Point and Secret Harbour. Fishers chasing squid suggest that Warnbro Sound has been producing a few good specimens. There are also a few odd salmon still being taken, along with tailor and snapper. The snapper size seems to vary according to location so it may require a bit of moving around until a school of larger fish is found. There are good King George whiting being caught along with some skippy in the upper areas of Warnbro Sound. Squid are everywhere and are being taken by both boat and shore based fishers.
Metro Catches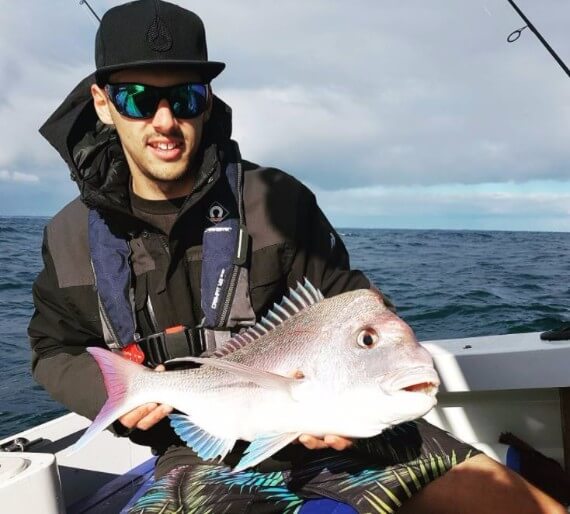 Picture: Pinkies have been caught in good numbers along Five Fathom Bank and within Cockburn Sound (Photo courtesy of Liam Kavanagh, pictured in his Crewsaver 165 life jacket, built by fishers, worn by fishers. Get yours today!).
Boats
Salmon are still schooling near Mewstone and Stragglers, however the 3kg to 7kg fish have been reluctant to strike at baits and lures at times. Pink snapper have been found in good numbers along Five Fathom Bank and within Cockburn Sound. A couple of crews who ventured to the Fish Aggregating Devices (FADs) when conditions permitted encountered dolphin fish and tuna close to the structures. Deep droppers found ruby snapper in the 220m to 250m depths while queen snapper were picked up in about 80m of water. Squid are still being caught in good numbers along the seagrass beds off Fremantle and within the sound despite the rougher conditions.
Shore based
Rock fishers who put in the time during, and just following, the recent storm events were rewarded with some nice pink snapper from the metropolitan stones. A customer of Anglers Fishing World caught two pink snapper of 84cm and 64cm during a single session at North Mole last week then went on to gaff his friend's 75cm fish. More snapper were caught from Woodman Point and South Mole as well as some of the other rock walls located within Cockburn Sound. Those targeting snapper also caught a few salmon along with plenty of herring. Bag limits of squid have been achieved from the Fremantle rock walls. The deep channels and gutters that were formed along the beaches as a result of the big swells and strong winds are worth trying for mulloway.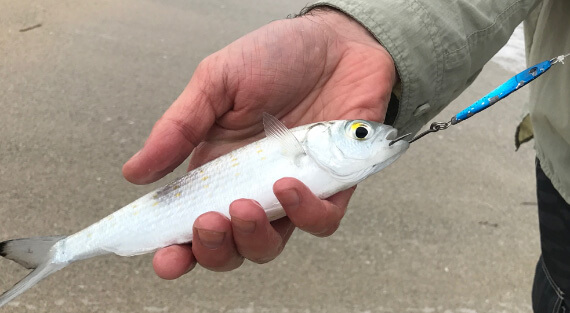 Circle hooks
Technical Rating: Novice
A simple innovation that both saves time and produces less unwanted damage to non-target fish is the circle hook. Various shapes and forms of circle hook are available with some representing more of a triangle shape but essentially what defines them is an inward facing point. Effectively what this does is when a fish swallows a bait deep in its throat, the point doesn't catch deep in its throat. When the fish pulls back on the line the hook can slide up the fish's throat until the hook settles around the hinge of the fishes jaw before exiting its mouth. Another small tug or a strike in the rod from the angler results in the hook rotating as it is caught in the corner of the fishes mouth, now exposing and coming into contact with the hook point which penetrates and creates a neat hook up in the corner of the mouth almost every time. The clean hook up allows easy release of unwanted or undersize fish causing minimal damage and means you don't have to be digging a hook out from deep in a fish's throat.
For more on catch care and releasing your fish properly, click here.