Latest Fishing Report
Become a Recfishwest member and get the best fishing reports in WA delivered to your in box every week.
As a Member you'll receive fishing updates and info from WA's peak fishing body, Recfishwest. They're here to help make your fishing better and one of the ways they do that is by sending out WA's biggest and best weekly Fishing Reports! Join here.
Your Fishing Photos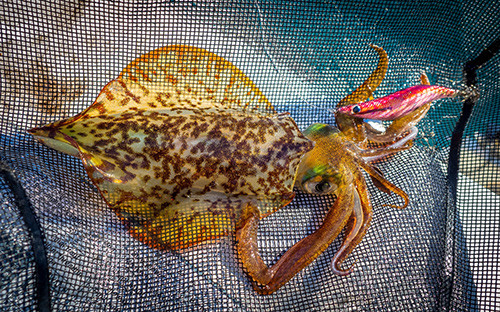 If you want to see yourself or your kids feature in our weekly state-wide Fishing Reports, send your best fishing photos and a description to bronte@recfishwest.org.au

Esperance Catches

Picture: Southern Bluefin Tuna caught on the very 1st Limited Edition Recfishwest Halco lure, proving not only do they catch fish, but 8 year Sarah Offer who designed the lure, knows what she's talking about. (Photo courtesy of Jock Dunkley).
Inshore
Herring are being caught in good numbers together with a few squid in the evenings at the Taylor Street Jetty. The Bandy Creek Boat Harbour is also fishing well for herring as well as black bream to a kilo. Plenty of herring, small skippy and a few salmon have been coming from Salmon Beach, Fourth Beach, Roses and Eleven Mile. Alexander Bay produced herring, salmon, skippy and for boat fishers, squid. Poison Creek has been good for mulloway, tailor and salmon. The small boats that worked the inshore waters caught whiting, herring, snook, flathead and squid.
Offshore
Schools of small southern bluefin tuna are about offshore. Samson fish to 20kg and plenty between 6kg and 8kg were encountered near the islands and beyond. Reef fishing enthusiasts have been scoring nice bags of 2kg to 3kg nannygai, queen snapper and big breaksea cod.
Recfishwest's Forecast
Some patchy weather mixed in with possible storms over the next week leaves options limited with big swell over Sunday/Monday and considerable wind. Before the wind and swell picks up there's a window of opportunity for beach fishing on sunset with a high tide after dark and a new moon lining up for favourable mulloway conditions.

Albany Catches

Picture: Salmon fishing done right! Pick the weather, get your own slice of beach, take your family and mates and enjoy the safe and accessible fishing that Salmon season brings! (Photo courtesy of @albanyfishing).
Inshore
Sand Patch, Cables, Lowlands, Shelleys and Cheynes were among the spots to producing salmon during the past week. Skippy of mixed sizes, tailor and tarwhine have been common at Bluff Creek and Cheynes. Rock fishers have landed yellowtail kingfish, blue groper and samson fish around West Cape Howe and the Lighthouse. If you go rock fishing, please make sure you're wearing the correct safety equipment including a life jacket. Please see FREE loan life jacket locations at the bottom of the website.
King George whiting efforts have been mixed with some catching up to a dozen fish in a session and others struggling to find the fish. Sand whiting are in better numbers than their regal cousins while herring and squid catches are improving. Black bream enthusiasts who visited the rivers east of town reported these systems to have started to produce sessions similar to those experienced before the last month's heavy rainfall.
Offshore
The boats that worked the 50m to 80m depths reported there to be more than the usual amount of bronze whaler sharks about. The bronzies made landing the dhufish, pink, queen snapper, red snapper and samson fish more challenging. Bigger red snapper and hapuka were found at the edge of the shelf and beyond.
Recfishwest's Forecast
The southern bluefin tuna that normally turn up ahead of the salmon have yet to appear in any numbers but the schools around Esperance suggest there should be numbers in Albany soon. Rock fishers and small boaters should reconsider heading out this week with up to 6m swell predicted Sunday and considerable swell in the days leading up to and following. Mulloway would be worth targeting in the rivers while the swell is up, with a new moon and high tide just after dark.