Welcome to Recfishwest's weekly fishing report, brought to you by Recfishwest's fishing expert Joachim Azzopardi, Stewart King for the latest in freshwater fishing and thanks to John Curtis for his Mandurah & Surrounds report.
Keep your eyes peeled for Recfishwest's Tip of the week, see below!
Your Fishing Photos
If you want to see yourself or your kids feature in our weekly state-wide Fishing Reports, send your best fishing photos and a description to bronte@recfishwest.org.au

Kalbarri Catches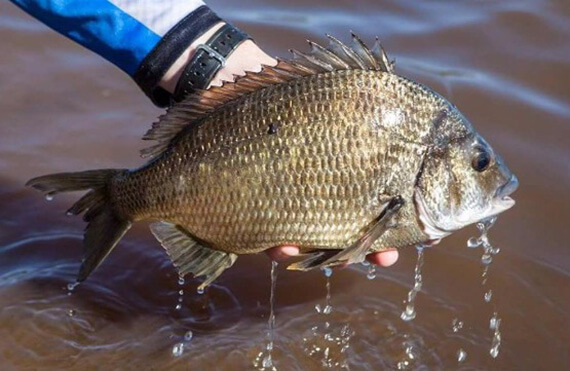 Picture: Fishers have been chasing black bream in the river (Photo courtesy of @massamone)
Boats
Steve Wiseman has been finding schooling tuna among the bait balls offshore. Spanish mackerel catches have slowed somewhat, but there are still a few cobia around. Reef fishing enthusiasts have been picking up dhufish, pink snapper and baldchin groper along the coral in 30m to 40m northwest of the river mouth. Pinks and baldies have also been snared on soft plastics within a few hundred metres of the southern cliffs.
Shore based
Matt Graeber was fishing approximately 2km up river last week when he hooked onto something considerably larger and faster than the black bream he was catching. Following a 15-minute fight, the fish spooled Matt's line. Moments later he spotted his line floating on the surface of the water and decided to check if the fish was still connected. The fish was still there and after another 20-minute battle, this time by hand, he landed his catch, which turned out to be an impressive mulloway that pulled the scales down to 13kg. Also in the Murchison, some nice yellowfin whiting are being caught along the sand flats and estuary cod near the pens and jetties. Several pink snapper were caught from the shore at Wittecarra Beach during the past week. Frustrations has been fishing well for tailor and mulloway.
Geraldton Catches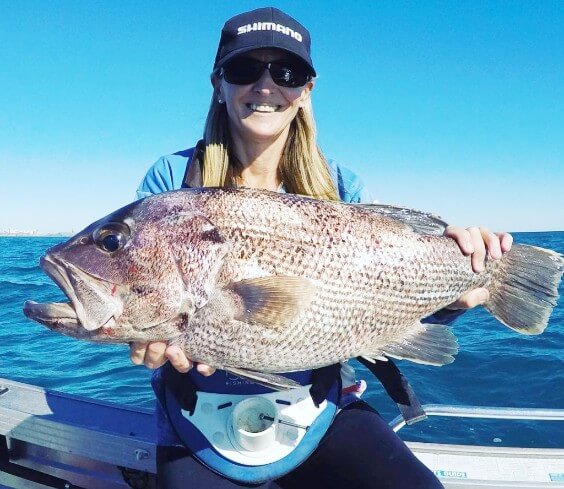 Picture: Nicki with a good sized dhuie caught out of Geraldton (Photo courtesy of @nickihuntfishing).
Boats
The crews who ventured to the Abrolhos Islands at the weekend picked up good catches of baldchin groper, pink snapper and coral trout near Southern Group together with a few samson fish and amberjack. The coral patches approximately 8 nautical miles west of town have been producing pink snapper, baldchin and estuary cod. A 13.5kg dhufish caught from an undisclosed area this past week may encourage a few to set out to search for some bigger dhuies.
Shore based
Some nice tailor are starting to turn up along the coast with Tarcoola Beach regularly producing 45cm to 50cm fish together with a few school mackerel. There have been a few tailor caught at the first and second points at Greenough in the mornings. The beaches north of Drummonds have also been producing a few tailor, but perhaps not in the same numbers or regularity as the southern spots. A 1.4m mulloway landed at the Chapman River mouth was among several 10kg to 20kg mulloway caught along the northern and southern beaches and the northern side of the Batavia Marina during the past fortnight. Separation Point is worth a try for yellowfin, sand and school whiting, which are usually present in good numbers during the start of spring.
South West Catches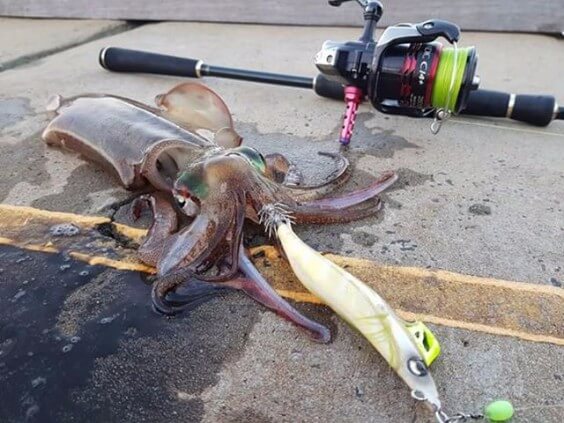 Picture: Squid Hunters WA member Chuckie Then and his Daughter Megan, had a good day on Busselton Jetty over the weekend. The jetty is starting to produce some nice size squid over the last few weeks (Photo courtesy of Squid Hunters Western Australia).
Boats
Dhufish have been caught in 30m to 50m of water off Cape Naturaliste and in similar depths out from Canal Rocks and wide of Cowaramup Bay. There are still pink snapper being caught by the boats anchoring and burleying at the light reef areas within Geographe Bay. Squid catches are improving along the seagrass beds located between Eagle Bay and Siesta Park.
Shore based
Tailor are being caught some mornings and evenings at Injidup and Mitchells. There are still, what appear to be, resident salmon being caught along the west coast while the salmon recently caught at Geographe Bay beaches have mostly been juveniles. Herring are in pretty good numbers along both sides of the cape and there still seems to be a few skippy being caught from the reef areas.
South West Freshwater Catches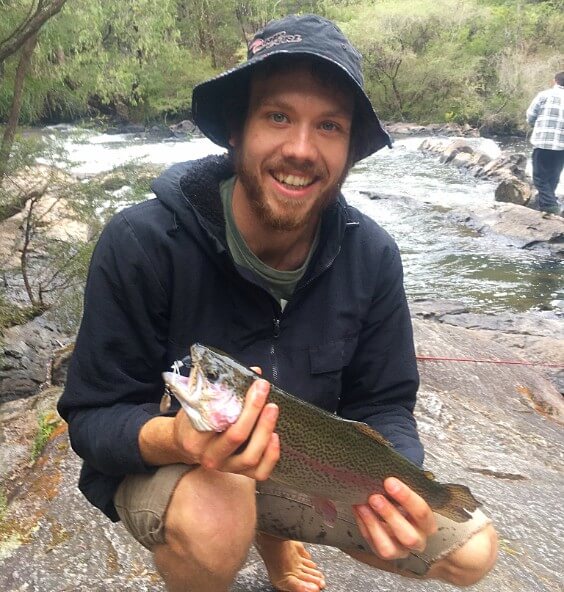 Picture: Fresh water fishing in the South West is now in full swing, why not get out there and go fish for some trout?
Fresh water fishing in the South West is now in full swing with many people catching trout from both the bank and from kayaks. Many success stories have come from people that have fished Harvey Dam, Drakesbrook Weir and Logue Brook Dam. People have reported catching their quota of four fish and releasing plenty more, which is a great sign the fishing is worth your while.
Mandurah & Surrounds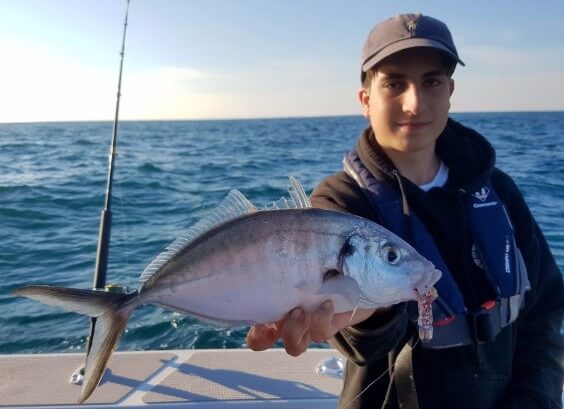 Picture: Some good skippy catches are coming from Five Fathom Bank, Mandurah. Great to see Harry wearing his Crewsaver life jacket! (Photo courtesy of Harry Tropiano).
Mandurah
Anglers fishing the beaches both north and south of Mandurah report catches of tailor along with smaller chopper tailor. People are also taking whiting, tarwhine, and herring. The Dawesville Cut is still producing herring, King George whiting and a few yellowfin whiting. Fishers chasing black bream are finding fish in the lower reaches of the rivers.
Secret Harbour/ Port Kennedy / Warnbro / Rockingham / Safety Bay
The Rockingham Jetty is producing herring and a few chopper tailor. The beaches around Port Kennedy have been producing some good whiting and an occasional tailor of an evening. Point Peron area is fishing well for tailor and there have been whiting coming from the local bays around the sand patches. Palm Beach has been producing some good fishing with a good variety of smaller species being landed. This area is also worth a try for a few squid.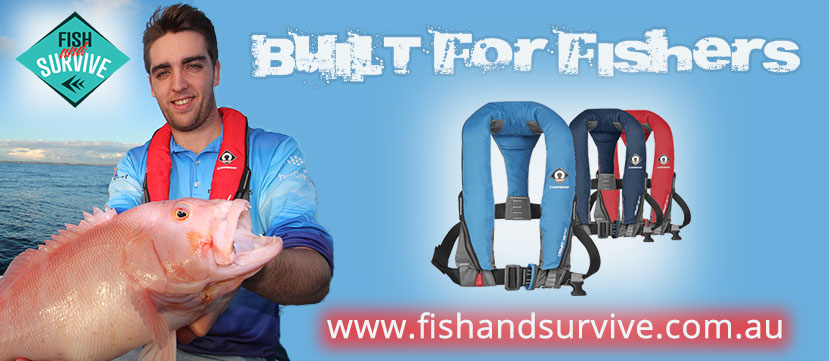 Metro Catches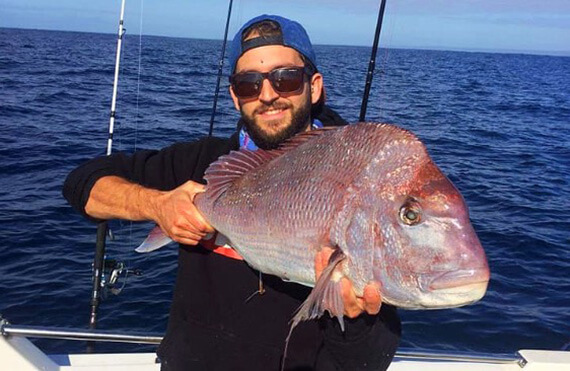 Picture: Fishers have been catching pinkies to 10kg south of Rottnest Island and wide of Hillarys Marina (Photo courtesy of Ash Amozig ).
Boats
Boat fishers who have been heading out early morning and late in the afternoon into the evening to target pink snapper between Garden Island and Stragglers have being doing reasonably well on fish between 4kg and 8kg. Kayak and small boat fishers have been getting among the snapper within a few hundred metres of rock walls located within Cockburn Sound at times. The local charter operators have been putting their clients onto snapper to 10kg south of Rottnest Island and wide of Hillarys Marina. Some nice dhufish to 18kg have been caught off Rockingham, Mindarie and Lancelin during the past couple of weeks. The lumps off Lancelin have also been producing baldchin groper. Sand whiting are along the sand flats between Fremantle and Rottnest. Squid catches have improved along the seagrass meadows off Fremantle.
Shore based
Woodman Point has been producing pink snapper during mornings and evenings, even when the seas have been calm. Herring have been caught from both spots in good numbers as well as at Palm Beach Jetty, which is also fishing well for squid. More squid have also been coming from North and South Mole as well as Capo d'Orlando Drive. There are some nice tailor being caught at Grant Street, Swanbourne, Floreat Drain and Yanchep. Mulloway have mostly been caught from the beaches south of Singleton. The deeper waters of the Swan River are also worth trying for mulloway during this time of the year.
RECFISHWEST TIP OF THE WEEK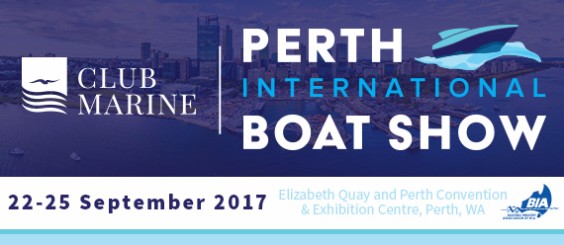 Picture: For all the latest information on the Perth International Boat Show, click here.
Recfishwest is excited to attend the Perth International Boat Show next weekend to spread the message of Fish and Survive with a strong focus on boating safety. We will also be selling what we believe to be the world's best life jackets for boaties and fishers alike, the Crewsaver.
Boat Show specials will be available on all types of life jackets, so come down and support fishing safety in WA.
If you would like to know more about Crewsaver life jackets before you make the 'life saving' commitment, click here.
With so much to see and do, if you love the boating lifestyle make sure you attend the 2017 Perth International Boat Show.