Keep your eyes peeled for Recfishwest's Tip of the week, see below!
Your Fishing Photos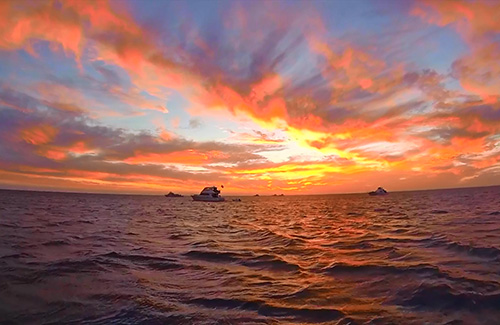 If you want to see yourself or your kids feature in our weekly state-wide Fishing Reports, send your best fishing photos and a description to isaac@recfishwest.org.au

Broome Catches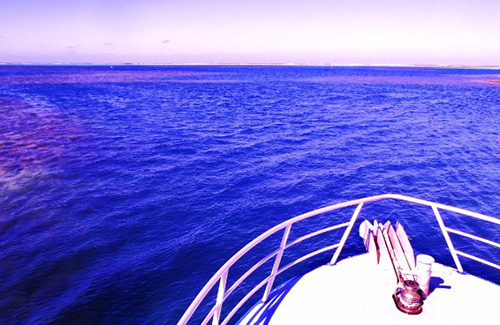 Picture: Working topwater lures slowly around coral reef drop offs and bommies like in the foreground of this picture can result in good catches of giant trevally and other reef predators.
Boats
Tackle World Broome's Gerry Casey and a mate caught blue lined emperor to 45cm, bluebone to 50cm and giant trevally to 60cm while fishing within a few miles of the coast on Friday. The keen fishers also spotted plenty of tuna offshore. Threadfin salmon to a metre, and the odd bigger fish, have been caught in Roebuck Bay. Sailfish are starting to appear in the waters north of town and there have been a few Spanish mackerel in the 8kg to 12kg range hitting trolled whole baits off Entrance Point and Gantheaume Point. Some nice mulloway have recently been caught from the flats in the bay.
Shore-based
Sport fishers armed with light spinning outfits have been catching queenfish and trevally along Cable Beach. Threadfin and bluenose salmon can be caught near the mouths of the local creeks. Barramundi have been caught on baits including mullet in the lower reaches of the Fitzroy. Plenty of cherabin have also been picked up in the system.
Recfishwest Forecast
A stint of rainy weather but offshore and light winds expected for Broome the next week. Some big tides for the beginning of the long weekend dropping in magnitude into next week. Low tide in the morning might provide an opportunity to walk the flats and access some deeper water drop offs, otherwise the run-out tide before dusk might be worth a go for barramundi and threadfin salmon along with mulloway from the creek mouths.
Exmouth Catches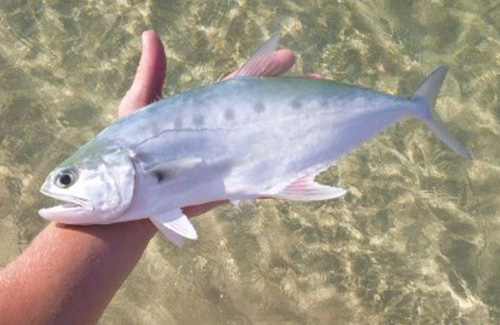 Picture: Only a small one but queenfish like this can provide some great fun whilst walking the crystal clear beaches of Exmouth.
Boats
Billfish enthusiasts continue to encounter big blue marlin in excess of 600m of water while smaller blue and striped marlin are being found closer to shore. Spanish mackerel activity has been improving along the back of the reef line north and south of Tantabiddi. Red emperor and rankin cod seem to be moving into shallower waters.
Shore-based
The Town Beach and coastline south are starting to produce bigger catches of yellowfin whiting. An assortment of species including trevally, queenfish, yellowfin bream and estuary cod can be caught at the marina. Squid have been turning up in the marina in the evenings. Spangled emperor and bluebone have been recently caught from the lighthouse area.
Recfishwest Forecast
Exmouth is looking pleasant with temperatures in the low thirties forecast and moderate southerly winds for the start of next week. Tidal movement is good over the weekend with a mid morning fish before the high tide a good opportunity to work the west coast reefs. Rising tide leading up to midnight would be worth a beach fish for spangled emperor. Old Bundegi is worth a try for big queenfish and giant herring during an incoming tide.
Kalbarri Catches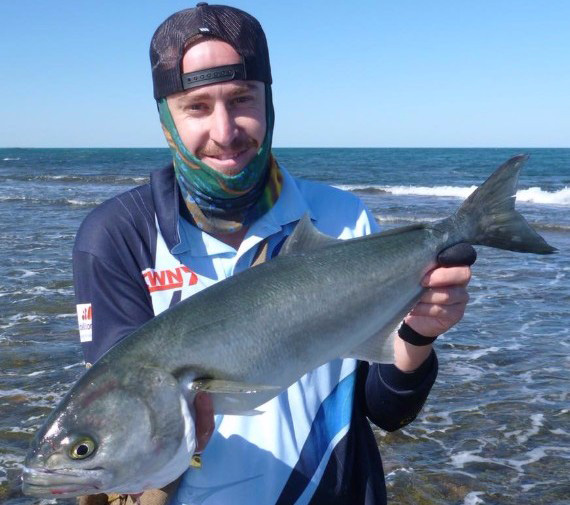 Picture: Nice tailor can be caught by walking the beaches and coast reef around Kalbarri casting lures or whole pilchards as the preferred bait.
Boats
Spanish mackerel and yellowfin tuna have been caught in better numbers by the boats trolling in waters north of the river mouth. Sharks were reported to be problematic along in 25m of water and near Sand Patch. Good catches of pink snapper have been coming from the waters within a mile or so of the cliffs.
Shore-based
Jumbo tailor have been responding well to poppers and stick baits retrieved from the white water at the river mouth. Smaller tailor have been turning up early morning and around dusk at Red Bluff, Wittecarra and Siphons. Frustrations and the beaches farther north have been producing mulloway and pink snapper. Small mulloway, estuary cod and mangrove jack were among the species to be caught near the jetties and pens. Black bream are being caught in numbers near Dance Floor. Mud crabs were picked up in the middle and upper reaches of the Murchison.
Recfishwest Forecast
With a mix of sunny and cloudy weather and some consistent southerly winds nothing stands out as a good fishing time. Tides are not too inspiring but the low tides in the morning could be good for walking coastal reef. Trolling the coastal cliffs might produce some mackeral otherwise give the river a go to escape a bit of the wind. Yellowfin whiting should be active on the flats for the midday high tide.
Geraldton Catches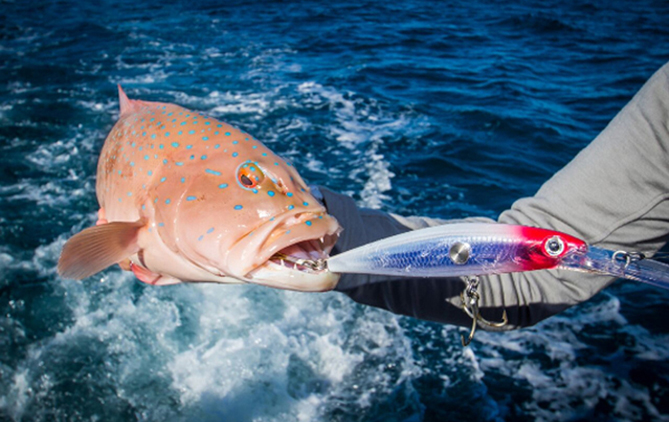 Picture: Trolling around the channels and coral drop offs off the Abrolhos and greater Geraldton area can produce nice coral trout.
Boats
Reef fishing enthusiasts who worked the 25m to 50m depths northwest and southwest of town have been doing well on dhufish, baldchin groper, coral trout and sweetlip. Sharks have been more common in the northern waters. Spanish mackerel activity decreased this week, however in saying that, there were still a few 7kg to 10kg fish caught off Port Gregory and Horrocks. Mackerel have been caught in bigger sizes and better numbers at the Abrolhos Islands, but sharks have been an issue. Coral trout have been picked up on trolled bibbed minnows in relatively shallow water near the Zeewijk Channel.
Shore-based
School-based mulloway have been caught from behind The Lives while bigger mulloway have been coming from beaches south of the Greenough River. The plastic straw method has been producing good herring catches at The Lives. The Greenough has been fishing well for small black bream, tarwhine and yellowfin whiting in its lower reaches. Small pink snapper have also been caught near the mouth. Bigger bream have been caught close to Devlin Pool and there have been a few break offs experienced there recently. Squid have been picked in the evenings at the town rock walls.
Recfishwest Forecast
Geraldton is much the same as Kalbarri with unispiring tides and patchy, windy weather forecast. The high tide around midday is worth a try in the greenough river for yellowfin whiting on the flats, and the low tide in the morning providing access to coastal reef although 2m of swell might provide a challenge.
Esperance Catches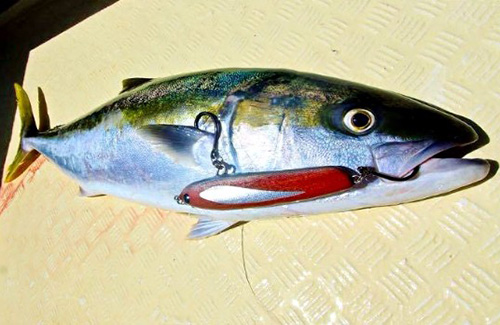 Picture: Topwater fishing for yellowtail kingfish can be some of the most exciting fishing in the southern half of WA, hitting surface stickbaits with aggression when they are turned on.
Boats
Mitchell Johnson and a mate used stick baits to catch a dozen yellowtail kingfish between 12kg and 20kg close to the islands last Thursday. Nannygai were harder to come by this past week, however there were plenty of breaksea cod and queen snapper about. Samson fish to 20kg have been encountered in dense schools. Dinghy and small boat fishers have been picking up good catches of sand whiting and squid within a mile of the coast.
Shore-based
The Taylor Street Jetty has been fishing well for small skippy, squid and a few King George whiting while herring and King George can be picked up at the Bandy Creek boat harbour. Salmon seem to have been broken up in smaller schools, which this past week regularly appeared at Salmon Beach, Fourth Beach, Fourteen Mile, Roses, Alexander and Poison Creek. Skippy to 2.5kg were landed at Alexander, Thomas River and Dunns last week. Mulloway to 8kg were caught at Fourteen Mile, Roses and Thomas.
Recfishwest Forecast
Some good tidal movement and a rising tide in the morning might be the go around the islands for chasing kingfish. The protected inshore waters are a better option for those with small boats that will struggle in the 2m swell and sometimes windy forecast. Saturday morning looks like the best break in the weather for boaters and beach fishers alike. A bit of a storm and showers clate Saturday to Monday will keep most fishers indoors.

Albany Catches
Picture: WA dhufish represent one of the most sought after bottom fish in the southern half of WA. Here is a great capture sent in by David Bleakley of his grand daughter holding a nice fish.
Boats
A group of customers of Albany Rods and Tackle caught eight King George whiting, half a dozen sand whiting and a boat limit of herring in King during a recent session in the sound. Squid are yet to be caught at their usual pace through the inshore waters. A good mix of reef fishing including dhufish of mixed sizes, pink, queen and red snapper, breaksea cod and sweep have been coming from the coral leading up to 90m of water.
Shore-based
Big schools of salmon are passing along the coast, however the 3kg to 8kg fish are refusing to turn up at the popular spots where surf fishers traditionally target them. During the past week, limited numbers of salmon appeared at Cables, Shelleys, Lowlands, Denmark and Parrys. Bluff Creek and Cheynes fished well for salmon a couple of weeks ago while schools have graced the coast at Nanarup occasionally. Bronze whaler and tiger sharks have been spotted cruising with the salmon and there were a couple of 3m sharks landed last week. Skippy have been caught from the gutters and channels that are evident at the local beaches and the remote spots east and west of town, however they have not been the kilo-plus specimens that tend to show up from April each year. Big samson fish have been hooked at the marina and there are still sambos lurking around Emu Point. Bream to a kilo and the odd bigger fish are being caught from the King and Kalgan rivers together with a few mulloway.
Recfishwest Forecast
A bit of inclement weather expected Saturday ad otherwise patchy showers leaves most of the week questionable. The 4m of swell expacted will also put a hault on fishing plans. Land based fishers should steer clear of rocks over this easter long weekend as the swell will be dangerous. Boat fishers should also take great care and stay inside the sound where possible. The King and Kalgan rivers would be a better option for those wanting fish with bream and mulloway a pretty good chance. The rising tide on dawn would be the most favourable time to fish.
Recfishwest's Tip of the Week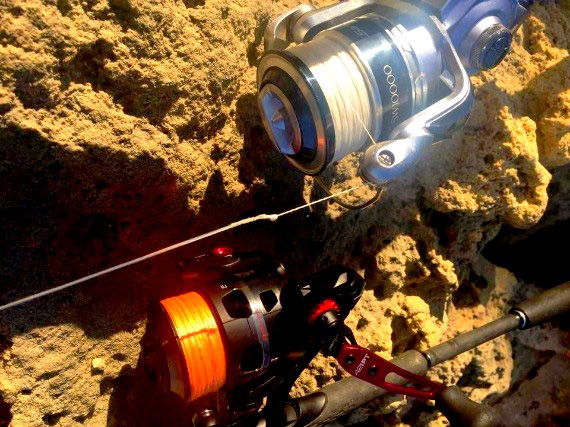 Braided Line
Technical Rating: Novice
Whether casting lures to salmon from the beach, into tuna feeding frenzies from the boat, or simply launching a bait from shore this Easter weekend, if you haven't already caught up with the times, braided fishing line is all the go at the moment.
Multiple strands of braided polyethylene (PE) fibres make up the material of the line commonly referred to as "braid". The fibres are ultra strong and offer a much greater breaking strain for their diameter than traditional nylon monofilament line. With no stretch, braided lines gives greater bite detection and sensitivity especially when paired with a stiff graphite rod. They are also extremely flexible and supple retaining no "memory" which makes them excellent for casting. The fine delicate diameters mean a lot more line can fit onto a spool for a given breaking strain and little surface area for current to catch in deep water but the drawback is that they offer very little in the form of abrasion resistance. For this reason a length of monofilament leader line is always recommended as a shock leader on the terminal end of the line.
A number of knots are useful in attaching braided main line to a mono leader but a favourite would have to be the FG knot. A moderately difficult knot to tie, it offers a slimline knot that wont interfere with a cast and has excellent strength retention without the need to double the main line. Initially expensive when they first hit the market, braided lines are now available in a massive range from very affordable to top end. If youre after that extra, seamless casting distance or any of the other benefits, braided lines are worth a look.
Check out our I Love Fishing article on all your different line types and scenarios for more info. Read it here.
South West Catches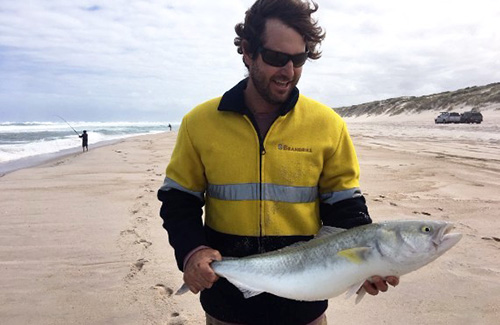 Picture: Salmon schools are moving through the south west beaches in numbers just in time for Easter. If you're unsure over the break, stay safe and keep the sand between your toes! (Photo courtesy of Casey O'Connor)
Boats
Reef fishing enthusiasts who took advantage of the pleasant conditions, when they presented, picked up good catches of dhufish, pink snapper and breaksea cod in depths leading up to 50m off Hamelin Bay, Cowaramup Bay and Canal Rocks. Mostly pink snapper have been caught along the Four Mile and Eight Mile, however some bigger skippy seem to be moving into these areas. Squid catches are starting to improve along the seagrass meadows off Quindalup. Plenty of salmon are being caught on trolled lures off Eagle Bay and Bunker Bay.
Shore-based
Salmon have turned up in schools right in time for the Easter long weekend. Schools ranging from a dozen fish to several tonnes have been appearing along the west coast bays and beaches. Spots that have consistently been producing salmon have included Hamelin Bay, Boranup, Redgate, Injidup, Smiths and Rabbits. In Geographe Bay, Bunker Bay, Eagle Bay and Meelup Bay have been providing entertaining sessions on salmon most days. Herring are also being caught along both sides of the cape.
Recfishwest Forecast
Patchy weather with strong southerlies and moderate swell aren't the best conditions for fishing the west coast. Bunker Bay and Eagle Bay would be the pick to target some salmon over easter as well as herring. Expect quite a sight of people spread along the whole length of the bays trying their luck in this popular time of year for the south west. Those with access to a boat should have some fun sessions on demersals with a nice rising tide on dawn up to a late morning high tide.
Mandurah & Surrounds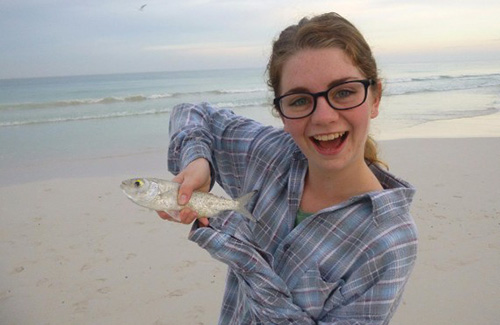 Picture: Fishers are finding herring along the Mandurah beaches providing a quick, easy meal, and some entertainment whilst waiting for salmon schools to pass by.
MANDURAH:
Tim's Thicket to Preston has seen some small to medium sized salmon taken earlier in the week, along with some good sized tailor. Bigger salmon are still moving north and are a little further offshore with boat anglers taking a few fish. The Dawesville Cut is still producing some good fishing. There are a few tailor being taken, as well as an occasional small salmon from the ocean end. Garfish are still in numbers off Avalon and Roberts Point. There are herring and tarwhine along with a few small chopper tailor in and around The Cut.
All around the Canals, Marina and Bridges there are herring, small tailor, whiting and tarwhine in the estuary. Black bream and small mulloway have been reported in both the Murray and Serpentine rivers. Along the beaches to the north of Mandurah there have been good catches of herring, whiting and tarwhine. There are regular reports of reasonable sized mulloway being taken just after dusk along this stretch of beach.

SECRET HARBOUR / PORT KENNEDY / WARNBRO / ROCKINGHAM / SAFETY BAY:
Herring have been widespread but not in any great numbers. A few small salmon have made an appearance at Coventry Reef with anglers taking some nice fish up to 4 kg. The Sisters have been producing some good catches of tailor in the morning on the reefs to the west of the islands. Whiting are still on the sand patches to the east and some decent sizes have been seen at the boat ramps. Salmon have been taken from many of the beaches and jetties around this section of coastline and anglers report that sizes have varied from just over legal length to some around 80 cm, which in my estimation would put them at around 4 kg. There have been good garfish around Long Point, Penguin Island, Point Peron and Rockingham Beach as well as whiting and squid. Anglers fishing the jetties at night have taken some large mulloway during the past week. Whiting have been taken in good numbers out in the bay along the weed beds and also from shore in the mornings. The stretch between the two boat ramps is probably the better spot to fish. Tailor catches are still being reported from the beaches near Long Point and further south to Secret Harbour. Sizes and numbers have generally been down but you can still get a feed.
COCKBURN SOUND:
The Causeway has also been producing herring and skippy. The Bent Pin and the Southern Flats have been the spots for King George whiting, with some reports of fish reaching nearly a kilo. Mangles Bay and Sulphur Bay are producing plenty of squid. Whiting numbers are starting to pick up again in the same areas. There are still reports of a few boat anglers taking mulloway in the Sound. They are usually being taken from the deeper sections of the Sound over the coral / gravel patches. The fish have been around the 15 – 18 kg mark. There are also reports of good King George whiting being taken from over the gravel beds in the Sound. Anglers fishing throughout the Sound have reported taking some good salmon with fish up to 3 kg. Many have been taken trolling lures and others have taken un-weighted mulies cast and left to drift looking for snapper or mulloway.
Recfishwest Forecast
A bit of cloudy weather and moderate southerlies might make for choppy and overcast conditions difficult for spotting those salmon on their migration toward Perth waters. Mornings usually provide calmer conditions and a better option for fishing, and the rising tide in the morning might turn on some other fishing action such as skippy, tailor, whiting, herring and a chance of mulloway around dawn. Those heading out in boats will have a chance of snapper and dhufish on the same morning high tide.
Metro Catches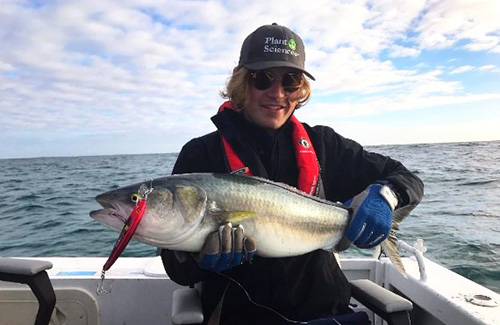 Picture: Some nice salmon have started to hit the Perth metro area with plenty of reports coming through of good fish. Even if you don't get away for the long weekend you can still enjoy some safe and sustainable sport fishing action close to home. another great catch on the Limited Edition Recfishwest Halco Lure – Only available for Members! Become a member and get yours.
Boats
Big schools of salmon hanging around The Mewstone and Stragglers are responding well to a variety of lures including bibbed minnows and soft plastics. Early morning and dusk are the optimum time to target the big pink snapper along the eastern edge of Five Fathom Bank and the western side of Three Mile Reef off Hillarys. Some nice catches of dhufish have been coming from 50m of water off Rockingham as well as in 30m to 40m northwest of Rottnest Island. Yellowtail kingfish can be targeted at West End while The Barges wide of there are still holding big samson fish. Squid catches are improving along the seagrass off Fremantle and within Cockburn Sound.

Shore-based
A big school of salmon turned up inside Fremantle Harbour on Sunday and went as far up river as the Old Traffic Bridge. Dozens of fish were caught from the school during a hot one-hour session. More salmon were caught from the beaches in Cockburn Sound and at South and North Mole. The Ammo Jetty also had schools turn up most days this past week. A consistent stream of burley will almost guarantee a feed of herring from the southern and northern rock walls and jetties. Dave Thomson caught some nice tailor on soft plastics at Swanbourne Drain on Sunday.
Recfishwest Forecast
Salmon! thats what the Easter long weekend signifies for many and you can rest assured many will be out lining the popular beaches, jetties and rock walls over the weekend trying their luck. Friday morning looks the best bet mor nice weather with the wind picking up quite a bit as the weekend and following week progresses. Some overcast and choppy weather will make salmon schools hard to spot and a vantage point with the wind behind you will help with the southerly winds from Saturday onward. All the usual reef species for boat fishers bottom bouncing should be on the bite in the morning from dawn and towards the late morning high tide.