Keep your eyes peeled for Recfishwest's Tip of the week, see below!
Your Fishing Photos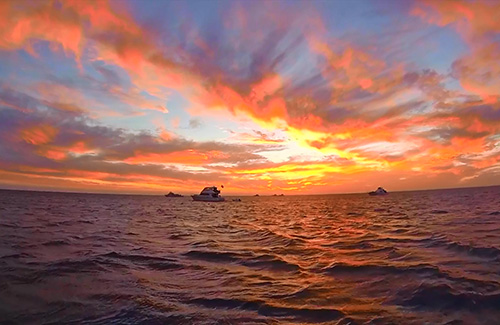 If you want to see yourself or your kids feature in our weekly state-wide Fishing Reports, send your best fishing photos and a description to tim@recfishwest.org.au

Kununurra Catches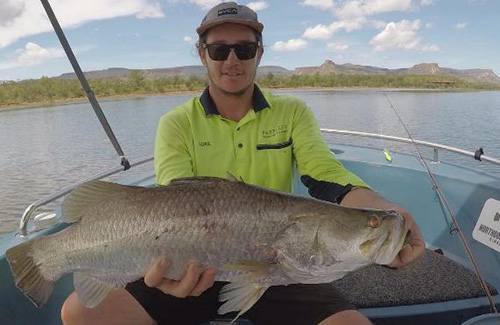 Picture: The weather has finally cleared up to allow some fishing without getting saturated and the locals creeks have been alive (Photo courtesy of Northbound Charters).
Ord River
The fishing in the Lower Ord has been productive with lots of boats hitting the double figures for a day's fishing. The creek mouths and runoff gutters are full of bait and really starting to fire, the fish are there and are very active.
Shore-based
The King and Pentecost Rivers are still the go to rivers at this point for land-based fishing. Both areas have good accessibility and a steady amount of freshwater still coming down. Bait has been quite easy to come by.
Recfishwest's Forecast
39-degree weekend predicted, with some stronger southeasterly winds coming in around lunch time making it the perfect weather to go fishing for barra, and enjoy one of the best reported runoffs for many a year.
Broome Catches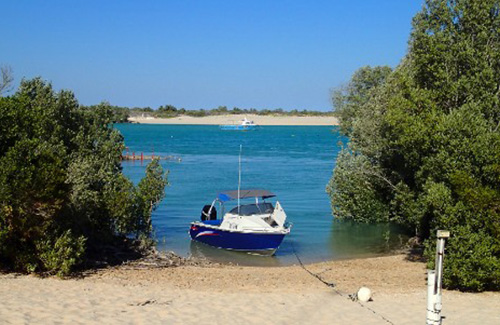 Picture: Wille Creek – New to Broome or heading up for a holiday? Head to www.ilovefishing.com.au for run downs on all the top fishing locations around WA
Boats
Sailfish and small black marlin have started to appear off Barred Creek and numbers of both species of billfish are expected to increase during the coming weeks. Spanish mackerel and varieties of tuna have been encountered offshore. Fair catches of blue lined emperor, bluebone and coral trout have been coming from the ground within a few miles of the coast. Red emperor, bigger blue lined emperor and saddletail sea perch have been picked up farther offshore. Threadfin and bluenose salmon continue to be caught in good numbers in Roebuck Bay and Crab Creek.
Shore-based
An assortment of lures including metals, stick baits and soft plastics has been working well on queenfish and small trevally along Cable Beach. Some nice bluebone have also been recently picked up along there on baits. Threadfin and bluenose salmon can be targeted near the mouths and adjacent coast of the local creeks. Cherabin have been a little hit and miss in the Fitzroy. Barramundi enthusiasts expect the activity to pick up within the next month or so.
Recfishwest's Forecast
Bigger tides are evident for mid to late next week so fish would be expected to be more active during this time than earlier in the week or over the weekend. Winds are set to be low over the weekend and offshore into next week so conditions for boat and shore based fishing will be ideal. Late morning or late night high tides would provide the best chance of fish whether from shore or boat. Dead low tide in the afternoon would be a good chance to walk out from the boat ramp with a long rod and cast lures into the deeper channel waters for mackerel, tuna, queenfish and trevally.
Exmouth Catches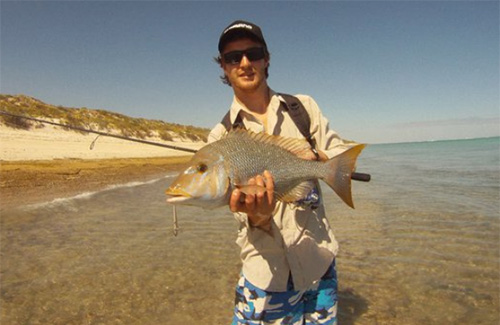 Picture: Walking the beaches along the west coast or the flats inside the gulf can provide some of the most enjoyable styles of fishing. A variety of good fish can be caught from shore such as spangled emperor like this one (Photo courtesy of Tyson Lyons).
Boats
Blue marlin continue to be caught in depths in excess of 600m while smaller black marlin are being encountered in as shallow as 100m. Sailfish are lurking at the back of the west coast reef and there are a few fish in the upper areas of the gulf. Spangled emperor and rankin cod have been caught out from Tantabiddi. Red emperor are being found in 60m to 80m while goldband snapper are in 100m and deeper.
Shore-based
Mangrove jack and small tuskfish have been caught on good numbers in the lower areas of the gulf. Queenfish to a metre, golden and giant trevally and permit have also been caught in the gulf. The lighthouse area is worth a try with spangled emperor and bluebone caught there recently. Try Old Bundegi during an incoming tide for queenfish and giant herring.
Do you want to know what has been happening in the regions? Click here for a state-wide competition wrap up.
Recfishwest's Forecast
The weather is lining up for the weekend in Exmouth with idyllic conditions forecast. Very little swell and wind will provide comfortable conditions all weekend for boaters and beach fishers alike. The high tide after dark should be good for spangled emperor from the west coast beach accesses but the fish may be spooky in the full moon light. The Sunday and Monday morning rising tide would be worth a try around sunrise on the west side reef for coral trout, giant trevally and other reef fish. The beaches at the tip of the cape would be worth a try for land-based giant trevally on the rising tide after dark using dark shaded poppers to silhouette against the full moon.
Kalbarri Catches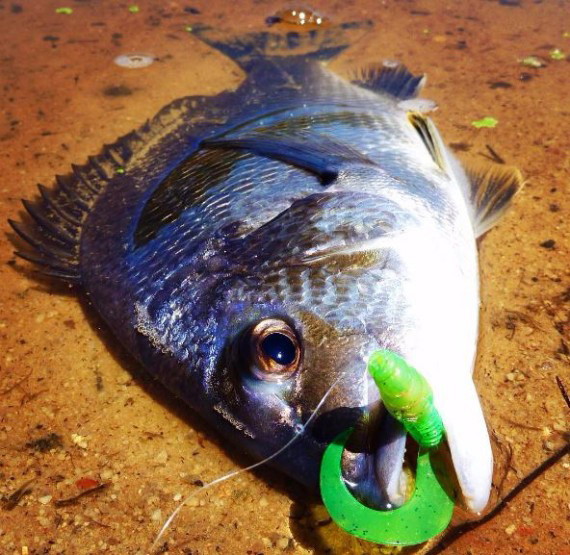 Picture: Had enough of the wind and swell? The Murchison river can provide a bit of relief from the elements with some peaceful fishing for bream and other estuary targets (Photo courtesy of @fisho_brad).
Boats
The murky water that is extending several miles out from the coast is being attributed to a lack of pelagic activity in relatively close. The crews who did pick up spanish mackerel, yellowfin and longtail tuna this past week did so in approximately 50m of water. A customer of Kalbarri Sports and Dive landed an impressive 80cm estuary cod among several other reef species while targeting demersals near Three Mile. Some crews have been finding pink snapper in close.
Shore-based
An estimated 15kg mulloway was landed at Red Bluff last week together with a few tailor and herring. Some nice tailor were also caught at Wittecarra Creek and Siphons while poppers have accounted for some fairly solid fish at Chinamans. Good catches of black bream and estuary cod have been coming from the lower and middle reaches of the Murchison. Mud crabs are being picked up at the jetties and there seem to be a few more blue swimmers around. The sand spit appears to be holding good quantities of yellowfin whiting.
Recfishwest's Forecast
Swell for Kalbarri is starting to drop into next week, with the wind a challenge for the start of the weekend. As with much of the west coast Sunday is set to be predominantly easterlies and ideal for beach fishers. Fishing for tailor after dark should be productive with the full moon as well as ballooning bait for mackerel day or night while the winds are offshore. The river will provide refuge for those wanting to escape the swell with a chance of bream and mangrove jack around the boat pens on the high tide after dark a good bet.
Geraldton Catches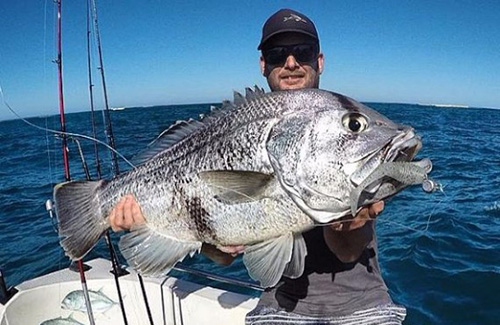 Picture: African Reef has been producing shallow water dhufish, a perfect time to take out some soft plastics and jigs for a bit of sport (Photo courtesy of @abrolhostackle.com.au).
Boats
Crews who have been trolling bibbed minnows for Spanish mackerel and tuna have been experiencing a better strike rate in waters west and south-west of the marina. Reef fishing enthusiasts scored some nice catches of dhufish to 10kg in relatively shallow water south of town, especially near African Reef.
Shore-based
Geraldton & Districts Offshore Club members caught plenty of tailor around the 40cm mark, mixed size herring and small whiting during a recent meet near Port Gregory. The avid fishers also noticed there to be big schools of mullet in the bay at Port Gregory. Common and spotted dart have been found along the beaches north of Hutt River. A spanish mackerel was landed from the beach north of town last week.
Recfishwest's Forecast
Moderately strong offshore winds over Sunday to Monday will be ideal for beach fishing and tailor should be fired up by the full moon and decent swell, especially after dark. If the swell is too much give the Greenough river estuary a try for yellowfin whiting and bream with the high tide around dusk looking good. Mackerel are still being caught inshore at times but small boats may be in for a rough ride with the elevated swell so take precautions and wear a PFD.

Esperance Catches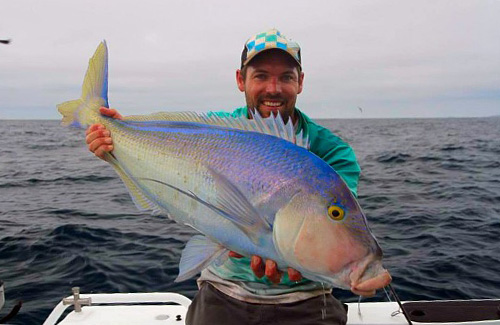 Picture: A lit up queen snapper, deserving of its monarchy in its beauty.
Boats
The dinghy and small boat fishers, who have been concentrating on the inshore waters, have been picking up whiting, bonito, snook and small southern bluefin tuna. The bigger boats that ventured to the islands and beyond caught nannygai to 2.5kg, breaksea cod, queen snapper and quite a few samson fish to 20kg.
Shore-based
The Taylor Street Jetty has been fishing well for herring, squid and skippy while herring, small King George whiting, a few black bream and loads of small pink snapper have been coming from Bandy Creek Boat Harbour. Salmon are being consistently caught at most of the local beaches including Salmon Beach, Fourth Beach, Roses and Alexander. Salmon schools have also been passing through the beaches near Thomas River and Poison Creek. Thomas River has also been good for mulloway to 80cm and gummy sharks. Some nice size skippy, mulloway and salmon have been caught at Dunns.
Recfishwest's Forecast
A few easterlies into next week may be challenging on the south coast and a drive to the westward facing beaches east of town could be the best option for shore-based fishers if the swell isn't pumping too hard. Late morning and after dark high tide will be the ideal times to fish with a chance of big south coast tailor turned on by the swelly conditions.
Albany Catches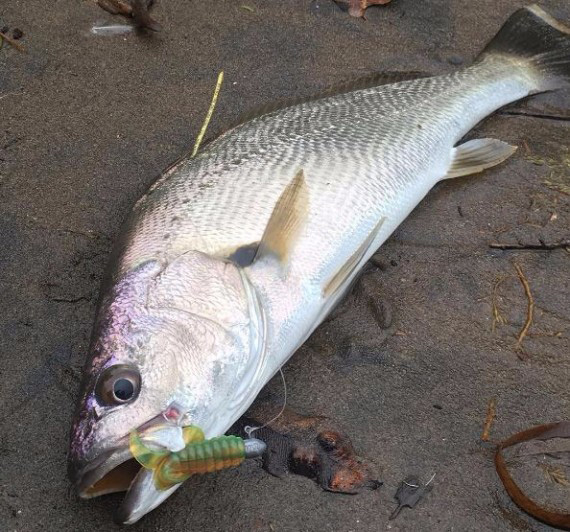 Picture: Mulloway are a welcome bycatch when targeting bream around the Kalgan River. Look out for tagged fish studying the unique populations in the Albany systems (Photo courtesy of @albany_fishing).
Boats
Sand whiting are about in good sizes and numbers through the inshore waters. Unfortunately, King George whiting have been a little hit and miss. Squid catches have improved and things should only get better on this front as the cooler months progress. Trolled bibbed minnows have been working well on salmon and small southern bluefin tuna off the headlands. The boats that worked the 50m to 80m depths off Cheynes, Two Peoples Bay and Albany scored dhufish, breaksea cod, queen snapper, red snapper and harlequin.
Shore-based
Steve Morgan won the black bream tournament that was held at the local rivers at the weekend with his bag of fish that included a 1.3kg beauty. Competitors had to sift through lots of small bream as well as a few whiting, juvenile salmon and mulloway to get to the bigger bream during the event. Big schools of salmon are certainly passing along the coast, however the 3kg to 7kg fish are not often making their way into the local beaches. During the past week, big salmon schools were spotted off Shelleys, Cables, Sand Patch and Bornholm, but frustratingly stayed well out of casting distance. Herring numbers continue to rise along the coast and there are some nice skippy to a kilo being caught. Rock fishing enthusiasts have been landing samson fish and yellowtail kingfish when the weather has allowed.
Recfishwest's Forecast
Some nice light winds are forecast for the next week on the south coast with a chance of showers but mostly good weather. Swell is again set to rise up to 4m over the weekend, dropping into next week so rock fishers should take extreme caution and avoid fishing into oncoming swells. Late morning and after dark high tides are worth a try especially around the estuary for whiting and bream. Two Peoples Bay is worth a try for salmon while the spots facing southward are being hit by swell.

Recfishwest's Tip of the Week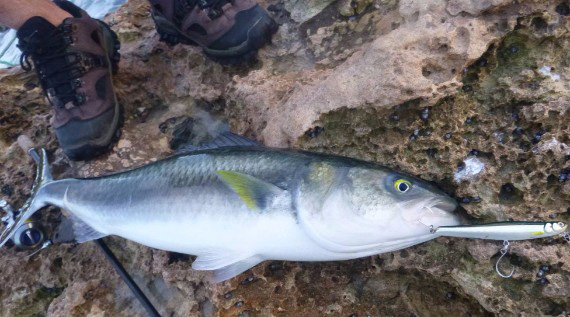 Single Lure Hooks
A couple of lure companies have made the switch to purpose made single hooks on their lures off the shelf. With people becoming more conscious about the importance of catch care, especially for catch and release fishing, single hooks are a logical choice. One hook point provides a single clean hook up, usually in the corner of a fish's mouth and can be removed with minimal damage to the fish. Contrary to some beliefs you won't lose many hook ups due to missed strikes using singles and because of the clean hook up and unhooking you can spend more time catching fish, and less time fishing out an awkwardly lodged treble hook.
Whether you are catch and release fishing or keeping a few for the table, make the switch to specially designed short shank single lure hooks this salmon season. For the ultimate in sport fishing catch care, you can also buy barbless hooks or simply crush the barbs with pliers on existing hooks. Then, in the case of busting off on a fish, it can shake the lure free and get on with its business.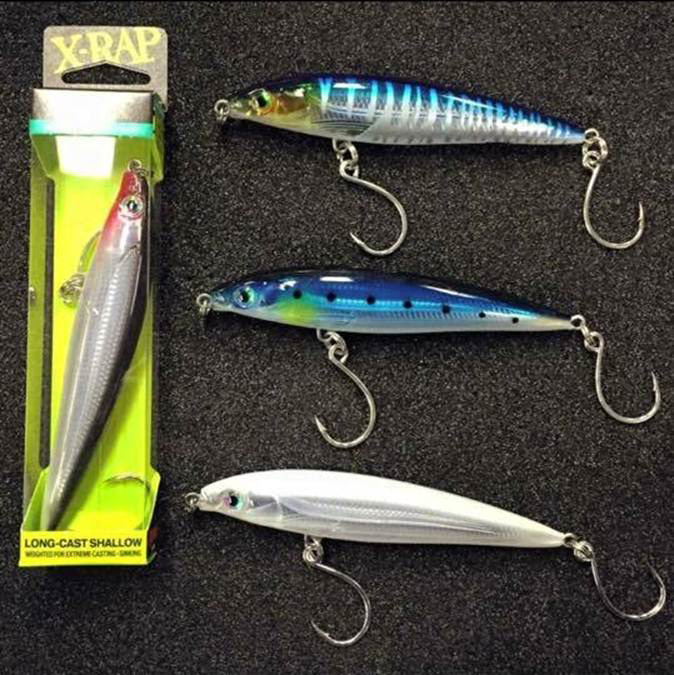 South West Catches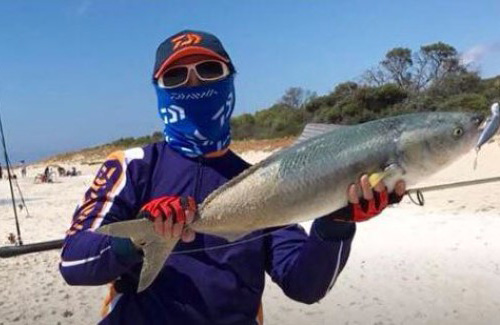 Picture: Eagle Bay near Dunsborough is a great place to chance a salmon this time of year. Easily visible against the sandy bay, schools can be followed up and down the beach for some family friendly safe fishing action (Photo courtesy of Salmon School Tracker 2017).
Boats
Squid have started to be caught in better numbers along the seagrass meadows extending from Eagle Bay to Abbey Beach. Crews who have been suspending unweighted whole baits including mulies and scaly mackerel into a burley trail at the Four Mile and Eight Mile early morning have been picking up some nice catches of pink snapper. Reef fishing enthusiasts working the 20m to 40m depths off Cowaramup Bay and Canal Rocks have been catching dhufish, breaksea cod, skippy and queen snapper.
Shore-based
Salmon remain the focus of shore-based fishers while plenty of fish continue to turn up along the beaches between the capes as well as in the bay. Smiths Beach was mostly frequented by smaller schools of salmon. Shallow diving bibbed minnows worked well on these occasions. Herring continue to be caught from most of the protected bays and headlands – try Hamelin Bay.

Recfishwest's Forecast
As with much of the west coast the weather is set to be pleasant in the south-west, with a bit more wind in the southern parts the next week. Easterlies through Sunday are the pick of the week for west coast fishers with some moderate swell forecast. If the swell provides a challenge try a switch to the inside of Geographe Bay with southerlies providing offshore winds much of the rest of the week. The bit of swell on the west coast may stir up the tailor activity as well as the full moon later next week. Try fishing around the deeper channels near reef breaks and surf gutters for these feisty sport fish. Salmon should continue to provide reliable fun for the next couple of weeks with herring also around in good numbers.
Mandurah & Surrounds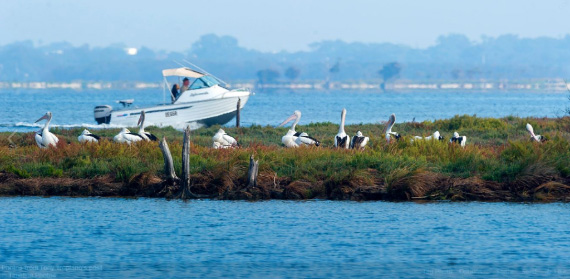 Picture: The picturesque Mandurah canals can provide some peaceful light tackle fishing for all the family (Photo courtesy of Tony Tropiano).
MANDURAH
The southern beaches between Tim's Thicket and Preston have seen reasonable numbers of juvenile salmon being caught, along with tailor. Schools of bigger salmon still appear to be well south of the metropolitan area and they will require cooler temperatures before they start to head north. There are still good reports of herring from Halls Head to the Cut along with a few whiting. The Dawesville Cut is producing good catches of big sand whiting, herring, garfish and skippy along with a few small King George whiting. Chopper tailor are also being taken regularly.
Around the Canals, Marina and Bridges there are herring, small tailor, whiting and tarwhine to be caught. The estuary is also fishing well for the smaller species with good catches of tailor, herring, garfish, skippy, and tarwhine and crabs being taken in deeper water for drop netters. Squid and an odd octopus have also been caught from the Old Traffic Bridge. Black bream and small mulloway have been reported in both the Murray and Serpentine rivers.
Anglers fishing soft plastics are doing well. Crabs and prawns are still being caught in reasonable numbers in the estuary. Along the beaches to the North of Mandurah there have been catches of herring, along with whiting and tarwhine. It is still not too late to try and catch a reasonable sized mulloway along this stretch of beach. There have been reports of several big mulloway taken along here recently.
SECRET HARBOUR / PORT KENNEDY / WARNBRO / ROCKINGHAM / SAFETY BAY
There have been catches of herring and garfish from the beaches around Long Point, Penguin Island, Point Peron and Rockingham Beach. Whiting and squid are also being taken from these locations with an odd tailor of an evening.
Anglers fishing the beaches to the south between Secret Harbour and Singleton around sunset have had some extraordinary success with very big mulloway. Several of these fish have been in excess of 20 kg. Other anglers report several fish just under the 20 kg mark. The local jetties have also been producing some big mulloway as well with fish of between 12kg and 15kg taken.
Recfishwest's Forecast
Keep trying areas like the Cut and the break wall around it for some of those early salmon schools coming into the cooler weather. Fantastic conditions ahead for the weekend with light and offshore winds forecast, with some pleasant weather for the outdoors. Squid and whiting are a good option from the break walls in the cooler weather between salmon schools.

Metro Catches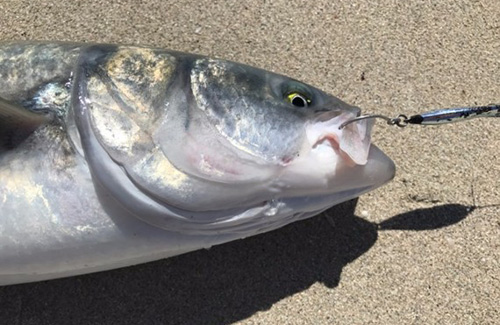 Picture: Plenty of salmon bound to be in metro waters in the coming weeks, we'd love to see what you're catching! Please share your photos with us – send your pictures to tim@recfishwest.org.au and you could see your photos in our fishing reports!
Boats
Pink snapper are being caught in good numbers early morning behind Garden Island and during the hours of 3am to 5am along the back of Thee Mile Reef off Hillarys. Yellowtail kingfish have been found at Coventry Reef, Stragglers and at West End. Salmon schools continue to turn up and take up residence near The Mewstone. Dolphin fish are still being found at the Fish Aggregating Devices wide of Rottnest Island and there are plenty of tuna in waters between the island and the devices. Skippy to a kilo and sand whiting are being caught at the edge of the shipping channel off Fremantle. Squid are still being taken in good quantities from the seagrass beds within Cockburn Sound.
Shore-based
Salmon have been caught on occasions at South and North Mole and there has been the odd fish landed at the metropolitan beaches. Herring are being caught from the southern and northern rock walls and jetties, especially when burley is introduced. Tailor are mostly being caught early morning or after dark along the metro coast. Flathead are being caught on baits and soft plastics in the lower reaches of the Swan River. Black bream enthusiasts have enjoyed some entertaining sessions at Shelley, Maylands and Ascot.
Recfishwest's Forecast
A nice break weather wise is set to continue into next week for the metro area. Tides won't play a major part in the next week as magnitude is low but a high in the late morning and just after dusk will be worth a try. Swell is down so beach fishing should be good for the Ocean Reef Sea Sports Club's Masons Bar Beach Fishing Classic. Leading up to a full moon is usually a good time to try for tailor after dark.