Your Fishing Photos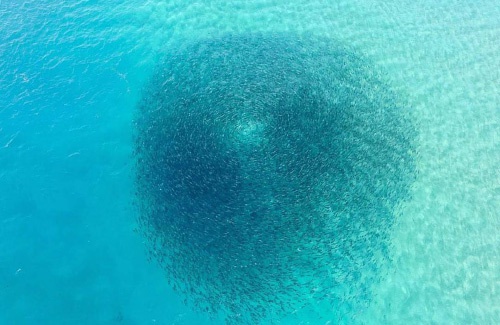 Picture: Salmon school (Photo courtesy of Western Angler).
If you want to see yourself or your kids feature in our weekly state-wide Fishing Reports, send your best fishing photos and a description to bronte@recfishwest.org.au

South West Catches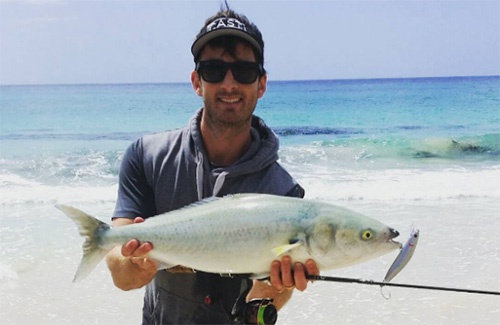 Picture: Lure fishing is the way to go this salmon season with lures not only providing for fun and productive fishing but also clean hook ups and less damage for catch and release (Photo courtesy @pjgringo).
Inshore
Salmon have started to turn up in big schools along the beaches between Cape Leeuwin and Cape Naturaliste and there have been a few smaller schools also appearing within Geographe Bay. Tailor have been appearing along the beaches some mornings and evenings while herring numbers are increasing. Squid catches are improving along the seagrass beds off Quindalup.
Offshore
A Spanish mackerel was speared by a diver off Injidup recently and there have been other mackerel spotted by spear fishers during the past fortnight. Reef fishers have been catching plenty of dhufish and pink snapper off both sides of Cape Naturalise. Bronze whaler sharks have been problematic in some areas and their presence is only likely to increase as more and more salmon appear within local waters.
Recfishwest's Forecast
The sunny mornings Sunday and Monday might be the go for some sight fishing for yellowfin whiting along the Quindalup flats. As the tide rises toward late morning the fish will push up onto the flats and become more active in the day's warmth. A good pair of polaroid sunglasses, a light backpack and flicky rod is all you need to walk the beach and flats searching for them and chance an encounter with some salmon too. Fishing on the west side of cape Naturaliste might be best left until after the weekend as much to the Margaret River surfers delight some good swell will be moving through over the weekend.
Mandurah & Surrounds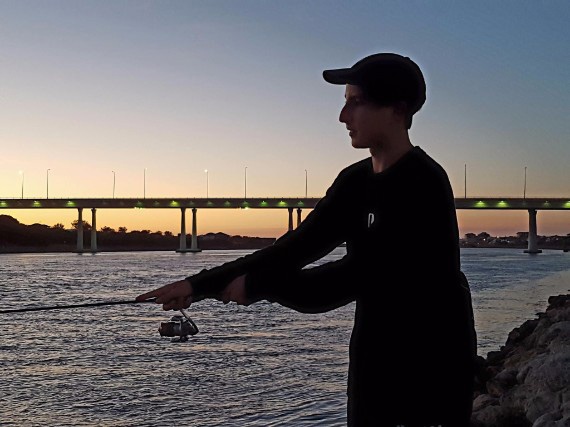 Picture: Dawesville Cut is a popular and accessible Mandurah fishing location providing options for bread and butter species to salmon and the chance of mulloway.
MANDURAH
There are some good tailor and mulloway still coming in from beaches north of the town. Locations such as San Remo, Singleton and Madora are producing herring, skippy and garfish early to mid morning and late afternoon. It is a similar story fishing the southern beaches. Herring and whiting are being caught during the day. Tailor are being caught early morning and evening with larger tailor being caught around dusk and after dark. Tim's Thicket and White Hills are the areas that have been producing some excellent catches with a lot of small sharks being taken along with a good variety of species. People fishing in the Dawesville Cut are generally taking home a feed of fish. Reports indicate that there has been some big tailor taken from either end of The Cut during the last week. There has also been herring and some very big garfish taken there. Whiting, skippy and a lot of undersized salmon have also been caught over the last couple of weeks.
Fishers going out after dusk seem to be doing a little better than those fishing during daylight hours. In the estuary, fishers have been catching some good tailor around 45-50cm. There are a few crabs around and are being taken. Further upstream in the estuary there are some good black bream being taken by fishers using both fresh baits and a variety of lures.
SECRET HARBOUR / PORT KENNEDY / ROCKINGHAM / SAFETY BAY
Beaches around Port Kennedy and Secret Harbour are still producing tailor, skippy and tarwhine. Rumours of big tailor being taken from a few locations abound and anglers are being very tight-lipped over specific locations. Small mulloway are also being taken on a regular basis and there are reports of several larger fish to 15 kg being taken from the beaches in this area. Fishers ballooning from the beaches in Warnbro have taken a few spanish mackerel in the last couple of weeks. It requires a little effort and some good easterly winds to get the balloons moving but once out a couple of hundred metres, it could be anything that takes the bait.
Recfishwest's Forecast
Beaches around Mandurah and The Cut will soon be frequented by salmon schools. Swelly conditions over the weekend may mean the safest bet is to fish early into the following week with most mornings looking good weather wise. The rising tide towards late morning over the weekend could produce some nice flats fishing for yellowfin whiting, flathead and bream in the estuary while the tide pushes up onto the flats as the morning heats up.
Metro Catches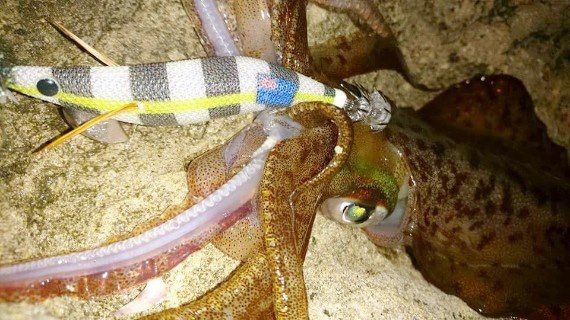 Picture: Daniel Langridge braved the thunder, lightning and rain to grab a late night squid last Sunday evening in Fremantle (Photo courtesy of Squid Hunters Western Australia).
Inshore
Good news for fishers this past week is that the herring that have turned up along the beaches. Good places to try for herring include The Ammo Jetty, Woodman Point, South Beach Groyne, the Moles, Grant Street and Hillarys Marina rock wall. Woodman Point produced salmon catches at the weekend and there have been a few fish caught at South and North Mole. Early mornings and evenings have been producing mostly small tailor at Leighton, Grant Street, Swanbourne Drain, Floreat Beach and Trigg Point. There are still a few mulloway being landed behind the E-Shed and South Mole.
Cockburn Sound is turning on some good snapper fishing and spots to look at are the various gravel patches adjacent to reef and weed banks out from Kwinana and down towards the Causeway. King George whiting are also featuring in bags of fish being taken from dinghies in the upper parts of the Sound and out on the broken ground behind the Five Fathom Bank. Shore based fishers are also doing quite well with good catches reported from many popular locations around the eastern side of the Sound. Fishers have been taking a few longtail tuna and spanish mackerel when trolling lures adjacent to bait schools.
Offshore
Spanish mackerel keep on getting caught near Rottnest Island and along Three Mile Reef. The dolphin fish at the Fish Aggregating Devices are increasing in size. Schools of small southern bluefin tuna and striped tuna are being found in depths starting at 30m. The seagrass meadows off Fremantle and within Cockburn and Warnbro Sounds are starting to produce better catches of squid.
Recfishwest's Forecast
Sporadic catches of early season salmon are evident across the metro coast, try places which will aggregate the fish migrating along the beaches from south to north such as headlands and rock walls that will concentrate the fish which are moving around the structures. Point Peron, North Mole, South Mole and Woodman Point are places worth a try.

Recfishwest's Tip of the Week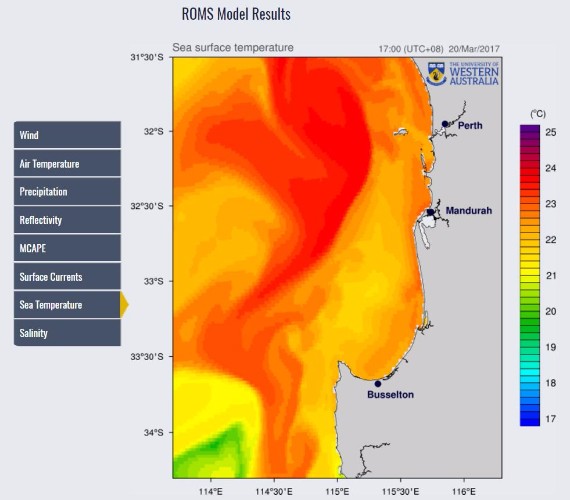 Take a look at some of the oceanography sea temperature forecasting tools available to predict where the fish might be. Find the areas of warmer water to target the summer pelagics which may still be lingering offshore or find the cooler waters from the south which the salmon will be following up the coast.
Try the new UWA oceanography prediction tool here.