Your Fishing Photos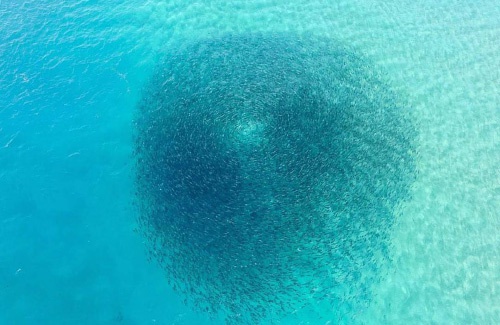 Picture: Salmon school (Photo courtesy of Western Angler).
If you want to see yourself or your kids feature in our weekly state-wide Fishing Reports, send your best fishing photos and a description to bronte@recfishwest.org.au

Esperance Catches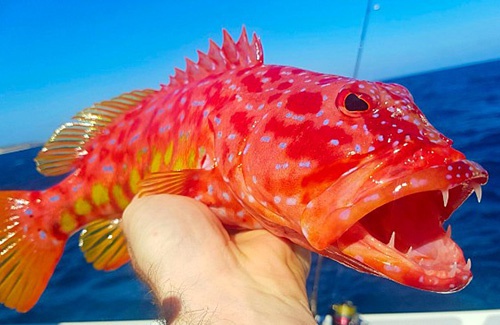 Picture: Harlequin; scientific name Othos dentex, so named in latin referring to teeth. An opportunistic predator, harlequin will sit in the depths where their red colouration fades to grey and their pattern helps them blend into the reef where they feed.
Inshore
The Taylor Street Jetty has been fishing well for herring, squid, King George whiting and garfish while Bandy Creek Boat Harbour has had mostly King George whiting to 32cm and herring. Salmon have been around Salmon Beach, Fourth Beach, Eleven Mile, Fourteen Mile and Roses. Mulloway between 4kg and 6kg have also been landed at Fourteen Mile as well as at Thomas River and Dunns. The small boats continue to do well on sand whiting and snook.
Offshore
Huge schools of small southern bluefin tuna were found at Figure of Eight and Woody Island during the past week. Small bibbed minnows and skirted lures have been working well on the small bluefin. Nannygai to 2.5kg, harlequin, breaksea cod and samson fish have been common out wide.
Recfishwest's Forecast
There's a chance of seeing some good yellowtail kingfish action out at the islands in the coming weeks as the weather starts to cool into winter. Esperance surfing enthusiasts might be enjoying the water more than fishers over the weekend as some dangerous swell moves through making conditions risky for fishers. Targeting some King George whiting on the rising morning tide in the protected waters inshore might be a better option that hitting the coast or heading offshore. Some inclement weather mid next week will limit opportunities.
Albany Catches

Picture: Expensive rods and reels are not always necessary or appropriate for good fish such as this Western blue groper taken on a handline. The dirty fighting fish will often mooch around the waters edge at rocky drop offs and will bury you if you're not prepared. A heavy handline can be an effective way to show no mercy to these hard fighting targets (Photo courtesy of Aron Dixon).
Inshore
The annual salmon season is in full swing with big schools appearing along the coast stretching from Cheynes to West Cape Howe during the past week. Herring are about in excellent numbers with better catches coming from the more remote areas. Surf fishers at Bluff Creek have been doing well on skippy, tarwhine and tailor. Some nice King George whiting have recently been caught from the shore at Goode Beach. Rock fishers have been landing samson fish, yellowtail kingfish and blue groper. If you do fish from the rocks, make sure you are wearing a life jacket. Please see free loan life jacket locations at the bottom of the report.
The deeper areas of King George Sound and surrounding areas have been producing better numbers of King George whiting. Herring, skippy, juvenile and mature salmon, sand whiting and flathead were among the other species to be caught from inshore locations. Squid have unfortunately been rather scarce for the past few weeks. The rivers east of Albany are starting to become a little less discoloured. The improved water clarity has resulted in better black bream catches. Mulloway ranging from tiddlers to 70cm fish have been caught on lures and baits in the King and Kalgan. Both of the local systems are fishing well for bream.
Offshore
Reef fishing enthusiasts scored a nice mix of queen, red and pink snapper as well as dhufish, breaksea cod and samson fish along the coral during the week. Hapuka, grey-banded cod and blue eye trevalla continue to be caught beyond the edge of the shelf when the boats manage to venture wide.
Recfishwest's Forecast
Targeting other inshore reef and beach fish might be difficult in the coming weeks as the flocks of hungry breeding salmon school up and make their presence known on the south coast hitting all manner of baits and lures. Expect squid activity to pick up as the water temperatures drop in the coming months. Some very sporadic weather over the next week may make options difficult and time might be better spent in the estuaries as big swell will be present over the weekend. A rising tide in the mornings should be a good chance for some river bream and mulloway.
Recfishwest's Tip of the Week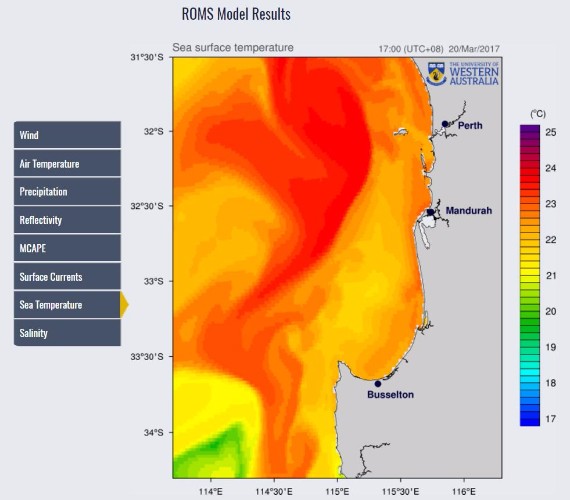 Take a look at some of the oceanography sea temperature forecasting tools available to predict where the fish might be. Find the areas of warmer water to target the summer pelagics which may still be lingering offshore or find the cooler waters from the south which the salmon will be following up the coast.
Try the new UWA oceanography prediction tool here.