Your Fishing Photos

If you want to see yourself or your kids feature in our weekly state-wide Fishing Reports, send your best fishing photos and a description to bronte@recfishwest.org.au

Broome Catches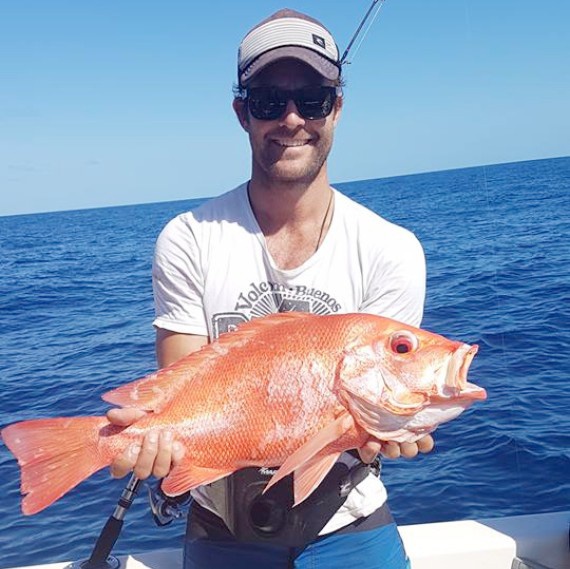 Picture: Fish Broome Charters have been putting their clients onto a range of highly rated reef fish such saddletail seaperch (Photo courtesy of Robbie Peck).
Barramundi enthusiasts have been catching up to half a dozen fish from the roadside culverts in the Fitzroy River when the water levels have been high. The barra that ranged from 65cm to 95cm were caught on a variety of lures. Good numbers of threadfin and bluenose salmon averaging 80cm have been coming from Roebuck Bay together with a few jewfish and bluebone.
Fish Broome Charters has been picking up blue lined emperor, spangled emperor, fingermark bream and saddletail seaperch most outings. Shore-based fishers have been using a variety of soft plastic and hard-bodied lures to entice queenfish and trevally that have been turning up along Cable Beach at the change of tide.
Exmouth Catches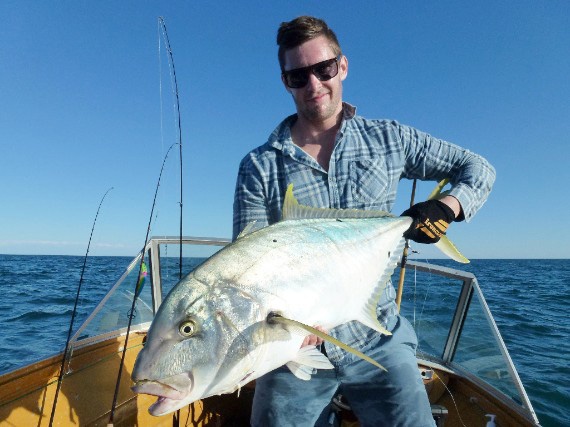 Picture: Golden trevally have been found inside and on the west coast of Exmouth Gulf using a variety of lures and fly fishing techniques (Photo courtesy of Jarrad Battersby).
Mangrove jack are being caught at the marina in fair numbers and there are bigger fish to 50cm have been picked up in the lower areas of the gulf. Spin and fly fishers working the gulf and west coast beaches have been using a variety of lures and flies to catch a range of species including giant trevally, golden trevally, queenfish, dart, spangled emperor and bluebone. Yellowfin whiting and bream remain in good numbers along Town Beach. Cobia have been appearing in better numbers within the gulf and off the west coast.
Kalbarri Catches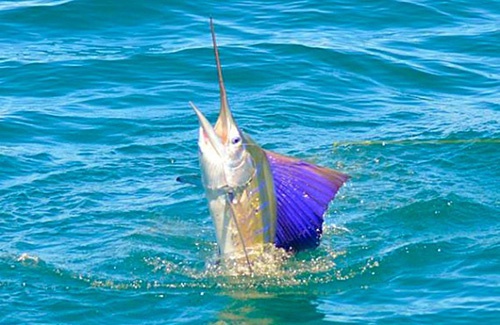 Picture: Sail fish amongst other pelagic and game fish are a chance for punters competing in the annual Kalbarri Sport fishing Classic this weekend.
The freshwater flowing from the Murchison River has discoloured the water within a few miles of the river mouth. This has reduced the number of spanish mackerel, which ordinarily prefer clearer blue waters, caught during the past week. There are still a few mackerel and other pelagics being caught north and south of the river mouth. Andrew Lawson caught a few spanish mackerel near the Sand Patch during a morning trolling session on Saturday.
Craig White, of Evolution Charters, has been putting his clients onto good catches of dhufish, pink snapper, cod and the odd sailfish. Tailor have been turning up at Red Bluff and Wittecarra most mornings and evenings. The mulloway that have been caught near the murky water of the river mouth have mostly been soapies of 50cm to 80cm.
Mangrove jack, estuary cod and black bream have been caught in the lower reaches of the system, which is also providing plenty of blue swimmer and mud crabs. Expect more river and offshore species to be caught during the 31st Kalbarri Sports Fishing Classic being held this weekend.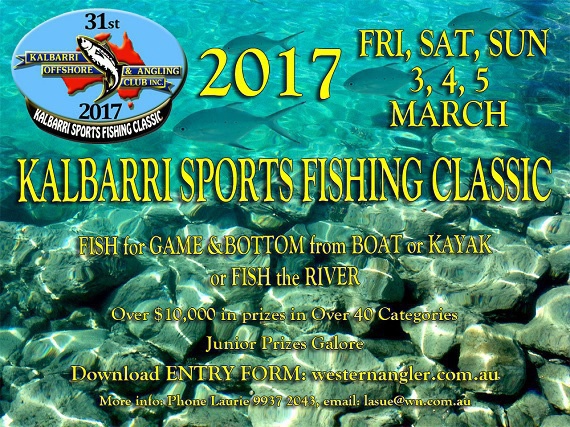 Geraldton Catches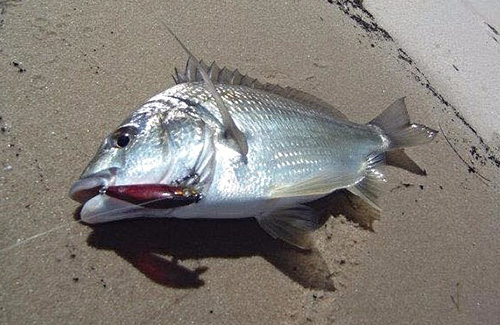 Picture: Time spent searching the Greenough River has resulted in some good black bream for some whilst the river mouth remains open to the ocean (Photo courtesy of Tyson Lyons).
Surf fishers have been catching mulloway to 15kg, tailor and the odd pink snapper near Coronation. More tailor and some big herring have been picked up at Explosives. The Greenough River remains connected to the ocean and while this occurrence usually results in big mulloway catches, mostly small fish of about 60cm have been caught there this past week.
Black bream to 40cm have been caught in the lower and middle reaches of the system while the deeper parts have been producing a few mangrove jack. The Flat Rocks to S-Bend coast has been fishing well for tailor and school-size mulloway. The boats trolling bibbed minnows for spanish mackerel have been catching the 6kg to 10kg fish in the waters expanding from The Greenough River mouth to Port Gregory.
Esperance Catches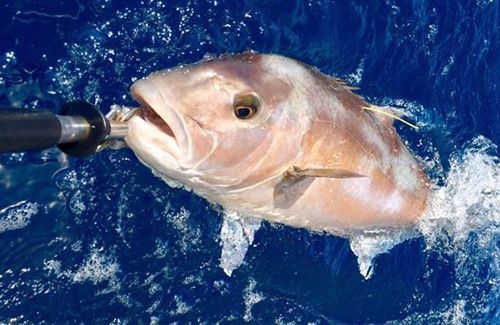 Picture: Samson fish tagged and being swum alongside the boat, to move water through the gills in prime condition for release (Photo courtesy of Dylan Picken).
The Taylor Street Jetty has big herring, King George whiting to 36cm and small skippy while similar size King George and herring have been common at the Bandy Creek Boat Harbour. Schools of, what are thought to be, front-running salmon to 5.5kg have been turning up at Salmon Beach, Fourth Beach, Eleven Mile and Roses. Alexander Bay has salmon, skippy and herring on offer.
Beach fishers at Israelite Bay landed mulloway to 8kg, gummy shark and big herring. The smaller boats have mostly been catching sand whiting in close. Out wider, plenty of big nannygai, queen snapper to 8kg and samson fish of various sizes seem to have been encountered by most crews.

Albany Catches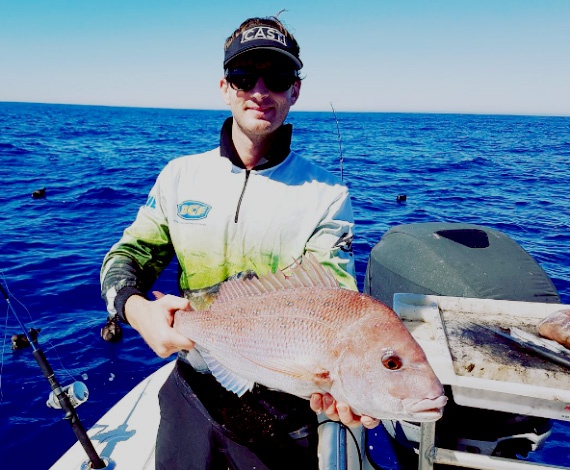 Picture: Pink snapper have been about the coral patches out from Albany (Photo courtesy of @pjgringo).
The Esperance to Bremer Bay stretch was frequented by schools of salmon during the past week, which suggests the local beaches are weeks away from seeing the heavier front-runners. Surf fishers at Nanarup caught a few salmon at the weekend and there were juvenile fish landed at Shelleys. Herring and skippy are about in better sizes and bigger numbers in the more remote spots. King George whiting can be found in the sound and both harbours, however some time and effort is required in locating the highly sought after table fish.
Squid have been caught in better numbers through the inshore parts east and west of town. The usual mix of pink snapper, breaksea cod, queen snapper and dhufish have been picked up along the coral. Samson fish have been encountered in dense schools. Red snapper were mostly found at the edge of the shelf and deeper. Mulloway were found in good numbers in the Kalgan River. The systems between Albany and Denmark, which are less murky than those east of town, are fishing reasonably well for black bream.
South West Catches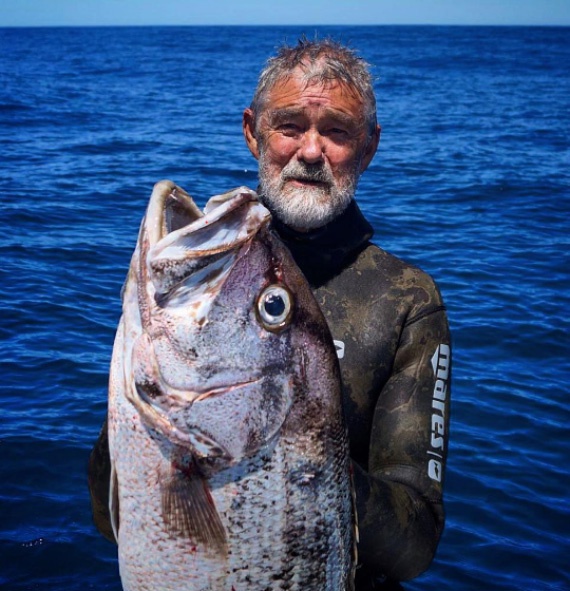 Picture: Dhufish have been on the table in the south west with spear fishing a productive method for targeting the highly regarded, iconic WA fish. Local spearfishing champion Barry Paxman pictured with a quality specimen (Photo courtesy of @vinrush).
The boats fishing the 20m to 40m depths off Canal Rocks have been doing well catching a variety of reef species including dhufish, pink snapper, breaksea cod, big skippy and samson fish with spear fishing proving an effective method to target your catch for the table. The pink snapper that were being caught in good numbers along the Four Mile and Eight Mile during the past month have been harder to come by.
Tailor have mostly been turning up in better numbers at spots such as Honeycombs, Mitchells, Smiths, Bunker Bay and Elmore Road at sunset rather than early morning. Herring can be brought around any of the bays and headlands with the introduction of burley. Squid are still being caught along the seagrass meadows off Quindalup.
Mandurah & Surrounds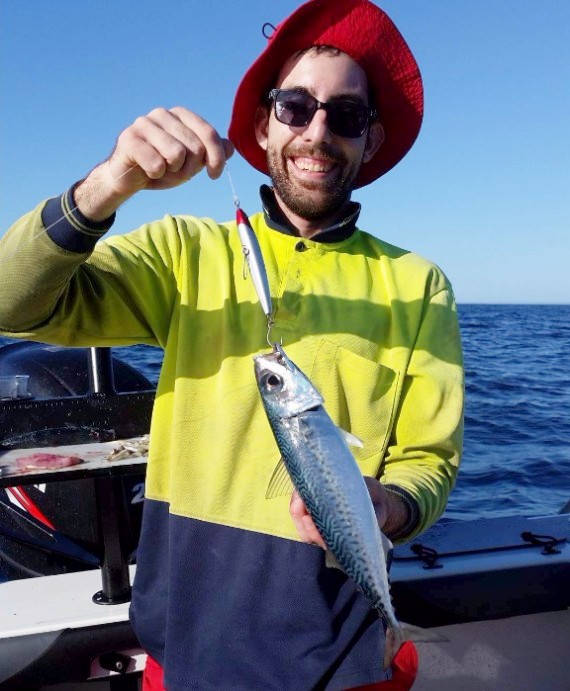 Picture: Slimy mackerel have been abundant and schooling up on the Mandurah artificial reefs recently. Getting past the hoardes to target bigger fare proved difficult for Recfishwest Habitat Officer Michael Tropiano with some good sized specimens hitting lures aggressively.
MANDURAH
Beaches north of Mandurah continue to fish well for tailor late afternoons and an occasional mulloway after dark. There are reports of plenty of squid over the weed beds between Silver Sands and San Remo. People fishing in The Cut report that the jetty in front of the Jolly Frog is still producing some good crabs but you have to work for them.
Others fishing in The Cut report good tailor, particularly on a rising tide, skippy and herring. Tim's Thicket and Preston are still the pick of the beaches with good tailor after dark. The bridges are also producing good fish with herring, tailor and bream being caught in numbers. Large numbers of slimy mackeral have been present, particularly schooling up around the Mandurah artificial reef.
SECRET HARBOUR / PORT KENNEDY / WARNBRO / ROCKINGHAM / SAFETY BAY:
There are still good catches of herring, tailor being taken from the beaches near the grain silos right through to Long Point. Tailor seem to have thinned out somewhat along this stretch, but there are still enough being caught to keep fishers interested. Divers are reporting crabs around.
Metro Catches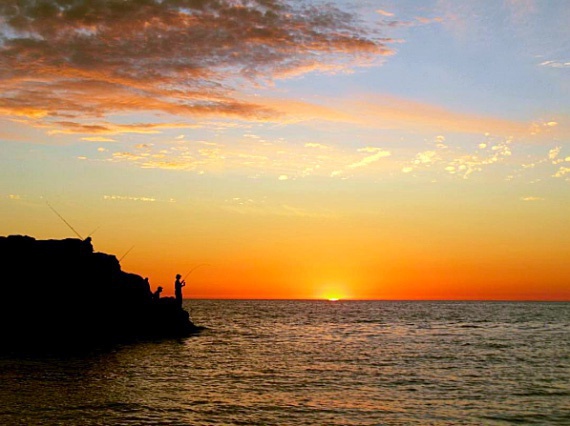 Picture: Classic WA scene as the sun sets over the iconic Fremantle land based fishing location, the North Mole (Photo courtesy of @mattysmancave).
Spanish mackerel continue to be caught on trolled bibbed minnows and rigged garfish off the metropolitan coast. Areas where mackerel were caught this past week, included Coventry Reef, Cockburn Sound, Five Fathom Bank, the dirty water line near Fremantle Harbour and along Three Mile Reef. Fishers who have had success on the mackerel have recommended locating the baitfish and concentrating on these areas. Schools of small southern bluefin tuna have been encountered in depths starting at 20m while striped and yellowfin tuna have mostly been found farther offshore.
Dolphin fish are still at the Fish Aggregating Devices and expect marlin and wahoo to also be lurking near the devices and the deeper waters of the trench. Reef fishing has been productive, especially off Rockingham, the northern side of Rottnest the waters off Two Rocks where big dhufish, pink snapper and some solid breaksea cod were recently caught.
Masses of scaly mackerel and other baitfish within and just outside Fremantle Harbour are attracting mulloway in the 10kg to 17kg range. Smaller mulloway have been appearing at Secret Harbour and Golden Bay together with tailor and herring. More tailor – fish of 35cm to 55cm – have mostly been turning up about an hour after sundown. Blue swimmer crabs continue to be picked up in the Swan River as well as near Woodman Point. Please be advised crabbing is closed in Cockburn Sound south of the line from Woodmans Point to Carnac Island. Read more here.