Your Fishing Photos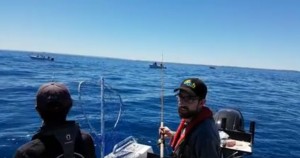 If you want to see yourself or your kids feature in our weekly state-wide Fishing Reports, send your best fishing photos and a description to bronte@recfishwest.org.au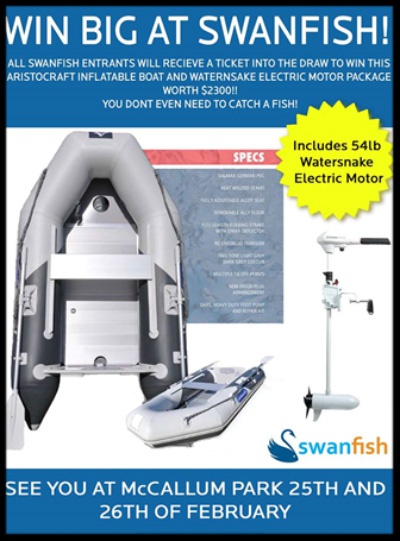 The latest reports indicate fishing in the Swan and Canning rivers is starting to pick up as hungry fish are regaining their orientation as clean salt water is beginning to fill the estuary system again after heavy fresh water flows. This is good news for those fishing Swanfish this weekend.
There is still time to register tomorrow at McCallum Park between 9am-5pm. Remember you don't have to catch a fish to win big! Simply come to the weigh in on Sunday morning to be in the draw to win the Aristocraft and Watersnake boat and motor package (pictured).
For more on Swanfish, click here.
Metro Catches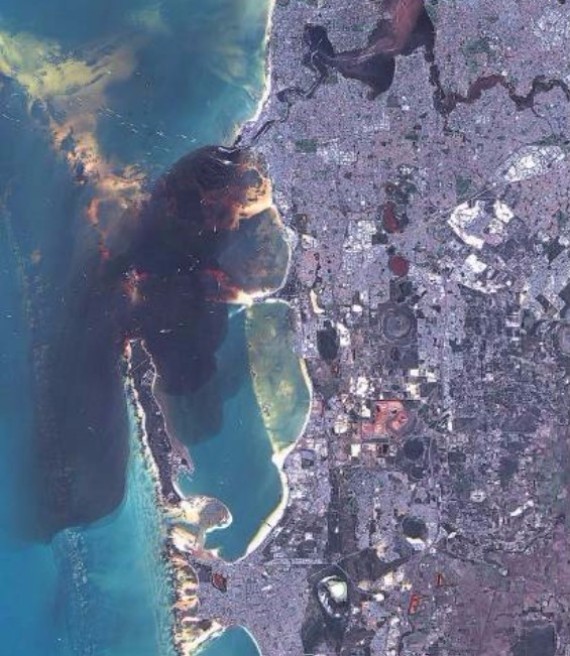 Picture: The massive plume of freshwater runoff exiting from the mouth of the Swan River at Fremantle after the recent heavy rainfall. These events can have various effects including carrying silt and nutrients to nearshore environments and create some interesting opportunities for fishing, with huge amounts of bait present (Photo courtesy The West Australian).
Spanish mackerel have been found preying upon bait fish located at the edge of the clean and the murky water created by the recent flow of freshwater out of the Swan River. The mackerel that have ranged from 7kg to 18kg have been caught on trolled rigged garfish and bibbed minnows. Smaller school and shark mackerel have also been caught along the colour change while southern bluefin, striped and yellowfin tuna have been encountered out wider. Samson fish continue to be found at The Barges in 90m to 110m of water west and south-west of Rottnest Island. Dolphin fish are at the Fish Aggregating Devices (FADs) while blue marlin are a chance near the trench.
Tailor are turning up very briefly between the first light and sunrise period and from about an hour after sundown along the metropolitan beaches. Pat Telford scored some nice tailor to 50cm during a recent session at Grant Street one evening last week. A consistent stream of burley should get herring active at the southern and northern rock walls and jetties. Flathead seem to have been pushed towards the lower reaches of the Swan following the recent influx of freshwater.
Good News for Swanfish!
Fishing in the Swan River Estuary is reportedly picking up as the freshwater flows are subsiding and the salt water is making its way back into the system with the tides. Some good sessions have been reported with black bream hitting all sorts of lures at the Canning bridge and up the Canning River. Hungry fish should be feeding as the waters start to clear up and the disoriented bait species become easy targets. As the weather is set to warm up for the weekend this is good news for the Swanfish competition as families enjoy what remains of the summer sunshine.
Mandurah & Surrounds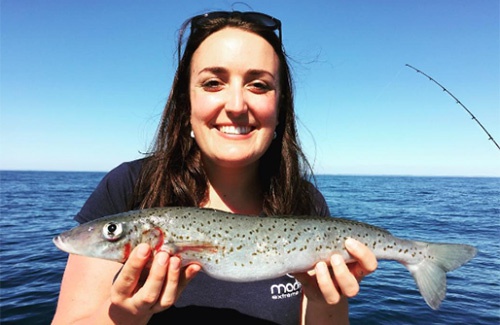 Picture: King George whiting have been biting around inshore Mandurah the past week, including some good fish caught from the Cut (Photo courtesy of @pickos90).
MANDURAH
The Cut has been very productive over recent weeks with tailor, King George whiting, garfish and herring biting well. The jetty in front of the Jolly Frog has been producing tailor, skippy herring, flathead and crabs. Tailor are prolific on beaches to the north and south with Tim's Thicket and Preston producing school mulloway and herring. One angler fishing to the south of Preston recently caught two good snapper from the beach, along with some nice tailor and other species.
A club holding a field day in the area landed 15 different species during their competition. The northern beaches have been producing tailor late afternoons and mulloway after dark. A few larger mulloway have been caught from the beaches at Madora and Singleton. There are still some good crabs about in the estuary although the fresh water run of has thinned out numbers, they are generally being taken in deep water. The bridges are also producing good fish with herring, tailor, and tarwhine.
SECRET HARBOUR / PORT KENNEDY / WARNBRO / ROCKINGHAM / SAFETY BAY
Reports indicate that fishers are taking tailor along the beaches around Rockingham along with herring, whiting and an occasional mulloway. People fishing the beaches near the grain silos through to Long Point indicate good catches of herring and tailor.
There are large amounts of blowies around the jetty during the day, but after dark there are a few tailor and herring. To avoid the blowies try using a small metal lure as they tend to leave them alone. They will quickly destroy soft plastic lures and that can become expensive for a nil return.
South West Catches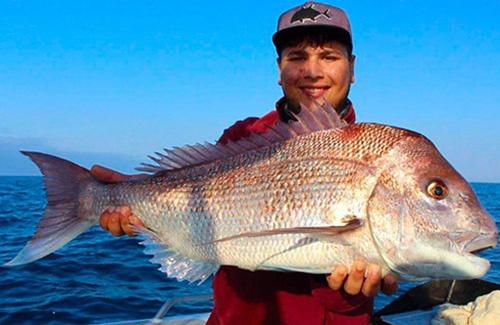 Picture: Nice pink snapper have been coming from both sides of Cape Naturaliste in the south-west (Photo courtesy of Alesandro Daniele).
The boats have been picking up dhufish and pink snapper off both sides of Cape Naturaliste. The dhuies and pinkies off the west coast, including areas out from Hamelin Bay, Gracetown and Canal Rocks, have been bigger than those caught off Dunsborough and Eagle Bay.
Tailor have appeared in better numbers along the surf beaches this past week and it should not be long now for salmon to turn up their droves. Herring and skippy can be caught from the bays and headlands while the sand flats near Quindalup are still producing plenty of yellowfin and sand whiting.
Albany Catches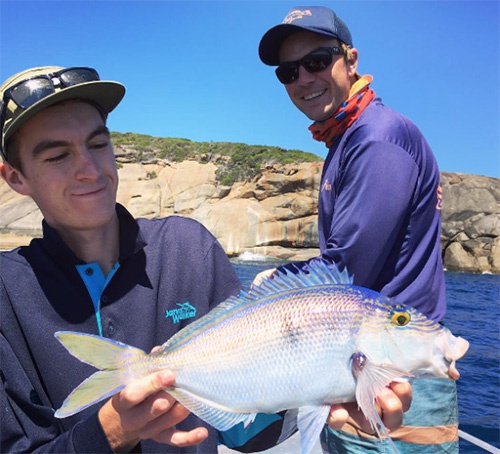 Picture: "Not a monster by any stretch – but I'll never tire of looking at the colours and patterning on queen snapper!" Thanks for sharing Liam! (Photo courtesy of @liamwesson).
Salmon have been turning up in schools along the coast between Bremer Bay and Cheynes Beach, however damaged tracks and inaccessible beaches caused by the heavy rains have been keeping the 3kg to 7kg out of reach. A few salmon have started to appear along the beaches closer to town. It is hard to determine whether these salmon are part of this year's annual run or resident fish. Mostly herring, skippy, tarwhine and a few tailor have caught from the local beaches.
Small King George whiting have been coming from Middleton Beach. There are tailor, squid and the odd big samson fish being caught at Emu Point. Inshore fishing has been productive with bag limits of King George being achieved and herring are on offer. The bigger boats have been encountering increasing numbers of small southern bluefin tuna between the inshore waters and the shelf.
The coral lumps in 60m to 80m have been fishing well for the usual mix of reef species including dhufish, pink, queen and red snapper. The reds have been caught in better numbers and bigger sizes at the edge of the shelf and deeper. A few hapuka have also been picked up near the shelf together with blue eye trevalla and grey-banded cod. The rivers west of Albany are not as discoloured as the systems east. Most are still producing small black bream. Schools of soapie mulloway have been found in the Kalgan River.
Esperance Catches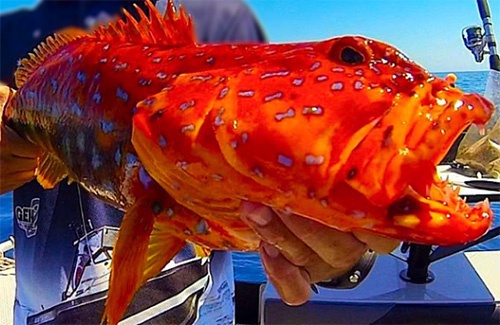 Picture: The fearsome looking harlequin fish are equally as good table fare as their northern cousins, coral trout (Photo courtesy of @castaways_fishing).
The Taylor Street Jetty has been fishing well for big herring, skippy of about 500g and a few King George whiting. Big herring have also been caught at Bandy Creek Boat Harbour together with a few skippy and black bream. Salmon Beach, Fourth Beach, Nine Mile and Eleven Mile were among the spots to produce salmon this past week.
Stockyards has herring, juvenile salmon, skippy and flathead. Mulloway to a metre, loads of herring and mostly juvenile salmon were caught at Thomas River. Boat limits of sand whiting are being achieved in less than an hour within a mile or so of the harbour. Nannygai, harlequin, big breaksea cod and some thumping queen snapper were caught out wide.

Geraldton Catches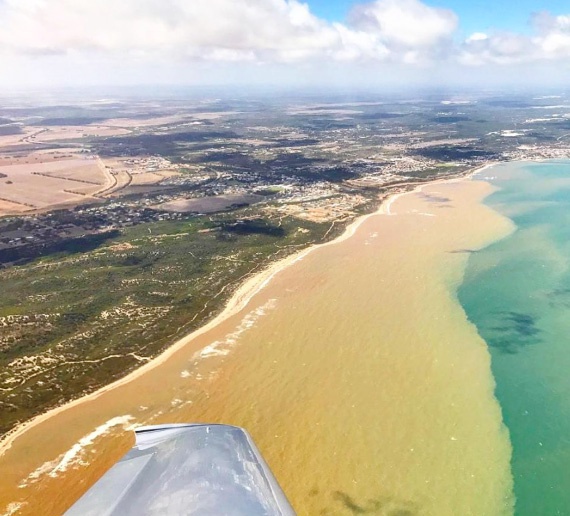 Picture: This was shared by @draviationgeek on Everything Geraldton Facebook page.
"Three or four times per year, the Irwin River gets enough rain to actually reach the Indian Ocean. Most of the year it is just a lake. When there has been a large rainfall of approx 100mm in a couple of days it bursts and stains the ocean." (Photo courtesy of Everything Geraldton).
Spanish mackerel have started to appear in good numbers with dozens of 8kg to 20kg fish caught along the back of Pensioners Bank and near the lumps off Coronation and Horrocks this past week. Reef fishing enthusiasts have been picking up fair catches of dhufish, coral trout and baldchin groper at African Reef and the ground between 10 and 15 miles northwest of the marina. The bigger boats that ventured to the Abrolhos Islands scored spanish and shark mackerel, yellowfin tuna, dhuies, coral trout and pink snapper.
Early mornings and evenings are producing tailor to 60cm, but averaging 40cm, along the Head Butts to Greenough stretch, Tarcoola, Southgates, Separation Point and between Drummonds and the Buller River mouth. The Greenough River broke through on Friday and mulloway are a good chance as the prized species generally are present when the system opens to the ocean. The upper reaches of the Greenough have been producing a few mangrove jack between 40cm and 50cm.
Kalbarri Catches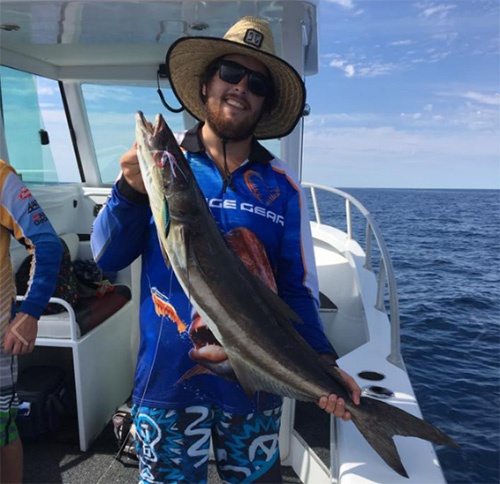 Picture: Finding bait may be your key to landing some of the nice cobia out of Kalbarri recently. Casting a sinking lure out past the schools and working back underneath the bait i (Photo courtesy of Travis French & Samantha Brumpton).
Paul Wheatfill caught a one-metre Spanish mackerel while targeting tailor at one of the local beaches last Tuesday. Paul also went on to catch a nice size mulloway that same day. Tailor have been appearing in numbers most mornings and evenings along the Red Bluff to Wittecarra stretch. The tailor at Back Beach and Chinamans have, on average, been bigger than those caught at other haunts. Wayne Dewar, of Kalbarri Sports and Dive, enjoyed a hot run of tailor at Port Gregory last Wednesday catching and releasing dozens of 35cm to 55cm fish between 3pm and 8.30pm.
The boats trolling for spanish mackerel and tuna experienced their better catches near Sand Patch and out from the coastal cliffs. Cobia have been found near the big bait balls located offshore and have been responding to an assortment of metal and soft plastic jigs. Some nice catches of dhufish, pink snapper and baldchin groper have been coming from the northern and southern waters. Expect mulloway to be frequenting the mouth of the Murchison following the recent flow of freshwater.
Exmouth Catches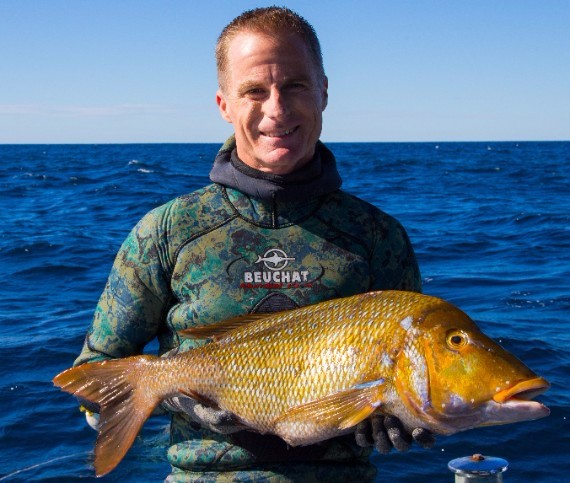 Picture: Finding the broken reefy and sandy ground adjacent to the reef on the west side of Exmouth Cape is one way to locate some nice spangled emperor (Photo courtesy of Simon McLernon).
A few sailfish are being caught in the upper areas of the gulf while the odd blue marlin, a few blacks and dolphin fish are being encountered off the west side along with Cobia. Longtail tuna are in reasonable numbers throughout the gulf. Spangled emperor have been found around the sand patches adjacent to reef on the west side of the cape.
Old Bundegi has been excellent during an incoming tide for queenfish and trevally. Spangled emperor and queenfish are being caught at the marina together with the odd mangrove jack. Increasing numbers of big giant trevally are frequenting the west coast and the waters near the tip of the cape.
Broome Catches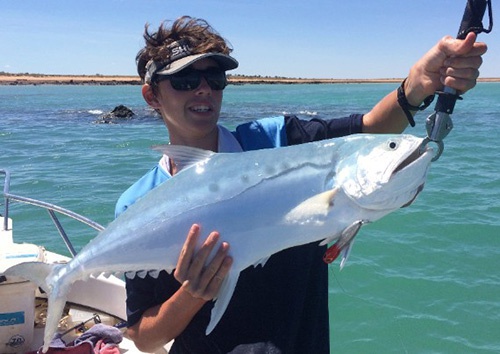 Picture: Queenfish are one of the best light tackle targets around Broome, turning up around inshore and coastal environments often seen rounding up baitfish into the creeks and shallows (Photo courtesy of Steve Chambers).
Barramundi in the 70cm to 85cm range have been caught in Dampier Creek while the flats at Crab Creek have been fishing well for threadfin salmon between 70cm and 80cm. Mangrove jack have been a little hard to come by recently, however there have been a few picked up in Willie Creek, which has also been producing bluenose salmon, queenfish and trevally.
The deeper areas of Roebuck Bay have been producing black jewfish of about a metre. Several boats reported good bluebone catches off Gantheaume Point this past week. Tripletail have been caught on soft plastics and flies near the floating logs and other pieces of flotsam in Crab Creek.
Kununurra Catches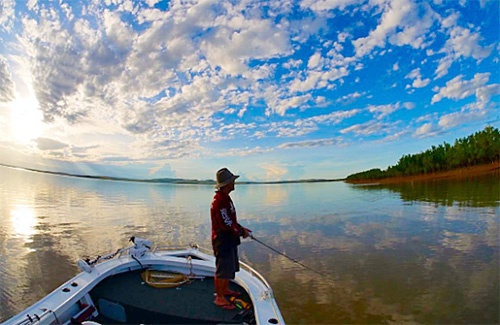 Picture: How's the serenity? Evening sunsets flicking for saltwater barramundi (Photo courtesy Northbound Charters).
The last couple of weeks have delivered mixed fishing results. Generally, there hasn't been big numbers however, there have been isolated good reports of some big barramundi being caught out of Wyndham.
One solo fisher was lucky and skilled enough to land a 126cm barramundi whilst flicking lures on the turn of the tide. With the recent dry spell and roads being reopened, fishers now have access to the Lower Ord River, which will open up the fishing options closer to town.