Your Fishing Photos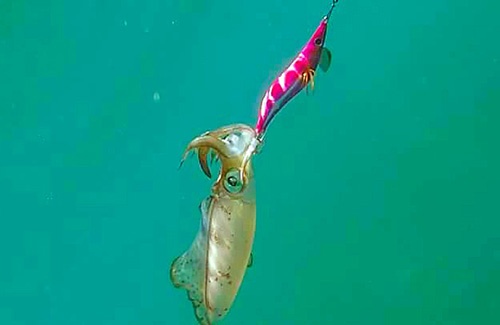 If you want to see yourself or your kids feature in our weekly state-wide Fishing Reports, send your best fishing photos and a description to bronte@recfishwest.org.au

Snapper Guardians Release Event Rescheduled

You may have seen us advertise our much-anticipated snapper release event over the past couple of weeks in our Broad Cast Newsletter and on Facebook.
Unfortunately, the event was postponed as the bad weather was not going provide keen rec fishing families the best opportunity to come down and enjoy boosting snapper stocks in Cockburn Sound.
We are holding the fish and keeping them in tip top condition until Saturday 18th February when you and your family will have the same opportunity to help release over three thousand snapper into the Sound.
We look forward to seeing you next Saturday. You can't miss us, we are the ones with the huge grins from the knowledge that we are working together securing a fantastic fishing future for Perth waters.
Thanks for your support and we'll see you soon.
Metro Catches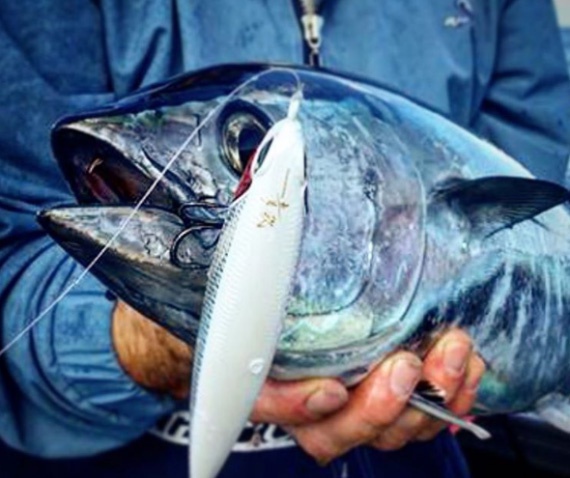 Picture: Stick bait lures provide a sporting and fun method to target the southern bluefin tuna around Perth waters at the moment. Locating birds diving on baitfish being cornered by the tuna is your best way to find the fish (Photo courtesy of Simon Marwick).
Spanish mackerel have officially turned up in metropolitan waters in numbers. Several mackerel were caught within Cockburn Sound during the past week. While it may be assumed that powerboats trolling bibbed minnows and baits caught most of the mackerel, kayak fishers floating whole baits and trolling lures have picked up most of the 8kg to 15kg fish.
It seems a stealthy approach has been effective in attracting mackerel strikes. Boat and kayak fishers employing a burley trail and floating baits have also picked up spaniards. More Spanish mackerel were also caught near Rottnest Island and along Three Mile Reef and there have also been a few fish landed near North Mole. Small southern bluefin tuna have been encountered in a range of depths and areas including the western edge of Five Fathom Bank.
Squid continue to be caught along the seagrass meadows off Fremantle Sailing Club and within Cockburn and Warnbro Sounds. Tailor have been inconsistent along the metropolitan beaches. Catches of 45cm to 60cm tailor have been better along the beaches north of Yanchep. Small samson fish have been caught in the lower reaches of the Swan River together with yellowfin whiting and mulloway. Blue swimmer crabs have been picked up in good numbers by divers and drop netters.
Mandurah & Surrounds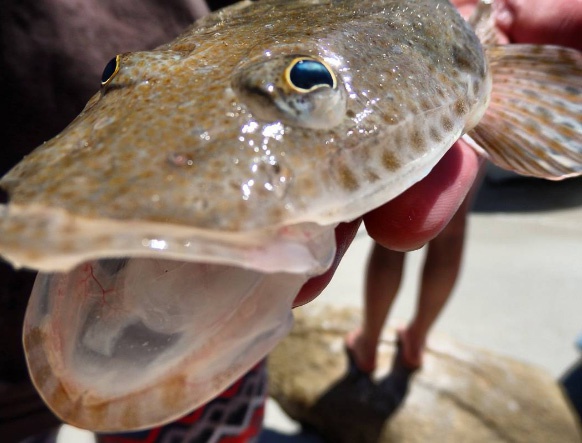 Picture: Flathead love to sit in the channels and around drop offs in our estuaries during summer, waiting for bait to pass by and suck into their large mouths (Photo courtesy of @brockleightonnn).
MANDURAH
A few larger tailor are being caught around dusk and after dark from Tim's Thicket and White Hills. The beaches south of the city are generally all producing good fishing. The Dawesville Cut is always worth dropping a line as there are herring, tarwhine and skippy being taken, along with some good tailor and flathead in the estuary and around the cut. The beaches around Mandurah are producing herring during the day with tailor early morning and evening. Mulloway are active although not in large numbers along the San Remo, Madora and Singleton region.
Beaches to the north, around Golden Bay, have been producing some good tailor and herring. There have been some larger mulloway taken from these beaches with several reported from between San Remo, and Golden Bay. The estuary is still producing crabs, and people fishing from the Old Traffic Bridge are catching some very good skippy. Dinghy fishers in the estuary have been locating tailor by looking out for birds working over the bait schools. Tailor and other larger predators are often lurking under these bait schools. Bream fishers have reported that most of the action is further upstream with some good fish well up. Kayak fishers quietly sneaking in and out of spots are accounting for some very good fish.
SECRET HARBOUR / PORT KENNEDY / WARNBRO / ROCKINGHAM / SAFETY BAY
Warnbro, Long Point, Port Kennedy and Secret Harbour beaches have all been producing good tailor during the last week. There has been good reports of herring and crabs out in the deep water. The jetties are turning on herring early in the morning, along with squid and both blue and scaly mackerel.
South West Catches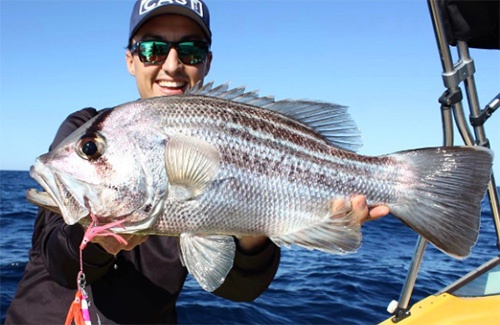 Picture: Dhufish are another demersal target available with the range of jigs on the market these days. The west coast of the Cape to Cape region is a good starting place (Photo courtesy of @dan.coughlan).
Surf fishers have continued to catch a few salmon from the west coast and Geographe Bay beaches. Most of the salmon caught have been individual fish and found near reef, which suggests that these have been injured, or fish that became solitary after losing their shoal during last season's migration. Expect this season's salmon to start turning up during the coming weeks following reports of big schools moving westwards off Esperance and Bremer Bay.
A few tailor have been turning up at Injidup at sunset. A consistent stream of burley should get herring on the bite at most of bays. Squid have been caught from the seagrass beds off Quindalup. The boats working the Four Mile and Eight Mile reefs have been catching pink snapper to an impressive 10kg, especially at first light and after sunset. Good catches of dhufish and other reef species have been coming from the ground out from Hamelin Bay.
Albany Catches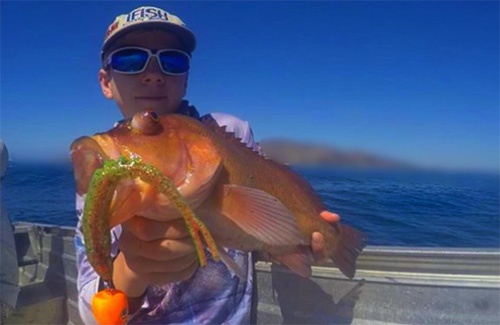 Picture: Breaksea cod are coming in with a band of other deep sea demersal species in the 60-80m depths out from Albany (Photo courtesy of @Albanyfishing).
The big school of salmon that stayed off Reef Beach for the good part of a week seems to have moved on. Judging by the schools that have been spotted moving west along the Esperance to Bremer Bay coast during the past fortnight, it should not be long for more of the popular surf fish to turn up along the local beaches. A couple of good salmon sessions were experienced at the local beaches last week. The precise location of the where the salmon were caught was not disclosed, however some local fishers suspect the 4kg to 6kg fish were landed at Fosters.
Herring of mixed sizes are present along most of the local beaches. The bigger fish, once again, are being consistently caught from the more remote areas of coast. The inshore waters of King George Sound and both harbours have been fishing reasonably well for small to medium size King George whiting, but the bigger fish have been hard to find.
Sand whiting, herring, juvenile salmon, skippy and flathead have also been a feature of inshore efforts, however squid have been hard to come by. The bigger boats have generally been doing well on breaksea cod, dhufish, pink snapper and samson fish along the 60m to 80m depths. The waters beyond the edge of the shelf have been producing hapuka while yellowtail kingfish are lurking around Maude Reef. Big numbers of small black bream continue to occupy the King and Kalgan Rivers.
Esperance Catches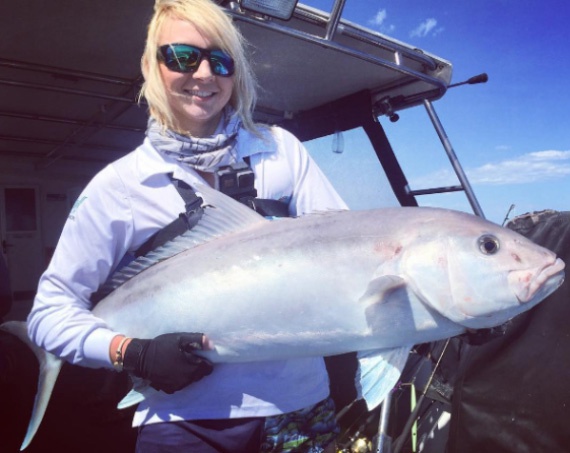 Picture: Samson fish are being boated amongst the demersal species caught in Esperance the past week (Photo courtesy of @lannz04).
The boats that have been targeting bread and butter species in close have been picking up good catches of sand whiting, herring, snook and squid. Out wider, nannygai, breaksea cod, queen snapper and samson fish have been caught in reasonable numbers. Interestingly, six dhufish around the 50cm mark were also landed from waters east of town. A 2.7kg blue spotted flathead was caught at Stockyards last week.
The jetties are producing herring, small skippy and a few King George whiting. Big herring can be caught at Bandy Creek Boat Harbour and Stockyards. Salmon schools have been frequenting Eleven Mile Beach while only the odd salmon has been caught at Salmon Beach and Fourth Beach. Thomas River has salmon, skippy and the odd mulloway. Tailor to 2kg, mulloway between 60cm and 80cm have been coming from the beaches near the cliffs.
Geraldton Catches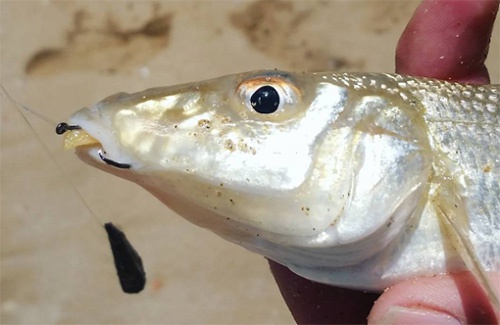 Picture: Some good yellowfin whiting have been caught around the place from Geraldton beaches including Explosives to Pages and the back of the breakwater (Photo courtesy of @nickihuntfishing).
At least two Spanish mackerel of about 10kg were caught from the first and second points at Greenough last week. Tailor and pike have been common catches at both points as well as along the beaches stretching to Flat Rocks.
Mornings at Southgates have been good for mixed size tailor, herring and pike. Tailor and herring have dominated catches at Tarcoola while the Explosives to Pages rock groyne stretch has tailor, herring, pike and whiting. The back of the breakwater is mostly producing small tailor and some whiting. The dinghy and small boat fishers working the seagrass near Seal Rock and out from the lighthouse have been doing well on herring, pike and squid.
Kalbarri Catches
Picture: The Spanish mackerel have come on the bite in Kalbarri, with a lot of good sized specimens mixed up with the odd one upwards of 15kg (Photo courtesy of Murchison Boat Hire).
The boats trolling bibbed minnows have been picking up spanish mackerel. The mackerel have mostly been in the 8kg to 12kg range and have been encountered north and south of the river mouth. Those targeting mackerel have also caught longtail and yellowfin tuna. Some nice catches of dhufish, pink snapper, baldchin groper and coral trout have been picked up within a few miles of the cliffs and some of the deeper waters northwest of town.
Tailor have been turning up most mornings and evenings at Red Bluff, Wittecarra, Chinamans and Frustrations together with a few mulloway. Bigger mulloway have recently been landed at Wagoe. Blue swimmer and mud crabs continue to be caught in the Murchison. Several mangrove jack were caught from the jetty along with black bream, chopper tailor and trumpeter.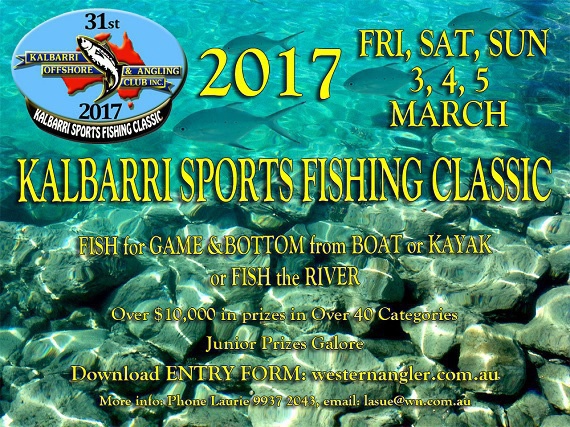 Exmouth Catches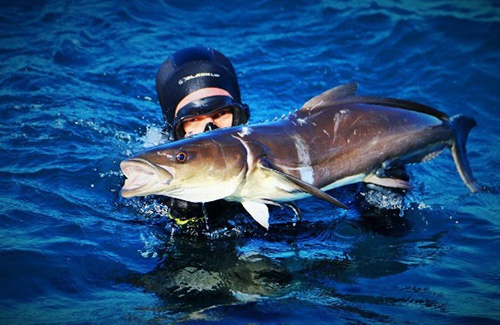 Picture: Cobia are a prominent target for spear fishers often seen trailing behind manta rays and whale sharks out of Exmouth (Photo courtesy of @benleeson21).
The boats working the waters off the west coast have been catching black marlin, yellowfin tuna, and big cobia, with spear fishers also having success. Trolled bibbed minnows have been working well on spanish mackerel along the back of the west side reef.
Big stick baits and poppers retrieved form the white water near the reef line have been enticing giant trevally and spangled emperor strikes. More spangled emperor and bluebone have been caught from the west side accesses. There are some big queenfish turning up at VLF Bay and Bundegi Beach. Fly fishers have been catching permit and the odd bigger trevally in the lower areas of the gulf.
Broome Catches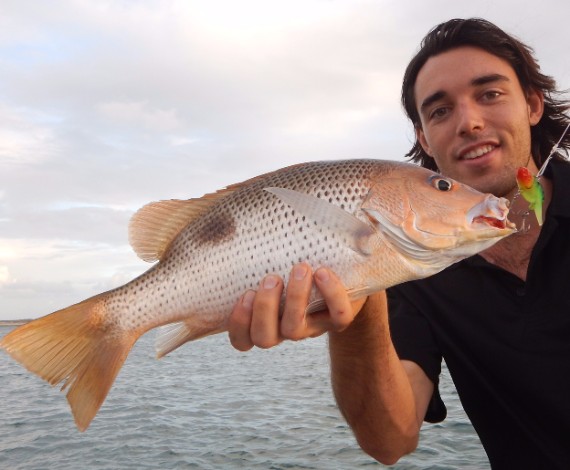 Picture: Golden or fingermark snapper are an attractive looking inshore reef target in the top end of the state (Photo courtesy of Steve Chambers).
Sport fishing enthusiasts have been using a variety of methods to catch threadfin salmon to 1.2m in Roebuck Bay and the local creeks. The threadies have been caught in better numbers during the bigger tides. The neap tide periods have been more productive for barramundi in the Fitzroy River and the creeks.
Mangrove jack have been picked up in the local creeks as well as within the lagoon at Port Smith and nearby coast. The jetty is worth a visit with queenfish, trevally and the odd barra being caught there, especially an hour either side of the change of tide. Reef fishing has been limited due to the unfavourable boating conditions. The few who managed to head out seemed to do well on snapper, rankin cod and coral trout.
Kununurra Catches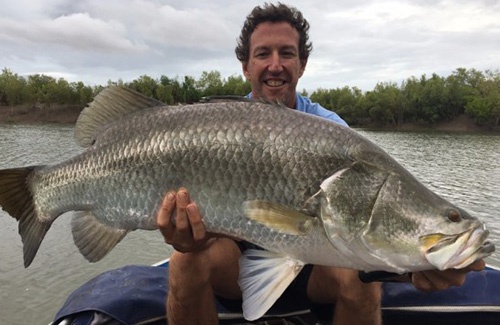 Picture: Kununurra barramundi fishing continues to get better. Check out our article on the building impoundment barra fishery in Lake Kununurra at recfishwest.org.au (Photo courtesy of Northbound Charters).
The fishing in and around the Ord River has been very up and down over the last couple of weeks, which has had a lot to do with the amount of rain. For those lucky enough to find a small window of opportunity where the rain has stopped have done really well with reports of 20-30+ barra being caught in a session.
For those who have been unlucky enough to fish the day after a solid down pour have not been successful. Make sure you fish the local rivers and creeks on Wyndham's doorstep so you don't have to venture too far and risk getting caught in a storm.