Welcome to Recfishwest's weekly fishing report, brought to you by Recfishwest's fishing expert Joachim Azzopardi and thanks to John Curtis for his Mandurah & Surrounds report.
Keep your eyes peeled for Recfishwest's Tip of the week, see below!
Your Fishing Photos
If you want to see yourself or your kids feature in our weekly state-wide Fishing Reports, send your best fishing photos and a description to bronte@recfishwest.org.au
Broome Catches
Boats
Reef fishing enthusiasts, who travelled beyond the 30m contour during the recent set of neaps, scored good numbers of red emperor, blue lined emperor, saddletail seaperch and rankin cod. Roebuck Bay has been fishing well for threadfin salmon and fingermark bream. The moorings and other pieces of flotsam within the bay are holding some nice tripletail. Mulloway can be found along the drop offs, deep holes and other structures.
Shore based
A customer of Broome Tackle World caught a dozen barramundi during a single session at Dampier Creek last week. More barra have also been caught from the jetty, which is also producing queenfish, trevally and the odd bluebone. Bluenose salmon can be targeted from shore along Roebuck Bay and Cable Beach. Whiting, yellowfin bream, dart and javelin fish are also common in both areas. The lower and middle reaches of the Fitzroy are producing cherabin.
Exmouth Catches
Boats
Billfish enthusiasts have been encountering big numbers of sailfish in the upper areas of the gulf as well as off the west coast. Black marlin are being found in excess of 100m of water while bigger blue marlin are in 500m and beyond. Yellowfin tuna and wahoo are being located in a range of depths and areas and there are plenty of dolphin fish also about. Spanish mackerel are being caught in better numbers south of Tantabiddi and near the Muiron Islands.
Shore based
The access points along the west coast are worth a visit late afternoon and evening for spangled emperor, which are ordinarily close to shore in numbers during this time of the year. Queenfish and trevally are also about the west coast as well as the gulf beaches. Yellowfin whiting are in excellent numbers south of the marina. Learmonth Jetty has squid, trevally and garfish.
Esperance Catches
Boats
Pink snapper have been responding well to soft plastic jigs near the islands. Mostly small nannygai were found this past week while samson fish and queen snapper were encountered in a range of sizes. Southern bluefin tuna are about inshore and out wide, but are reluctant to strike at times. Dinghy and small boat fishers have been doing well on snook, herring and squid.
Shore based
The Taylor Street Jetty has been fishing reasonably well for herring, snook and squid with bigger versions of the former species being caught after dark. King George whiting around the 30cm mark are evident at the Bandy Creek Boat Harbour together with herring, skippy and black bream. Bull herring and juvenile salmon have been coming from the local beaches including Salmon Beach, Fourth Beach and Nine Mile. The odd mature salmon has also been caught in these parts. Thomas River is worth a visit with reports of skippy to a kilo, juvenile salmon and mulloway around.
Albany Catches
Boats
Very few boats managed to head offshore this past week due to the strong winds. Expect the usual mix of reef fish to be lurking around the coral in 60m to 90m when conditions permit, the edge of the shelf should also still have red snapper. Both harbours have been producing King George, herring and skippy. The heaviest black bream caught during the recent tournament weighed a respectable 900g. The heaviest bag of 10 fish came in at 6kg. Other species picked up during the competition included flounder, yellowfin whiting and mulloway.
Shore based
Tailor have been turning up some mornings and evenings along the beaches west of town while salmon are mostly east. A salmon school about the size of an AFL oval was spotted off Reef beach last week. The school of several tonnes is not believed to be the start of the annual run considering Esperance is yet to be graced by the arrival of big schools. Skippy have turned up along the local beaches a little earlier this year while herring are plentiful up and down the coast. King George whiting are worth targeting from shore at Gull Rock, Goode Beach and Frenchman Bay.
Kalbarri Catches
Boats
Clients aboard one of the local charter boats have been landing big red emperor in about 30m of water together with coral trout, spangled emperor and baldchin groper. Pink snapper seem to be getting caught in better numbers south of the river mouth. Breaksea cod, skippy, flathead and baldchin have also been found in fair quantities in these parts. The Three Mile has spanish mackerel and longtail and mack tuna. More mackerel have been coming from Pot Alley and the waters farther north from there.
Shore based
Tailor have been caught in better numbers along the Red Bluff to Wittecarra stretch in the evenings. There are still some nice mulloway being pulled from Chinamans, Oyster Reef and Frustrations. Smaller mulloway, estuary cod and black bream can be found near the jetties and pens located within the Murchison River. Blue swimmer and mud crabs have been absent since the big flow of freshwater.
Geraldton Catches
Boats
Spanish mackerel have started to appear off the coast in good numbers with fish to 20kg caught along the back of Pensioners Bank and near African Reef during the past week. Longtail and some yellowfin tuna have also been encountered with the mackerel, as well as other areas, and there have been reports of a few bonito schools in close. Sweetlip have dominated catches northwest and southwest of town. Dhufish are in numbers in some areas while pink snapper have mostly been far west of the marina. Some of the coral trout caught this past week would have given 6kg a very good nudge.
Shore based
Strong winds and lots of seaweed have made conditions rather challenging along most of the coast. The first and second points at Greenough have been producing a mix of pike, tailor, herring and small mulloway. Mornings at Southgates and Tarcoola have been good for tailor and whiting while Separation Point has been providing bigger mulloway. Queensland school mackerel are a chance at the northern side of the marina from mid afternoon.
South West Catches
Boats
Dhufish and breaksea cod have been caught in very good numbers off Hamelin bay, Cowaramup Bay and Canal Rocks. Fishers who have been anchoring and burleying near the Four Mile and Eight Mile, have been picking up pink snapper between 4kg and 10kg. There are samson fish and yellowtail kingfish off the tip of Cape Naturaliste. Bonito and small southern bluefin tuna are being found off the west coast as well as the bay. Squid are still being caught along the seagrass meadows off Quindalup and there are blue swimmer crabs around.
Shore based
The annual salmon run is approaching, however there have been what are believed to be, resident 3kg to 6kg fish caught along the west coast this past week. Tailor have also been caught from some of the beaches early morning and on sunset while herring have been turning up at first light and biting well past noon at times. Sand and school whiting are along the Quindalup sand flats and responding to baits and small lures.
Mandurah & Surrounds
Mandurah
Tailor are turning up on most beaches in reasonable numbers, but the Cut is producing the best fishing for them. Tailor to 40 cm have come from the Dawesville Bridge after dark. The jetty in front of the Jolly Frog has had some nice yellowfin whiting early in the morning. Other species being caught in The Cut include herring and skippy. Black bream up to 1.5 kg have been taken from locations in and around the canals. Beaches north of Mandurah continue to fish well for tailor late afternoons on the sea breeze, and an occasional mulloway after dark.There are squid over the weed beds between Silver Sands and San Remo.
Secret Harbour/ Port Kennedy/ Rockingham/ Safety Bay
The beaches near the grain silos, through to Long Point have been producing good catches of herring and tailor. A few tailor are still being taken from the beaches at Port Kennedy and Secret Harbour during the past week and catch rates improve on the sea breeze.
Metro Catches
Boats
Spanish mackerel have appeared off the metropolitan coast in numbers not seen for a few years. The mackerel, which have ranged from 8kg to 18kg, have been found within Cockburn Sound, along Five Fathom Bank, between Parker Point and West End, near Champion Rock, at Halls Bank and right along the Three Mile. Small southern bluefin tuna have been found off most of the coast in depths starting at 30m out to the farthest Fish Aggregating Device where striped and big eye tuna have also been encountered. Reef fishing for dhufish, pink snapper and baldchin groper has been productive in 20m to 30m off Two Rocks, Mindarie and Rockingham. There are still squid being along the seagrass beds off Fremantle and within Cockburn Sound.
Shore based
Schools of bonito and small tuna appeared at North Mole on Tuesday and it would be expected that more, especially the former species, will be frequenting the popular rock wall as well as other rock spots and jetties within Cockburn Sound during the ensuing weeks. Big schools of scaly mackerel within Fremantle Harbour are attracting mulloway and tailor. Early mornings at South Beach and Cottesloe Groyne have been good for herring as well as the odd tailor. There are still a few squid being caught from the rock walls near Fremantle and the Ammo Jetty, particularly in the evenings. The lower reaches of the Swan River has been producing some nice catches of yellowfin whiting. Blue swimmer crab catches have been impressive near The Narrows, Old Swan Brewery, Alfred Cove, Freshwater Bay and Mosman Bay.
RECFISHWEST TIP OF THE WEEK
Register for Swanfish!
Not long to go until Swanfish 2018! (24 – 25 February)
You may have heard there are going to be some changes this year to Swanfish, one of those changes is we are offering FREE fishing clinics for registered participants. We are offering four clinics across two locations on Saturday the 24th of Feb, but please be aware that PLACES ARE LIMITED!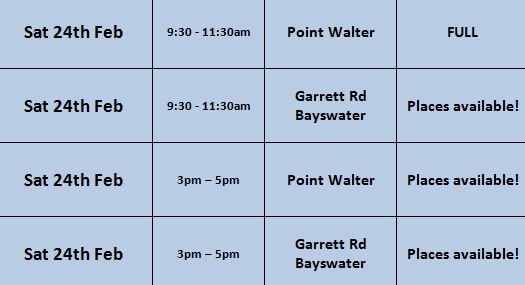 Bookings are essential!
What you need to bring:
Rod and reel, tackle and bait

Suitable sun protection

Your Swanfish Fishing Clinic Booking Confirmation
What we will provide:
A first class education on river fishing. Tips and techniques, including popular species, advice on tackle, best baits and lure fishing secrets

Sunscreen

All fishing clinic participants will receive a voucher to spend at your local Getaway Outdoors store!
How to Book:
Send us an email at info@swanfish.com.au letting us know your Swanfish Order Number, the number of clinic attendees and your contact details

Await confirmation email
Get your registrations in now!