Keep your eyes peeled for Recfishwest's Tip of the week, see below!
Your Fishing Photos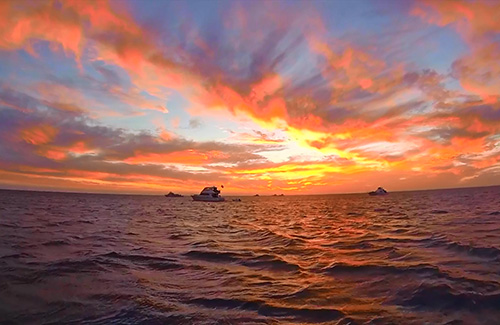 If you want to see yourself or your kids feature in our weekly state-wide Fishing Reports, send your best fishing photos and a description to isaac@recfishwest.org.au

Kununurra Catches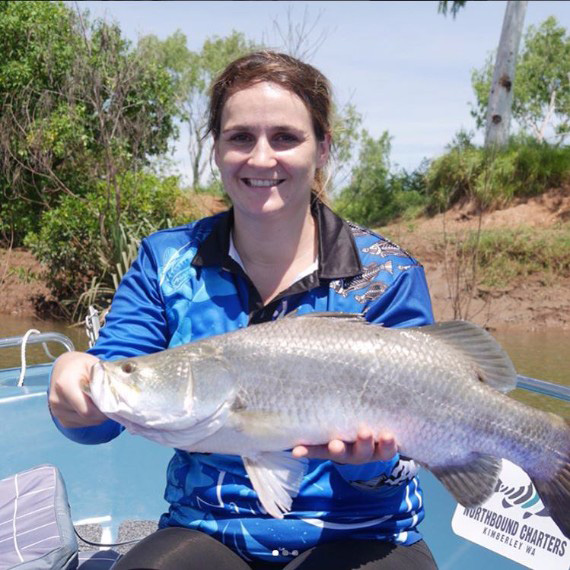 Picture: Clients of Northbound Charters Nikki and Moana enjoyed some barramundi fishing action catching their first ever barra. Well done.
Shore-Based
For those brave enough to test themselves on the blacksoil flats of the Keep River were rewarded over the Easter period with big hauls of 30+ Barramundi being caught and a few threadfin salmon as well. Generally mullet baits worked best with poppers around the rock bars working well also.
Lake Kununurra
The barramundi fishing in Lake Kununurra has started to improve with some decent sessions being recorded. Fishing the back eddies and snags with hard bodied lures has been most productive.
Recfishwest Forecast
Mostly sunny skies and warm weather ahead for Kununurra with light winds making for comfortable fishing weather. With high tides before sunrise and sunset the lead up to these periods will be the ideal fishing times around the inshore areas and the run out tide late morning and after dark would best be concentrated around the creek and river mouths. Barramundi fishing in Lake Kununurra is expected to pick up over the next few weeks as the residual wet season water levels subside. The new moon over next week could bring some activity about in the creeks as mulloway and barramundi are on the hunt.
Broome Catches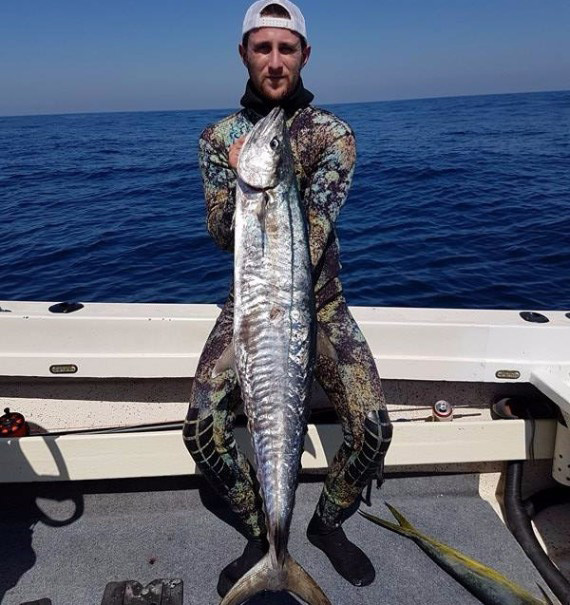 Picture: If the sharks don't deter you too much spear fishing can be a great way to catch a feed of fish when they aren't biting on baits and lures. The benefits of spearfishing being selective means you have no by-catch for a sustainable fishing future. (Photo courtesy Andy McDowell)
Boats
Sailfish have started to show up off Barred Creek while big schools of baitfish located near Willie Creek have been attracting schools of Spanish, broadbar and spotted mackerel. Mack and longtail tuna have been appearing in a range of depths and areas. Tripletail are worth a targeting at the moorings and other pieces of flotsam located in Roebuck Bay.
Shore-based
An 80cm barramundi caught by a customer of Tackle World Broome near Telegraph Pool last week was among several other barra caught in the Fitzroy River and local creeks during the week. Good catches of cherabin have also been picked up in the river. Threadfin and bluenose salmon can be targeted in Roebuck Bay together with small giant trevally and medium golden trevally.
Recfishwest Forecast
A possible storm and shower on Monday and Tuesday is not ideal for the ANZAC Day public holiday but otherwise warm and sunny weather can be expected for the rest of the week. Winds will be inconsistent but shouldn't rise much more than 10 knots over the week so conditions on the water will be nice. The new moon could spike a bit of activity fishing inshore around the beaches and creeks for barramundi, mulloway, threadfin and bluenose salmon especially combined with the larger tides toward the end of next week.
Exmouth Catches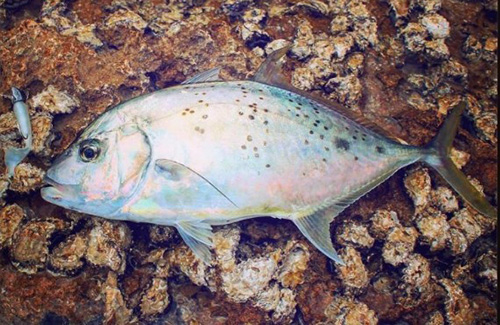 Picture: Goldspot trevally can provide a spirited fight from shore, targeted from the interspersed rocky limestone reef and beach sections on the west coast of the Exmouth cape.
Boats
Bluewater sport fishing enthusiasts continue to encounter black and blue marlin in depths starting at 50m and 600m respectively. Wahoo, dolphin fish and yellowfin tuna have been among the by-catch welcomed by those targeting billfish. Deep droppers have been landing some nice ruby snapper and goldband jobfish. Shallower waters are fishing reasonably well for red emperor, rankin cod and spangled emperor, however sharks have been problematic. Spanish mackerel catches are improving along the back of the west coast reef and near the Muiron Islands.
Shore-based
Bluebone and spangled emperor have been caught on baits at some of the west coast accesses and near the tip of the cape. There are big queenfish frequenting Pilgramunna while the areas near the Rangers Hut have been fishing well for bigger goldspot and golden trevally. Yellowfin whiting can be caught along the beaches near town while estuary cod and a few mangrove jack have been picked up at the Bay of Rest.
Recfishwest Forecast
With tidal movement increasing into next week, effort might be best spent toward the end of the week. Moderate winds are expected with a bit of a break Saturday through Monday where they are not expected to rise much above 10 knots. The late morning and midnight high tides are the best bet for shore based fishers with periods in between high and low tide providing good tidal current for fishing the reefs outside of the west coast Ningaloo Reef lagoon.
Kalbarri Catches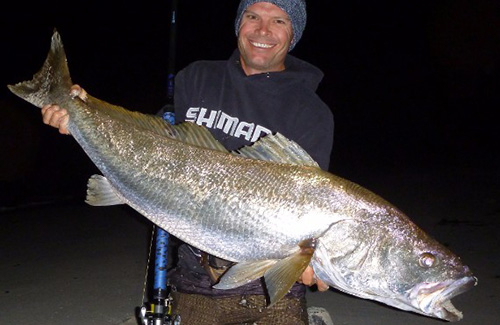 Picture: Some time spent soaking a bait after dark from Kalbarri beaches can result in some awesome catches like this mid west beach mulloway landed by Russell Hood-Penn in the last fortnight.
Boats
A customer of Kalbarri Sports and Dive and his son enjoyed an action-filled session wide of the river mouth last week. The father-and-son duo landed five cobia as well as pink snapper and baldchin groper on baits and jigs. Several other crews also encountered cobia during the week. Spanish mackerel have been caught in the cleaner waters, which this past week was evident near the cliffs and farther offshore northwest of the river. Boats that ventured to the 35m to 50m depths picked up red emperor, coral trout and dhufish.
Shore-based
A 33kg Spanish mackerel was landed on a balloon rig off Wagoe last week. Good catches of mulloway, pink snapper and big tailor have also been coming from the beach there. Rock fishers scored pink snapper and tailor from the cliffs closer to town during the Easter long weekend. Early mornings have proven to be the best time to target herring at Red Bluff. Tailor have occasionally been turning up at Red Bluff and Wittecarra in the mornings and evenings. Small mulloway have recently been caught at Frustrations. Mostly black bream, estuary cod and small mulloway are being found in the Murchison River.
Recfishwest Forecast
The starts are alighned for mulloway from the Kalbarri beaches this weekend with a high tide just after dusk on the approach to a new moon. A bit over 2m swell and some moderate southerlies might make the fishing challenging though. Early mornings are the best bet for lighter offshore winds for targeting tailor or taking a boat out from the Murchison River. Alternatively the river is always a good spot to try for bream, whiting, tailor and mulloway and to escape the wind.
Geraldton Catches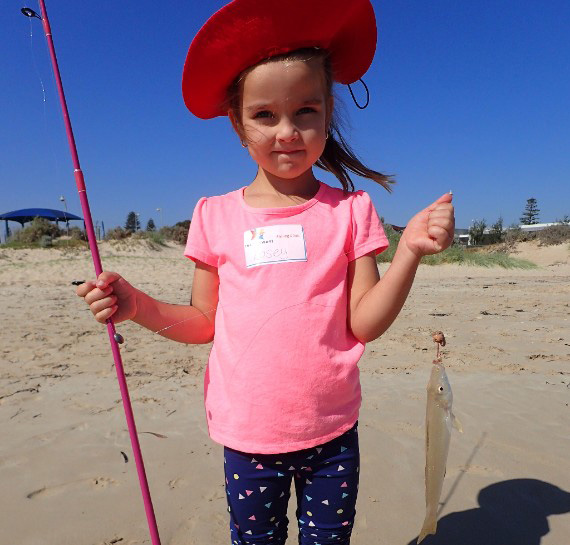 Picture: Great to see the kids are having a blast around WA with the SunSmart regional kids fishing clinics. Pictured here is Kasey with her proud sand whiting catch from the Geraldton clinic.
Boats
When the wind and swell have allowed the boats to head out, the crews have been catching Spanish mackerel and longtail tuna along the back of Pensioners Bank. The ground 12 miles to 15 miles west northwest of the marina has been producing good catches of pink snapper and sweetlip. The African Reef area, and lumps south of there, seems to be holding plenty of dhufish ranging from undersize fish of about 40cm to 12kg models.
Shore-based
Mulloway in the 10kg to 20kg range have been recently landed at the back of the breakwater and near the Greenough River mouth. The Flat Rocks to Nine Mile stretch has produced a few shore-based dhufish together with the usual mix of tailor, herring and mulloway. Bigger tailor can be targeted at Southgates and Separation Point. Whiting to 30cm seem to be in good numbers near the back of the breakwater. A good mix of tailor, mulloway, whiting, herring and dart have been coming from the beaches north of Drummonds Cove.
Recfishwest Forecast
No surprises that Geraldton is looking windy for another week. Mostly southerlies although some easterlies toward the end of the week look good for the land based fishers. Possible shower or storm over saturday and sunday and a bit of swell arent looking too good for fishing. But for those who are game the high tide just after dusk along with the lead up to the new moon presents a chance for mulloway over the weekend.
Recfishwest Tip of the Week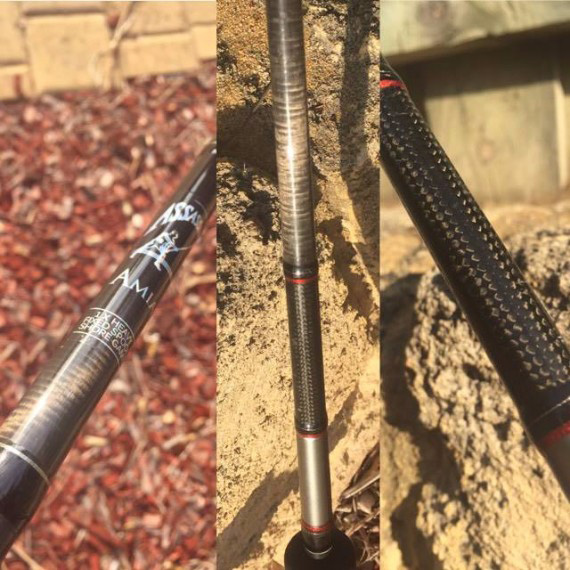 Graphite Rods
Technical Rating: Intermediate
Last week's Tip of the Week spoke about the perks of the current era of braided fishing lines which dominate much of the fishing scene today. To add to the casting distance and sensitivity delivered by braid, your line is best matched with a graphite rod. Around the same time as braided PE lines entered the fishing market so did graphite rods. Made from tightly woven carbon fibres, packed into sheets that are rolled and pressed into a high density carbon rod blank, graphite rods represent the pinnacle of performance fishing rods today.
The cross woven structure of the carbon fibres create a strong, lightweight and stiff rod in comparison to a fibreglass rod of the same dimensions. The weightlessness lends itself to effortless, finesse fishing but when power is needed, the lower section of the rod is extremely strong for its size. Modern jigging rods are a perfect example of this. The zero-stretch sensitivity in bite detection and hook setting that braid gives to jiggers is paired perfectly with the crisp and direct rod sensitivity and stiffness for maximum control and alertness to the fisher.
Alternatively, graphite pairs equally well with rods for casting. The stiff, even blank provides a parabolic curve along the rod getting the maximum flick and sensitivity from the tip and gutsy power from lower down in the rod creating effortless and effective casting distance. Similarly these properties assist in working lures with greater control and reaction speeds to bites for successful hook ups. If you havent already, you might want to consider upgrading some of your old rods for a more refined fishing experience with graphite. A huge range is now available for all fishing styles and all manner of budgets so check out your local tackle store to find the one for you.
Visit our Rod Action article for a more in depth breakdown of rod action for various applications and fishing styles, plus more.
Esperance Catches
Picture: The cooler weather seems to bring these tasty cephalopods alive, with big calimari generally caught in good numbers close to shore on the south coast through the cooler months. (Photo Courtesy Alesandro Daniele)
Boats
Mitch Johnson caught squid to 2kg and plenty of whiting during a recent inshore session. The crews who ventured to the islands and beyond during the Easter holiday period scored nannygai to 2kg, breaksea cod, samson fish and yellowtail kingfish. Southern bluefin tuna have not been caught for some weeks, but that is not to say the bluefin, which are commonly found in the 5kg to 15kg in these parts of the Southern Ocean, are not around.
Shore-based
Salmon are scattered along the local beaches with a few 3kg to 6kg fish caught at Salmon Beach and Fourth Beach during the week together with skippy to half a kilo, herring, flathead, mulloway in the 3kg to 5kg range. Stockyards has herring, skippy, juvenile and mature salmon. Fourteen Mile is worth a visit with mulloway, skippy and herring caught there recently. Bigger skippy can be found at Dunns and Rossiter Bay. Poison Creek has salmon, tailor, mulloway. Plenty of garfish have been showing up at the Taylor Street Jetty together with skippy to 35cm, herring, squid and the odd King George whiting. Bandy Creek boat harbour also has King George as well as big herring, skippy to 40cm and juvenile pink snapper.
Recfishwest Forecast
Some partly cloudy weather and possible showers for Esperance is expected over the next week. Winds generally below 10 knots and swell under 2m isnt looking too bad for fishers. Some good high tides after dark and the approaching new moon look good for targeting mulloway and pink snapper from some of the notorious beaches east of town. Yellowtail kingfish and samson fish as well as demersals are also worth targeting around the islands.
Albany Catches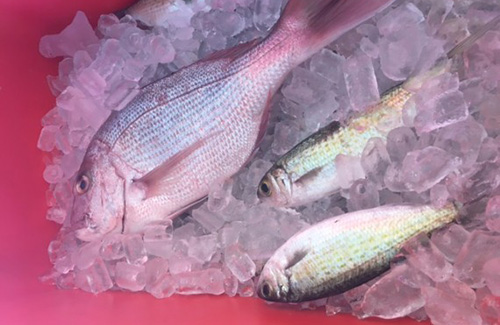 Picture: The freshest of the fresh. This is how we like to see a catch stored for the day, immediately iced and in prime eating form. This pic was sent in to us by Simon Mangini, nice work Simon!
Boats
Boat fishers who worked the 60m to 80m depths off Cheyne Beach and Albany picked up fair catches of breaksea cod, queen, pink and red snapper and samson fish. Bonito have been responding to trolled bibbed minnows off Tourist Rocks and Bald Head. King George whiting enthusiasts have generally been required to work for their fish through the inshore waters. Sand whiting are certainly in better numbers in these parts than their royal cousins and there seems to be a few more squid around, especially in waters east of town.
Shore-based
Easter holidaymakers, who travelled from far and wide to fish the local beaches in the hope of catching Australian salmon, enjoyed some entertaining sessions, but the 3kg to 7kg fish were perhaps not in their usual big numbers around the coast for this part of the season. Small schools that ranged from half a dozen to several dozen fish reportedly turned up every so often at Cables, Sand Patch, Lowlands and Nanarup during the long weekend. I spent the weekend at Cheyne Beach and while I did manage to score a few nice salmon and some big herring, which struck lures sized for salmon with conviction, the schools seemed to want to stay farther offshore. This seemed to be the situation along most of the southern coast where boat fishers had little difficulty catching dozens of salmon while surf fishers had to be patient. The King and Kalgan rivers fished well for black bream to 40cm and mulloway to 70cm.
Recfishwest Forecast
Swell will be the biggest limiting factor for those fishing out of Albany over the next week with 2m to 4m south westerly swell predicted over the course of the week. Weather is also looking somewhat wet with possible showers saturday through to Wednesday. Land based fishers should avoid the rocks and fish the beach and river while the swell is up. Frenchmans, Two Peoples Bay and the south western corner of Cheynes Beach would be the best spots to avoid the swell. The new moon and late morning high tide should do well for demersals.

South West Catches
Picture: Casey O'Connor was ecstatic with this catch after the salmon fishing fired up on the south west beaches. Safe, accessible, enjoyable and sustainable, Aussie salmon represent for us what fishing is all about.
Boats
Big numbers of salmon were caught on bibbed minnows dragged along the west coast beaches as well as within Geographe Bay. Reef fishing enthusiasts did well on dhufish and breaksea cod in 30m to 40m of water off the west coast. Pink snapper in the 4kg to 6kg category were picked up in the bay. Squid numbers are slowing improving along the seagrass beds off Quindalup.
Shore-based
Salmon catches were at their peak during the Easter long weekend with schools ranging from a dozen or so fish to several thousand strong appearing along the west coast beaches and in Geographe Bay. Fishers used heavy metals to reach the schooling fish when they were out far and lightly weighted minnows and stick baits when the 3kg to 7kg fish were within a few metres of the shore. Good catches of herring have also been picked up between the capes and on the bay side while skippy to kilo seem to prefer the west coast areas that feature reef.
Recfishwest Forecast
Some possible showers from Saturday through to Monday will keep fishers on edge who've travelled down from Perth for the ANZAC day public holiday. Salmon numbers should still be strong but some big swell will make fishing th west coast difficult and rock fishing is not recommended. Try some of the beaches and bays around Dunsborough in side Geographe Bay to avoid the swell from the south west. Busselton Jetty is also worth a try for salmon and squid. A high tide coinciding nicely on dusk may provide some fish activity over the weekend.
Mandurah & Surrounds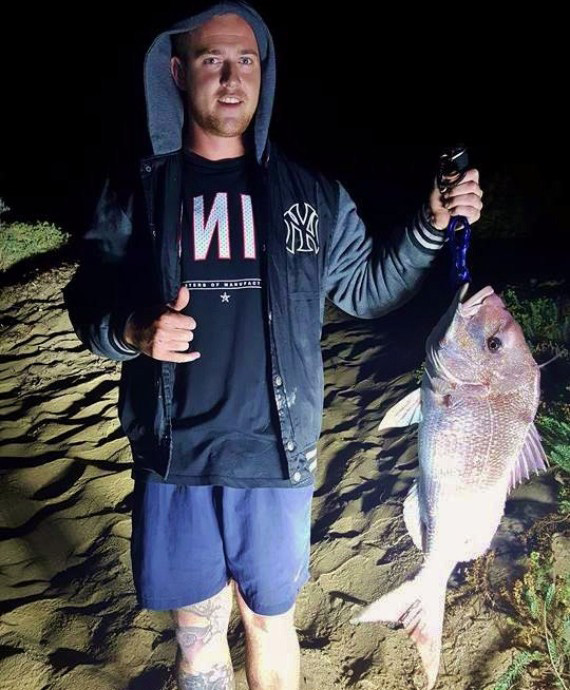 Picture: Shane Ambler was pleasantly suprised with a nice pink snapper from a Mandurah beach this week. Other catches also included salmon taken fishing at night.
MANDURAH
There are herring and a few tailor being taken as well as an odd salmon from the ocean end of the Dawesville Cut. Garfish are still in good numbers off Avalon and Roberts Point. Tim's Thicket to Preston has seen reasonable numbers of small salmon being caught along, with a few tailor. There are still tarwhine along with a few small chopper tailor in and around The Cut. As well there are still reports of herring from Halls Head to the Cut along with a few whiting. All around the Canals, Marina and Bridges there are herring, small tailor, whiting and tarwhine. Black bream and small mulloway have been reported in both the Murray and Serpentine rivers. Along the beaches to the north of Mandurah there have been catches of herring along with whiting and tarwhine. It is still not too late to try and catch a reasonable sized mulloway along this stretch of beach.
The black bream have gone mad in the Murray and the Serpentine Rivers. Prawns are also starting to move so pull on the winter woollies and thermal underwear and go and do a spot of dabbing. It's a great family night out and it is entertaining. The traffic bridges have been providing anglers with a feed of herring and yellowtail. A few small tailor have been caught but they are close to minimum legal size so make sure your keepers are legal. Crabs are still making their presence felt in the estuary and the better places to set your nets are in the in the deeper channels of the estuary. Herring and an odd salmon, along with a few tailor, have been caught along the beaches south of Mandurah. Small mulloway are also making their presence felt along with an occasional larger fish. The beaches north of Mandurah have eased off a bit but anglers are still able to take home a reasonable feed. If you wish to fish on, after dark for a while, there is every chance of a mulloway.
SECRET HARBOUR / PORT KENNEDY / WARNBRO / ROCKINGHAM / SAFETY BAY
The Rockingham jetties are still producing herring, garfish and squid and anglers fishing out from Safety Bay are reported to be catching some good King George whiting and snook. Trollers are still catching an odd tailor or two on the north side of the causeway. Mulloway are also being taken from the jetties around the area. The weed beds out from the local boat ramps have also been producing good numbers of herring and whiting. Berley is still the key to bringing the fish in. The Sisters have been producing some good tailor, salmon and King George whiting. Larger tailor have been taken from the reefs in the area. A few salmon have made an appearance out at Coventry Reef with most anglers getting some nice fish. Whiting are still on the sand patches to the east and some decent sizes have been seen at the boat ramps. Tailor catches are still being reported from the beaches near Long Point and further south to Secret Harbour. Sizes and numbers have generally been down but you can still get a feed. Herring are taking anything you throw at them from whole mulies to little pieces of prawn or squid. Whiting have been in good numbers out in the bay along the weed beds and also from shore in the mornings. The stretch between the two boat ramps is probably the better spot to fish.
There were some good catches of herring from Kwinana Beach right around the coast to Mandurah. There have been good garfish around Long Point, Penguin Island, Point Peron and Rockingham Beach as well as whiting and squid. Anglers using unweighted mulies around Point Peron have caught salmon from the reefs north of the car park.
COCKBURN SOUND
All reports indicate that the squid are still in the Sound in large numbers. Snapper are also making their presence felt with some good fish being taken during the last week. The Southern Flats have been the pick of the spots during the last week for King George whiting and also squid. Mangles Bay has also been producing herring, whiting and squid. The Causeway Arch area is still producing numbers of herring and the occasional skippy but it has generally been pretty quiet during the week. There have been a few reports of smaller snapper being captured close to the jetties and along the industrial strip. Herring and mackerel have been good from the jetties and whiting and squid have been hanging around during the evenings and later at night.
Recfishwest Forecast
Possible showers and storms over the weekend and some moderate southerlies might be challenging for fishers but swell is set to drop to under 1m after sunday so it looks promising for later in the week. The high tide after dusk is sure to attract som nice fish into some beach gutters and the new moon approach is prime time for mulloway and pink snapper in close. Salmon will be expected to continue and possibly thicken in the coming weeks as more large schools reach closer to Perth waters.
How To Fillet Herring?
Take a look on the Catch Care and Cooking tab of the How to Catch Australian Herring page for the easiest way to knock off some succulent fillets of one of WA's most reliable, accessible and sustainable fish species for safe and enjoyable fishing for the whole community.
For tips of how to catch a feed of herring and other tutorials on filleting, skinning and boning, I Love Fishing is your all in one resource for the WA fisher.

Metro Catches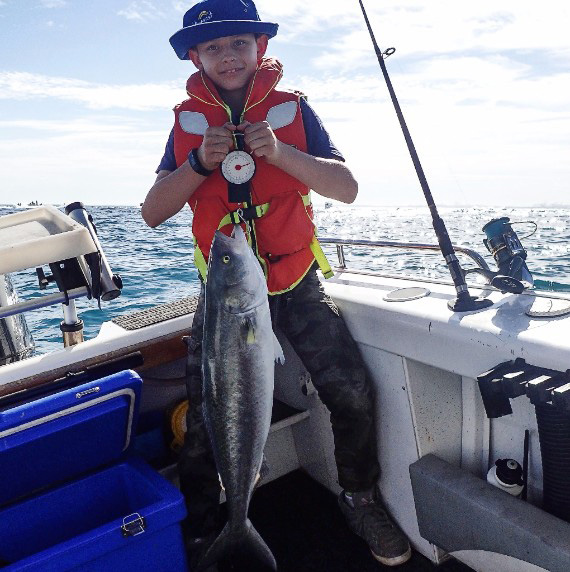 Picture: Paul Franklin took his grandson out for a days fishing and was ecstatic to show the young fella the joy of catching some Aussie salmon. A day young Ryan will be smiling about for some time.
Boats
Dozens of boats were either anchored, drifting or trolling near The Mewstone and The Stragglers in search of salmon at any given daylight hour during the Easter period. The salmon did not disappoint either with plenty of fish to 8kg caught and many released. The boats trolling near North Mole and close to the coast of Cottesloe, City Beach and Scarborough also encountered salmon. Early mornings continue to produce pink snapper to 10kg between Garden and Carnac Island and Five Fathom Bank. There are still dolphin fish at the Fish Aggregating Devices off Rottnest Island and samson fish at The Barges. Rock lobster continue to be caught in relatively shallow water near Rottnest while blue swimmer crabs have been found in good numbers off South Beach. Squid catches have been better along the seagrass meadows off Fremantle after dark.
Shore-based
Good catches of salmon have been coming from the Ammo Jetty, Woodman Point, South Beach Groyne, North and South Mole. A few salmon were also caught at Cottesloe Groyne, Grant Street and City Beach during the week. Big garfish have been appearing at Palm Beach Jetty while herring can be caught at most of the metropolitan rock walls and jetties. Tailor have been turning up after sundown with Floreat Drain, Trigg Point and Club Capricorn among the spots where the popular surf fish were recently caught. There are still a few mulloway being caught between South Mole and Freshwater Bay.
Recfishwest Forecast
Some possible wet weather is due for Saturday and Sunday but sunny skies will dominate the rest of the week. Windy afternoons and nice mornings are expected so early risers will have the most pleasant conditions on the water. Salmon schools are expected to continue to push through metro waters as number from the southwest arrive at local beaches. Keep your eyes out for birds to locate the fish. Swell is set to drop after Sunday from 2.5m down to about 1m and the new moon along with post dusk and dawn high tides should provoke some fish.